This dairy-free, gluten free, healthy banana split blizzard is the perfect way to treat yourself in a healthy way! Packed with protein & nutrition.
Calling all blizzard fans! Can I call myself? Because as I mentioned in my past Oreo Milkshake post, I love my blizzards. Don't get me wrong, I love milkshakes too, like the Oreo one or the Chunky Monkey one or the Double Chocolate Chip Mocha Cheesecake one I've shared in the past. But the thick, creamy, spoonable texture is hard to beat. Which is why I made this diy Cookie Dough one awhile back. And why I made this healthy banana split blizzard now. Because, #healthgoals #butblizzardstoo
Like I said, I love blizzards, but let's be honest with ourselves. They are anything but nutritious. You all know I rarely count up the nutrition in my recipes, because I hate the focus on numbers. But I just had to this time to show you JUST HOW GREAT this diy banana split blizzard is!
A SMALL SIZE of the banana split version clocks in at 13 grams of fat, 62 grams of sugar, 75 grams of carbs, and 460 calories. But Sarah-Grace to the rescue over here for all my blizzard-loving health enthusiasts, because this healthy banana split blizzard comes in at less than 210 calories, 3 grams of fat, 40 grams of carbs and 24 grams of sugar (which is mostly from the banana)! #winning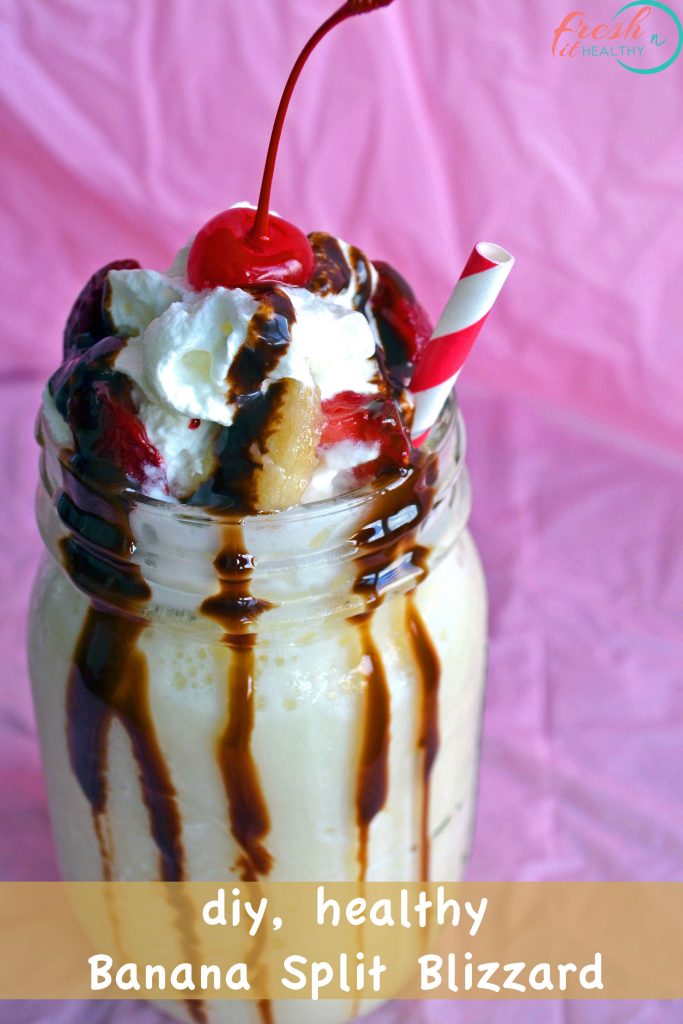 Packed with healthy carbohydrates and potassium rich bananas, a low calorie ice cream alternative, and a sinlessly sweet homemade protein chocolate syrup, this healthy banana split blizzard is a dream made in a dietitian approved world 😛 Can't forget the cherry. Because, banana splits just wouldn't be banana splits without 'em!
Which just makes me wonder: Do I have any talented readers out there that can tie the stem in a knot with their mouth??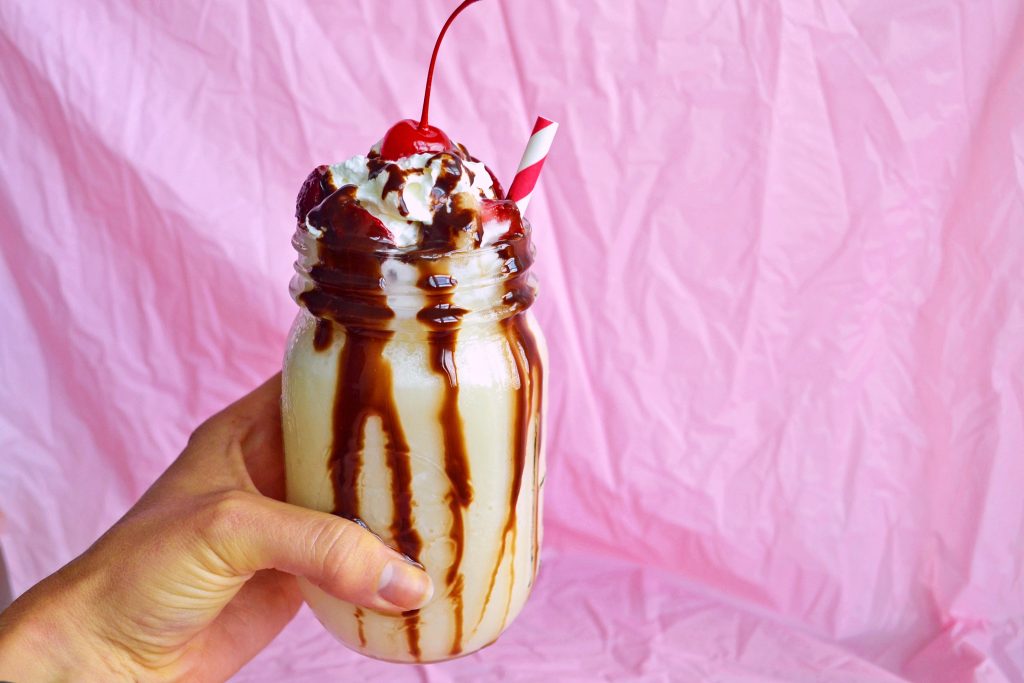 There was so much hype on arctic zero, that I finally tried it out. But it just wasn't "there" for me on it's own. I'm a lover of ice cream, and this onhealthy proscar just didn't make the "cut" in comparison… on it's own at least!
BUT, I did realize it would make a GREAT substitution in recipes that typically use ice cream. Like blizzards. Which is why I used the banana flavored one in this healthy banana split blizzard! (side note: you can dress this stuff up with toppings and it still be a pretty good "healthy" treat on it's own 😉 )
I threw some of this in, and then some of that, and a little dash of this and a drizzle of that… and low and behold, my end result was this delicious Banana Split Blizzard that is so much more nutritious in comparison to the Dairy Queen blizzard!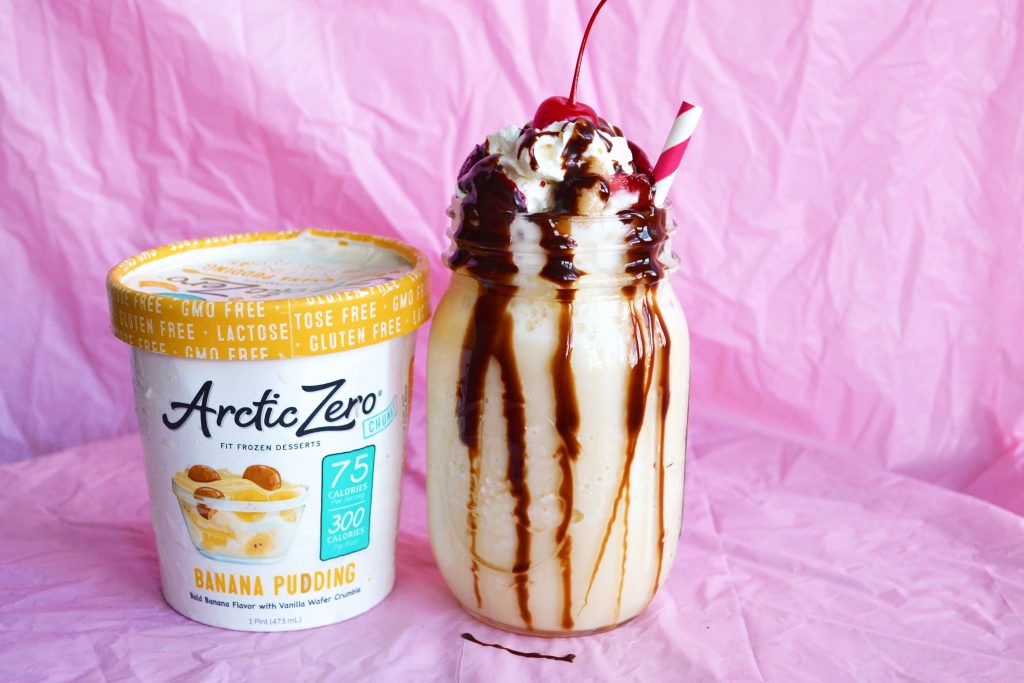 PS: I have something SO EXCITING IN THE WORKS for you all, after getting some great feedback over on snapchat! I can't wait to share after it's closer to being done! WOO!
So now some questions are YOU
What's your favorite blizzard flavor? (Mine has to be cookie dough, which is why I made a healthy diy version of that one already!)
What BURNING QUESTION do you want answered about a Dieting/Nutrition Myths out there?!
Until next time,
xo SarahGrace

Rating 5.0 from 1 reviews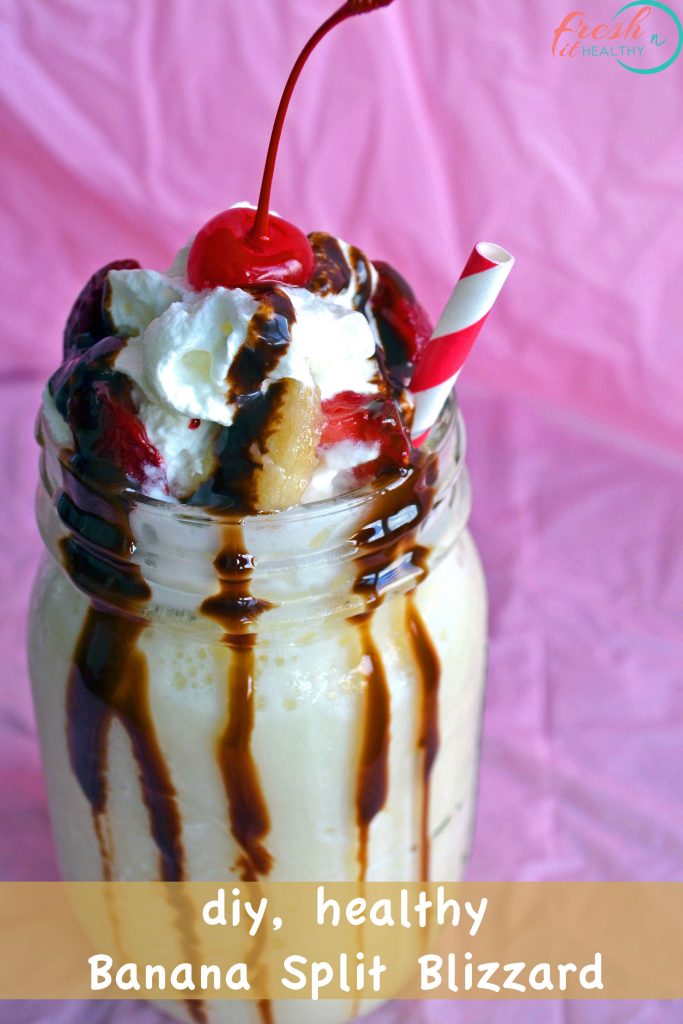 Ingredients
1 cup Almond Milk, unsweetened vanilla
1 cup Arctic Zero Banana Cream Ice Cream (or other icecream of choice)
1 ripe Banana, Frozen
1 tsp Vanilla Extract
Sweetener to taste (I was fine with just the icecream + ripe banana, but would be good with some honey!)
Optional: 1 tbsp Almond Butter (highly reccomended, yum!)
Optional Toppings/Mix-Ins: Strawberries & Pineapple (cut and mixed in after blending), crushed vanilla wafers, whipped topping, peanuts, chocolate syrup, a cherry
Instructions
Blend milk through vanilla extract/nut butter in high speed blender.
Mix in fruit or wafers if desired and pour into glass.
Top with whipped cream, chocolate syrup, peanuts and the cherry!