Upon some requests, I decided to write up a post simply on the 21 Day Sugar Detox I'm in the middle of, and what a typical day might look like (even though every day is different for this girl on the go!). I don't typically ever post every single thing I ate, and even in this post, I'm not including every single little calorie that goes into this mouth of mine..just a broad overview of the typical foods I have had to depend on 🙂 And what foods I've had to live without sadly..
First let's talk about all the foods I realized I couldn't have that are typically a major part of my diet..
There are the obvious ones I knew I would have to give up..like the frozen yogurt I get with friends about 3x a week (sorry I'm not sorry), the chocolate I keep in my freezer and eat every single day (AND my coconut rum balls I had just made recently for the blog before starting,boo ), the honey I use on EVERYTHING (and just the spoonfuls of it with nothing haha), my chocolate greens powder that I had recently been using as my coffee sweetener,  AND this delicious COCONUT ROAD frozen yogurt I had recently discovered at Publix and have fallen in love with </3 and of course every other dessert or sweet treat I tend to eat up here at college, living in a house with girls continually baking and bringing home junk food (like these delicious GF vegan specialty cupcakes that I had another 1.5 left of…)
Some of the not so obvious things, that I recognized last year while doing this detox as well, GUM (gasp, I have it every day typically), any kind of peanut flour already processed and not in it's natural form like PB2 or PBFit (has added sugar and salt), my GummyVites (my FAVORITE part of taking vitamins, call me a child, I don't care), most alcohol (no, I am not an alcoholic, but as a 21 yr old college student, it's tough to give up completely!), and a big one for me, sweetener in my coffee (whether it be my weird addiction to honey in it, or stevia, molasses (yes I use this sometimes), or even my chocolate greens)! Coffee is NOT something I can drink without any sweetener. I never use creamer in the mornings (sometimes in the afternoon), but I have to have a little sweetener! And the two last things I've had to give up, almost all sauces, condiments and dips (like ketchup, BBQ sauce, flavored peanut butters/nut butters, and many others), AND last but not least, ALL my Quest Bars and Time About Time all natural protein powders and other protein snacks! THIS WAS HARD. Even though Quest Nutrition and About Time Protein both use natural sweeteners like stevia, I gave up even stevia for this detox, so I had to say bye to these convenient, easy and simple protein snacks for 21 days! (also read my post from last year "PB2 has sugar?!" and "Surprising Foods with Sugar"
SO, now that I've covered some things that have come up that I can't be eating right now..let's take a look at some meals and snacks I do turn to! 
One of my FAVORITE things to eat, whether as part of my breakfast or as a snack, TOAST. I've been topping it with a mixture of cottage cheese and peanut butter, sometimes just peanut butter and fruit, or a mixture of yogurt and peanut butter like my Simple Peanut Butter Dip I just recently posted on my blog!
Another thing I created myself was flavored yogurt, as the flavored greek yogurts I buy sometimes of course had added sugar! So I did something simple and just blended 1/2 cup very ripe mango with 1 cup plain greek yogurt!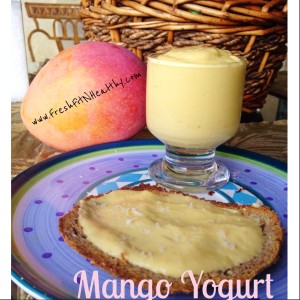 As for my coffee, I created a SUGAR FREE CARAMEL SAUCE, and used that to sweeten not only my coffee, but almost anything I wanted a little sweeter, whether it was hot almond milk at night, or even a little drizzle on top of plain greek yogurt as a snack! Below is my Paleo Whipped Topping (except unless usual, I didn't add any extra sweetener to the coconut cream), and then my coffee with some of the Paleo Whipped Topping and my Homemade Caramel Sauce in my newest ebook, 5 Ingredients of Less!
For breakfasts, I either had my toast concoctions that I already mentioned, or I enjoyed something like my No Sugar Added Apple and Pear Tart, scrambled eggs alongside diced avocado, tomatoes, and arugla (sprinkled with coconut oil, sea salt, and hemp seeds) (one of my favorites!)..or my alternative to oatmeal, Coconut Porridge..a simple Superfood Bowl of greek yogurt, cacao powder, maca powder, my homemade caramel sauce for sweetness, and cacao nibs…or yogurt parfaits with fruit as the sweetener..or toasted pitas with my simple peanut butter dip and strawberries..or simple puffed cereal with a mixture of plain yogurt and almond milk, sprinkled with fruit and unsweetened coconut.. or even something like plain greek yogurt with some coconut butter blended in, topped with GF brown rice krispies, maca powder, and plums!
For meals, it was easy when I got to cook at home, whether it was simple big salad with filling toppings like olives, sunflower seeds, eggs, avocado, chicken, and some oil and vinegar drizzled on top.. or some grilled salmon with just some olive oil, sea salt, and seasonings like garlic powder and italian herbs with black quinoa..or some grilled mahi mahi with lemons, coconut oil, sea salt, and rosemary alongside of baked butternut squash slices sprinkled with coconut oil, cinnamon and sea salt and edamame…or even just simple grilled chicken tenderloins in a marinade made of some balsamic vinegar, olive oil, lime juice, and a little hot sauce!
As for eating out, I typically had to ask to make sure no sugar was being added secretly anywhere, but some of my favorite places of course included sushi places, whether it was a tuna and salmon roll with wakeme and lettuce inside, or tuna and salmon sashimi on top of a bed of brown rice with wakeme salad and avocado on the side. Mmmm. Other than that, I'd stick to easy, simple dishes like salads..like this one below topped with fresh grilled tilapia and mango to add sweetness! (I had the dressing on the side and resorted to just some olive oil and lemon juice instead)
For some other snack throughout my days, I would make things like these little zucchini pizzas, my Curry Turkey Salad without any added sweetener,  Mini Salmon Seaweed Rolls (but used sushi grade salmon instead of smoked salmon since that has sugar), strawberries stuffed with cottage cheese and no sugar added chocolate chips, slices of plain turkey, jicama slices with salsa, or even a surprise I received from Quest Nutrition throughout my detox, their new PROTEIN CHIPS! Woo, one protein snack I could have..
Coconut Water was another favorite of mine, as I went through SO many..because of not being able to rehydrate with gatorades or any kind of protein shake..When I wasn't wanting plain water, I would drink this!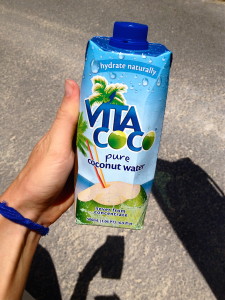 And don't even get me started on fruit..fresh fruit like strawberries, watermelon, mangos from my tree, apples (plain or filled with yogurt mixed with cocoa powder and caramel sauce), even this fun little prickly pear I tried for the first time, my Chocolate Dipped Apples (without honey or stevia, just more coconut oil), and my favorite, FROZEN BANANA SLICES (dipped in my simple peanut butter dip or plain), or dried fruit like dried figs and dates..fruit was my absolute GO TO when craving sweets!
As for desserts, I made tons of dips like my HEALTHY NOT-TELLA (nutella) and homemade Almond Butter to sub in for all my flavored nut butters I had to give up, and my Pumpkin Cream Cheese! Also I made the no sugar added popsicles from our latest ebook, 5 Ingredients or Less!
So there you have it folks..A look into some of the foods that have and continue to help me get through this sugar detox!
Now tell ME,
Have you ever done a sugar detox? To what extent (what did you limit yourself to?) and how long?