25+ Top wellness experts reveal the real keys to transform your mind and body. Ditch the Diet!
The Better Body Summit is scheduled and ready to Rock n' Roll!
Are you ready to say good-bye to diet and body drama? Are you ready to release the physical, mental, and emotional overwhelm and burn out and exude confidence, calm, and clarity? If you answered YES, then it sounds like you are ready for a Better Body Breakthrough! It's time to ditch the diet!
You may have hear my own personal story of how I've struggled in the past (and found freedom!) whether it be through this video or my recently published book…It is a topic SO close to my heart, that when I was given the opportunity to be a part of this FREE event and share some insight, I instantly agreed!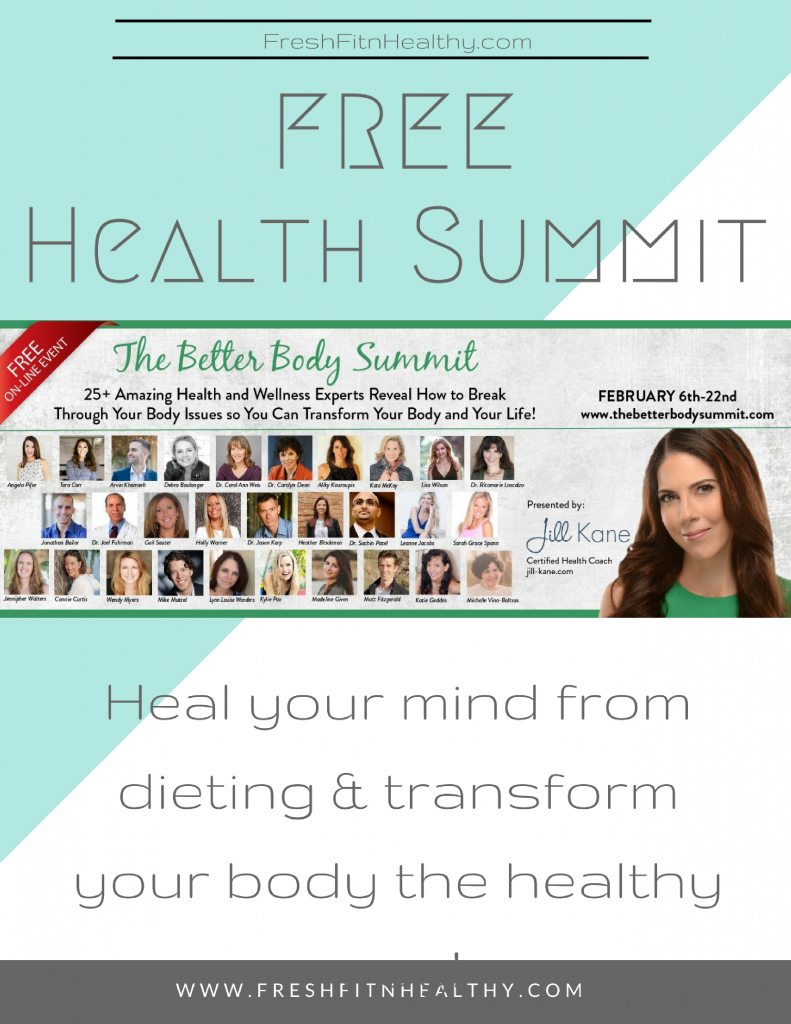 I know how hard it can be this time of year when everyone is promoting their diets, fitness programs, and focused on losing weight.
What if you had access to the top experts in functional medicine, nutrition, exercise, psychology, healing, transformation, habit changing and wellness to cut through the fluff and give you the exact information you need to look and feel your best?

Well, health coach and wellness expert Jill Kane has been busy bringing the best health and wellness experts together and asking them to do just that – reveal exactly what you need to do to simplify food, fitness, and self-care into small, actionable steps so you can make the mind-body connection and feel the difference in your life immediately.
**In addition to getting access to interviews with 25+ of the world's leading health specialists you will also receive a FREE GIFT BAG loaded with goodies generously donated by the panel of expert speakers AND you will be entered to win some special prizes!**
In this Better Body Summit you will learn how to:
Ditch the diet mentality and conquer emotional eating triggers
Enhance your mind-body connection through exercise
Prioritize self-care to master your inner well-being and transform your life
Release fear, negativity, and self-sabotaging thoughts that keep you stuck
Simplify your life so you attract more of what you want
Are you ready for your Body Breakthrough?
Sign up NOW for The Better Body Summit! (It's totally FREE!)
Share with others by tweeting below!