One flavor combination to celebrate the end of summer, blueberry lemon!
With all the blueberries in season now, I have been gobbling them up by the pound.
As you can tell with my other recipes like these , or my , I love the taste of blueberries in recipes.
For this month's Recipe Redux, the theme was: " Bars & Bites for Brown Bags: Whether you pack your lunch in a bento box, a brown bag or a retro cartoon character lunch box, don't forget the bars and bites. Small squares or round bites can pack nutrition into a sweet or savory taste. Show us your favorite way to jazz up any type of lunch box."
This summer as I've been trying to build up muscle, I have really been focusing on consuming more protein. Thus, homemade protein bars along with my favorite Quest Nutrition bars is a must. These bars have 10 grams of protein in a 94 calorie, 8g carb bar?! I call that a winner. The perfect brown bag lunch snack to throw in!
Typically I am always craving a chocolate flavored protein bar . But I decided with hot summer days here now, a refreshing fruity taste of blueberry lemon would be incredible for a bar.
These were so simple and yet so absolutely delicious. No bake protein bars are a bit easier as you don't have to worry about a dry result, but baked protein bars are hard to get a perfected result because of protein powder making the recipe dry..but this one came out the first try! And baked bars are a lot more convenient to take with you!
Mmmm.
And I used my favorite All Natural Vanilla protein powders from About Time Protein. They sell a natural whey protein, casein, and also vegan! So no matter your diet and your needs, they have you covered 🙂 I used both their casein and whey here, as casein lends a more moist texture! Want to try their sample packets of protein powder or their paleo bars? Go to and use the code "fff1" for a 25% discount on your order!
Look at that texture. So moist. Bursting with improvehearingnaturally imitrex delicious lemon and blueberry flavors.
I hope you enjoy these as much as I do. They are the perfect snack, pre/post workout fuel, or just late night treat to keep in line with those health and fitness goals this summer!
Pack 1 or 2 to-go where ever your life needs them..they are perfect for about any time of the day or for any type of situation!
Questions for YOU!
1.What is your favorite recipe that you'd like to see a healthy swap for?
2.What is your favorite bar flavor?
3. What is one thing you would like to see a recipe made for?
Until next time,
Xo, Sarah Grace
Rating 4.5 from 2 reviews
Prep time:
Cook time:
Total time:
Serves: 8
Serving size: ⅛
Calories: 94
Fat: 3.0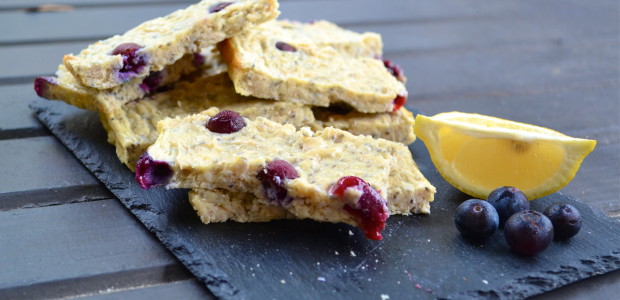 Ingredients
½ cup Vanilla Casein Protein (if subbing in for all whey - decrease liquid a lot)
½ cup About Time Vanilla Whey Protein
½ cup Rolled Oats
1 Egg
Juice of 1 lemon
1 cup Almond Milk + 2 tablespoons Chia Seeds
¼ cup Applesauce
½ cup Blueberries
1 teaspoon Vanilla Extract
¼ teaspoon Sea Salt
1 teaspoon Baking Powder
Instructions
Combine almond milk and chia seeds in a small bowl and set in fridge for about 30 minutes.
Meanwhile, preheat your oven to 350 degrees Fahrenheit.
Mix all dry ingredients in one bowl.
When chia seeds have soaked up some of the liquid, add chia mixture and all other ingredients to dry ingredients and stir until combined.
Pour into a medium pan sprayed with nonstick spray.
Bake for 10 minutes.
Warning: They will look undercooked, it's okay! You do not want a dry bar, so remove and directly place into fridge.
Enjoy when cooled! When storing, store in fridge. They can be brought on the go but if not being consumed within a few hours, they should be refrigerated as they are very moist.
Notes
You can try to substitute casein protein with all whey, but I do not know 100% that they will turn out as good. Casein adds a more creamy, moist texture than whey, so texture may come out differently
To order About Time Natural Protein, go
here
and use my code "fff1" for a 25% discount!