Confession: Meatball Subs were my absolute favorite when I was younger.
But we all know how healthy those tend to be.
Well this week I decided to create a healthy, cheesy delicious meatball using ground turkey and Breton Gluten Free Crackers. Mmmm.
Breton Gluten Free Crackers are so absolutely delicious whether eaten plain, or used in a recipe like this. And I love them because they're gluten free and made with delicious, natural ingredients like flaxseeds!  Most gluten free breads and crackers taste like cardboard to me personally, but these taste like the real thing. Set them out on a cheese tray at a party, and no one would ever know the difference, except that they are absolutely incredible compared to the typical cracker!
They come in this original flavor with flax, or a delicious garlic and herb flavor, which is what I used in this recipe.
And they made these Pizza Meatballs absolutely incredible. The taste of Breton Garlic and Herb flavored crackers mixed within the ground turkey coupled with Sun-dried Tomato Mozzarella Laughing Cheese cooked in the middle just waiting to ooze out and into your mouth, and then a "breadcrumb" crunchy outside by rolling them into more ground cracker. Ahh, served on top of marinara sauce really gives you a "pizza" experience 🙂
Serve on top of some gluten free pasta, enjoy on a bed of lettuce, make a healthy meatball wrap, or even just pop one (or two) in your mouth when you get those hunger pains between meals. These would make the perfect onhealthy champix appetizer at any party simply served in marinara sauce 🙂
 Oh happy day when these were created.
Rating 4.5 from 2 reviews
Prep time:
Cook time:
Total time: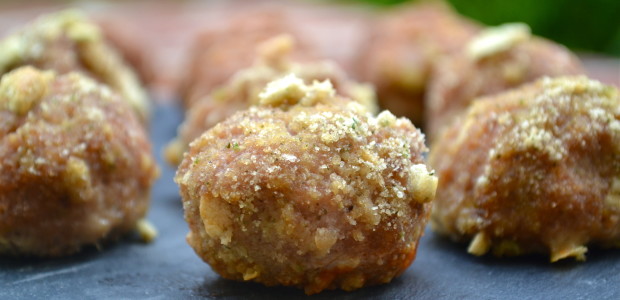 Ingredients
1 lb. Ground Turkey
½ sleeve Breton Gluten Free Herb and Garlic crackers (about 10), ground
1 Egg
½ teaspoon Crushed Garlic
¼ teaspoon Sea Salt
¼ teaspoon Pepper
1 teaspoon Dried Basil
3 wedges Sun-dried Tomato Laughing Cow Cheese (or any other mozzarella)
Optional: 1 jar Marinara Sauce to serve below the meatballs
Instructions
Preheat oven to 350 degrees Fahrenheit.
Grind crackers until fine.
Mix together ½ of the ground crackers with everything else except for the turkey, cheese, and optional sauce.
Add ground turkey and mix just until all combined (over mixing will make meat tough).
Shape mixture into balls.
Cut wedges of cheese into about 8 pieces each.
Make a crater in each ball and stuff a piece of cheese inside, and then "close" the hole back wrapping the meat around to fill the hole.
With leftover ground cracker, roll each ball into it, coating the outside.
Place on cookie sheet sprayed with nonstick spray and bake in oven for about 15-20 minutes, or until done.
Serve on top of marinara sauce if desired, or any other way mentioned in post. Store in refrigerator.
Makes 20 meatballs.
"By posting this recipe I am entering a recipe contest sponsored by Dare Foods Incorporated and am eligible to win prizes associated with the contest. I was not compensated for my time."