I love biscottis. Why? Because I love ANYTHING crunchy.
Oh, and who DOESN'T like chocolate?! Well After reading this month's Recipe Redux theme, I knew exactly what flavor pairing I wanted.
Favorite Chocolate Matches
Does your chocolate need a friend? This month's posting will be after Valentine's Day, so you may have a bit of extra chocolate around. What's your favorite chocolate match? Be it traditional peanut butter or something more exotic like cayenne + chocolate. Show us your favorite healthy chocolate combo recipe.
Coffee and Chocolate. Possibly two of my favorite things (besides pumpkin or ice cream anyways). I absolutely LOVE adding low sugar cocoa mix or chocolate protein powder to my morning coffee, it's actually almost a must now.
So when I had to pick my favorite pairing with chocolate, I knew coffee was it. Hands down. I mean yes, peanut butter is a favorite too, but I tried to at least be SEMI original.
And what goes better with coffee or mochas thannn BISCOTTIS.
Ahh, I LOVE enjoying a delicious biscotti with my coffee.
But since its morning usually when I'm drinking my coffee, I didn't want any kind of high sugar biscotti.
SO, I went with making a HIGH PROTEIN, low fat biscotti so that I could improvehearingnaturally seroquel enjoy it in the morning…GUILT-FREE.
Coffee. Cocoa Powder. Chocolate Protein. Chocolate Chips. YUM.
So tell me..
What is YOUR favorite way to enjoy coffee?
What is YOUR favorite chocolate pairing?
Until next time,
xo Sarah Grace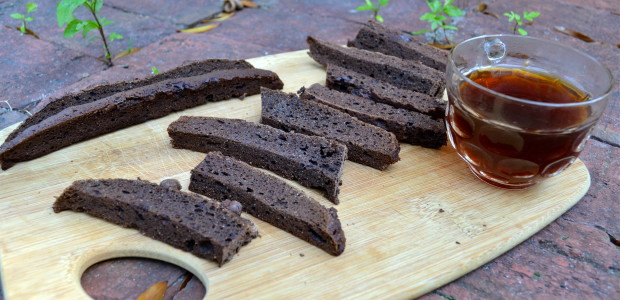 Ingredients
1 cup Chocolate Protein Powder (I used Quest Protein which is a mix of whey and casein..if using only whey, you may have different results!)
½ cup Brown Rice Flour
¼ cup Tapioca Starch
¼ cup Unsweetened Cocoa Powder
1 single serving instant coffee packet (or 1 tbsp instant coffee)
½ cup Hot Water (to mix instant coffee in)
¼ cup Applesauce
6 packets of Stevia
2 teaspoons Baking Powder
2 teaspoons Vanilla Extract
⅛ teaspoon Sea Salt
Instructions
Preheat oven to 350 degrees Fahrenheit
Combine hot water and instant coffee and set aside
Mix all dry ingredients in one bowl, and wet ingredients in another
Add wet ingredients to dry ingredients and mix until all combined and forms a ball of dough
Shape dough into a log shape, and place on cookie tray sprayed with nonstick spray
Bake in oven for 20 minutes.
Remove and allow to cool for a little
Slice log diagonally to make "biscotti" shape sticks.
Place back on cookie tray and bake for 10 more minutes. Flip. Bake for another 5-10 minuutes or until crispy. Remove and allow to cool on tray.