A simple and quick  dairy-free dessert to keep in your freezer for those sweet cravings! Using only dairy free Silk yogurt, peanut butter, walnuts, cacao nibs, and bananas, this dessert couldn't be more healthy for you or easy to make!
Alright alright y'all, I have something real good for you today! Who loves chocolate bark out there?! Well I made a healthier spin on the typical bark by making a yogurt based one! And if you're dairy free, no worries! Because this time around, I used . And it turned out amazing! Talk about #TasteTheGoodness
Who out there has ever had the Chunky Monkey flavored ice cream from Ben and Jerry's?! It's made of banana ice cream, with fudge and chocolate chunks. Sounds delicious, right? It use to be a favorite of mine!
Well I took that delicious flavor, and once again made a healthy dessert out of it! Of course, I added peanut butter because WHY NOT. As you may have seen before with my … But this time, I made some delicious, yet SO EASY yogurt bark!
And the best part, you can totally customize it to whatever you'd like! Pick your flavor of yogurt and pour it into a pan sprayed with nonstick spray. Add the toppings of choice and press them in. Then freeze! Break into pieces and there you have it!
As easy as 1,2,3! And if you want to try out Silk's dairy free yogurt like I used in this recipe, you can . AND be a part of the by sharing how you #TasteTheGoodness healthcarewell imitrex after using the coupon!
It really could not be an easier recipe to make, AND so yummy! Not to mention, HEALTHY enough to eat for breakfast!!
Mmm mmm mmm. What is better than peanut butter, chocolate, and banana all combined into one healthy dessert?? (and that's a rhetorical question, because unless you would say pumpkin or coffee flavored desserts, I would have to disagree 🙂 ) Which, going off that, I definitely plan on making this recipe again but using other flavored yogurts!
Questions for YOU
What is your favorite ice cream flavor?
Have you tried Chunky Monkey ice cream??
What would you add to your yogurt bark in a perfect world?!
What's your favorite flavor of yogurt?
until next time,
xo Sarah Grace

Rating 4.0 from 1 reviews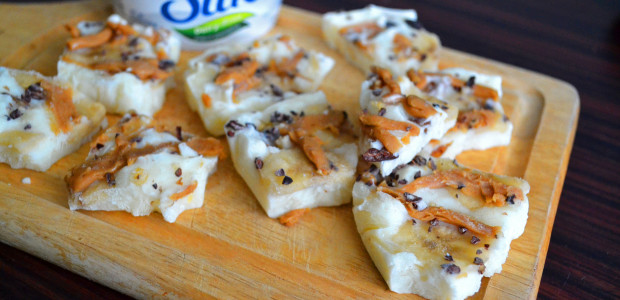 Ingredients
3 single serving cups of Silk Dairy Free Vanilla Yogurt (about 2 cups yogurt)
1 large, very ripe Banana
¼ cup chopped Walnuts
¼ cup Cacao Nibs
2-3 tbsp Peanut Butter
Optional: any other additions!
Instructions
Pour yogurt into small tray sprayed with nonstick sprayed and spread to create a thin layer
Slice banana and press into yogurt
Add other toppings (add pb by putting into plastic baggy, cutting tip off, and drizzling out on yogurt), and press in gently.
Freeze for at least 2 hours.
Take out of freezer, break into pieces, and put back into freezer in tupperwear until eating
This is a sponsored conversation written by me on behalf of Silk. The opinions and text are all mine.