Do you like that delicious, taste of warm oatmeal, but want something new, something unique? Get ready for this recipe.
This month's Recipe Redux theme was:" Treasured Cookware – Share a story of classic cookware – and a healthy recipe to go with it". So first let me share mine:
I have two in this post actually! This crystal bowl, and the cross teaspoon, are both very special to me. The crystal was passed down by my grandmother, and when I was younger my mom would never let me use it. But now that I'm older and into food photography, she has finally trusted me and started to let me use it. At age 21, finally, haha.
               My second utensil that has been passed down hasn't been too far down, but they are from my momma and are very special. This is just one from the set, but she gave me a whole set of measuring spoons from 1/4 teaspoon to the big tablespoon. Each one has something cute written on the spoon part like "a dash of faith", "a dash of love". And with my faith background and love for Jesus, I just love these little measuring tools. It reminds me each day that I use them to go out of my way just a little bit to show that extra "dash of faith" or "dash of love" to someone else.  I use them for everything and it is something just so special.
As Mother's Day arrives soon, I couldn't think of a better utensil to share than one from my very special momma that has shaped me into the woman I am today. She is the strongest lady I know, and the person I respect most. Not only did she raise three wonderful children, but she did it as a single mother, going back to nursing school each day after getting all three children up and ready and off to school. Only to come home, take us to all our sports games, fix us dinner, stay up till late doing laundry, and then getting up at 4am to do it all over again. The respect I have for this very special lady in my life is unexplainable.
Now to the recipe…
This Coconut Breakfast Porridge is the same texture of slow cooked oatmeal, yet is completely gluten free, dairy free, and low carb! And can be made paleo as well. Not to mention, completely free of any sugar if desired.
I love my oatmeal. But sometimes, you just want something different. I love coconut, especially toasted coconut, and decided one morning to experiment. And that is how this recipe was created!
Enjoyed it on top of a lot of mixed berries<3
A big bowl of creamy coconut yumminess? What more could you want?! Not to mention it is low carb, low sugar, and low fat!
Ahh, this will certainly be a new go to breakfast of mine. What about for you?
Until next time,
xoxo, Sarah Grace

Rating 5.0 from 7 reviews
Prep time:
Cook time:
Total time: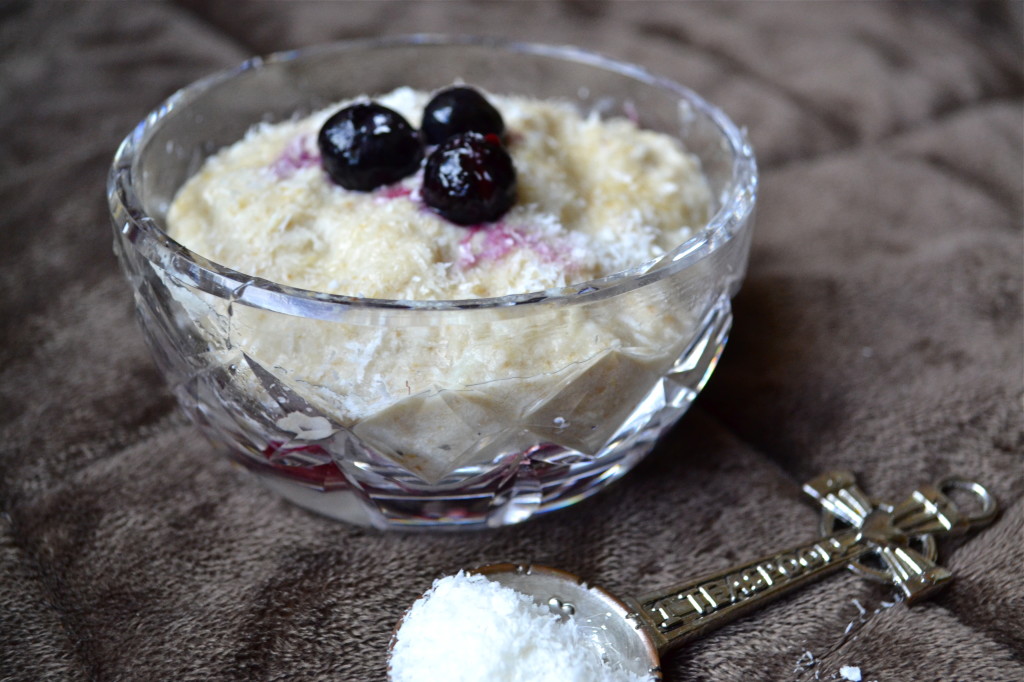 a delicious new take on "oatmeal" in a low carb, coconut filled way!
Ingredients
¼ cup Unsweetened Shredded Coconut (can use reduced fat)
1 cup Unsweetened Vanilla Almond Milk (or coconut for paleo)
2 teaspoons Coconut Flour or Ground Flaxseed
Dash of Sea Salt and Vanilla Extract (I used BetterBodyFoods extract)
Optional: Sweeten naturally with this Raw Honey or Organic Coconut Butter
Instructions
Place Coconut in bottom of pot on stove over medium high heat
Cook until coconut is slightly toasted, but watch carefully as it burns easily
Add almond milk to pot and bring to steady boil
Continuing to stir, add in coconut flour or ground flaxseed, and stir until mixture begins to thicken (about 5-8 minutes)
Remove from heat, add in other ingredients desired, and allow mixture to thicken slightly more as it cools
Serve with coconut butter, more coconut, on top of berries, or drizzled with honey