Today I've got a special surprise for you!
 Remember how I was saying when I went to California that I was going to stay with my friends, Liz & Sara, from ?!
Well they whipped up this easy Dark Chocolate Peanut Butter Cake Pop recipe while I was there and I HAD TO SHARE with you!! The perfect anytime treat!
Instead of buying store-bought chocolates (which are packed full of sugar and unknown ingredients), why not spend 20 minutes making your own healthy cake pops that'll have everyone completely in love, practically begging you to make more?! 😉
~ your sweet tooth will be totally satisfied in just one bite, and even better, you won't have any type of sugar crash because these healthy pops are made using all natural, good-for-you ingredients!
Plus, because they're so cute and dainty, they even have portion control built right in. Who doesn't love that?
Indulge yourself a little and enjoy! 🙂
Rating 4.7 from 6 reviews
Serves: 10
Serving size: 1/10 or 1 ball
Calories: 120
Fat: 8.5g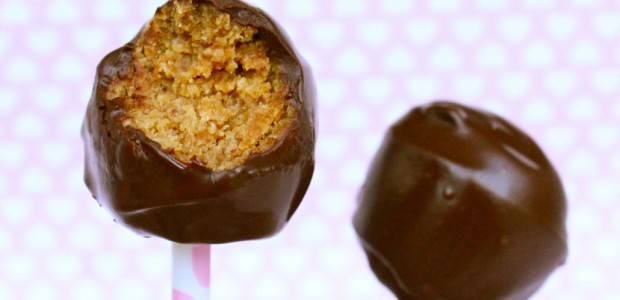 Ingredients
½ cup peanut or almond butter
⅓ cup natural vanilla protein powder
1 tsp vanilla extract
pinch of salt
stevia, to taste
½ cup dark chocolate chips (we used this brand sweetened by stevia)
1 tbs coconut oil or unsalted butter
10 cake pop sticks
Instructions
In a microwave safe bowl, heat peanut butter for 30-60 seconds or until very soft and creamy.
Stir in your vanilla, stevia and salt, and mix well.
Slowly add in your protein powder until a very thick, dry dough forms.
Form peanut butter dough into 1" inch balls and then insert one of your cake pop sticks.
Place cake pops into the freezer for 5-10 minutes.
Meanwhile, in a small saucepan heat coconut oil and dark chocolate over low heat, and stir until melted.
Remove cake pops from the freezer and place on a piece of parchment paper.
You can either dip the cake pops into the dark chocolate or spoon the dark chocolate on top of each cake pop.
Once each cake pop is covered in chocolate, let cool and chocolate harden.
Store in the refrigerator and enjoy!
About Super Sister Fitness
Having struggled for years with calorie counting, obsessing over the scale and continually failing with diet programs & EDs over and over, the Super Sisters set out on a mission to finally find a sustainable, healthy approach to health & fitness.
In becoming Certified Personal Trainers & Sport/Exercise Nutrition Specialists, these two sisters discovered some of the biggest fitness industry secrets out there today that are simply holding women back.
They now share their knowledge for free with anyone who's interested as part of a
You can find more free workouts & healthy fat burning recipes over on their .