Love getting milkshakes out but hate the calories and fat that come with them? This healthy oreo milkshake is the perfect recipe for you!
Two things that I absolutely adore: my chocolate and my ice cream. I also love my milkshakes, which makes a lot of sense with it basically being a combination of the two with some added milk! But we all know that even though our milkshakes may bring the boys to the yard, they certainly won't keep us on track with our health or fitness goals if we have 'em every night. Which is why I am here. Yep, I'm here to make you healthier remakes of your favorites like this healthy oreo milkshake.
I've got to say though, I'm not sure which I loved more. This healthy oreo milkshake, or my diy healthy cookie dough blizzard. Although I love milkshakes, the thick, spoonable deliciousness of a blizzard is a little taste of heaven. But if you end up liking this milkshake, you will probably love my double mocha chip milkshake as well. Of and my Chocolate Covered Strawberry Shake. The possibilities are endless over here on Fresh Fit n Healthy my friends.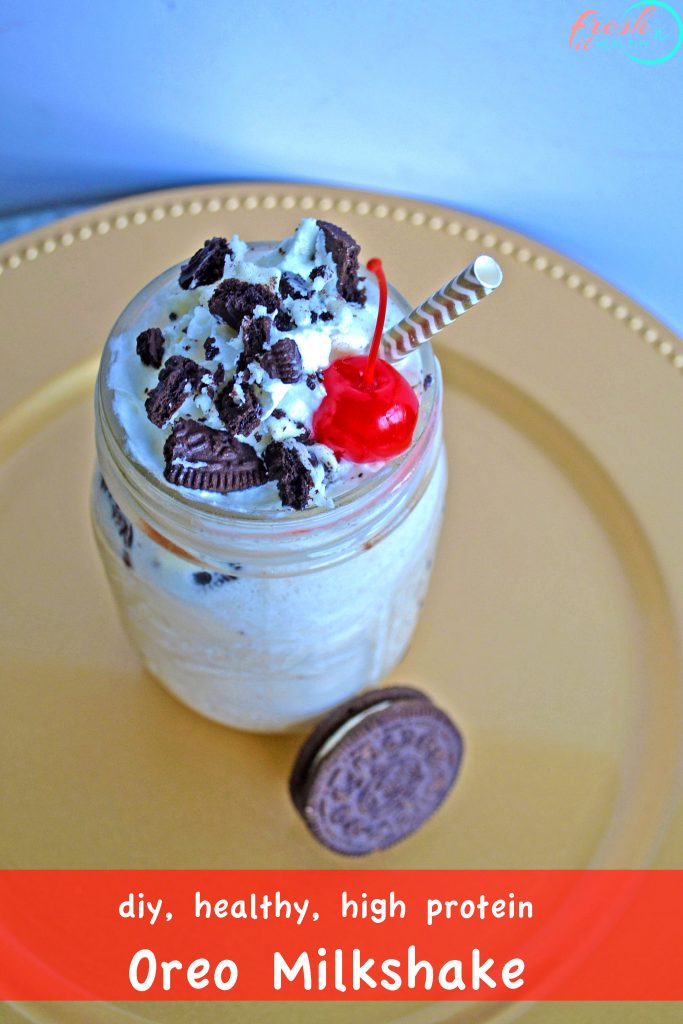 This healthy oreo milkshake that will keep you on track with your health and fitness goals, and possibly still even bring those boys to the yard. Hey, my brother and brother-in-law loved it, just sayin'.
Most milkshakes are made of full fat ice cream that is loaded with sugar, high fat milk, and then more sugar depending on what flavor you order. Nope, the strawberry one is not even a "healthy choice". Nor does it typically have real strawberries (unless it's real strawberries that are PACKED in sugary syrup).
But not this one my friends. This one is packed with protein, almond milk, and dairy-free frozen yogurt. Okay I still added one oreo in there because it just wouldn't taste the same without it. (even though I did also make an even healthier alternative cookie that you could use in the recipe below for this healthy oreo milkshake).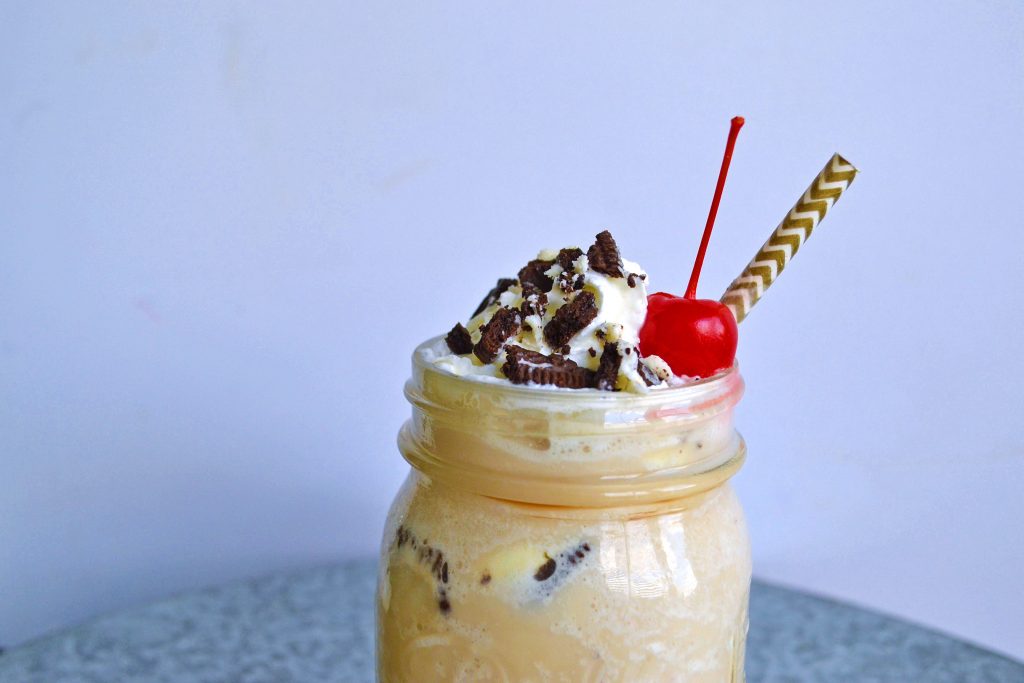 You're very welcome. I say this in advance because your family, friends, and tastebuds will be thanking you after you make a round of them for everyone!
But of course, I can't leave you off without telling you WHY this milkshake is healthier. So let's break it down for those interested. If you're one of those who are just sayin', I WANT THE RECIPE NOW, you can scroll past the dietitian side of this post J
Why this Healthy Oreo Milkshake is Nutritious!
It contains dairy-free almond milk and frozen yogurt for those that are bothered by lactose, making it easier to digest for some
It's packed with protein by adding in some plant-based vanilla protein powder – and protein is vital for your health and for building muscle, keeping that metabolism revved up, and filling you up, leaving you satisfied!
Unlike milkshakes you get out, this shake is NOT loaded with added sugar that would typically spike your blood sugar levels, only making you hungry and crave more sweets
A typical milkshake is about 800-1000 calories – this one is under 300!
So now that you can trust me that this one is healthier, whatcha waiting for? If you're anything like me, you get those sweet cravings most nights. Well this healthy oreo milkshake is the perfect treat to satisfy those cravings, yet keeping you feeling fresh, fit, n healthy.
Who's in?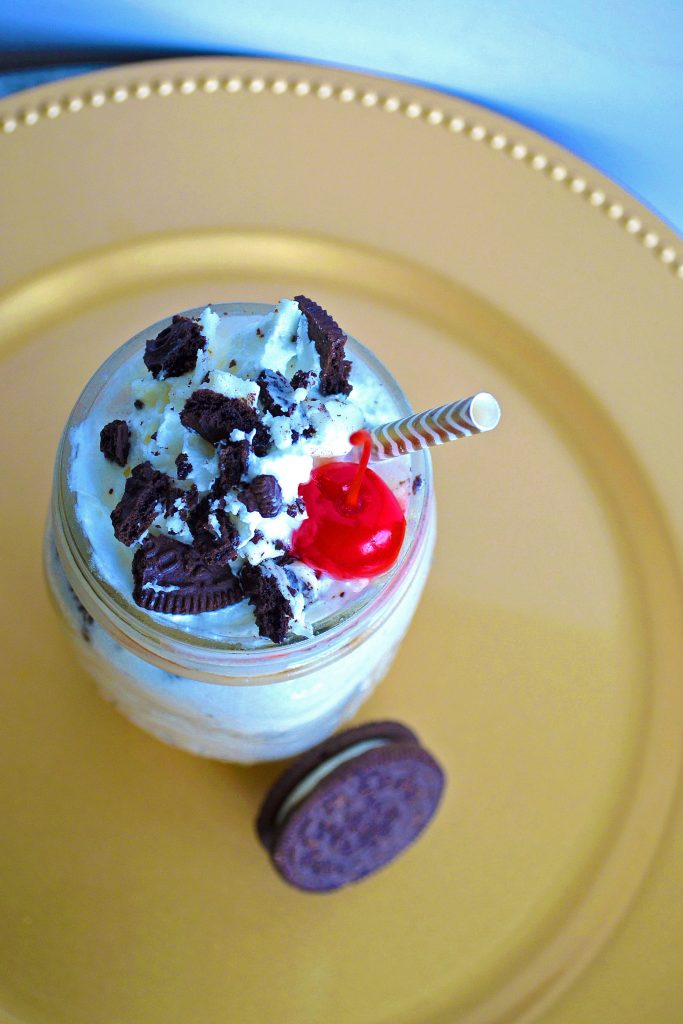 Questions for YOU:
What is your favorite milkshake flavor?
If you could have any kind of ice cream, what would it be?
Milkshake or blizzard?
xo SarahGrace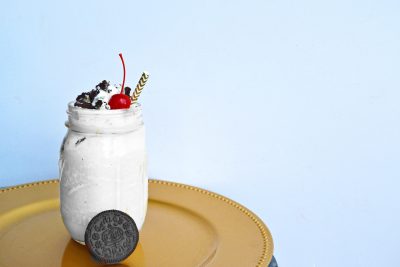 Ingredients
½ cup Vanilla or Oreo flavored Frozen Yogurt (DF variety if needed)
1 cup Almond Milk
1 scoop of Vanilla Plant Based Protein Powder**
2 Oreos
Dash of Vanilla Extract and Sea Salt (optional but brings out flavor!)
Optional: extra oreo, a cherry, and whipped cream for crumble topping
Instructions
Blend all ingredients in blender. Add ice if needed for a thicker consistency and blend again.
Crumble another oreo on top and mix in if desired.
Top with whip cream and a cherry, and enjoy!
Notes
I use About Time Vegan Protein -- order samples or tubs of it for 25% using the code "
fff1
"
HERE
!