This month's Recipe Redux theme?
"DIY Kitchen Essentials: What favorite kitchen staples do you now make from scratch – but in the past you purchased? Show us your best DIY recipe for keeping cupboards, fridge or freezer stocked with healthy basics. Think homemade frozen waffles, salad dressing, broth or other kitchen essentials."
Granola is a breakfast staple for me.
See, I'm not the BIGGEST breakfast fan (gasp). Yeah, I know, in the healthy eating world that's crazy to hear. I feel like everyone's favorite meal is breakfast!
Don't get me wrong, I like eggs now and then. But not  a big fan of a huge breakfast filled with the typical breakfast meats, bagels, french toast, pancakes, or everything else there is.
Well except I got on a new kick making protein waffles I love (!)
What I'm trying to get at is..yogurt, fruit and granola is the way I like to go. Quick, simple, and still "breakfast-y". Otherwise you'll see me eating leftover chicken, toast, or a wrap..lunch for breakfast?
So when this theme was created for the month of May, I knew exactly what I would do.
Homemade DIY Granola.
Why? Because store bought granola tends to be PACKED with sugar. I'm talking a WHOLE LOT OF IT.
And I am a huge protein gal. Every meal has to have some type of protein in it or I'll be hungry in an hour again.
I use Try About Time protein powder  A LOT because it's all natural, lactose/gluten-free, and sweetened only with stevia. (if you want to order samples or tubs, use the 25% code "fff1". They sell vegan, casein, whey, and paleo bars!)
So why not make high protein, low sugar granola..that just happens to be low fat too?! And save some money!
Exactly. There isn't a reason. Which is why I made it
🙂
Per 1/2 cup serving: 186 calories, 1.7g fat, 36g carbs, 10g fiber, 3g sugar, and 10g protein! That's a winner.

Rating 5.0 from 2 reviews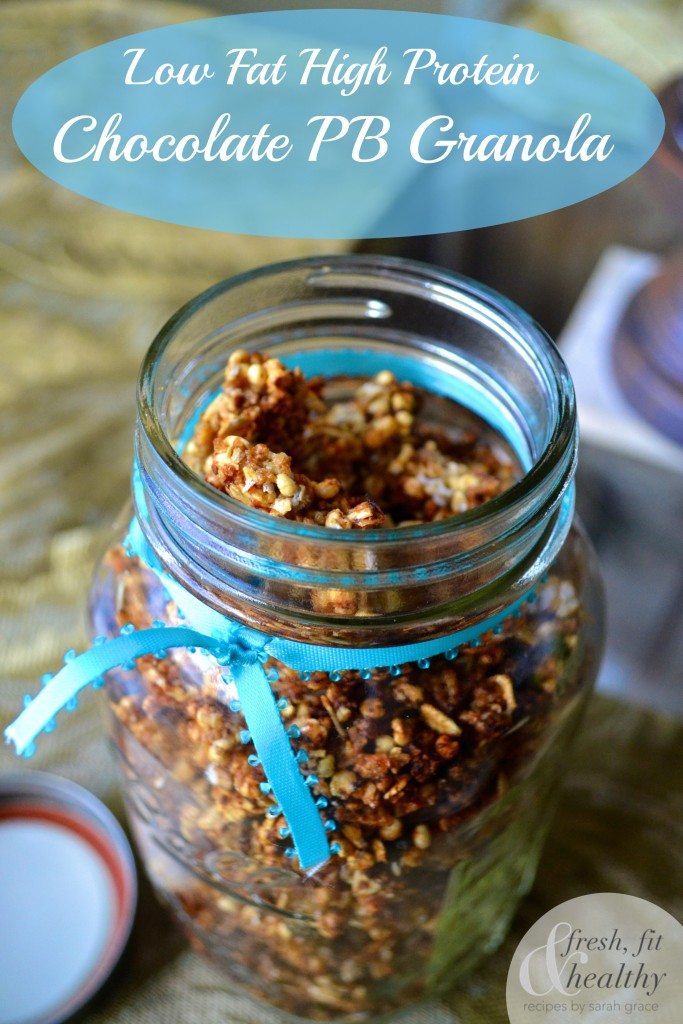 Ingredients
3 cups Rice Chex Cereal
2 cups Puffed Millet (or any puffed cereal)
1 cup GF Rolled Oats
2 scoops PB Try About Time Protein (use code fff1 for 25% off)
4 tbsp Vita-Fiber IMO syrup (I use SweetIt brand; if not wanting extra fiber, honey should do here)
1 extra large Banana, VERY ripe
Liquid Stevia Extract (to taste)
1 teaspoon Vanilla Extract
¼ teaspoon Sea Salt
Optional: 2 tbsp Peanut Butter (highly reccomended, but can omit if needing low fat), 2 tbsp Honey for extra sweetness, 1 tsp instant coffee for a "toffee" flavored granola
Instructions
Preheat oven to 350 degrees F
Combine all dry ingredients in bowl.
In separate bowl, heat fiber syrup and banana for 15-30 seconds; mash.
Add in other wet ingredients to banana mixture and stir.
Combine dry and wet ingredients, and toss until fully mixed together (I used my hands at the end to bring the mixture all together)
Lay out mixture on cookie sheet that has a piece of parchment paper on it.
Bake for 15 minutes. Remove from oven and break up/flip mixture.
Bake for 5 minute increments until browned and done to likeness.