Looking for the perfect fitness gifts inspired by the summer olympics? Here are my top seven finds for a health or fitness enthusiast to support the USA + some fun recipes!
Who is excited for the Summer Olympics?!
Not to get all touchy feely on you guys, but I love what the olympics stand for and how the 5 rings represent the 5 continents all coming together. Now that is something to celebrate whether you like sports or not.
If you haven't seen lately on my instagram, I've started something every friday called #FoodFindFridays! Well, I thought it'd be fun to switch things up and bring that idea over HERE on the blog today, and share some fun foodie finds and fitness gifts that are summer olympics themed! Just in case you are celebrating with a friend too (or looking for a reason to treat yourself this summer with some fresh, fit, n healthy products)!
I love being able to try out new health and fitness brands/products and discovering new must-haves to incorporate into my lifestyle.  But I have a PROBLEM. 
Confession Time: I'm indecisive.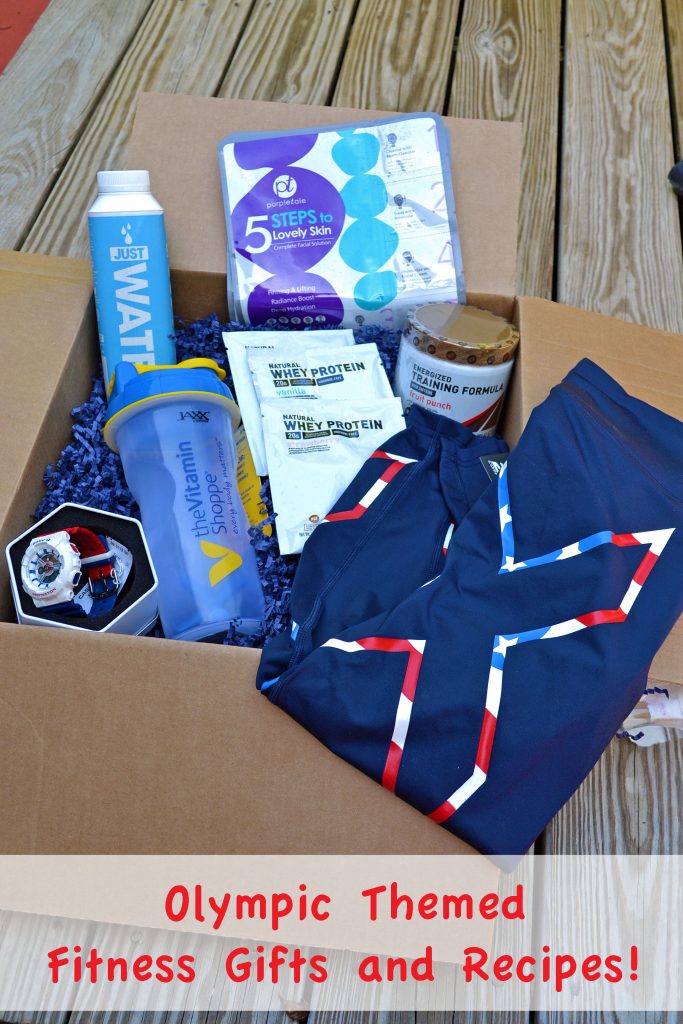 Seriously. It's a real problem. So in case you're like me and struggle with being indecisive, I'm writing this post to HELP A SISTA OR BROTHA OUT… and give you some fun fitness gifts finds for this summer olympics season! Ones that are tested and Fresh Fit n Healthy approved. Because google is filled with too many unreliable options. #CanIGetAnAmen
ps: the great thing about these gifts is they can be used ALL YEAR, because I'm not sure about you, but I'm always proud to wear my country's colors #USA
But let's get to the top Summer Olympics fitness gifts!
First up: Purpletale – 5 Steps to Lovely Skin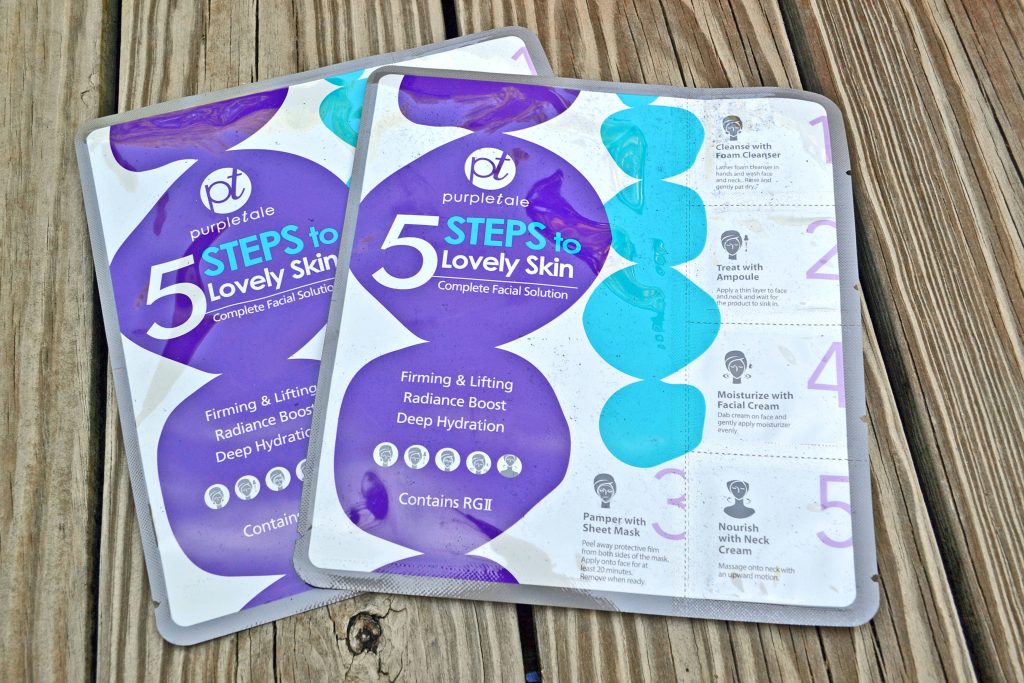 I don't know about you, but this summer heat and humidity has left my face feeling a bit "needy". Needy of filters when getting to close up (just being #honest over here). Needy of a facial and complete cleansing. My skin will never be perfect, but when working out in this heat, it tends to get even WORSE. But Purpletale offers these packs that are a DIY FACIAL. Yep, I can have an all-in-one facial right in my own house, at a much cheaper price.
This portable five-step facial treatment kit comes with (1) foam cleanser, (2) ampoule, (3) bio-cellulous sheet mask, (4) facial cream, and (5) neck cream in one neat packet so that you can enjoy facials whenever and wherever you want!
#nofilter here we come with this #FreshFitNFacial — it seriously made my face feel amazing!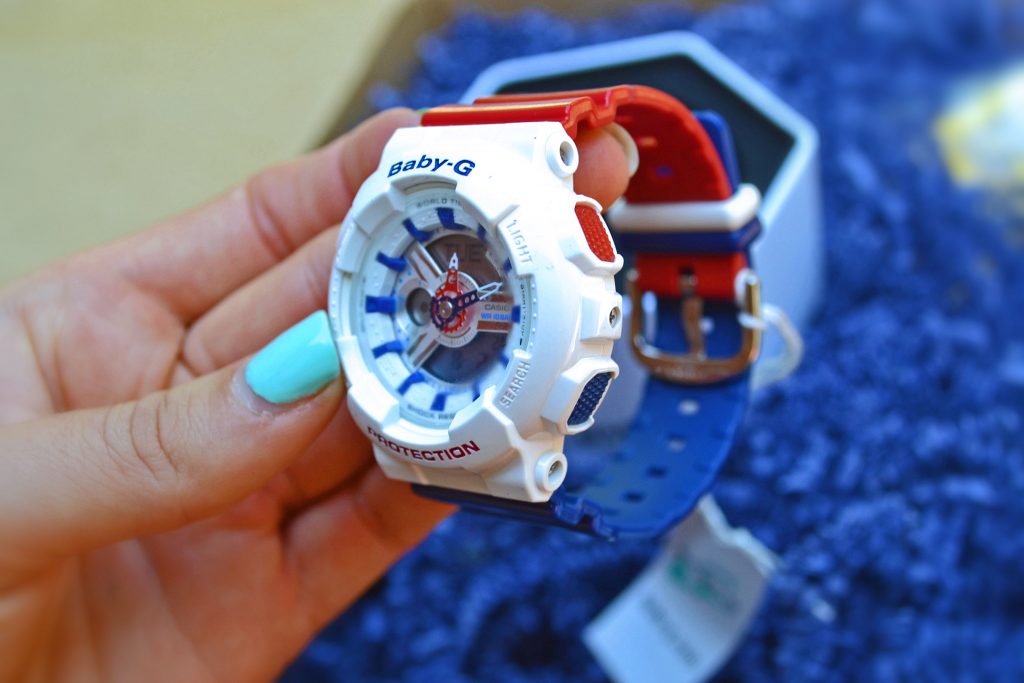 Now if you're looking for a super fun Olympics themed or USA themed watch, this is IT. I hate when my watches aren't water and shock resistance, which is the biggest aspect that I love about this watch. Because in summer, I hope we're all getting out and being active… so water and shock resistant watches are a must!
Other functions: LED light, world time, stopwatch, countdown timer and
So who's ready to support our wonderful country and also be #FreshFitnFashionable?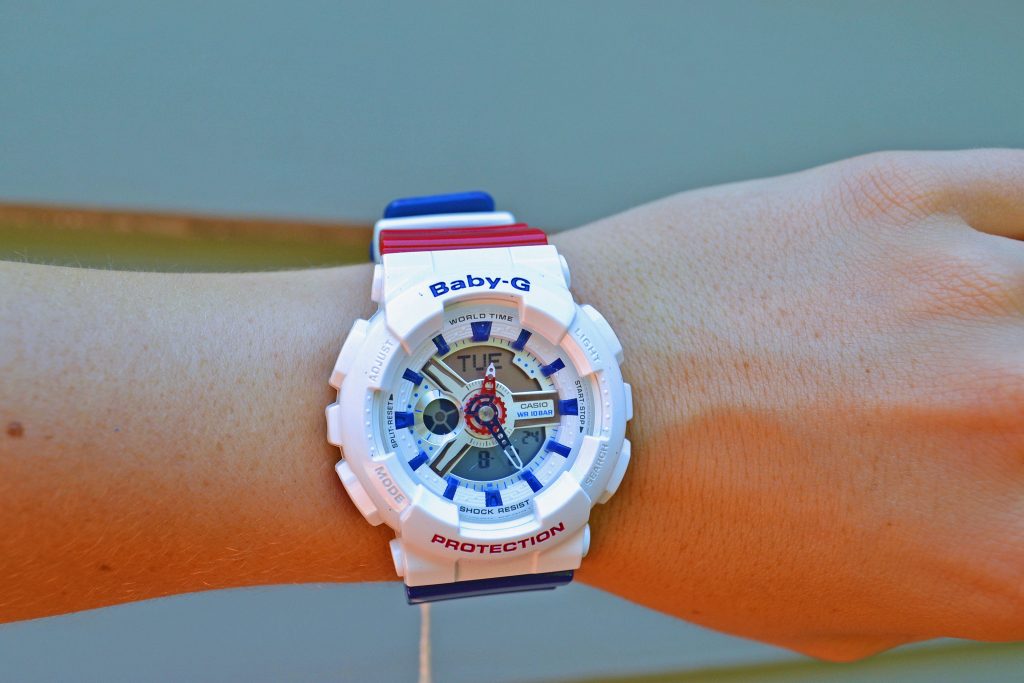 #3-5: Vitamin Shoppe®: TRUE ATHLETE® ZMA with Theanine, Energized Training Formula – Fruit Punch, Natural Whey Protein Packets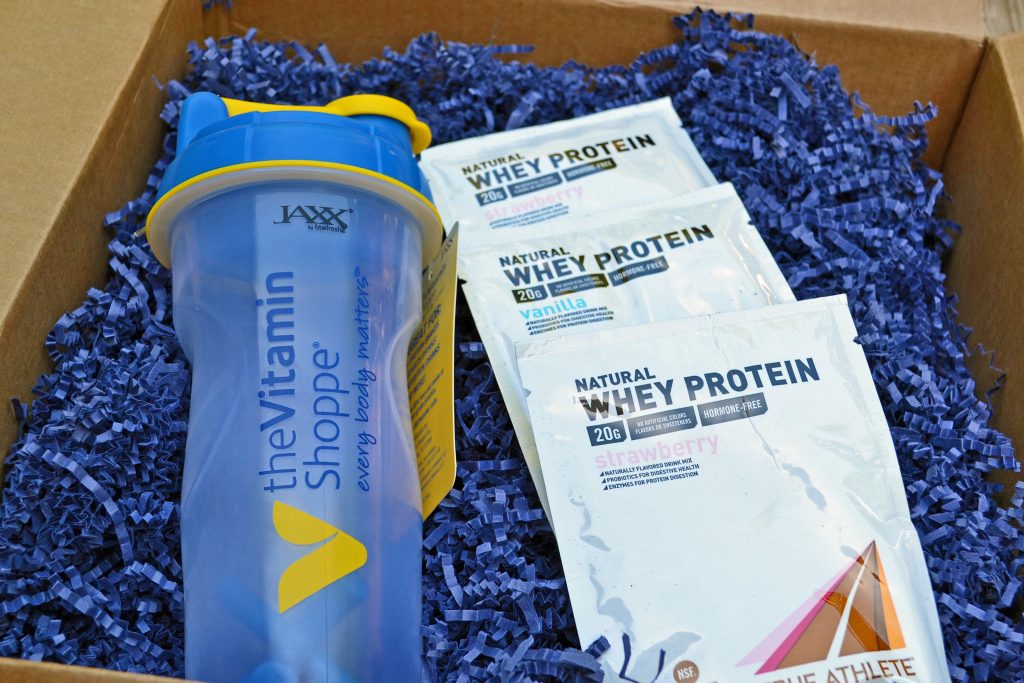 I have been programmed lately to look for the NSF certified logo when it comes to supplements, because of working with college/pro sports teams that can only take ones that are. TRUE ATHLETE, by the Vitamin Shoppe, contains no artificial colors, flavors or sweeteners and is free of banned substances, being NSF Certified for Sport. When it can claim those things, it's a winner to me!
The ZMA with Theanine is a unique supplement formulated not only to help you build muscle strength, but also to help fight the effects of exercise-induced stress, and to promote rest and recovery.
If you like fruit punch flavored things, this Energized Training Formula is a good one! It contains creatine, arginine and beta-alanine along with caffeine and AstraGin™   
And never bad to keep Natural Whey Protein Packets on you for when your stuck without food around or busy and in a rush after your workout! I talk about the benefits of protein HERE in THIS VIDEO.
Did I mention you can get them for 20% off ?! Use the codeUY2639NN  🙂
#6: JUST® water: 16.9 ounce bottle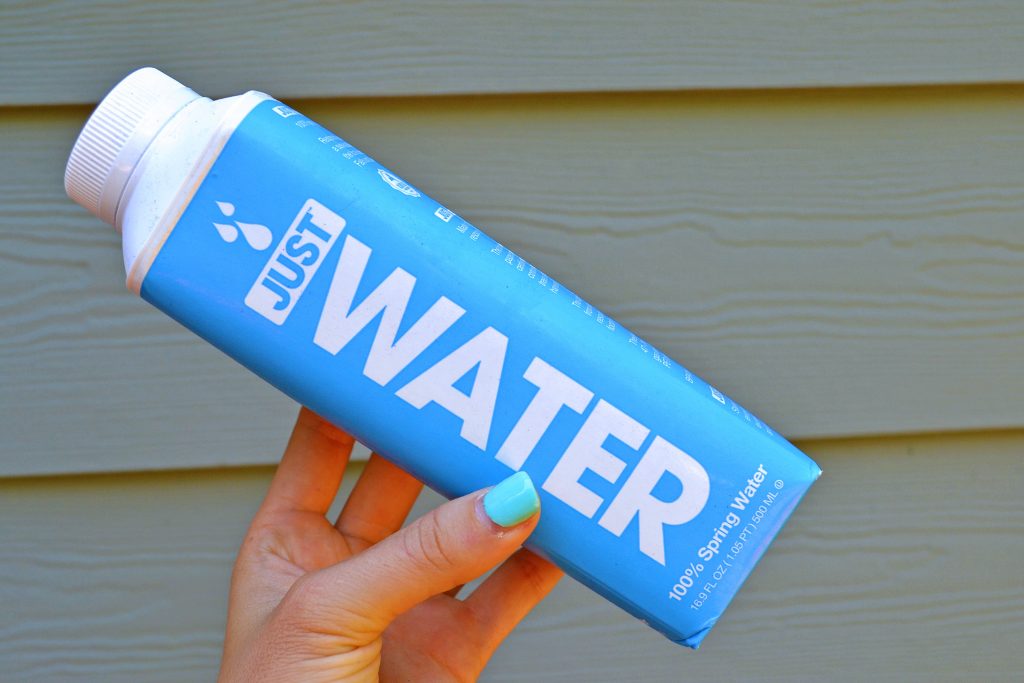 Are you Eco-Friendly and like your bottled water? This is a good one for you or a friend who is!
100% spring water in a paper-based bottle.
Made of 83% renewable resources by using paper and plant-based plastic from sugarcane, resulting in a 74% reduction in CO2 emissions compared to a range of traditional plastic
I thought it tasted better than regular bottled water!
#7: 2XU Mid-Rise 7/8 Compression Tights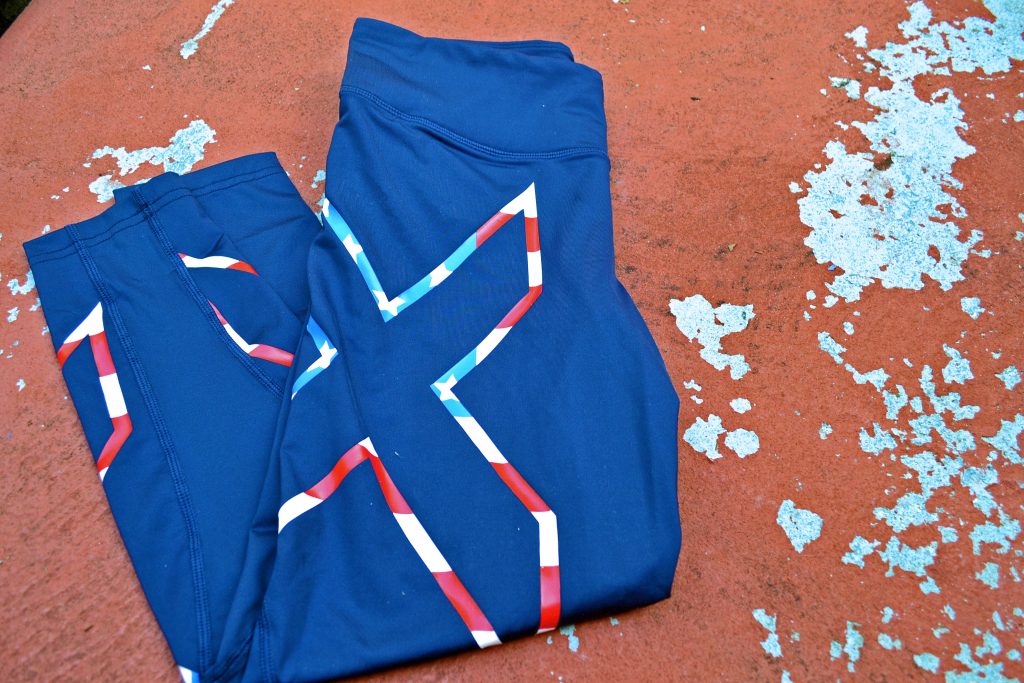 I love me my workout tights! Yes, I wear them to workout in, but I also just love wearing them around the house and to my graduate school classes, so they HAVE to be comfy.
Reason why I love these other than the fun USA theme? These graduated compression are engineered to: 

promote maximum blood flow, speed up pre-exercise muscle warm up, reduce fatigue through less muscle oscillation, and reduce muscle soreness

!
Did I mention you can get them for 20% off too?! Use the code 2XU20 🙂
Cinnamon Raisin Cookie Balls  
Homemade Granola with Ginger and Molasses 
Customizable Overnight Oats  

Pumpkin Bites 
So now that I've shared my favorite fitness gifts finds and recipes with you for this summer olympics, what are YOUR favorite ways to celebrate the USA?!
What plans do you have to watch the USA GO FOR THE GOLD?!
xo SarahGrace

This post is sponsored by 

BabbleBoxx.com

 on behalf of Single Edition Media.