Sick of waiting rooms or simply just don't have the time to make and get to doctor appointments or nutrition consults? Amwell, the nation's largest telehealth company, may be for you!
If you've been a loyal reader for any time now or follower on my instagram, you know that I'm on my way to becoming a registered dietitian as I currently pursue a masters in sports nutrition.
This brings about two points:
Health and nutrition is VERY important to me
As a student in a city other than "home", I find it VERY difficult to make and get to doctor appointments even though I know check ups are important!
This is why when reached out to me, I was first in awe that something like this existed and I had never heard about it before, and I was also super excited to do a review for them and experience a "virtual" online appointment.
Skipping the drive there, the waiting room time, AND saving the time from sitting on hold for an hour just to make the appointment? Count me in!
And like this title says…YOU CAN HAVE A FREE SESSION TOO.
Using the code AMWELLHEALTH when you , you can get a FREE visit with an Amwell dietitian/nutritionist!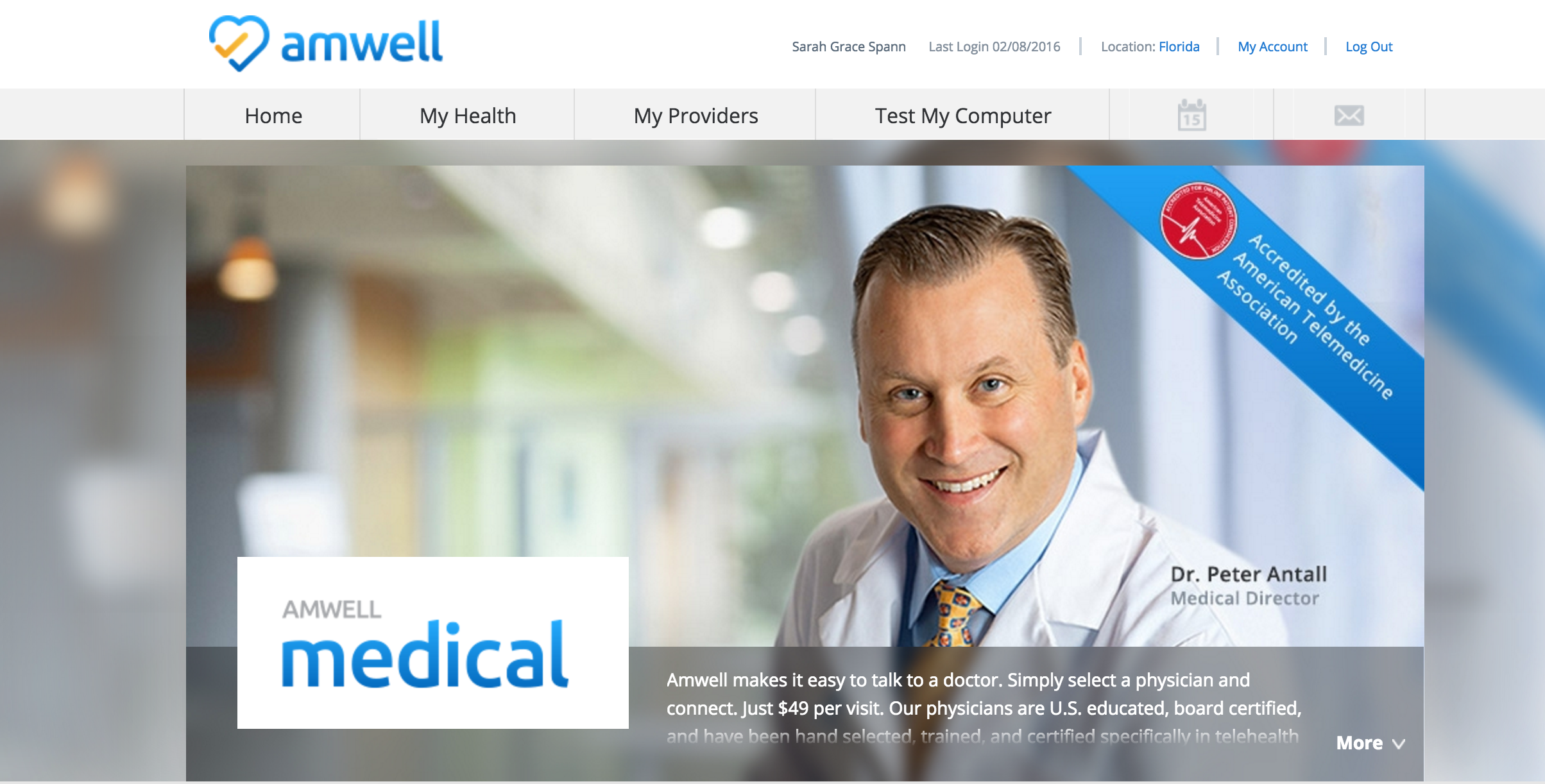 Convenience is key for me as a student, and Amwell doctors are available 24 hours a day, seven days a week, and are dedicated to keeping you healthy — all from the comfort of your home. And they also offer registered dietitians and psychologists! Convenient? I think so!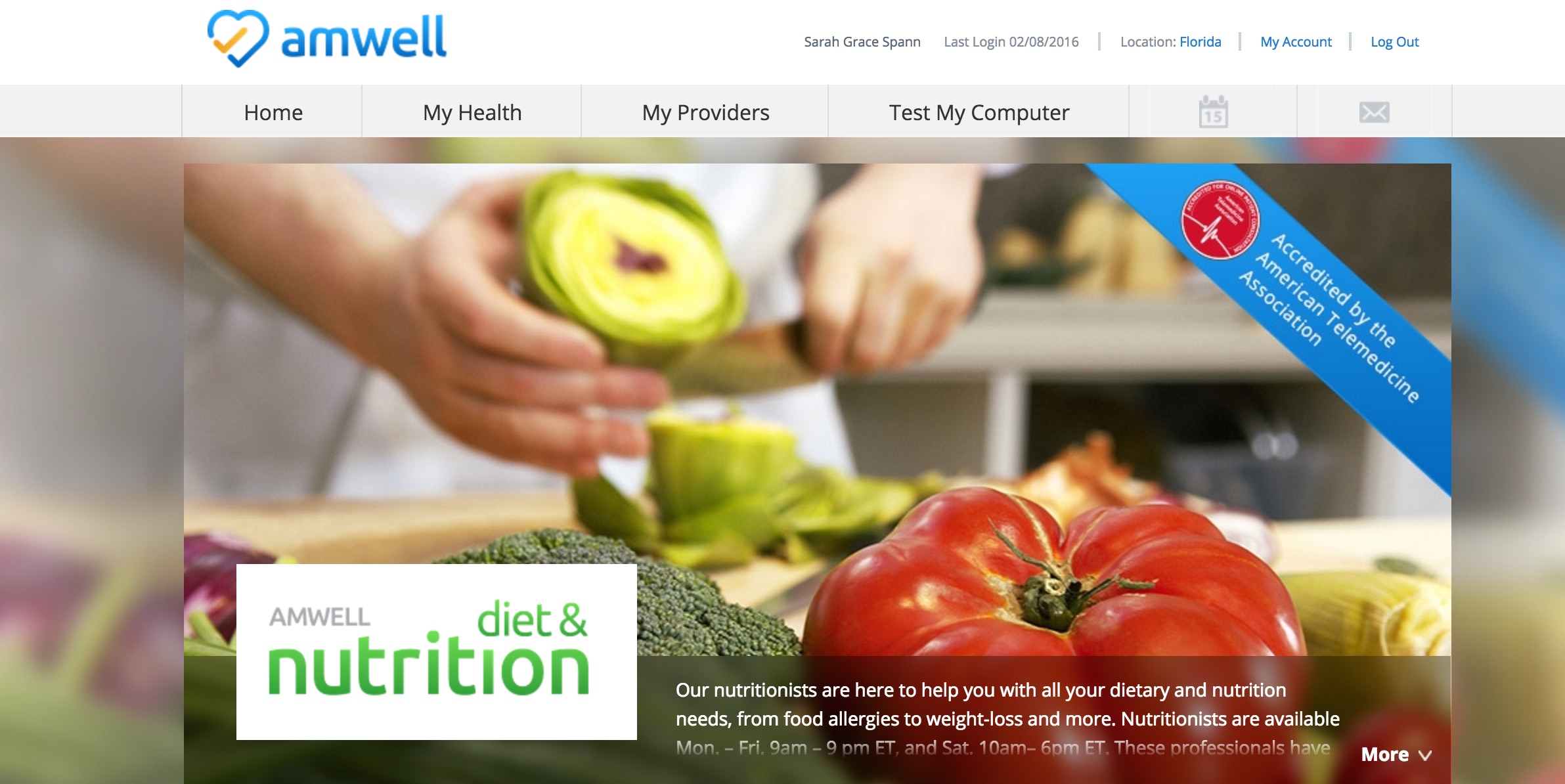 For my free visit, I decided to pick to see a registered dietitian, as I thought most of you all on here would be interested in that! I mean, that is what you all come over here for right? To keep your health in check by making all these yummy yet nutritious recipes??
I thought it was AWESOME to see that they only hired registered dietitians (RDs) and not just "nutritionists"…because you may not know, but as someone in that field, I know that ANYONE can call themselves a nutritionists (which I plan to write a post on soon). But all to say that if you're seeking nutrition advice from someone, they should be an RD, not just a "nutritionist".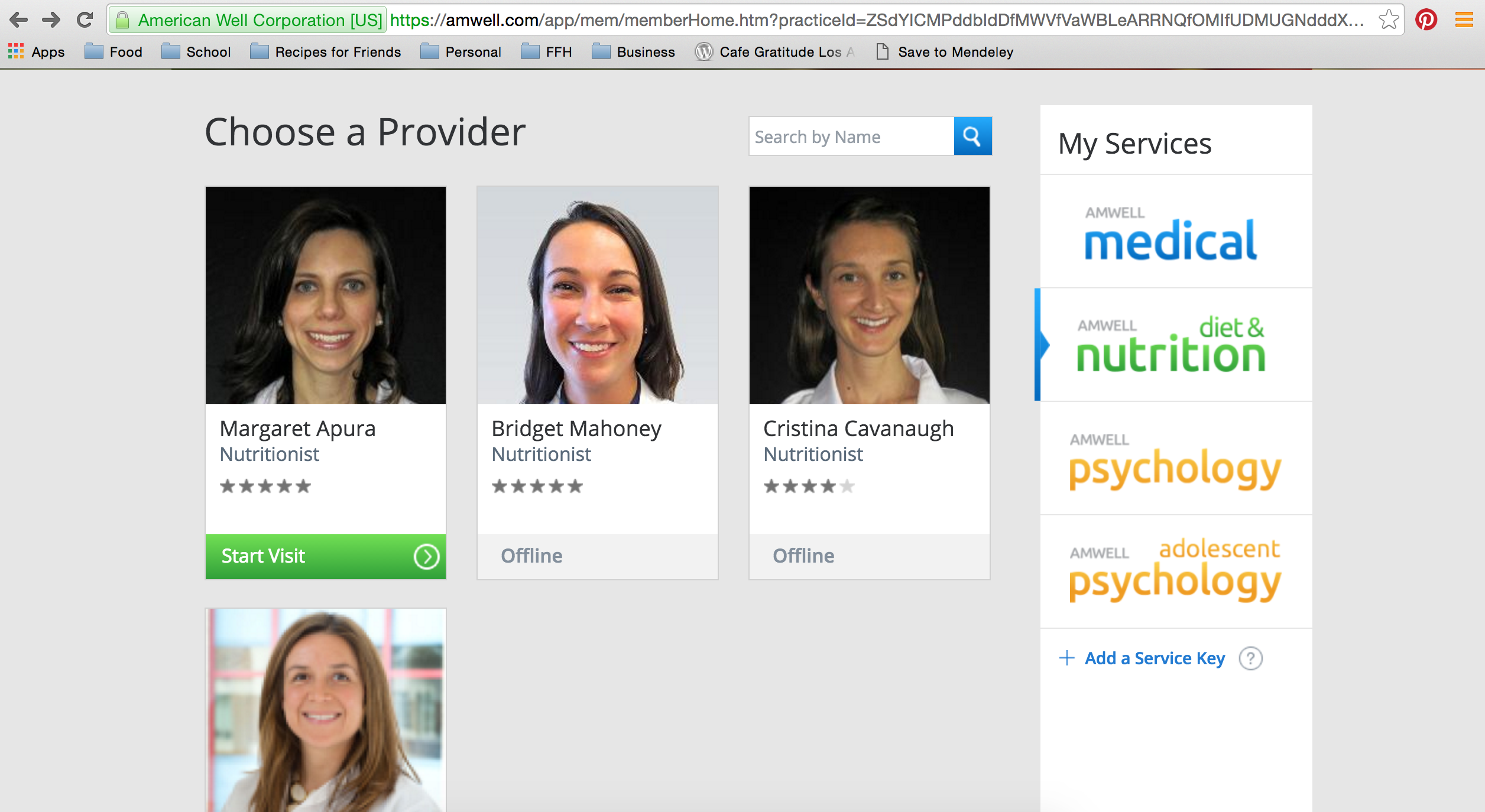 I was skeptical about how great an online RD would work, because of knowing how important it is to have an actual relationship with your RD to get results…but I was shown it can be JUST as personal as if you were to go in! I got to look at each RD, and choose which one I wanted to see, which I thought was really cool. After talking to my Amwell RD, I was convinced that she could help anyone accomplish any goal they had (like hit a weight goal, achieve an athletic feat, eat a healthy and well-balanced diet, etc.)… keeping you fresh, fit, and healthy! (until I officially become an RD, then you can start coming to me instead 😉 just kidding of course)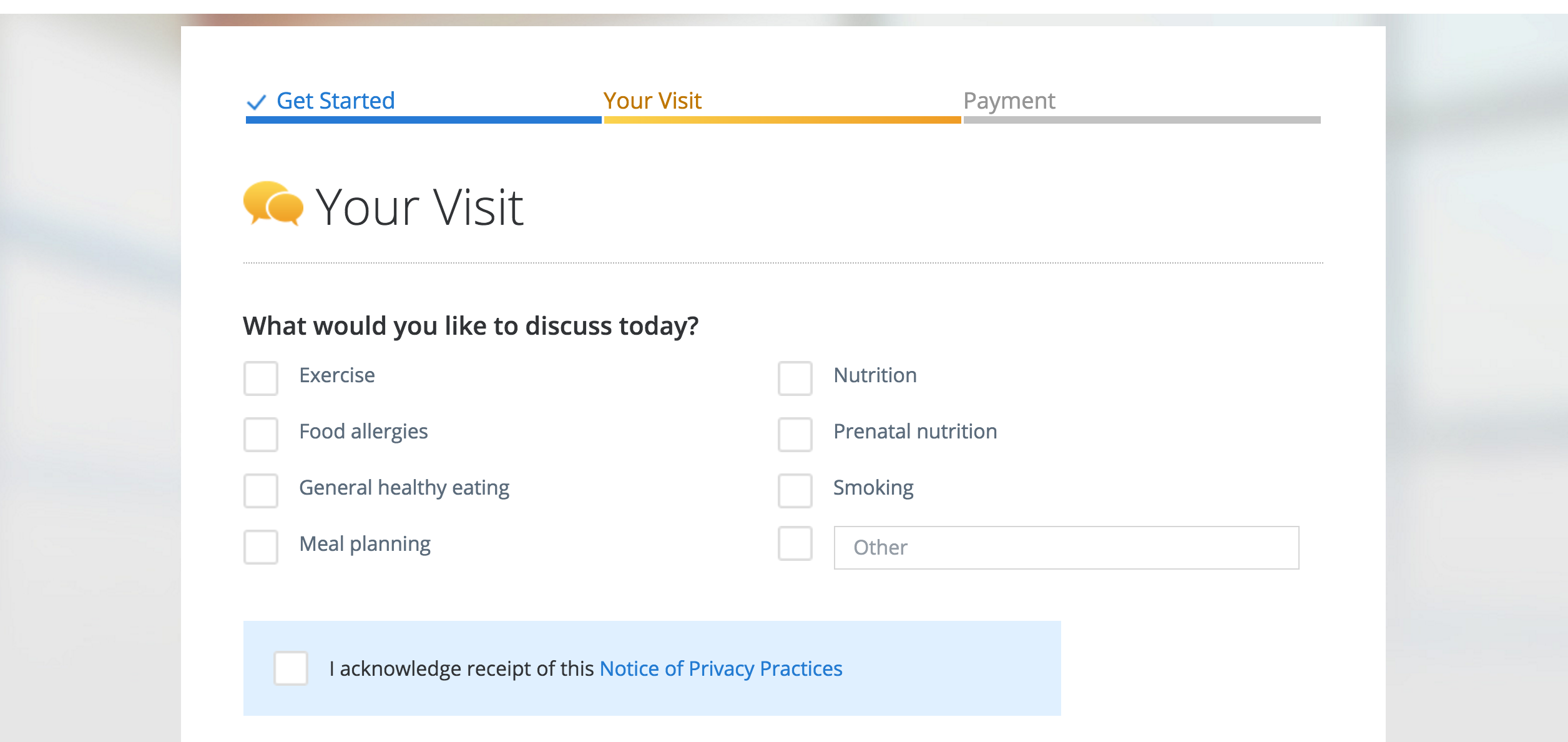 I was also SUPER impressed with how easy it was. In FIVE minutes, I had signed up and entered all my information like what I was interested in talking about…and in TEN more minutes, I was IN A VIDEO VISIT already with an RD. Total time of 15 minutes. It would take me that long just to make a google search and FIND someone to call in my area to see.
And best part…I was sitting at home, fresh out of the shower, in my pajamas still, drinking my coffee, with no make up on. THAT my friends, is not something that would be possible if going into an office to see someone. That comfort was a selling point for me.
Oh and did I mention each RD visit is only $25?! even without insurance. (but of course your first one is FREE with the code AMWELLHEALTH )
That's about 1/3 of the price it would normally be if you saw a regular RD! And doctor visits are only $49!!

My RD helped me with questions I had regarding food allergies and such…and then of course I just began picking apart her brain as a future RD myself haha. But wow, I was a fan when ending the call.
After our visit, I instantly got an email with a summary of all we talked about too. And she reminded me at the end of the call that if I had ANY questions, to easily just message her.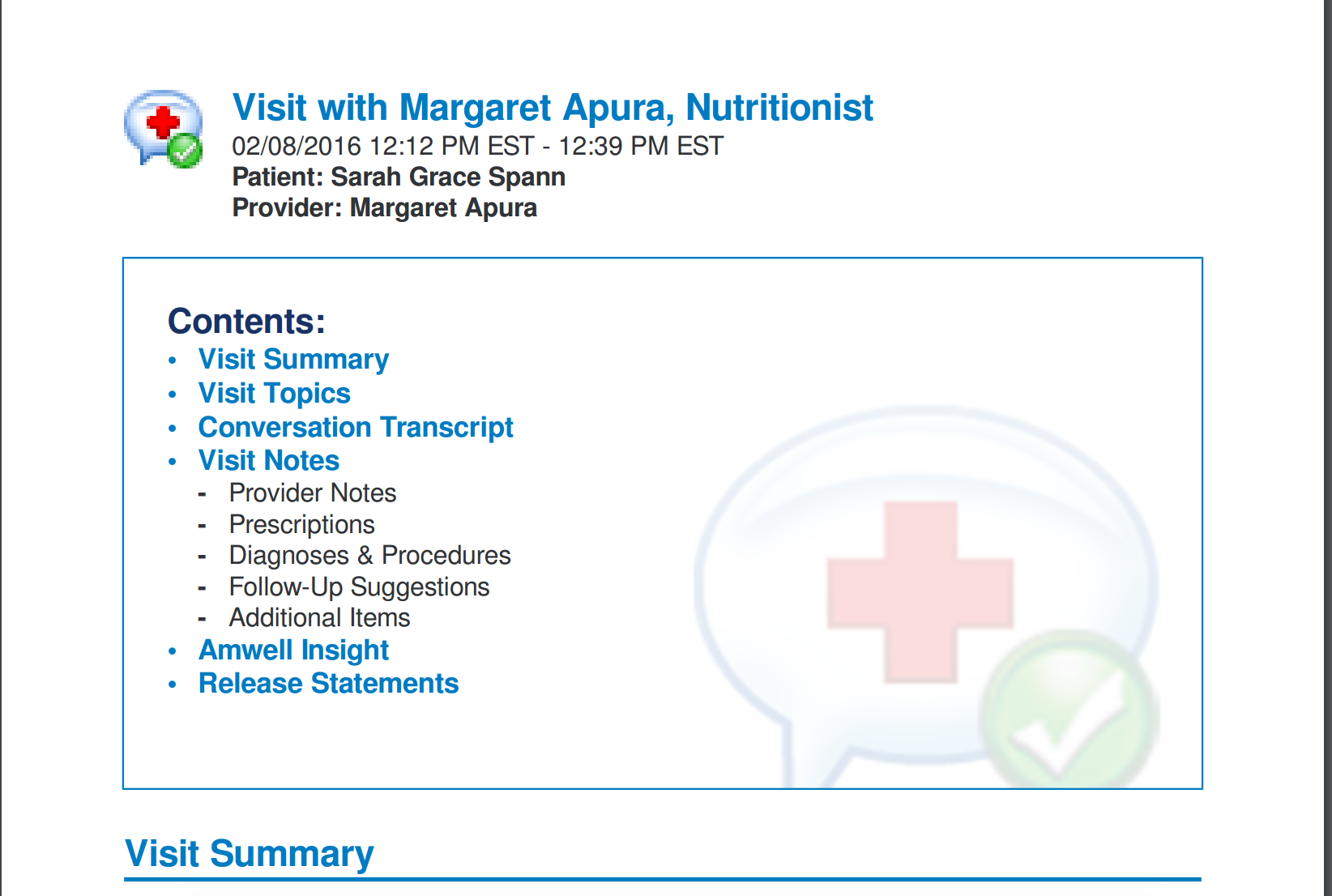 That's as easy as 1,2,3!
As a summary, here are the benefits I found through my visit:
Lower cost. Consumers expect online visits to be cost-savers; with in-office visits costing, on average, $82 for first-time patients according to the Healthcare Blue Book, Amwell offers a $49 physician visit – a savings of $33. Great option for students in college looking for cost-effective healthcare or those between jobs and without insurance. RD visits are $25 for 30 minutes
Accessibility: After hours, on weekends and in the middle of the night (24/7/365) availability. Great for those who do have transportation or when you don't feel well enough to drive and those who are newly relocated and don't have providers yet.
Convenience: Consumers are looking for a faster appointment. Now they don't need to schedule an appointment nor do they need to wait to be seen, especially if on vacation or business travel. The doctor can be seen from the comfort and convenience of their own home.
Accountability: Have your personal health coach in your pocket – just one click away. Keep on track towards your goals with recurring visits at times that work best for you and your coach. Even share your results and data with your RD via Amwell's integration with the Apple Health App.
And to leave you off, here's a video on their channel that explains some more things about the doctor visit side, since I focused on the RD visit!
This post is sponsored by FitFluential on behalf of Amwell.