So I was chosen for a recipe contest by Elli Quark in which I am given a theme and shipped 5 random ingredients..
The theme was cupcakes, and I was given their Vanilla Bean Quark (it's like greek yogurt but better!), zucchinis, red grapes, walnuts, and cinnamon sticks.
Hmm, what was I going to make (I thought to myself upon receiving the shipment.
Then a light bulb went on.
I've been wanting to make carrot cake muffins for awhile..so why not now?!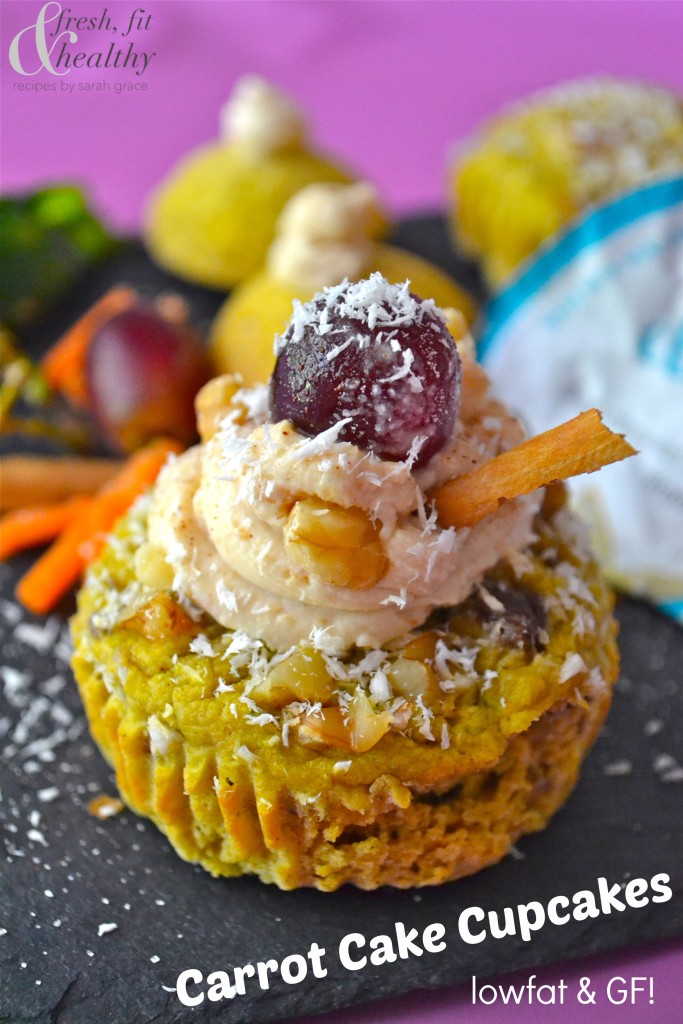 Add some grape puree instead of my typical applesauce addition to baked goods..
Dehydrate some more grapes to make the raisins that typically go into Carrot Cake..(yeah did you know you could do that?!)
Add shredded zucchini and carrot to the batter.
Add some vanilla bean quark, walnuts, and fresh ground cinnamon from the sticks to it too.
And then you can't forget about that delicious cream cheese frosting carrot cake always has..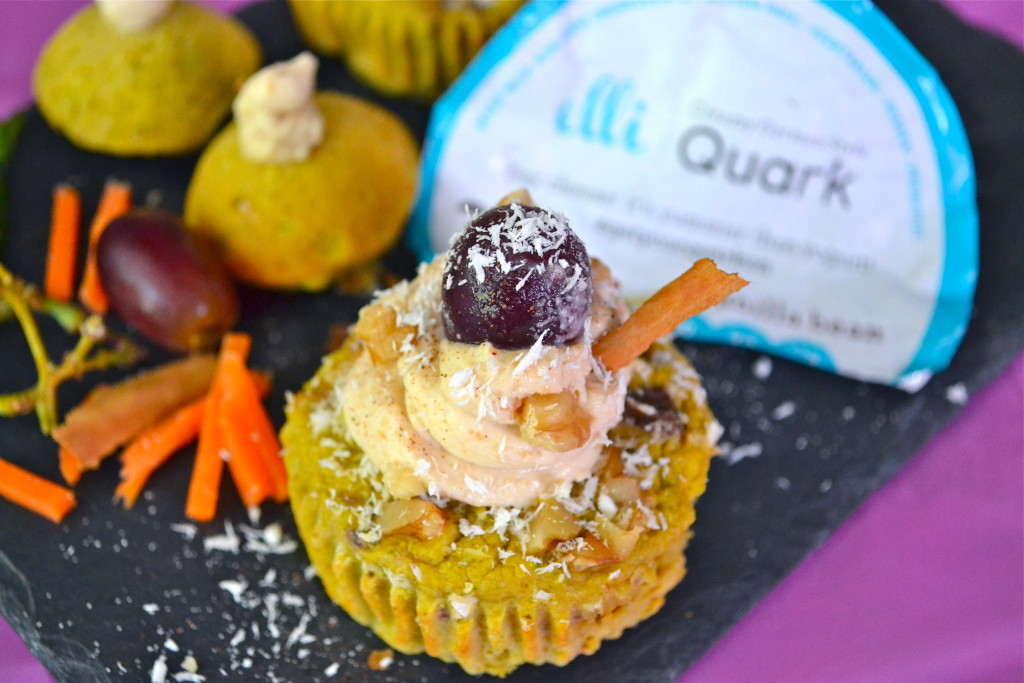 So I combined a mixture of equal parts of their Vanilla Bean Quark, homemade Walnut Butter, and Cream Cheese, with a little more of that fresh ground cinnamon to make one delicious yet lower in fat cream cheese frosting.
Oh and then had to make it pretty by adding a "frosted" grape on top that was coated in sugar, coconut, and candied walnut pieces.
Mmmm mmmm mmmm.
And guess what?! These are so healthy, it could even be a breakfast muffin without the frosting (or with it!)
Whether it be for sinless dessert or for breakfast, I hope you enjoy these!
Questions for YOU
What was your favorite store-bought flavor of cake growing up? (I LOVED when my step mom would bring home the publix carrot cake..)
Have you ever use zucchini in your baking?
Muffins or donuts if you go to Dunkin Donuts?! (I weirdly ALWAYS chose the blueberry muffin over a donut as a kid)
Serves: 6 regular muffins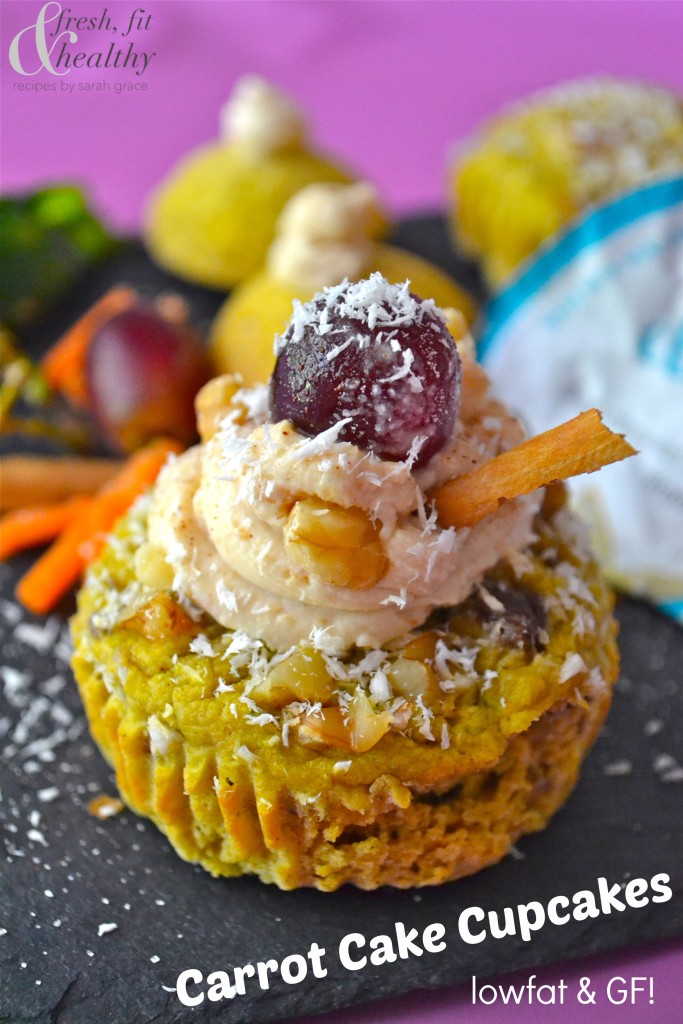 Ingredients
¾ cup GF Oat Flour
¼ cup each: Shredded Zucchini, Carrot
¼ cup Vanilla Bean Quark (or greek yogurt!)
10 large Grapes, pureed
¼ cup Raisins (dehydrated grapes or store-bought)
¼ cup Chopped Walnuts
2 tbsp Coconut Butter, softened
1 tsp Ground Cinnamon
1 tsp Vanilla Extract
1 tsp Baking Powder
15 drops Vanilla Liquid Stevia
¼ tsp Sea Salt
*Icing: ¼ cup each: Vanilla Bean Quark, Lowfat Cream Cheese, Walnut Butter (plus a little vanilla extract and sweetener as needed!)
Instructions
Preheat oven to 350 degrees F.
Blend all muffin ingredients except shredded coconut, raisins, and walnuts.
Stir those in last after blending.
Bake in oven for about 25 minutes.
While baking, mix together frosting ingredients and refrigerate.
Allow cupcakes/muffins to cool.
Top with icing, candied walnuts (walnut bits cooked in skillet with coconut oil and stevia and cinnamon), and shredded coconut.