Are you looking for a healthy blueberry muffin recipe that will be done quickly and can be made extremely easily? This is the recipe for you!
Don't think I'm not like you and most of the America's population. I love recipes that can be made quickly and easily. I'm typically rushing around just to finish everything I need to get done daily. I don't have time to sit in the kitchen for an hour or the money to run out to buy crazy ingredients for one recipe. And if you're like me in this way, you're going to love this healthy blueberry muffin recipe!
See, I love my single serving muffins and cakes. Also known as mugcakes. You may remember me going through a season of sharing tons of these little single serving cakes: the pumpkin gingerbread one, the strawberry blueberry one, the protein chocolate cake one, or my chocolate chip cookie dough one! Well this healthy blueberry muffin one is the same concept. A single serving healthier version of those delicious blueberry muffins we all love.
Because this way, you HAVE to only have one 🙂 #mandatorymoderation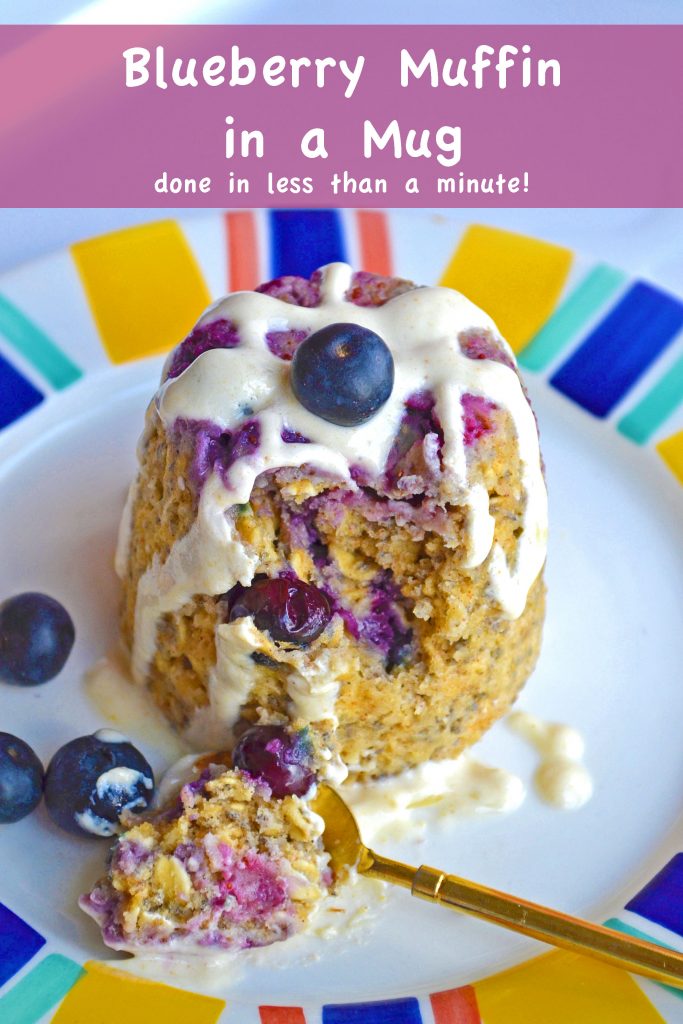 I mean, let's be honest… if there's a huge container of blueberry muffins sitting in my kitchen, the chances of me eating more than I should is about 99%. But with these single serving muffins, you have instant portion control 😛
And not only that, but they are ready in ONE MINUTE. Now that's a recipe I've got time for! What about you?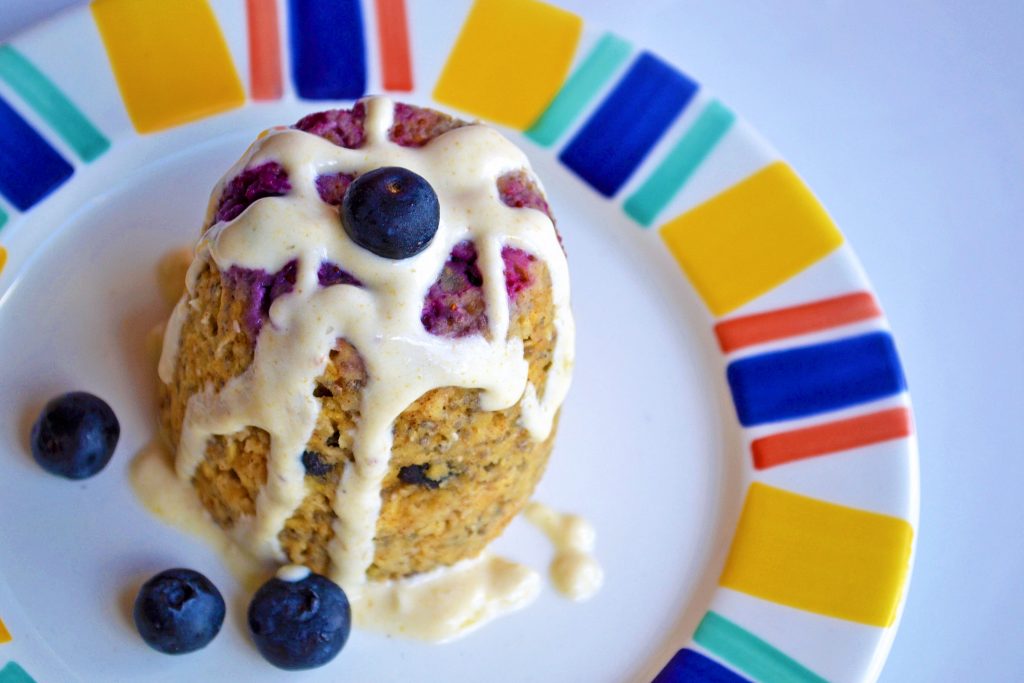 And for the benefits of Blueberries?
Head to this post where I've already shared them all along with some yummy blueberry lemon cheesecake muffins!
And the benefits of Oats?
Head to this post where I share them along with my delicious mint chocolate oatmeal recipe!
So who's in for this delicious yet healthy blueberry muffin that's ready in a minute?!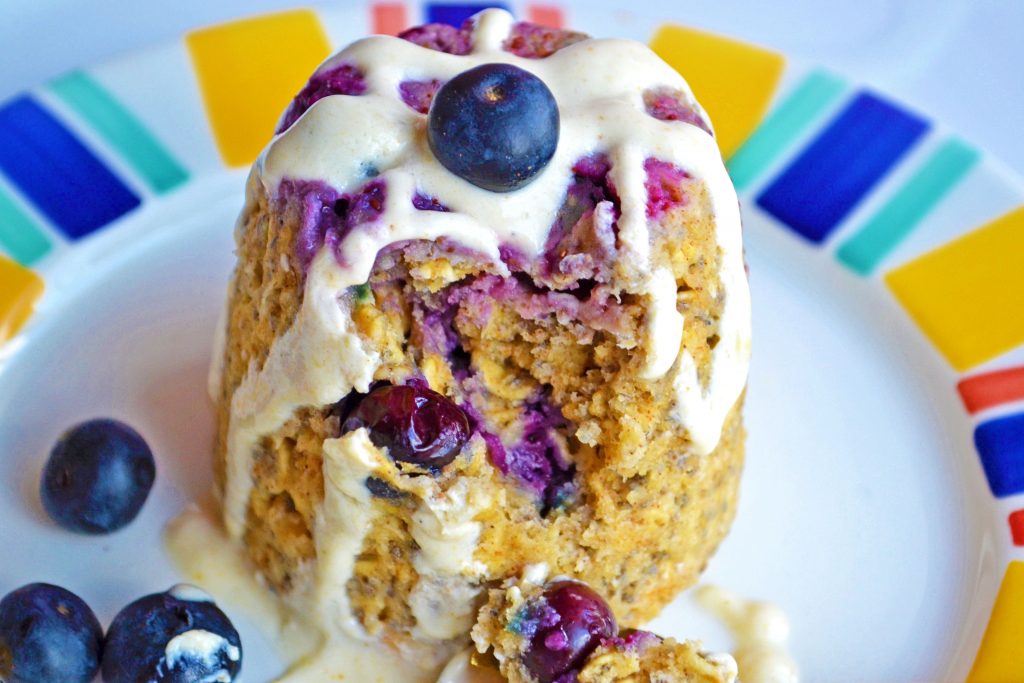 Now tell me my Fresh n Fit Fam…
What's your favorite blueberry recipe or way to eat blueberries?
What kind of mug cake would be your absolute favorite flavor?
If you could buy prepackaged single serving mug cake mix…would you? 🙂
what's been your most recent favorite food product?
xo,
Sarah Grace

Rating 5.0 from 1 reviews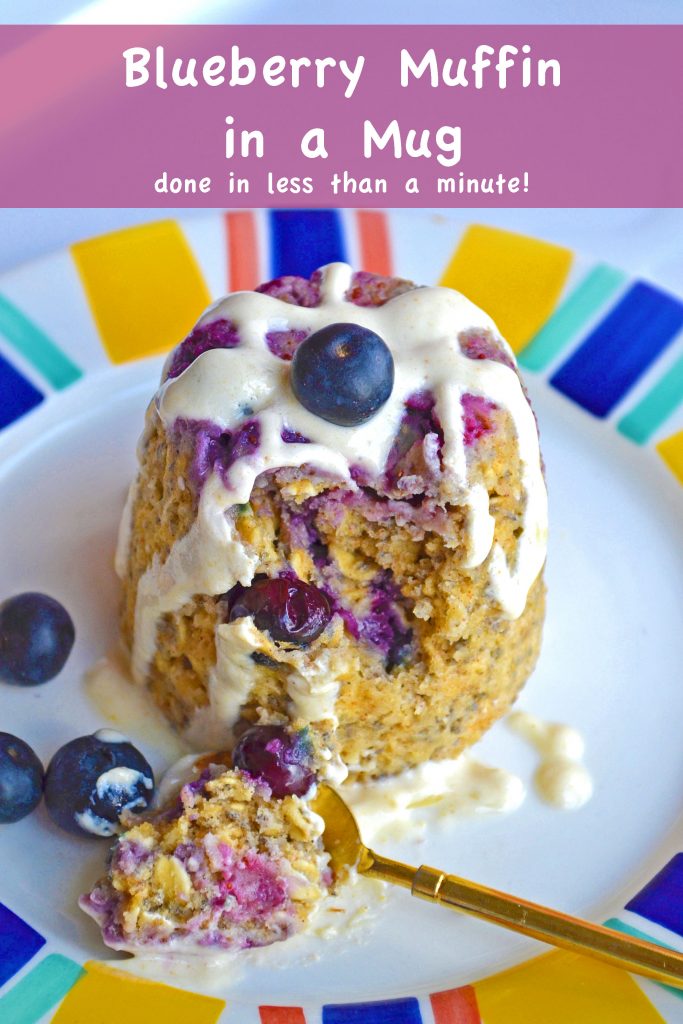 Ingredients
¼ cup Oats (GF if needed)
1 tbsp Flour (I use Oat Flour -- ground up oats)
1 Egg
2 tbsp Greek Yogurt (flavor of choice)
1 tbsp Honey
1 tbsp Nut Butter (I used Cashew but PB would work too!)
½ tsp each: Vanilla Extract and Baking Powder
Dash of Sea Salt
Blueberries as desired (I just threw in a handful!)
Instructions
Beat egg in bowl. Add in yogurt, honey, nut butter and mix.
Add in flour, oats and rest of ingredients, stir until thoroughly mixed.
Gently stir in blueberries
Spray mug with nonstick spray, spoon batter into mug.
Microwave for 45-55 seconds, depending on power of microwave. Enjoy!