Looking for a healthier alternative to your typical BBQ? These healthy BBQ Chicken Sandwiches with a creamy mustard coleslaw are perfect for you!
Fourth of July just passed, and as most typical Americans, I was craving some good Barbecue! Even though a typical sandwich would have been okay, as I preach and believe that all things in moderation are okay, I wanted to add just a little nutrition and take away a little of the unneeded fat. The result was the most tender, juicy, melt in your mouth shredded chicken, that I made these delicious yet healthy BBQ Chicken Sandwiches with (thanks to Blue Apron for the inspiration, and if you want to try them out too FOR FREE, click here)!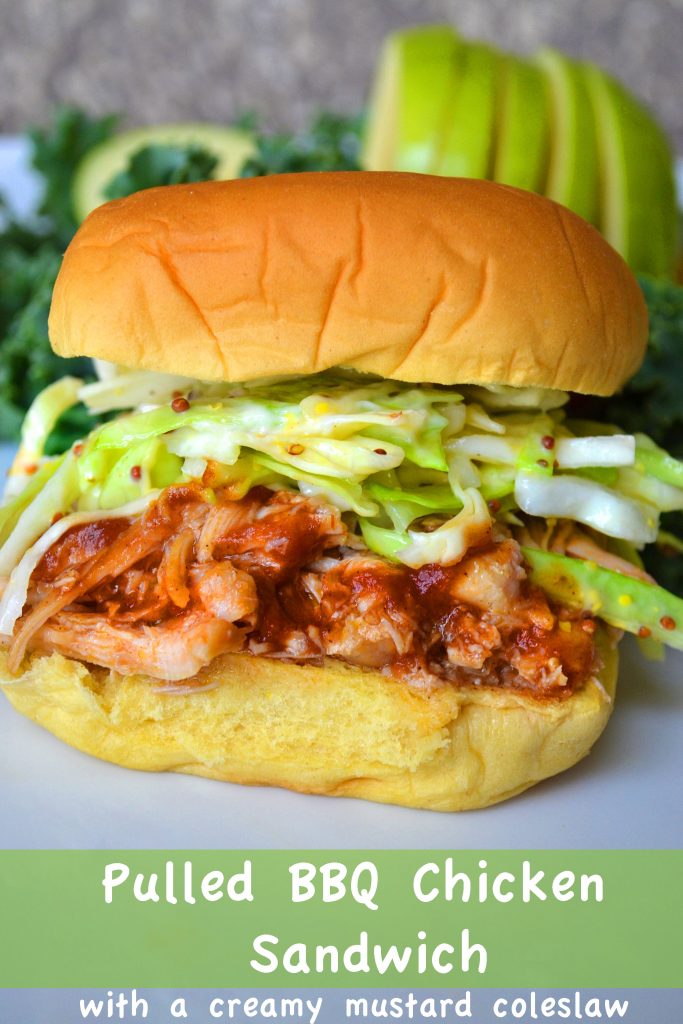 What is the secret? Cooking the chicken on LOW & SLOW. Didn't mean to rhyme there, but hey, that's a good thing to remember to have any tender meat! Not only the cooking method counts though, but the TYPE of chicken. I almost always buy chicken breasts, BUT this recipe I used chicken thighs. BOY did that make all the difference for these delicious sandwiches!
You may ask, doesn't the dark meat have more fat? Let me give you the low down on dark meat.
Why is dark meat, dark? It's due to myoglobin, the dark compound that carries oxygen to working muscles. Since chickens and turkeys walk a lot, their legs and "thighs" have dark meat versus white (such as their breast that don't "work" too much since they don't fly)
Yes, dark meat has slightly more fat than white meat; however, it's lower in fat than both salmon and red meat, and doesn't need the typical saturation of gravy on it like the white stuff does since it is so moist on it's own!
Dark meat contains more nutrients than white meat such as iron, zinc, B vitamins, Vitamin A and vitamin K!

Now you know the secret to these healthy BBQ Chicken Sandwiches, and why dark meat is, well dark!
But really, look at it, why don't ya just look at it. I don't think I need to tell you that it doesn't have to be the 4th of July to make these delicious yet healthy BBQ chicken sandwiches! Of course the "healthiness" comes from my own healthy BBQ sauce that I shared with you all awhile back!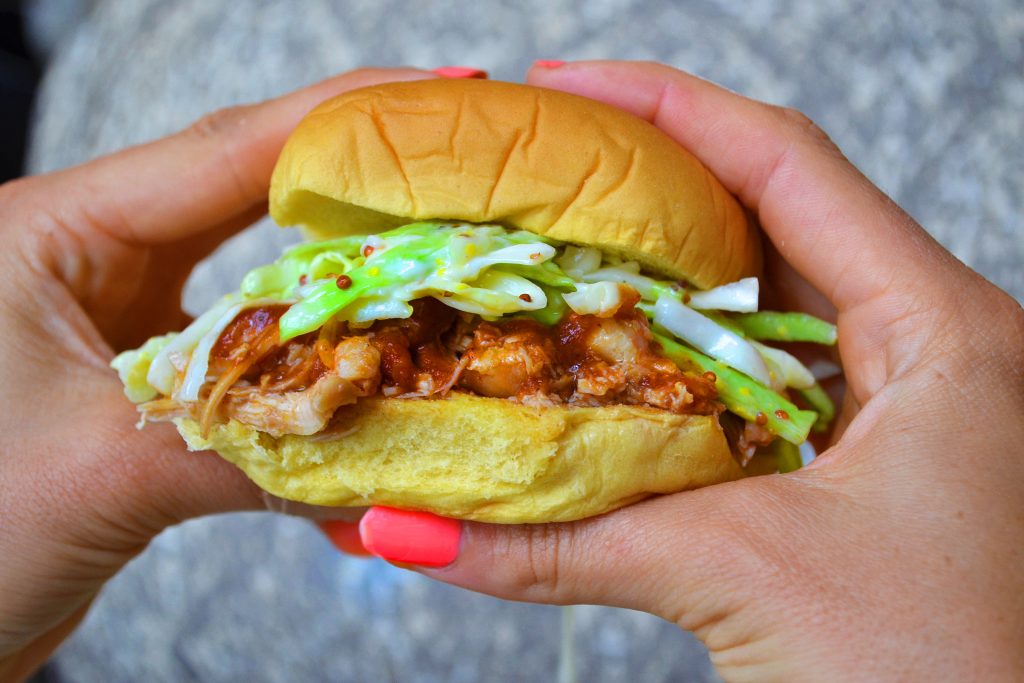 Along with these babies, I was devouring my healthy cookie cake I made for the MLB Twins (since I'm now interning with their dietitian!). Mmm mmm. You may have seen my instagram post on it, or my snap story (Sarah_Grace11), but it's been SO amazing to be given the free reigns I have been there to come into the kitchen and create ANYTHING. So many ingredients to play with, so little time! I'll update you fully on that rotation when it's done, but I did make this fun video with the dietitian, Kate, and how she became a sports dietitian!
Now next week I take a little break from the rotation and head over toooo
Woo! Who's all going?! Even as a Florida girl, I'm in love with California and wished I lived there!
But now questions for YOU
What is your favorite meat to slow cook?
What is your favorite "BBQ item"
Are you a coleslaw kinda person or nahh? (if it's because the mayo that you avoid, you have to try this one!)
Are you going to BlogFest or do you live in LA?! I'll be there July 14th-18th!
Want to try a FRESH ingredient meal delivery service for FREE? Click HERE!
until next time,
xo Sarah Grace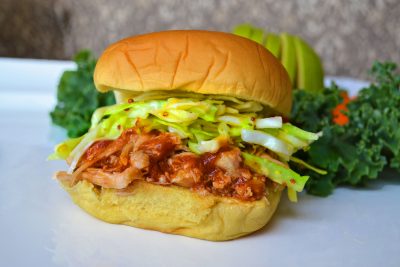 Ingredients
12 Boneless Skinless Chicken Thighs
½ cup of my Homemade BBQ Sauce (or sauce of choice)
1 lb Green Cabbage
2 tbsp Red Wine Vinegar
2 tbsp Relish
2 tbsp Whole Grain Mustard
¼ cup Low Fat Mayonnaise
1 tbsp Honey or ½ packet Stevia
4 Buns of choice
Instructions
On the stove top, place the chicken thighs in a pan and cover with water. Add a few tbsp of BBQ Sauce for the chicken to soak up the flavor with the water.
Cook on low heat for about an hour, or until chicken is cooked through.
Meanwhile, slice cabbage up, and in a small bowl mix up the vinegar, relish, mustard, mayonnaise and sweetener. Add mixture to cabbage and stir together.
Drain chicken when done, allow to cool, shred with hands, and pour BBQ sauce on it, mixing it all together.
On each bun, add ¼ of the BBQ chicken and some of the coleslaw mixture.
Enjoy with some fresh potato wedges, corn on the cob, or fruit!
Notes
This recipe was inspired by my Blue Apron delivery, but changed for a healthier take on it!