You've heard that meal planning is the best way to stay on track, but you don't know where to start. This meal planning 101 post is for you!
Meal planning and prepping can be OVERWHELMING. Am I right?
You hear "fail to plan, plan to fail". You hear that it will help you stick to your health goals. And you get excited and decide you're going to do it. And then life happens.
You begin thinking that planning all this food and all the meals, is ALOT. And overwhelming. And you don't know where to start.
Well I'm speaking from personal experience. But are you with me? And I'm only trying to plan for one. Throw in a husband, or some kids, and I can only imagine how overwhelming it can seem!
Even as a nutrition masters student and soon to be registered dietitian (btw did you miss my post on what an RD really is??), you would think meal planning and prepping would come EASY to me. But it didn't. At first, I was feeling just as overwhelmed as you may be feeling now.
When I graduated college and no longer had my meal plan at my sorority house, I realized it was time to begin learning how to plan and prep my meals. And I FAILED often when first beginning. I would be good for a week, and then I'd be terrible for a couple weeks after.
I'd get stressed with school, short on time, exhausted from everything on my plate. And I'd fail to plan. I'd fail to get to the grocery store. And I'd eat more meals out then I wanted to. Or live off of cereal…
But enough about my struggles in meal planning, because now that I've got it down, I want to share with YOU all some tips and tricks.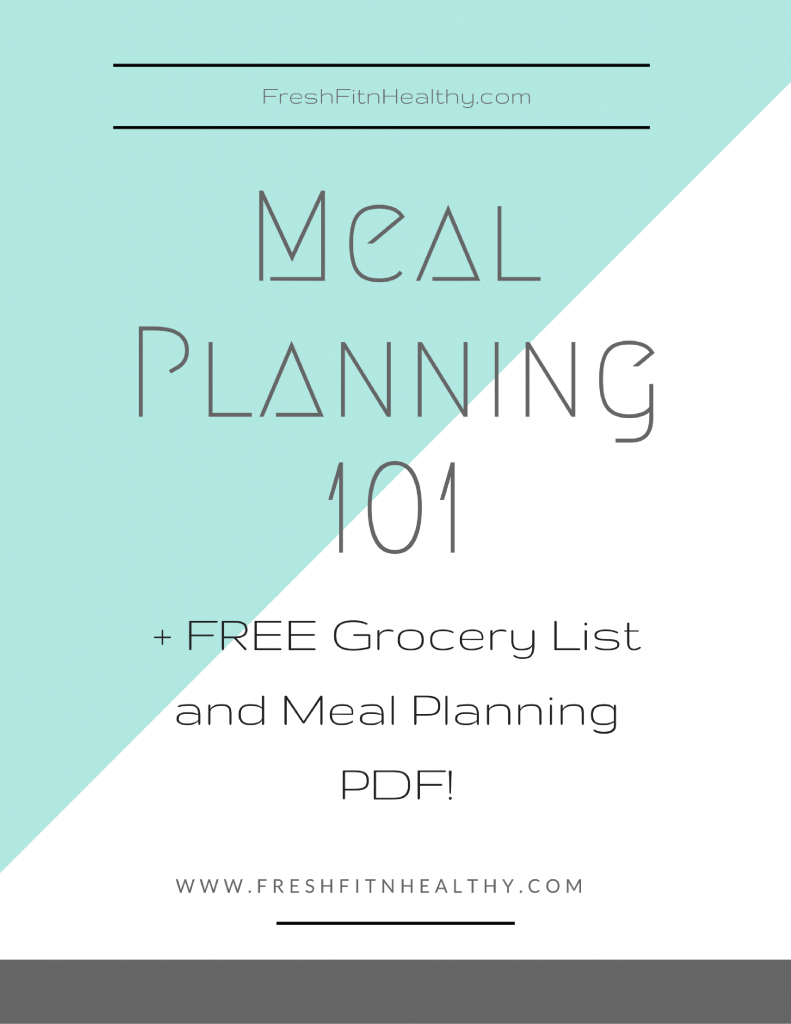 Plan no more than one or two weeks at at time.  If you are new to menu planning, don't try to be a super hero and plan out 30 days worth of meals. You just won't stick with it. I know I wouldn't. Instead, work on just doing one week at a time initially. And focus on maybe 1 or 2 meals a day, versus every meal/snack for every day.Then you can get up to planning breakfast, lunch, dinner, and all your snacks!
Check to see what you already have left/on hand before you plan. When planning your menu, take a look in your refrigerator, freezer and pantry. There's some great apps out there where you can simply put in ingredients you have, and it will give you recipes using those ingredients!This will also prevent you from buying things you already have left from last week's trip, or have hidden in the way back of the pantry.
Look at your store's BOGO deals/weekly ads. When I plan on going to one of my local grocery stores, Publix, I always get their site to see what the weekly BOGOs are (buy one get one free in case you had no idea what that meant). That way, I can plan meals that may include some of those foods! If you find that chicken is on sale this week, it might be the perfect week to get some extra, using some for that avocado stuffed chicken dish you saw online, and some to freeze for later use. See that bread and soups are BOGO? Pick up two loafs and extra cans of soup, and plan on making a delicious sandwich and soup night for dinner!
Ask your family for input. Not just planning and cooking for yourself like me? Ask for input on what the others want! This not only helps you in thinking of good ideas for meals, taking some of the stress off you; but it also assures you that they will all enjoy and appreciate what you plan and make each day!
Make a plan and write it down (on the PDF I have below for you!) before you go shopping. And don't forget the list at home or in your car like I often do haha. You can have great ideas in your mind, but if you don't write them down, you may forget come Thursday what it is you have left to prepare for the week.This is where my PDF comes in HANDY for you all! Just click the link at the bottom to download it! And what better way to help your family members know what is for dinner each night, then to hang up the list once creating it in the house somewhere?? It is also good so that you can pull out those items from your freezer in the morning so that they are thawed by the time you get home from work in the evening.
Extra Tip: Cook extras and freeze! Even if you or your family don't like leftovers for days, cooking mass amounts will become your BEST FRIEND. And such a time saver. What I do instead of eating the same meal for days on days? I vacuum seal my food and freeze it like I showed you all how to do in this post! That way, the food never gets freezer burnt, and when you come to those lazy days in the future, you have something already cooked and ready, just waiting to be dethawed!
So tell me, what's your greatest meal planning tip? Or what is your greatest struggle in meal planning?
until next time,
xo Sarah Grace
What it looks like: