A delicious yet healthy mocha diy vegan protein bars with almost the same high protein and high fiber content of a quest bar, in a mocha chip flavor!
You know I'm a lover of my protein bars and bites by now if you've been following me for any time at all or my pinterest board full of them. I always have to have my bars on hand for when life gets busy. Or when I get those chocolate cravings, which happen quite frequently. Thankfully, these mocha diy vegan protein bars satisfy those cravings every time!
I love making my protein bars with fiber syrup, because I realize that too much protein without any fiber with it, tends to create digestive problems for me. All those 20g of protein bars with little to no fiber are a NO GO for me.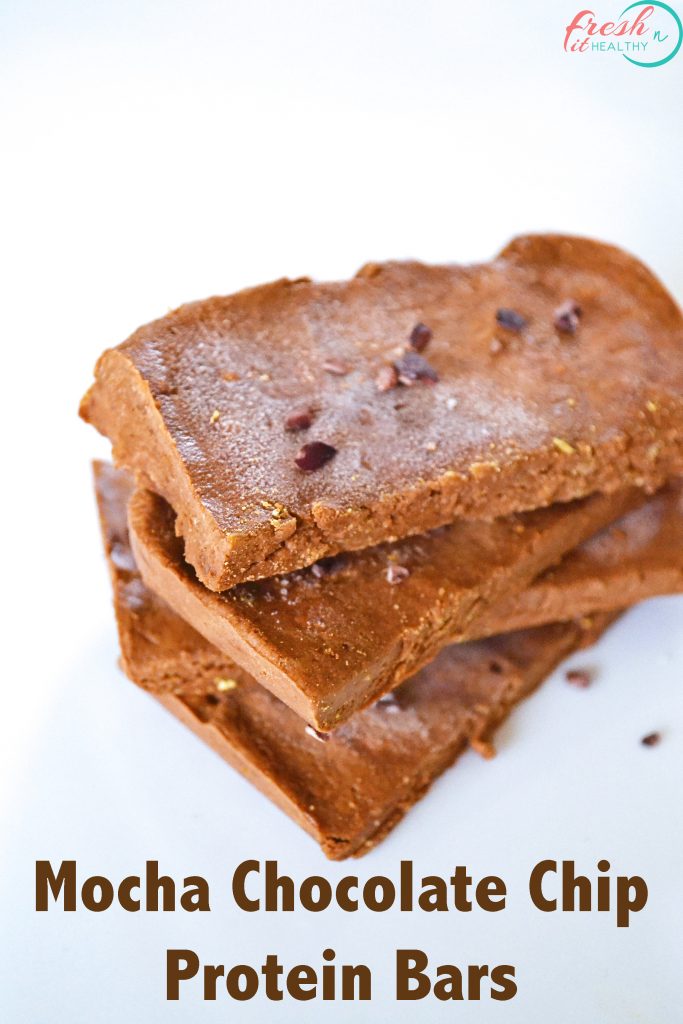 Many Americans don't get enough fiber in their daily diet. The recommended intake is 25-38g a DAY, and most of us out there are getting in aboutttt 15g at most. And that can cause a lot of problems and lead to lots of bad stuff sitting in your body for too long. I hate to get a little TMI over here on the blog, but do you ever find yourself having problems going to the bathroom? Or not going every day like you're supposed to (yep, if you aren't and think that's normal, it may be for many out there but it certainly isn't healthy!) Maybe I should make a post just on this topic…
Anyways, that's why in a lot of my recipes you'll see this fiber syrup used, like here in these mocha diy vegan protein bars! I can't have protein bars myself without some added fiber, so why would I share recipes to you guys without it??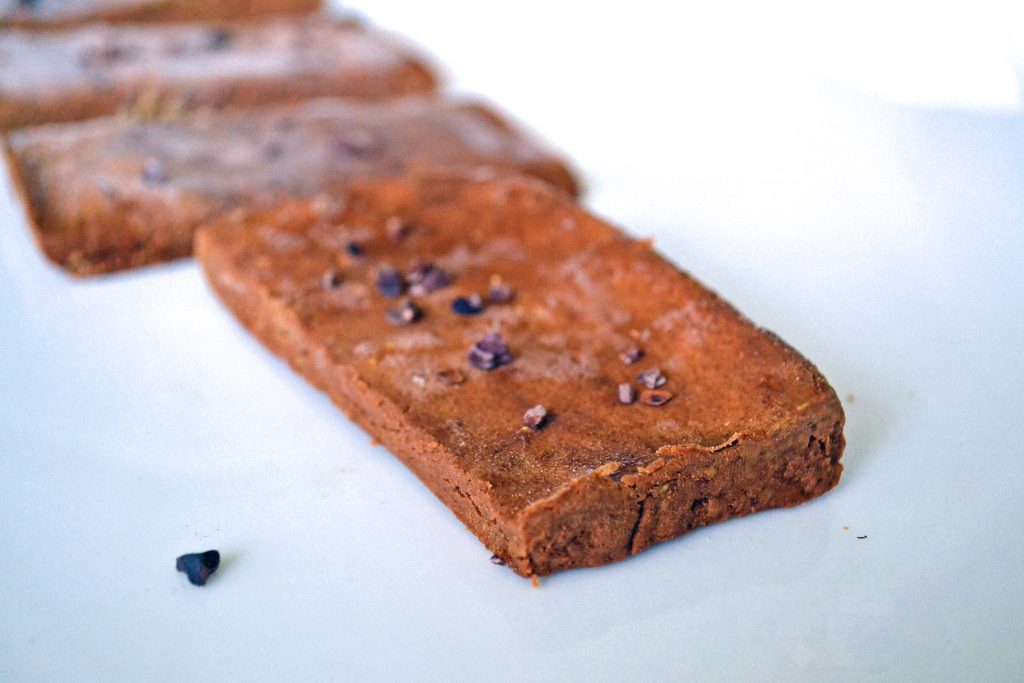 But no fear, if you don't have this syrup and don't want to purchase it, even though I highly recommend it because I go through it like crazy and it truly helps my health; you can easily sub in more honey/other liquid sweetener for the fiber syrup and it will still turn out!
Anyways, my mom is a BIG lover of quest bars, but sometimes they upset her stomach. She tried these diy vegan protein bars with almost the SAME onhealthy arimidex macros at quest bars, but using plant based protein powder instead of whey, and then using the fiber syrup Quest used to use before switching to corn fiber…and she LOVED them. She said she loved the flavor and the texture!
So, if you're a fan of having protein bars throughout your busy weeks, save money and add flavor by making these diy vegan protein bars this time around!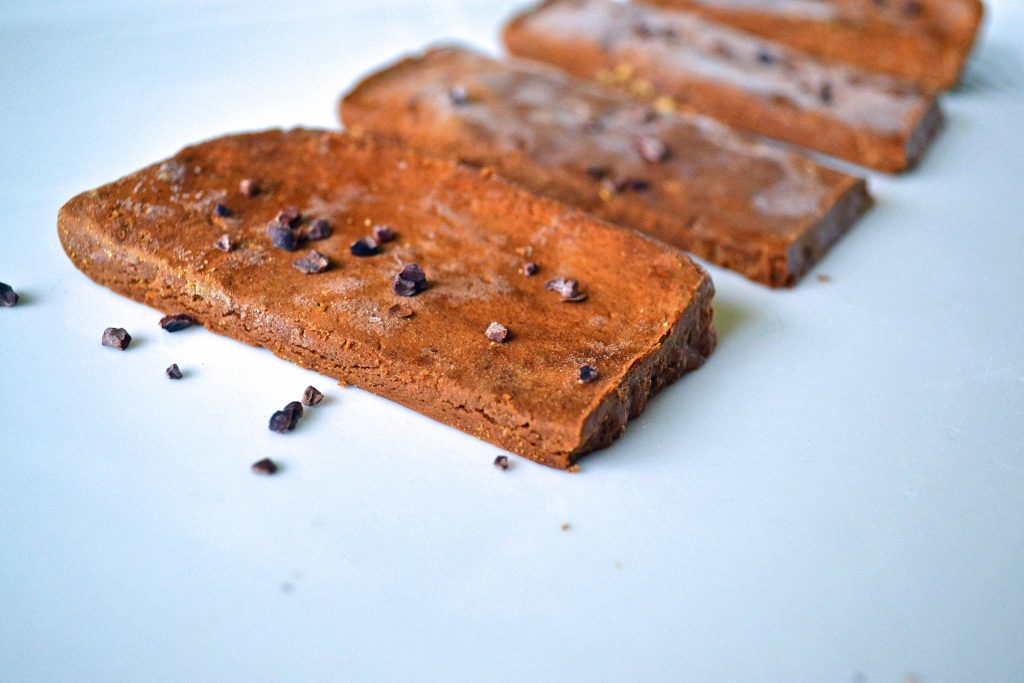 psssst: Wanting to try out some DELICIOUS meals delivered right to your door FOR FREE?! Click HERE!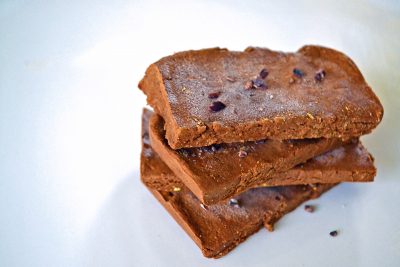 Ingredients
2 scoops Vegan Protein (I used brown rice protein powder or About Time's Vegan mix*)
2 tbsp Cocoa Powder
2 tbsp Honey (strict vegans use agave/other liquid sweetener)
2 tbsp IMO Fiber Syrup (or more honey) **
3 tbsp Nut Butter (I used almond)
1 tsp Vanilla Extract
1 tsp Instant Coffee
3-6 tbsp Almond Milk**
Dash of Sea Salt
Instructions
Mix together protein and cocoa powder in one bowl.
In a small microwavable bowl, mix together honey, syrup and almond butter and microwave for 10 seconds.
Remove and mix in instant coffee and vanilla and stir all together. Add to dry mixture and stir.
**Slowly, add in 1 tablespoon of milk at a time, until your mixture all comes together into a "moldable" texture. (It took 4 tbsp with my protein, but all protein powder will absorb a little differently)
Put dough on top of wax/parchment paper and use hands to flatten out.
Using a knife, cut into 3 bars and refrigerate.
When set (about an hour) use more wax/parchment paper and cut out 3 pieces similar to the shape of the bars.
Place each bar atop a matching paper and place in a large Tupperware. Keep refrigerated until eating. Can also freeze for later use.
Notes
*If you want to sample About Time's all natural Vegan protein,
order here
with the code fff1 for 25% off your order!
**Don't want to use fiber syrup? Simply sub in honey or other liquid sweetener for it!
Like this recipe? Check out some of my other diy protein bars by looking at my pinterest board full of them!