A delicious, high protein smoothie that combines your morning coffee and protein shake into one, creamy Mocha Coconut flavored cup. Only 5 Ingredients needed, under 250 calories, and packed with over 30g of protein!
Sometimes it is hard to break out of your breakfast rut, right? I know for me it is, which is why I instantly knew what I wanted to create in order to help ALL of us rev things up a bit!
See, I love my morning protein shake after my workout, AND I love my morning coffee. Both have AMAZING benefits, and can be a great addition to a healthy lifestyle.
Sometimes I make my own protein shakes, like you've seen on here before like my , , , or my …but sometimes, I use ready-to-drink ones for the ease and ability to take them on the go!
reached out to me, and wanted to let me try their NEW protein shakes. Of course, I happily let them send me some. See, when I was younger, I use to LOVE PowerBar's peanut butter bar. It was something I ate all the time after sports practices. So I was SO happy to see that they were now making a huge effort to include less ingredients, lower the sugar, and make an overall healthier product.
Not only does it come in a convenient, ready to drink form…but it provide great on-the-go nutrition that is satisfying and tastes delicious. Here's the stats for 1 of these delicious guys.
1 Shake: 30g of High Quality Protein per serving, 160 Calories
 2g sugar per serving, 24 vitamins & minerals, Gluten free
Flavors: chocolate and vanilla 
Anyways, knowing me, after trying one out plain…I had to make a recipe out of the other!
So I thought…with wanting to break free from breakfast boredom, LOVING my coffee, and loving this new chocolate ready to drink protein shake…Why not combine the two and make a delicious breakfast smoothie that will give you the energy you need AND the protein right when waking up, to fuel you for a successful, healthy day?
I present to you, the Mocha Coconut Breakfast Protein Smoothie.
Because I love coffee, chocolate, and coconut. #DreamsDoComeTrue in this breakfast smoothie. Like you've probably notices in my , or my , or my…I ADORE this combination. And I think you will too 🙂
And to make a creamier, thicker result without adding much else? I frozen half the shake in cubes before blending! Alternatively, you could add a frozen banana or ice cubes if you don't want to wait to freeze the shake. But using "shake cubes" versus ice cubes lends to a "less icey" texture, and more creamy one 🙂
Want a little more heartiness to your shake or using this as an after workout recovery? Add a frozen banana to get in some healthy, wholesome carbs!
5 ingredients. Less than 250 calories. OVER 30 grams protein.
Hope you break out of your breakfast rut with this delicious protein smoothie that mimics the taste of one of those delicious and rich !
Questions for YOU
What is YOUR favorite shake flavor?
What about coffee drink?
Do you like buying ready to drink protein shakes or protein powder better?
If you had to pick…chocolate, coffee, OR coconut? (what kind of world would that be?!)
Rating 5.0 from 1 reviews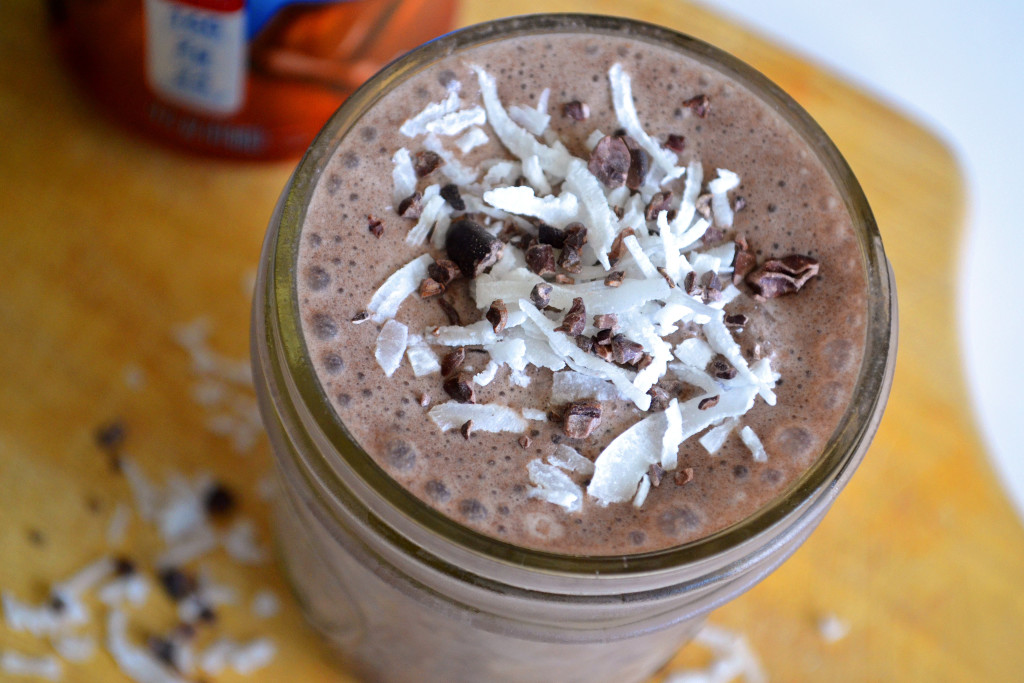 Ingredients
1 Ready to Drink ProteinBar Chocolate Shake*
2 tbsp Cocoa Powder
1 tbsp Coconut Flour
1 tbsp Unsweetened Coconut Flakes
1 tsp Instant Coffee
Ice as needed
Optional: Frozen Banana (for creamier, texture), Coconut Extract (adds a lot!)
Optional Topping: Extra Coconut or Cacao Nibs
Instructions
Open ready to drink shake, and pour half into ice cube molds or a mini muffin tray and freeze.
When frozen, pop out cubes into your blender, add in the other half of the shake and other ingredients, and blend.
Add in extra ice or frozen banana for a thicker, creamier result.
Notes
*Alternatively, you could use 1.5 cups Almond Milk and 1 scoop protein powder
**If not wanting to freeze the shake into cubes, simply use ice cubes or a frozen banana for a thicker result. However ice cubes will give a little more "icey" result
***Adding a frozen banana will increase the sweetness, creamy texture, and add some healthy carbs!