A healthy, no bake holiday truffle that is simple to make, lower in fat and calories, and filled with gingerbread flavor!
As much as I LOVE pumpkin (as you may have come to realize from my and others I've shared with you all), there is another holiday flavor I love too.
GINGERBREAD. The molasses..the spices..just all of it!
Which you also may have come to realize with my recipe collection of , , ,, , and ooo, my !
See, now that it's November, I feel as if I can't exhaust the pumpkin flavor and only share pumpkin recipes any longer (don't get me wrong, there will still be SOME coming..)
So I decided to make this delicious, healthier version of a dessert truffle in my other favorite flavor! (other than chocolate of course)
The holidays are always filled with gifts of chocolates and truffles..am I right?!
I LOVE my yearly christmas gift our family receives from See's chocolates that is a HUGE box of truffles. Truffles are just SO. GOOD.
Unfortunately, if you're trying to keep your weight down or your health goals in mind, the consumption of truffles will NOT help you out. (even though everything in moderation!)
So in wanting you all to have a truffle that is GUILT-FREE, I created THESE babies for you.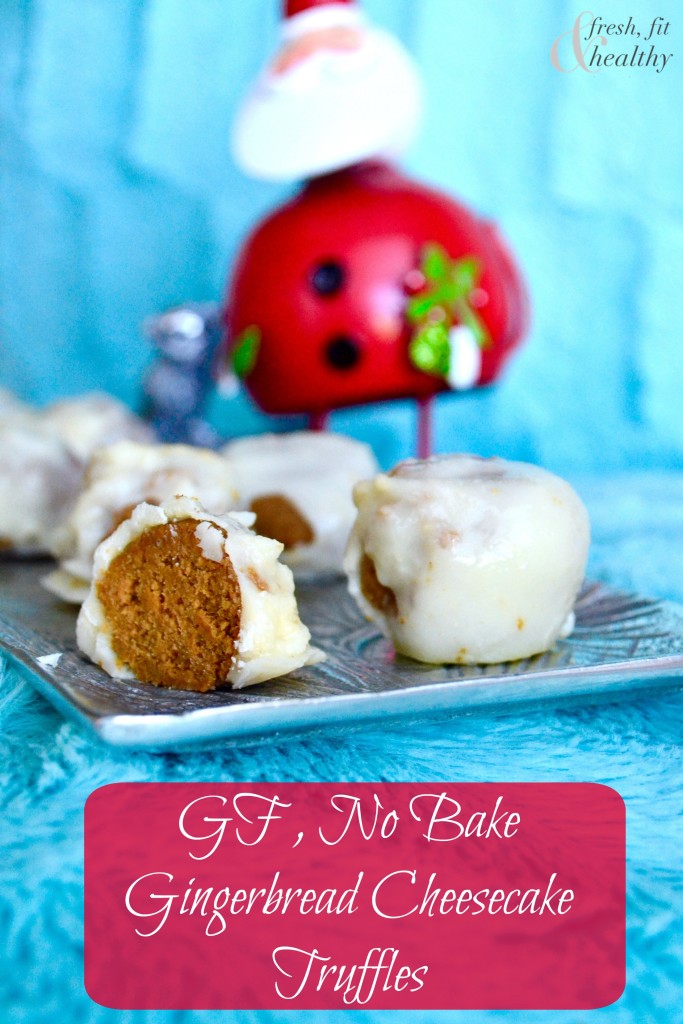 Spices are such a great way to keep the calories down in ANY recipe, as it adds so much flavor without adding too much sugar or fat! The cinnamon, ginger, and all spice in these truffles do JUST THAT, add flavor without guilt.
Made with not only oats, coconut flour and protein powder to add some fiber and protein and keep them low in carb..but I used siggi's vanilla yogurt instead of cream cheese to give these holiday gingerbread truffles a delicious cheesecake flavor yet keep the sugar and fat down!
Siggi Hilmarsson, the founder of this yogurt, has a philosophy I love: "simple ingredients, not a lot of sugar". My site has always been about trying to minimize ingredients and sugar in the recipes I create, and this brand of yogurt does just that! And guess what? siggi's yogurt is now nationally available! It is a strained yogurt, that has been a staple in the Icelandic diet (where he is from), so it is deliciously thick and creamy. A great addition to many recipes.. like this truffle one! I already ate the other two containers I got at the store. SO GOOD. Because unlike most flavored yogurts, siggi's yogurt isn't too sweet.
How can you resist these?
Low in sugar, high in protein and fiber, and easy to create!
And they are so good, you don't even NEED to coat them in white chocolate. But you most certainly can as it makes for a delicious taste and beautiful presentation (I made my own to keep the sugar in control but you can use store bought). AND it's a healthier homemade white chocolate coating that involves LESS sugar!
Or you could even sprinkle some ginger on top to keep the sugar even lower..
This one will surely be a winner at any family holiday get together or party you attend this season.
xo,
Sarah Grace
Rating 5.0 from 1 reviews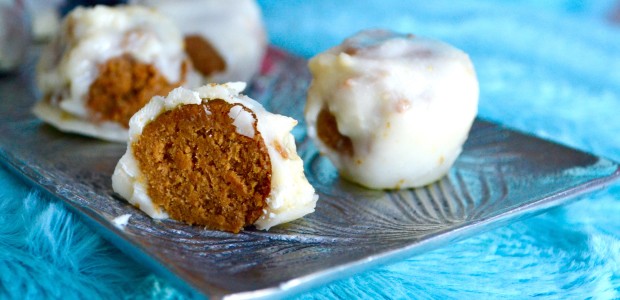 Ingredients
½ cup Oat Flour
¼ cup Coconut Flour
¼ cup Protein Powder (or more oat flour)
½ cup siggi's Vanilla Yogurt
¼ cup Molasses
2 tsp Cinnamon
1 tsp Ground Ginger
½ tsp All Spice
1 tsp Vanilla Extract
¼ tsp Sea Salt
Optional: white chocolate to melt/coat truffles in (I made my own to keep sugar down, see recipe below!)
Instructions
Combine all dry ingredients.
Add in yogurt and molasses and mix well until all ingredients are combined.
Form into balls. (I made 12 from batter!)
If coating in chocolate, place balls in freezer for 15-30 minutes before dipping them in melted chocolate. (see white chocolate recipe below if wanting to make your own!)
Store truffles in fridge until serving!
Rating 5.0 from 1 reviews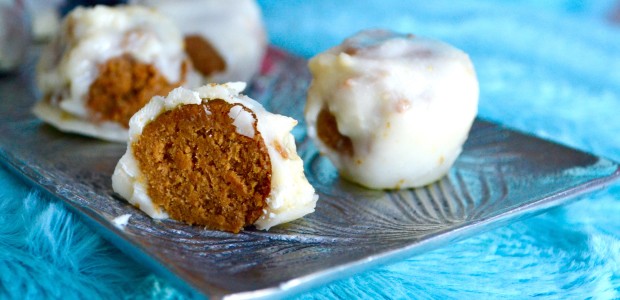 Ingredients
4 tbsp Cacao Butter, melted *
4 tbsp Coconut Butter
1 tsp Vanilla Extract
2 tbsp Coconut Nectar or 10 drop liquid Stevia
Instructions
Melt cacao butter.
Add in coconut butter and stir. (may need to slightly heat to melt coconut butter too)
Add in vanilla and sweetener.
Use as chocolate coating or shape into white chocolate bars!
Notes
* Can use more coconut butter instead of cacao butter
I received free samples of siggi's yogurt mentioned in this post. By posting this recipe I am entering a recipe contest sponsored by siggi's yogurt and am eligible to win prizes associated with the contest. I was not compensated for my time.