NOW offers a variety of natural, affordable products that support an overall healthy lifestyle. From allergy-friendly foods to natural protein powders for workout enthusiasts, to essential oils for yoga lovers there really is a product for everyone.
I was lucky enough to get to try out some of these amazing products from NOW Foods, and I was so happy I had the chance! With the title of the company, you may be thinking it's just another health food company, but they offer so much more that even I was surprised to see and be able to try!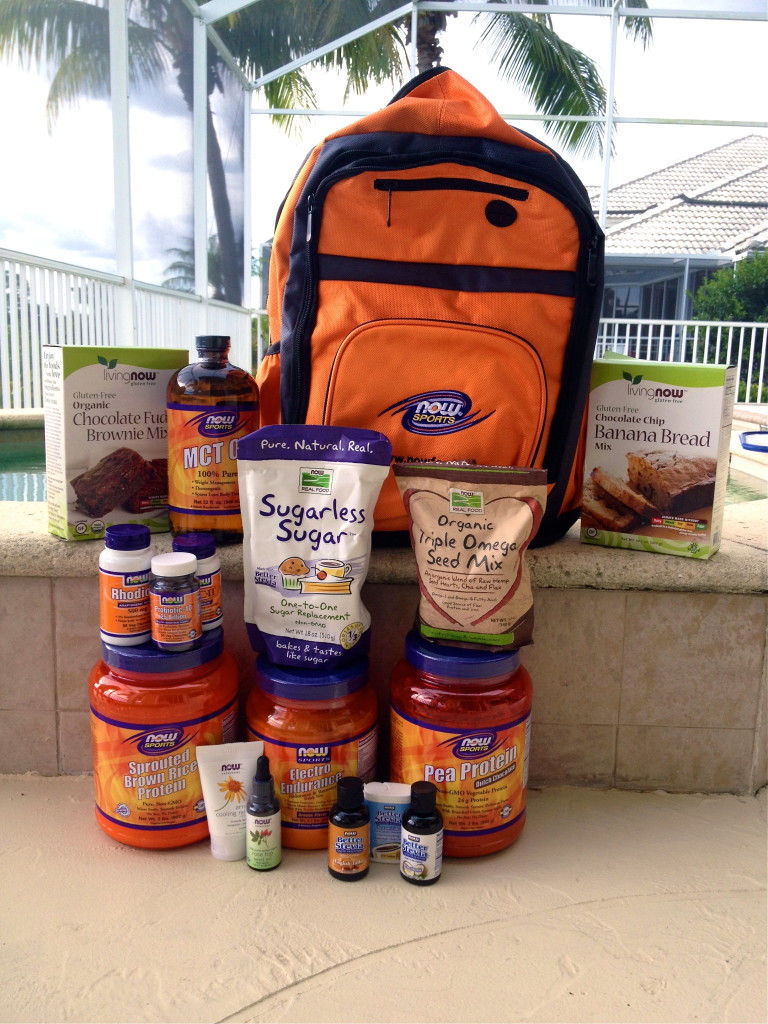 The products I was able to try out were the following:
Sports Nutrition:
-Sprouted Brown Rice Protein Powder
-Dutch Chocolate Pea Protein Powder
-MCT OIl
Food:
-Chocolate Chip Banana Bread Mix and Organic Chocolate Fudge Brownie Mix
-Sugarless Sugar – Their one-to-one sugar substitute with 1/3 calories, great for baking!
-Variety of our BetterStevia natural sweeteners (Liquid Coconut and Toffee) – awesome to flavor ANYTHING with
-Triple Omega Seed Mix
 Personal Care:
-Arnica Cooling Relief Gel – great for post-run/races to sooth sore muscles!
-Natural Bug Ban Spray
Supplements:
-Probiotic 10
-UC II – joint support
As you can see, I got to try out products from all the different realms NOW Foods has to offer, and after giving myself some time to try them all out, I can't say there was one product I wasn't happy to have.
I've been wanting to use plant based protein powders more lately, and I loved both the chocolate pea protein and the unflavored brown rice protein. The chocolate is delicious in smoothies or any sweet yet high protein recipe I want to make; and the unflavored powder provides a wonderful way to make high protein yet savory recipes!
Both the sugar substitute and the liquid flavored stevias have been awesome in making recipes, flavoring and sweetening my morning coffee, and blending up delicious smoothies and shakes.
The cooling relief gel and the joint formula have done wonders after a really intense gym workout, helping to relieve my muscles of soreness and help me to be more ready for my next workout. These products would be great for any athlete!
Probiotics are something I am a big advocator for. I believe everyone should be taking probiotics with our food these days whether you are mostly a clean eater or not. I began taking these probiotics about a month ago, and I won't be stopping!
And lastly the Gluten Free brownie and bread mixes?! Delicious! You would never be able to tell they were gluten free like most products that have a bland GF taste. I've recently decided I need to be more strict about a GF diet, as my doctor told me I'm highly allergic after an allergy test, and I've realized the difference in how I feel incredibly between when I eat it and when I don't. So this was a great mix to have on hand when my roommates wanted brownies one night, and so did I, but I knew I couldn't have the typical box mix, and I was in no mood to make homemade ones from scratch!
🙂
All in all, I highly recommend trying out some of NOW Foods products.
Yes, these products were provided to me, but I would never lie or suggest anything to my readers that I didn't truly like, and I can confidently say that I think you'd be happy with your purchase!