Simple, healthy, and delicious. Those are the type of recipes I live for.
When being a busy college student, or a mom with kids running every which way, sometimes you just need something quick to make.
Not as thin as a crepe, not as thick as a pancake..thus, crepe-cakes.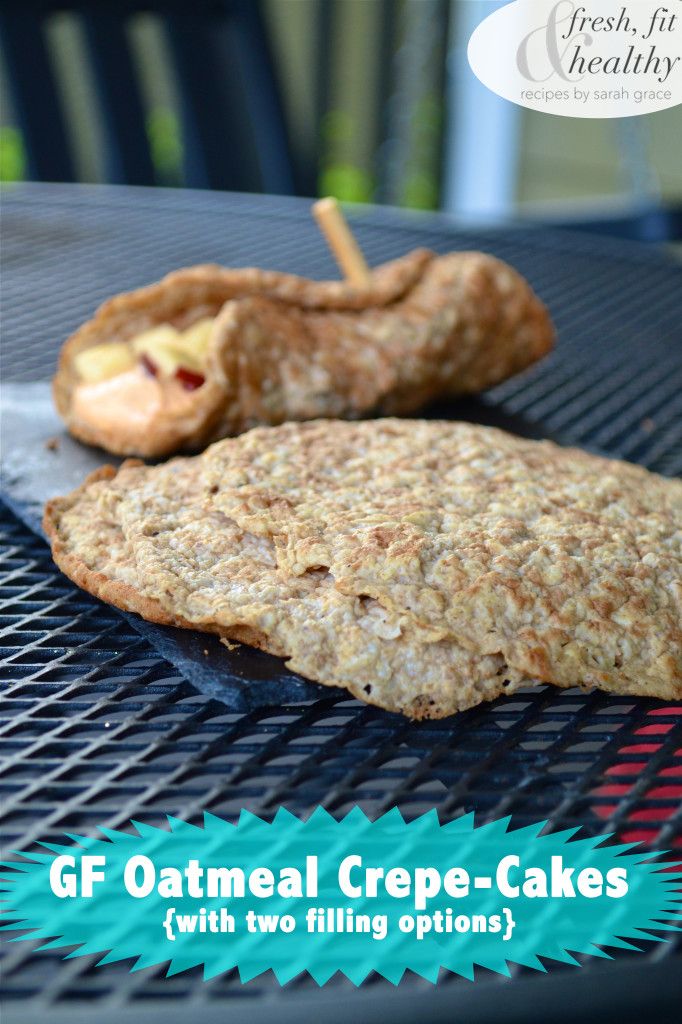 4 Ingredients, simple to create, and can be prepared in advance? Yes all of those are true about this delicious recipe.
Filled with low fat dairy and whole grain oats to make one healthy and simple recipe, yet so delicious that your kids will enjoy it!
If you missed my last two posts on the benefits of whole grain oats paired with low fat dairy, you should check them out here with both my last recipes, PB Banana Oatmeal Breakfast Ice Cream, and Chocolate Chip Cookie Dough Overnight Oats! But as a little refresher..
Oats + Milk = Protein + Fiber + 9 Key Nutrients
Protein for lean muscle
Fiber for digestive health
Iron for healthy blood cells
Calcium, Vitamin D, Phosphorus, Magnesium for strong bones
Potassium for healthy blood pressure
Riboflavin, Vitamin B12 for energy metabolism
Vitamin A for eye and skin health
See, when using a combination of oats and low fat milk, you get many more key nutrients than when eating them individually! So why not combine the lovely two healthy foods?!
But the best part? They are so versatile! You can use these oatmeal crepe-cakes for any filling of your choice!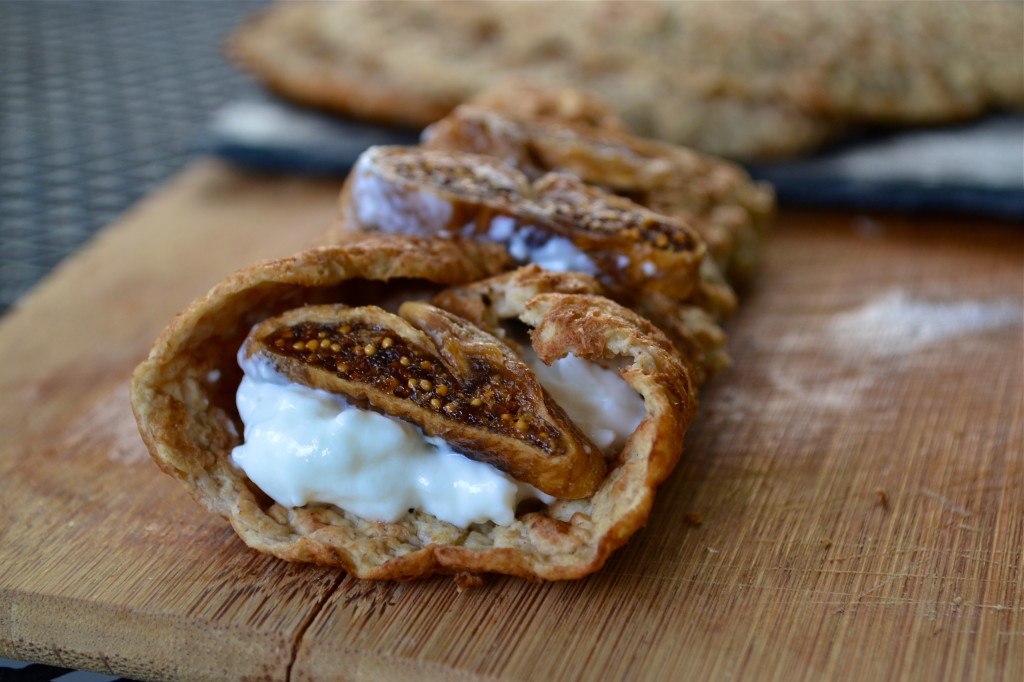 I went with sweet ones this time, like low fat cottage cheese, sliced figs and cinnamon for one..and a homemade pumpkin yogurt (greek yogurt, pumpkin puree, honey and cinnamon) with diced apples!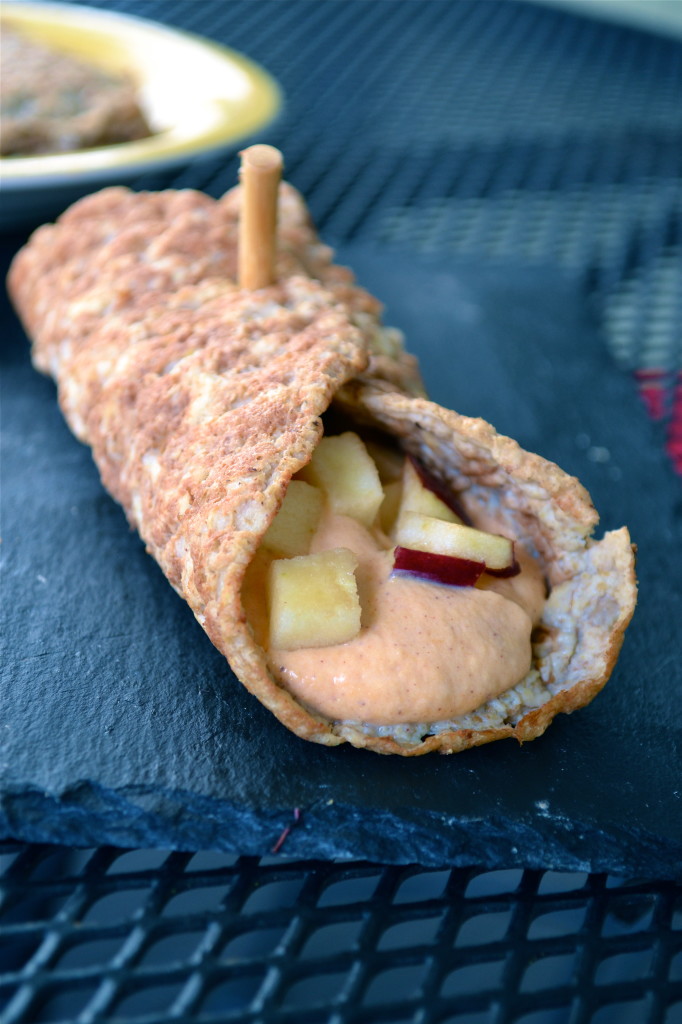 But the sky is the limit..these can be used for a snack filled with peanut butter and banana slices, a savory lunch filled with chicken, veggies and hummus..you like it, you can fill these crepe-cakes with it! Sweet, Savory, Breakfast, Dinner or Dessert…these are the ultimate versatile food to keep on hand!
This recipe is good for ANY time of the day, is so simple to make, and can be catered to any family members or friend's filling preference. I say that's a recipe worth trying!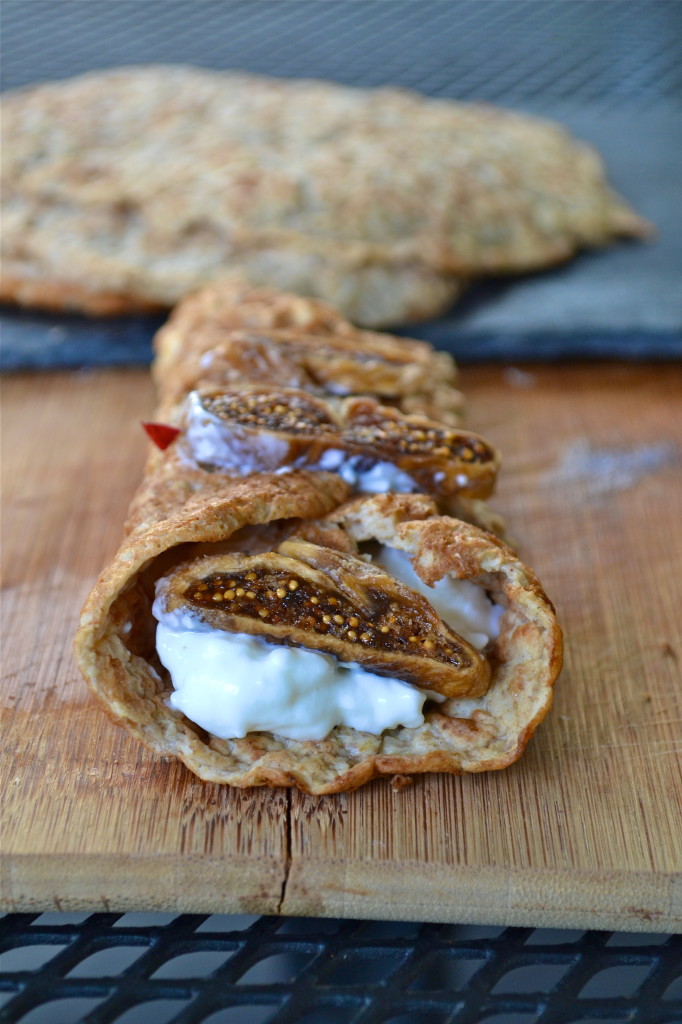 Oatmeal Crepe-Cakes {with 2 filling ideas}
Serves:
makes 6 medium crepes (2 servings)
Ingredients
¼ cup Wholegrain Oats
¼ cup Wholegrain Oats, processed into flour
2 tablespoons Ground Flaxseed
1 to 1¼ cups Low Fat Milk (see directions)
1½ tablespoons Honey
1 teaspoon Vanilla Extract
¼ teaspoon Sea Salt
For Sweet flavor: 2 tablespoons extra Honey
For Savory flavor: Dash of Garlic Powder + 1 teaspoon Italian Seasonings
Instructions
Process ¼ of oats in food processor or blender until flour texture
Combine processed oats, whole oats, sea salt and flaxseed in bowl.
Slowly add in milk by the ¼ cup until getting a batter thinner than pancake batter but thicker than crepe batter (flaxseed will soak up more liquid as it sits, so after allowing to sit for a minute, check to see if more liquid needs to be added) Mine took 1¼ cups milk.
Add in any other flavorings you would like (vanilla, cinnamon, honey, garlic powder or italian seasonings) to batter
Heat skillet on medium high heat and spray with nonstick spray
Reduce to Medium heat and pour about ¼ cup batter into skillet when hot, and tilt pan from side to side to evenly spread batter out thin.
Cook until set and bubbles throughout entire top (this will take awhile), flip and cook more, remove from pan, and repeat with remaining batter.


For Filling: Whatever you would like, choose to fill with! Here are the fillings I used:
Pumpkin Apple Filling: ¾ cup Greek Yogurt, ¼ cup Pumpkin Puree, ½ teaspoon Cinnamon, 1 tablespoon Honey, and ½ diced Red Apple
Creamy Fig Filling: 1 cup Cottage Cheese, 5 Figs, sliced, 1 teaspoon Cinnamon
"By posting this recipe I am entering a recipe contest sponsored by National Dairy Council and the
Quaker Oats Center of Excellence and am eligible to win prizes associated with the contest. I was not
compensated for my time."