I will never get tired of the peanut butter and banana combination. How about you?! But throw in the fact that it's in a healthy way..and you really have a winner.
And biscottis? Another favorite of mine. I really don't even like cookies all that much..but something about the crispiness of biscottis, I love them! Probably because I love anything crunchy. Toast? Extra toasted please. When friends want to throw away the best part of their pizza (aka their pizza crust)? GIMME.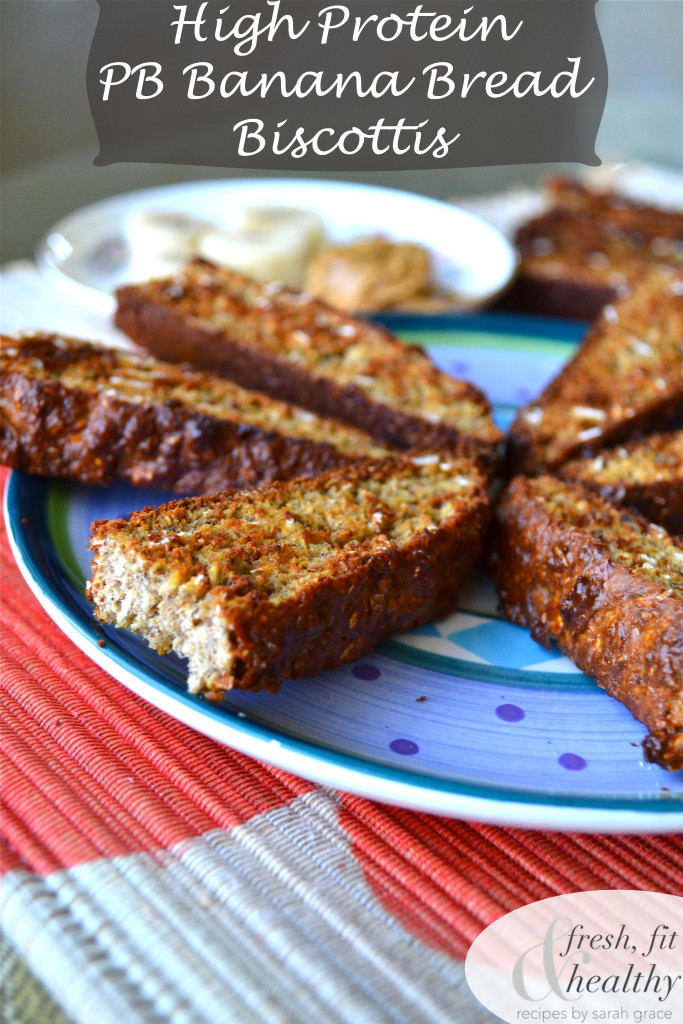 So maybe that's why I love biscottis so much. Every time I make them, I question myself as to why I don't make them more often..
But this time I decided, why not make them protein packed? I mean, when I make them, I have ZERO self control. So why not at least add some good-for-you protein before I eat the whole batch?
🙂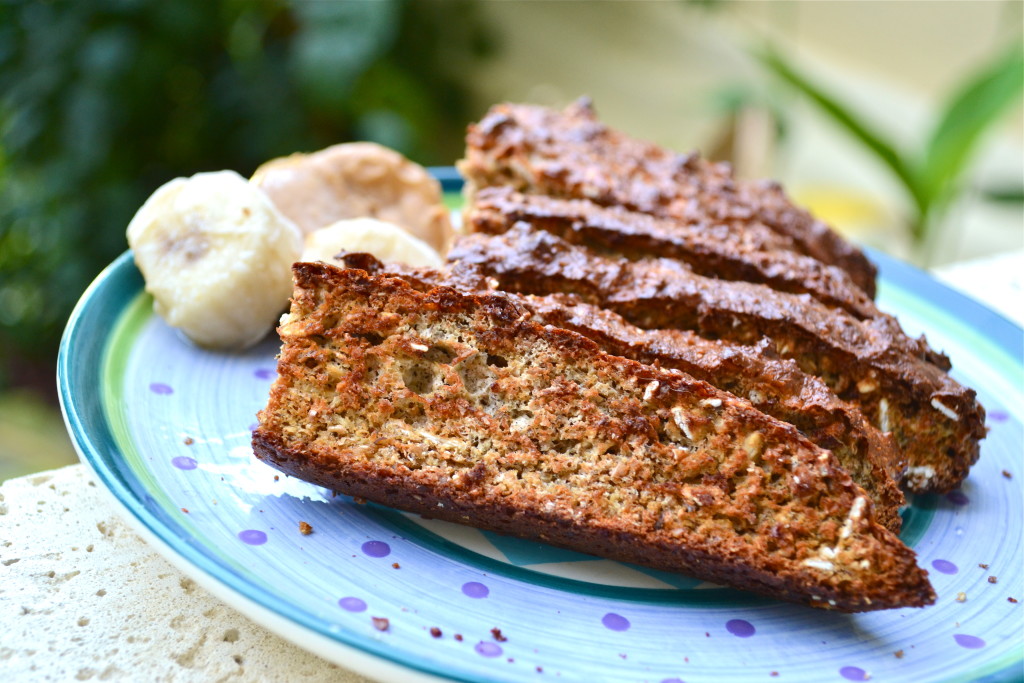 And boy they turned out wonderful.
Peanut butter. Banana. Crunchy and Crisp.
My kind of recipe.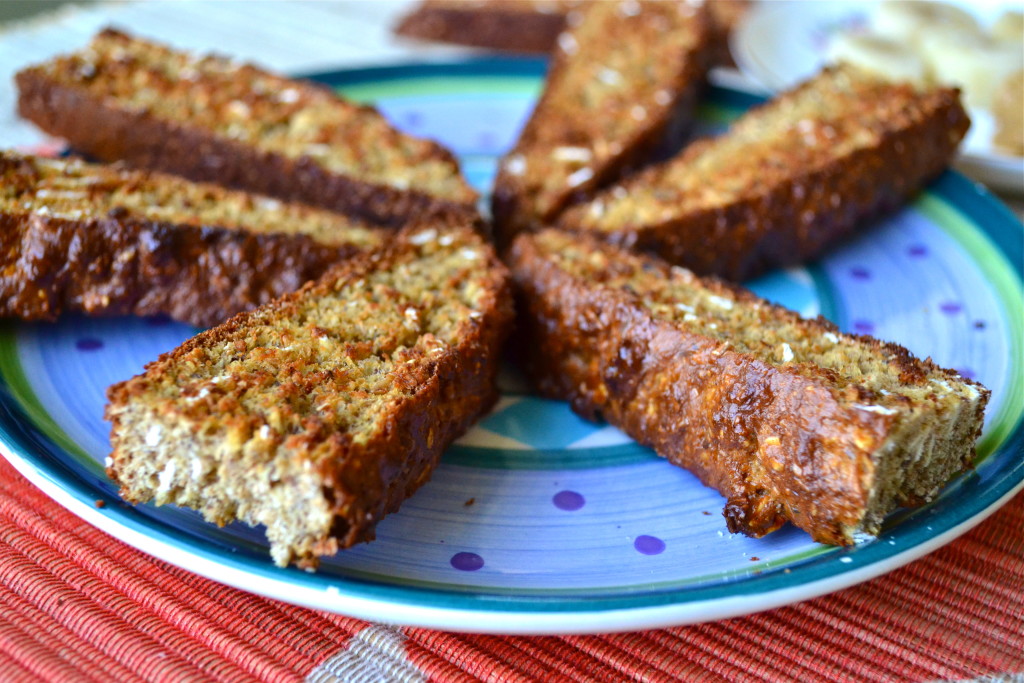 Are you a fan of soft of crispy when it comes to baked goods and breads?
What is your favorite pairing with peanut butter?
Until next time,
Xo Sarah Grace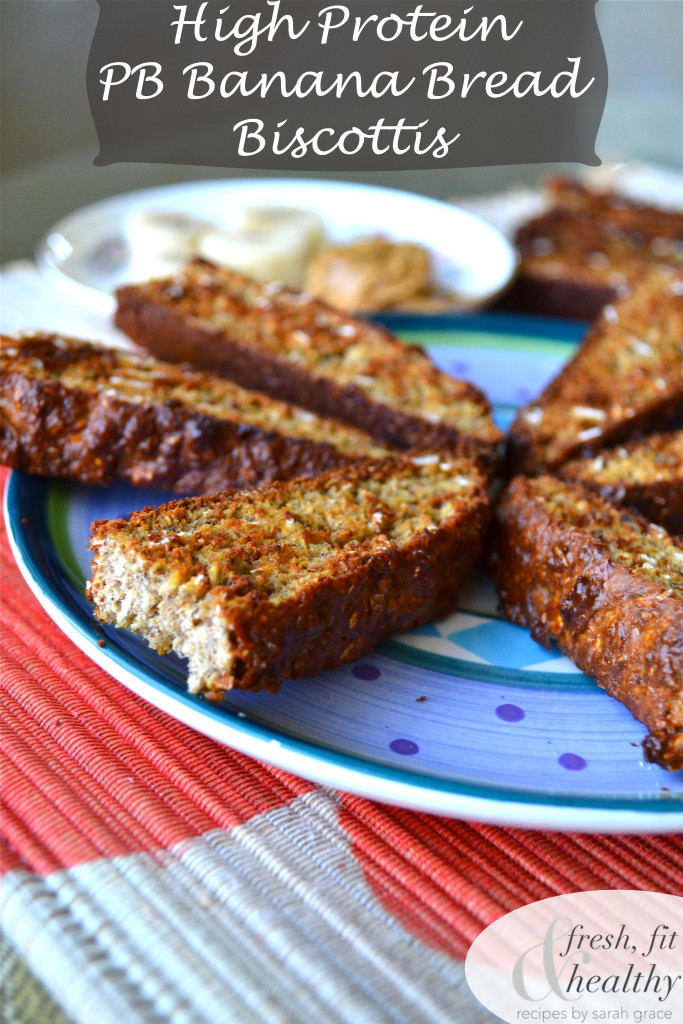 Ingredients
2 medium Bananas, very ripe
¾ cup Whey Protein (I used About Time Vanilla: buy at TryAboutTime.com with the code "fff1" for 25% off)
½ cup GF Oat Flour
½ cup Raw Unprocessed Bran (use GF oat bran for GF recipe)
¼ cup GF Rolled Oats
¼ cup Jamie Eason's Peanut Powder (or any peanut flour)
2-3 packets Stevia (or any dry sweetener to taste, it will become less sweet after baked and the amount needed will depend on whether your peanut flour is sweetened already)
2 tablespoons Ground Flaxseed
2 tablespoons Water (as needed)
1 teaspoon Cinnamon
1 teaspoon Vanilla Extract
2 teaspoons Baking Powder
¼ teaspoon Baking Soda
¼ teaspoon Sea Salt
Instructions
Preheat oven to 350 degrees Fahrenheit.
Mash bananas.
Combine all dry ingredients in one bowl, and all wet ingredients (including bananas) in another bowl.
Mix wet ingredients into the dry ingredients.
Form dough into one big bread "log" and place on cookie sheet sprayed with nonstick spray.
Bake at 350 degrees for 15 minutes, remove and allow to slightly cool.
Slice log diagonally into "biscotti shaped" slices. Lay out on tray and place back into oven.
Bake for 5 minutes, remove, flip slices to other sides, and bake for another 5 minutes or until browned.