I said what?
Breakfast Ice Cream? Is that even possible?
When there is only healthy ingredients like low fat dairy milk, whole grain oats, and bananas, it certainly possible to eat ice cream for breakfast!
Long name, but totally worth it.
Peanut Butter+ Bananas+ Oatmeal = Pure Joy
Did you know that 99% of Americans do not meet the daily whole grain recommendations and 85% fall short of dairy recommendations? That means you and your family could be missing out on calcium, Vitamin D, potassium and fiber!
Quaker Oats and The National Dairy Council challenged me to create healthy breakfasts or snacks featuring the power of whole grain oats with the goodness of reduced/low-fat dairy. And I think I did just that.
"Whole grain oats and dairy each have their own unique nutrient profile and provide certain essential nutrients. By pairing them, you fill in the nutrients the other is missing. 1 cup of low-fat milk provides calcium, vitamin D, phosphorus, riboflavin, vitamin B12, potassium, vitamin A, and protein. Oats provide iron, magnesium, fiber, and other B vitamins.  Oatmeal cooked with milk, instead of water, adds 9 essential nutrients and 2.5 times more protein. These nutrients are vital for maintaining a healthy body." (Dairy Council)
Oats + Milk = Protein + Fiber + 9 Key Nutrients
Protein for lean muscle
Fiber for digestive health
Iron for healthy blood cells
Calcium, Vitamin D, Phosphorus, Magnesium for strong bones
Potassium for healthy blood pressure
Riboflavin, Vitamin B12 for energy metabolism
Vitamin A for eye and skin health
And enjoying it in ice cream form, on these hot summer days, for breakfast?! I couldn't think of a better way to get in all the nutrients that low fat dairy and whole grain oats offer when pair together.
The oatmeal creates such a delicious, thick texture for this healthcarewell soma healthy ice cream, and the peanut butter and banana combination is just one of those flavors that hit home every time. It is most certainly a comfort food combination. Add a little honey? Now you're really talking!
You can have your health and your ice cream. You can't lose with this ice cream recipe.
Question for YOU
-What is your favorite way to combine low fat dairy and whole grain rolled oats?

Rating 5.0 from 3 reviews
Serves: about 4 (1/2 cup)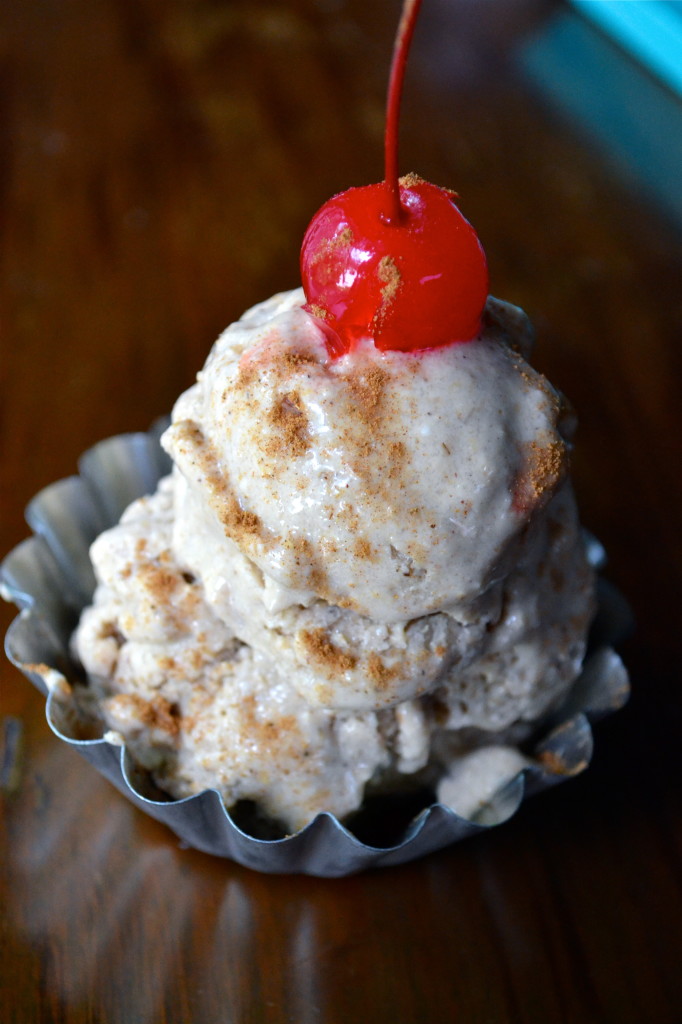 Ingredients
2 large Bananas, very ripe and frozen
2 cups Low Fat Milk
1 cup Wholegrain Rolled Oats
3 tablespoons Peanut Flour (can use real peanut butter)
1 teaspoon Cinnamon
1 teaspoon Vanilla
⅛ teaspoon Sea Salt
Stevia or Honey to taste ~ 2 tablespoons Honey were used in this recipe, as bananas were very sweet already, and this was enjoyed as breakfast. For a sweeter flavor, use 4 tablespoons Honey
Optional Toppings: Peanut Butter drizzled, Cinnamon sprinkled, Cherries, Nuts, Fruit
Instructions
Peel bananas and freeze in container/ziplock bag
Combine oats and milk together in large microwaveable bowl, and cook for 3 minutes in microwave
Allow oats to cool in fridge, covered
When bananas are frozen and oats are cold, combine all ingredients in high speed blender or food processor.
Enjoy as is in a softer form, or pour into an ice cream maker and freeze according to directions OR pour into a shallow container and freeze in freezer until desired texture is achieved.
Serve with desired toppings: peanut butter, nuts, chocolate chips, coconut or fruit
"By posting this recipe I am entering a recipe contest sponsored by National Dairy Council and the Quaker Oats Center of Excellence and am eligible to win prizes associated with the contest. I was not compensated for my time."