High protein, gluten free, snack-sized bites that taste like a peanut butter and jelly sandwich, but are high in protein, and low in carbs and fat
I'm currently in LA at BLOGFEST (and visiting my sis), but don't worry, I didnt forget to schedule another delicious recipe while I am gone! Anyone love Peanut Butter and Jelly sandwiches like me? As a kid, I was actually so picky, that all I would eat was straight PEANUT BUTTER sandwiches (hold the jelly please!). Or if I could get away with it, a peanut butter and FLUFF sandwich (but that only happened at Dad's house).
Well the love of peanut butter never faded, but I became a little less picky, and I now love having peanut butter and jelly sandwiches on occasion! I say occasion because I try to eat more balanced, protein packed sandwiches for the most part since I'm no longer doing the huge bouts of cardio (or any cardio) any longer.
But as an athlete, I remember being able to grab PB&Js whenever I wanted from the nutrition office. And now as a registered dietitian to be, I MAKE these PB&Js for the athletes I volunteer with. In order to offer them the quick fuel they need in between practices!
Anyways, with the love of the peanut butter and jelly combination, I knew I wanted to make a healthier, dessert-type snack that was protein packed, yet had the same incredible flavor.
Good thing peanut butter was BOGO at the store, because I have been making some many of my bites that use it (like my no bake mocha brownie bites, or my cookies and cream truffles, or my cookie dough truffles, or my high protein chocolate chip cookies, or even my 5 ingredient brownies!), that I was out!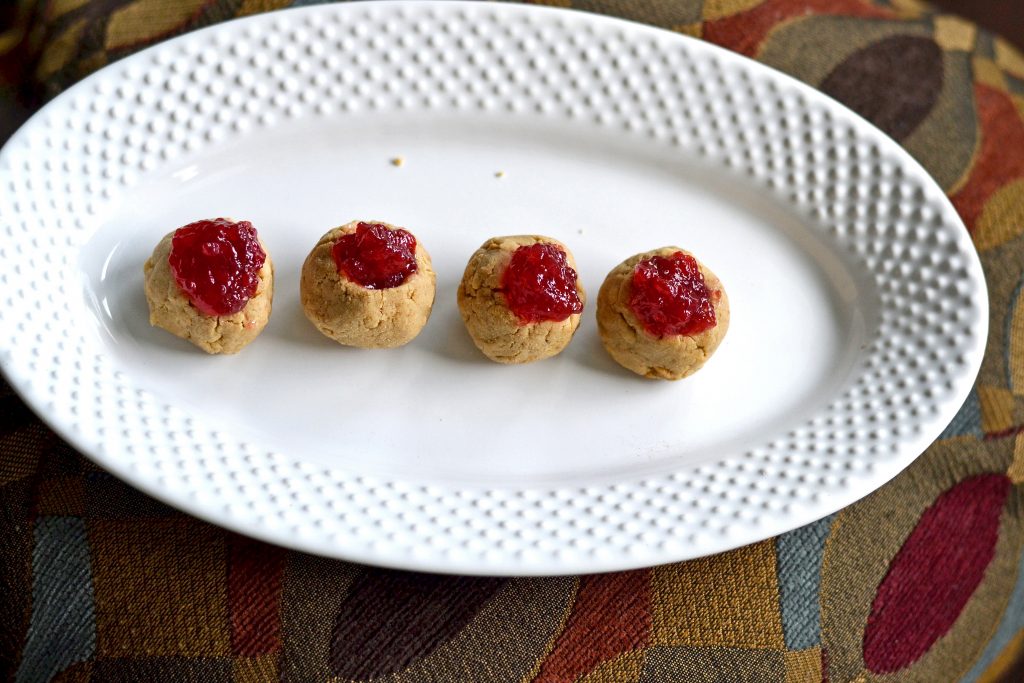 But no fear, I've got two HUGE tubs of it now. One CRUNCHY (because I'm a crunchy pb gal), and one creamy, for most of the recipes I plan to make.
But this one, I actually used CRUNCHY, just to add a little more crunch to these crunchy peanut butter and jelly bites!
Along with the gluten free rice crispies, it added JUST the crunch I was looking for in these bites.
I'm all about that texture.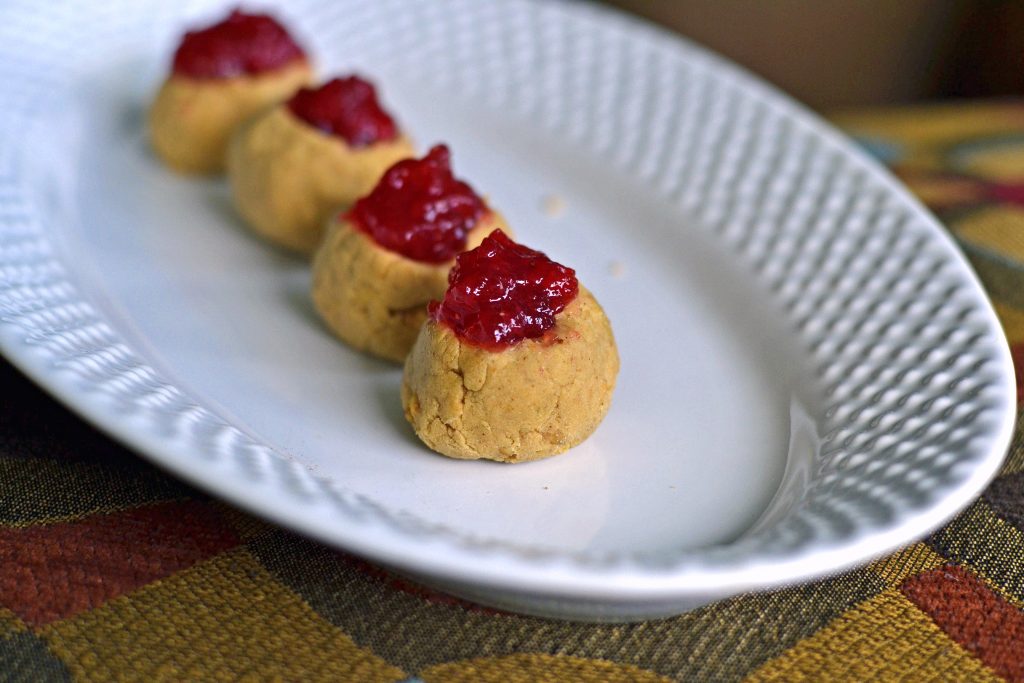 Why is Peanut Butter GOOD for you? (don't fear the fat y'all!)
It provides your body healthy fats that it needs!
Not only is it a healthy fat, but it also provides some quality protein
A great source of energy (because of the above!)
Good source of potassium (but watch for nut butters with too much added sodium!)
Great for baking as a substitute for others fats like oil or butter
**How to spot a good PB purchase? no added sugars or salt!**
So now that I've educated you a little bit, let's get to the real reason you're here: these delicious, high protein, peanut butter and jelly bites that are the perfect snack!
But before I go, tell me…
What is your favorite recipe to make with peanut butter?
Are you a crunchy or smooth peanut butter person?
Did you know nutella's first ingredient is SUGAR, not a nut? (no bueno, try some of my healthy nutella if you love it like me!)
xo, Sarah Grace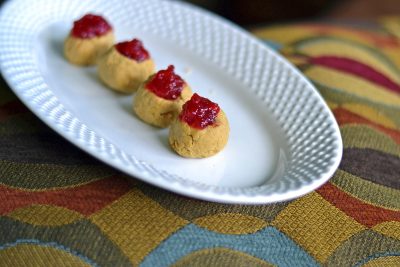 Ingredients
2 scoops Plant Based Vanilla Protein* (40 grams per scoop -- I use About Time*)
¼ cup Rice Crispies
2 tbsp Peanut Flour
4 tbsp Crunchy Peanut Butter (or smooth)
2 tbsp Honey
Almond Milk as needed**
Low Sugar Strawberry Jelly (~1/4 cup)
Instructions
Put peanut butter and honey in small bowl, and microwave for 10 seconds.
Place all other ingredients except milk and jelly in another bowl, pour honey mixture in and mix together.
If you NEED more liquid to bring mixture together, add almond milk by the tablespoon (see note --be careful!)
Roll mixture into about 10 balls.
Press your thumb into each ball to make a small dip, and fill with jelly.
Refrigerate until eating.
Notes
*Do NOT use whey, it will not work in this recipe.
I use About Time Vegan Protein (you can try samples
HERE
for 25% off using the code fff1).
**All protein absorbs liquid a little differently, so if you need a little more liquid to bring mixture together, add a tablespoon at a time of almond milk until you are able to roll mixture into balls. If you add too much milk, just add a little more protein or peanut flour.