Wanting to cut back on the animal products a little? Try incorporating some of these plant based protein bowls in your diet!
If y'all know me at all, I'm all about my protein. Plant based protein, animal protein, all of it.
I just love it, it makes me feel good when incorporating into every meal, and I believe there are so many benefits to having enough protein in your diet.
And even though I'm not vegan or vegetarian, I would also never hate on anyone who chooses to do so, because that's the beauty of nutrition. It isn't one size fits all, and if something works for you and helps you live a healthier lifestyle, than by all means do it! I did write up a post on the , just for those of you who do follow them and want to make sure you're GOOD TO GO 🙂
Anyways, I do love me some tempeh and vegetarian bowls every once in awhile. Because all those plant based protein sources are just SO YUMMY. Hello sweet potatoes, brown rice, veggies, fruit, tempeh, tofu, squashes, the list goes on and on!
So when I saw Recipe Redux's theme this month, I was excited:
Packed with protein, fiber and color, plant power bowls are trendy and delicious. Show us the healthy recipe that's in your bowl.
Howeverrrr, then LIFE got in the way, my masters program got in the way, my TWO internships I'm simultaneously completing got in the way…and YEAH.
Reason why I've been MIA on almost every platform lately..I apologize guys! But I'm hoping things will slow down soon enough.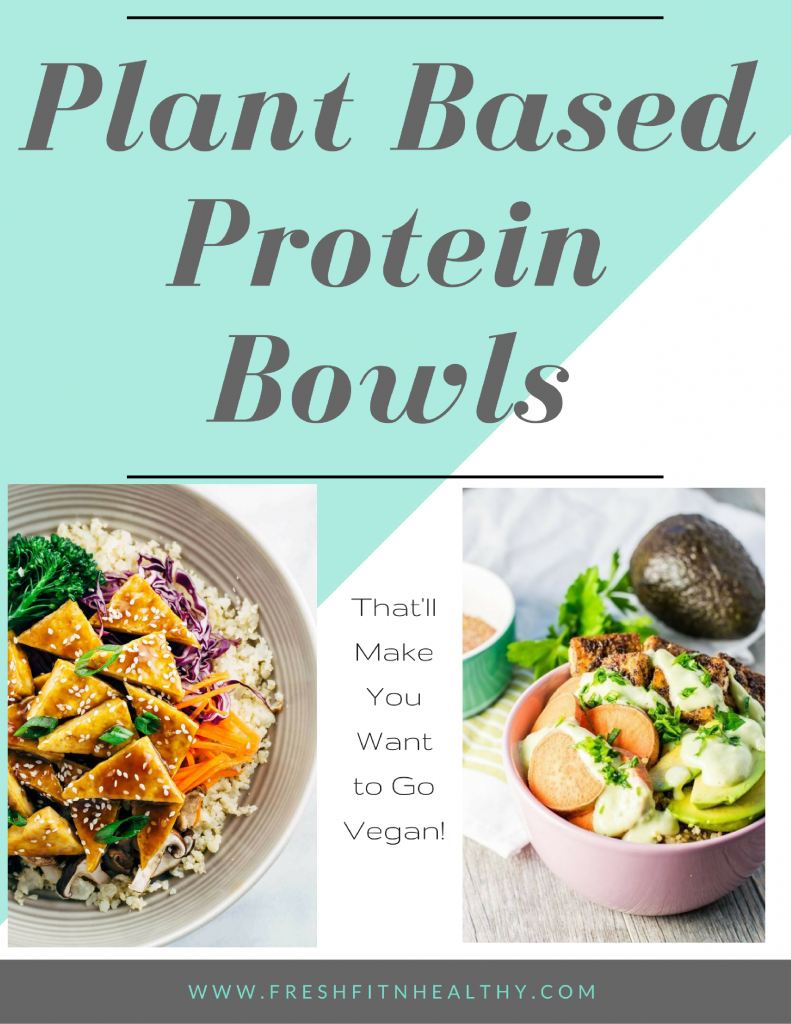 But no fear because I have a great community that has my back, and wanted to share THEIR plant based protein bowls with you all!
As you all know, I've been using my plant based About Time protein powder in almost ALL my protein recipes and smoothies (), versus whey, because I've realized it just settles better with me! And I DO feel like I should begin having a couple meatless days here and there. So again, just another reason I'm excited to share these delicious bowls with you all!
Plant Based Protein Bowls You'll Want To Try
Jessica from Hello to Fit's
Sarah from Bucket List Tummy's
Farrah from FairyBurger's
Kaila from Heathy Helper's
Laura from Sprint 2 the Table's
Myra from The Happy Health Freak's
Chelsea's Heathy Kitchen
My
Kelly from Tasting Page's
Nutrition Stripped's
Jessica Gavin's
Popsugar shared
Buzzfeed shared
And lastly, Buzzfeed again shared
So I hope all of these delicious looking plant based protein bowls, has convinced you to try out some meatless, vegan meals!
What is YOUR favorite plant based protein?
Do you like brown rice, or sweet potatoes better?
Tempeh or tofu?
Until next time,
xo Sarah Grace