The moist, fluffy texture and delicious flavor of pumpkin bread, in a gluten-free, lactose-free pumpkin protein bar that is perfect for any time of the day!
I am SO excited to share this pumpkin protein bar recipe for MANY reasons, but mostly because I loved this month's Recipe Redux theme and the blogger I chose!
Celebrate a ReDuxer!

For ReDux's birthday month, let's celebrate each other! Pick a fellow ReDuxer, go to their blog and either make one of their recipes or create one of your own inspired by theirs. Give a little intro to this blogger, what you like about this blogger/their blog and either link to their recipe you made or share your brand new "inspired" creation.
I knew right away who I would choose to celebrate and who's blog I would find a recipe to recreate and go off of: Lindsay from the .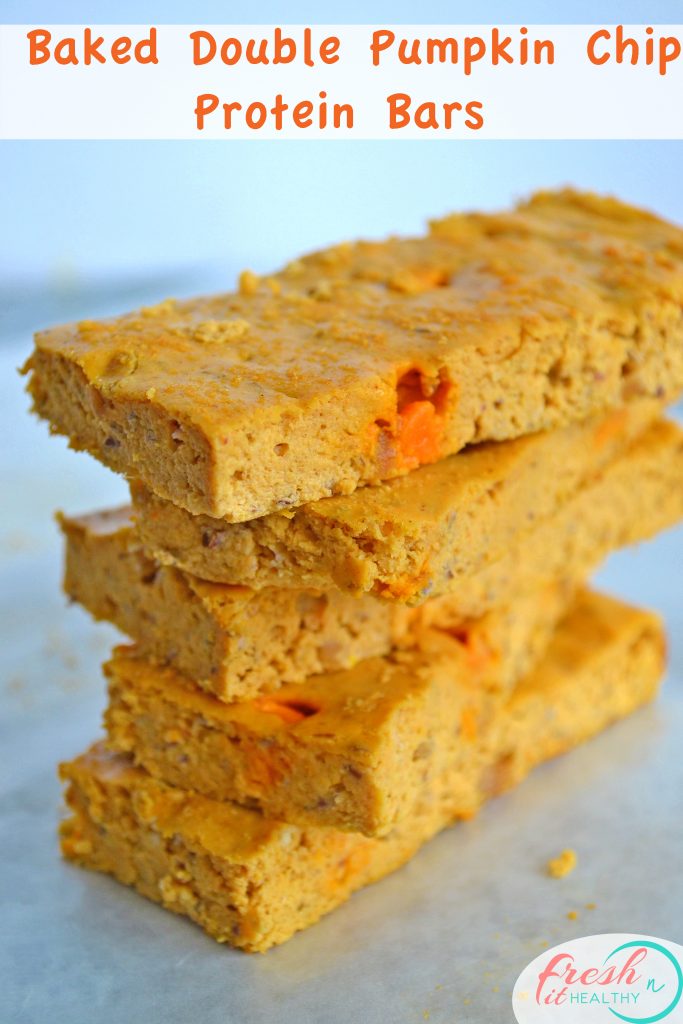 See, when I first was starting out with this blog, I was striving so hard to get my name out there, emailing a few bloggers I looked up in hopes of guest posting for them on their blog. Well, none replied. Or they told me no. Except one: Lindsay. Lindsay happily and generously let me guest post, sharing this on her booming, successful blog. She had nothing to gain from it, but despite that, she was more than happy to say yes to me. Because of that, I'll always remember her and look up to her, desiring to follow her example and have the same, authentic desire to see people grow and be successful. And that's who I'm choosing to celebrate today! And how cool that she is an RD like I soon will be too?!
As I began looking through her recipes, I remember seeing her post a awhile back. Well, you know I love my protein recipes, I love my fall flavors, and I love my balls and bites and bars.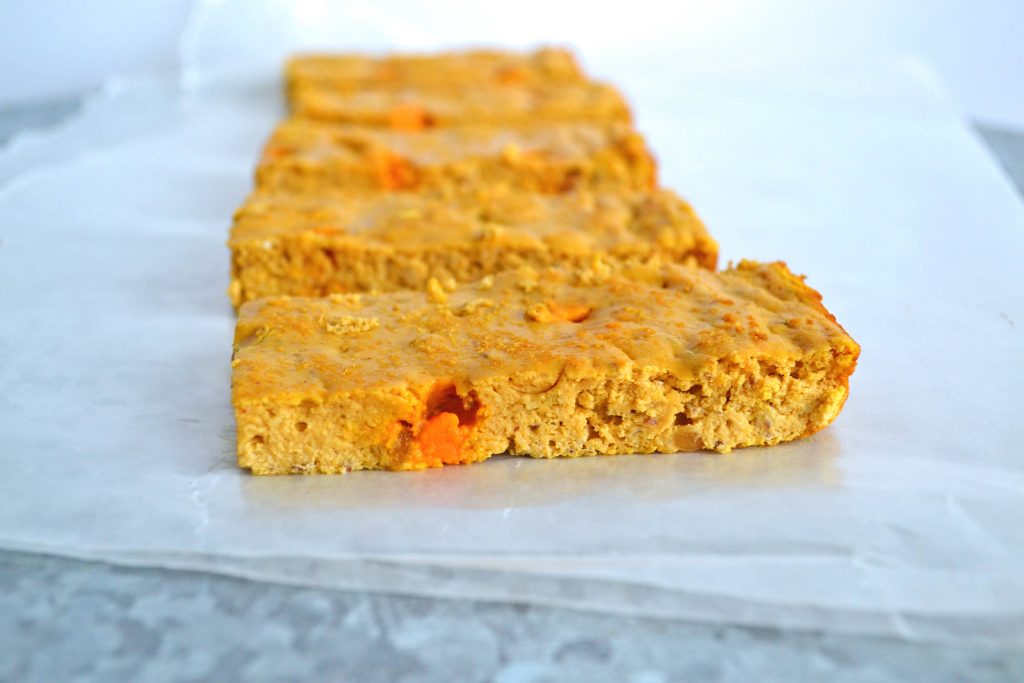 Unfortunately, I had no sweet potatoes, and with being in the middle of rotations, I was too busy to run to the store. But I did have a can of PUMPKIN. And you know I love my pumpkin. Reason why I have a post of ! 
Which made me realize, why not make a PUMPKIN PROTEIN BAR? It's a similar texture, similar taste, and a fall flavor too. And I'm being resourceful! And yes, you may know I already have a on here…but this one is much different and cake-like!
So I went about experimenting, looking at Lindsay's recipe to go off of, but changing a few things around like switching the yogurt out for applesauce, adding more protein powder (and using my PUMPKIN whey from About Time instead of vanilla), and using flaxseed "eggs" instead of real eggs.
The end result? a fluffy, moist texture that you would experience with a piece of pumpkin CAKE or bread, but without tons of added sugar or fat, and packed with protein and nutritious ingredients! You'll be so glad you tried it out once having one of these delicious pumpkin protein bars. As a kid (and still today), PUMPKIN BREAD has my heart. I used to make it weekly, baking it for half the time, and eating it with a spoon! oh the good ole' days. Now I bake it fully I promise, but man there is something about pumpkin bread that is so comforting and delicious to me. Which is why I was SO HAPPY when I took the first bite of this pumkin protein bar, and realized it had come out like the texture of pumpkin bread or cake!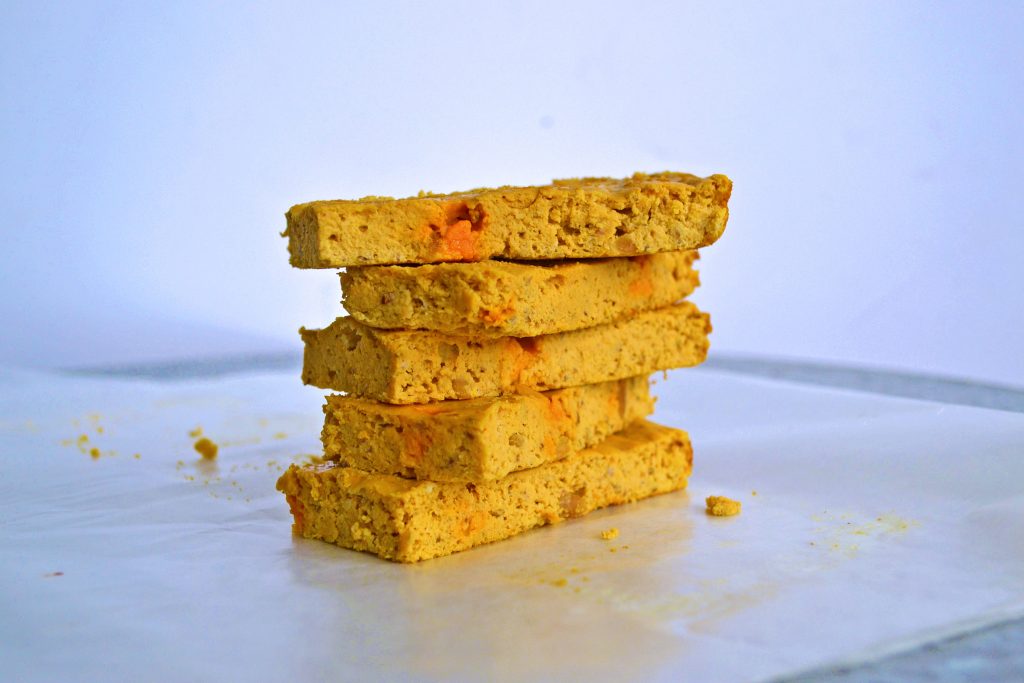 Did I mention I stock up on pumpkin chips so that I can have them year round? So I threw some of those babies in there too before baking on the fly! That's what the orange pieces you're seeing are. Mmmm mmm mmm. But you could easily sub in for chocolate chips as well, it would be just as tasty!
I must say, I was EXCITED, because baking with WHEY protein is TOUGH, and typically comes out dry and cardboard tasting. but not this time. These pumpkin protein bars are surely more like a cake texture than protein bar… but boy are they GOOD. (yet still have all the protein! #success)
Aren't a "protein bar" person? these are for you because the texture and taste is like no protein bar I've had! But if you are a protein bar person, these are STILL for you, because, well, they are delicious!
And thanks to Lindsay for the inspiration and the KINDNESS in my past. Head over to her blog for her recipe I based this recipe off of! And then check mine out below. Whichever one you choose to make, you won't be sorry.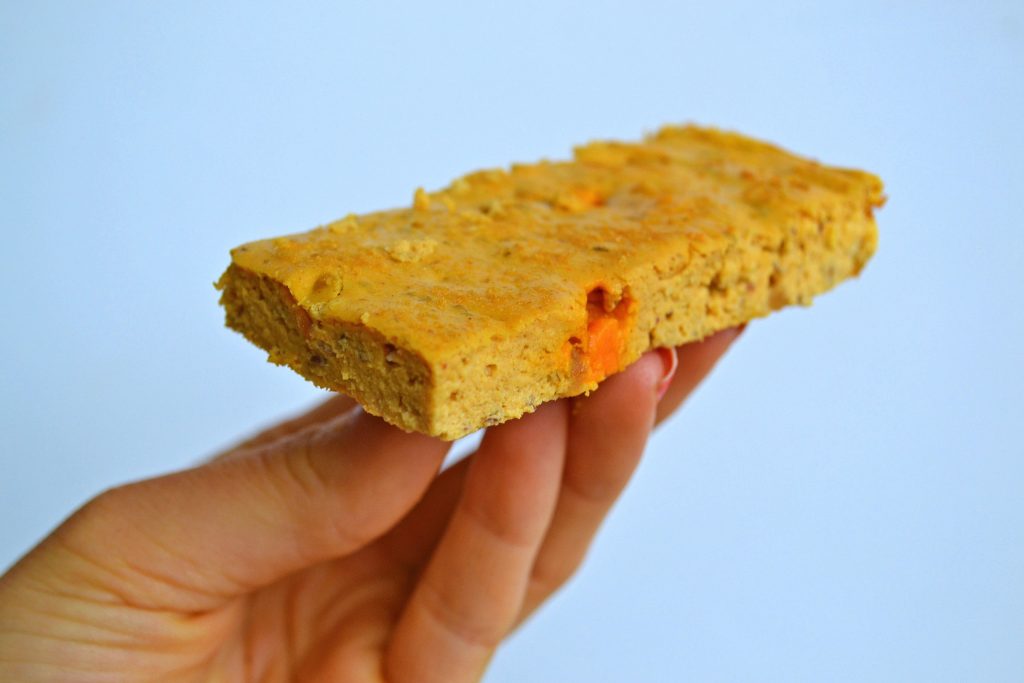 Until next time,
what is your favorite orange food?
are you a protein powder person or not so much? (I love making snacks with it, but rarely just mix it in water or milk and drink!)
what is your favorite pumpkin or sweet potato recipe?
xo Sarah Grace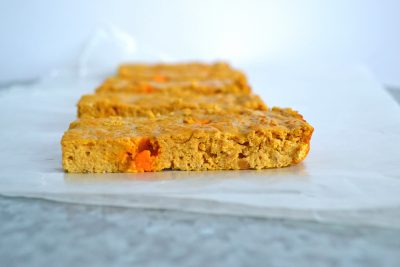 Ingredients
1 cup Pumpkin Whey Protein (*or Vanilla -- see note below)
1 cup Pumpkin Puree
6 tbsp Honey or Agave or Syrup** (see note below on syrup I use)
6 tbsp Natural Peanut Butter
4 tbsp Applesauce
2 Flax Eggs (2 tbsp ground flaxseed + 6 tbsp water) or 2 Eggs
1 tsp Vanilla and Cinnamon and Baking Powder
⅛ tsp Sea Salt
optional: chocolate chips of choice (I used seasonal pumpkin spice chips because I stock up and love pumpkin -- but regular chocolate chips would be yummy too!)
Instructions
Preheat oven to 375 degrees F
Mix water and flaxseed together and set aside.
Mix honey and peanut butter in small bowl and microwave for 10 seconds.
Mix all dry ingredients in another bowl, add honey mixture, pumpkin, and applesauce.
Add flaxseed mixture and rest of ingredients and stir.
Bake in a 9x9 or smaller rectangular pan, sprayed with nonstick spray, for 13-15 minutes, or until set in middle.
Remove and cut into 12 bars.
Notes
*You may realize most recent recipes use plant-based protein, BUT this one uses whey protein. I have not tried this out with plant-based protein powder. I used About Time's Pumpkin Whey, which can be bought
HERE
with the code fff1 for 25% off!
**I actually use half honey, and half fiber syrup to up the fiber content! But knowing that most people don't have fiber syrup, I have tried and know that using all honey works too! Any liquid sweetener will do here!