A healthy, gluten free, sweet cornbread with a pumpkin and gingerbread flavor added!
It's the 21st of the month, and you all know what that means.. Time for another Recipe Redux recipe!
I've been eyeing so many yummy cornbread recipes lately, that I have been wanting to make my own unique version for awhile now. Thank goodness this month's theme aligned with my desires..
Creative Quick Breads

The holiday baking season is upon us. And this month we're going way beyond grandma's banana bread. From sweet to savory and whole-grain to gluten-free, show us your new quick bread creation fresh from the oven. And if you have a tip for wrapping and giving your lovely loaf, please share that too!"
Right away, I knew cornbread it was! My mom makes a delicious blueberry cornbread that I've been wanting to make healthier, but this time wasn't the time for that.
I wanted something festive and holiday tasting.. I wanted to do something new. Something unique.
I saw a yummy looking recipe for a sweet potato cornbread, and I was like hey, that looks yummy! The wheels of my mind began spinning, and surprise surprise (or not really surprise if you know me at all), I decided to make a pumpkin cornbread!
But then I was like wait.. I also love gingerbread ANYTHING. Hence all my gingerbread flavored recipes like this , this , this , this , these , my , and so many more!
So of course, I added the gingerbread flavor with that ground ginger spice and molasses we all love!
This cornbread is delicious, because it isn't too sweet. It's the perfect combination of savory and sweet.
And of course, knowing its coming from this blog, its definitely much healthier than your typical southern cornbread full of creamed corn, butter, and white flour!
Oh, and did I mention..it's SUPER SIMPLE??
Literally took me less than 5 minutes to mix up the batter and pour into a pan. Then all you have to do is let it bake as you begin to smell the delicious holiday flavors emerge from the oven.
Want a little high protein glaze like I randomly decided to drizzle? (not that it even needed it since it was so full of flavor!). I just mixed some vanilla protein powder, almond milk, and honey together to form the perfect consistency!
And hey, it's almost thanksgiving..this would be a great one to serve!
Questions for YOU
What's your favorite kind of cornbread?
What kind of quick bread did you grow up making? (surprise, mine was pumpkin!)
What kind of quick bread will you be making for your thanksgiving table?!
What are you most excited for as the Christmas season begins??
Rating 4.8 from 4 reviews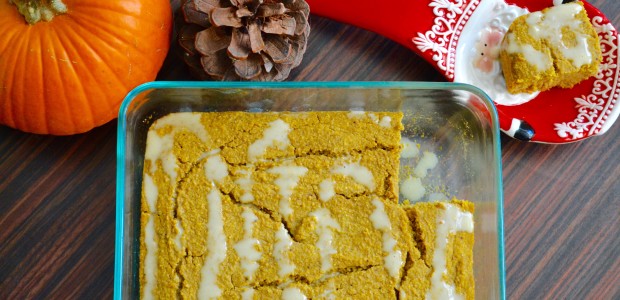 Ingredients
1 cup Corn Meal
1 cup GF Oat Flour
1 cup Almond Milk + 1 tsp Vinegar
½ cup Pumpkin
4 tbsp Honey
2 tbsp Molasses
1 Egg
2 tbsp Coconut Oil
2 tsp Baking Powder
1 tsp each: Vanilla Extract, Cinnamon, Pumpkin Pie Spice
½ tsp Ginger
Optional: ¼ cup Granulated Sugar (can omit if sweet enough for your taste; good if wanting a "sweet" bread versus cornbread)
Optional: glaze recipe below
Instructions
Preheat oven to 350 degrees F
Combine almond milk and vinegar in small bowl and set aside.
Combine all dry ingredients in bowl.
Add egg to almond milk and whisk.
Add all other wet ingredients to milk and egg mixture
Pour wet ingredients into dry.
Taste for sweetness, add granulated sweetener if desired.
Pour into 8x8 glass dish sprayed with nonstick spray
Bake for 25 minutes or until done. Can remove slightly earlier for an even more moist and gooey result! (really good!)
Rating 4.8 from 4 reviews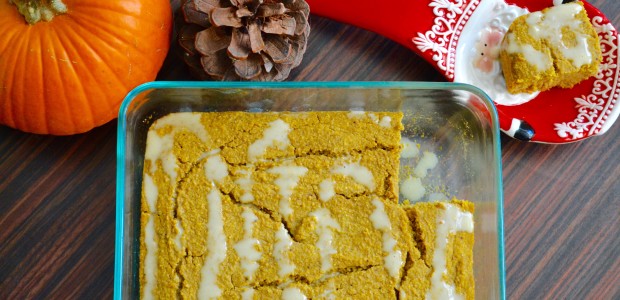 Ingredients
¼ cup Vanilla or Cinnamon Spice Whey (I use Try About Time**)
Dash of Vanilla Extract and Honey
2-4 tbsp Almond Milk -- as needed to desired thickness*
Instructions
Place protein powder in small bowl.
Add honey and vanilla extract
Slowly add in almond milk until you achieve the right consistency (ALL protein will be different, but shouldn't take more than a couple tablespoons!)
Notes
** I use Try About Time all natural whey or vegan protein powder. Buy at
TryAboutTime.com
for 25% off with the code "fff1"!