This post was spurred on my something VERY unique.
See, I have a fellow blogger friend, Gigi over at Gigi Eats Celebrities, who is constantly making me laugh by her oh so hilarious blog posts. One day after emailing back and forth, we decided to do something a little fun. See, Gigi has a VERY strict diet, and she challenged me to bake something she would like  that fit in this strict eating lifestyle. In her words, " it will be a challenge…….. Because I cannot eat: wheat, dairy, gluten, sugar, soy, nuts or fruit…" Yes, no fruit, no wheat, no sugar except stevia but no honey or any other sugar/sweeteners, no grains such as quinoa, rice, or any flours AT ALL except coconut flour. No dairy or dairy substitutes except unsweetened coconut milk, and NO NUTS (gasp..).
She did let me in on the fact that she loves pumpkin and loves her coconut oil and cinnamon. The things she will eat? Winter squashes, almost all vegetables, coconut flour, vegan protein like Sunwarrior brand, coconut and olive oil, and stevia. She doesn't like the flavor of coconut but does like coconut flour, and isn't the biggest fan of chocolate because most isn't lactose free, but was interested in trying cacao powder/nibs out…
Challenge much? I think so. But that only motivated me more to get workin and experimenting!
[NEW: See results of how she liked them by clicking
on the link at the bottom of this post]
What did I come up with? Pumpkin Protein Doughnuts! No wheat, eggs, dairy, sugar, nuts, soy, or fruit!!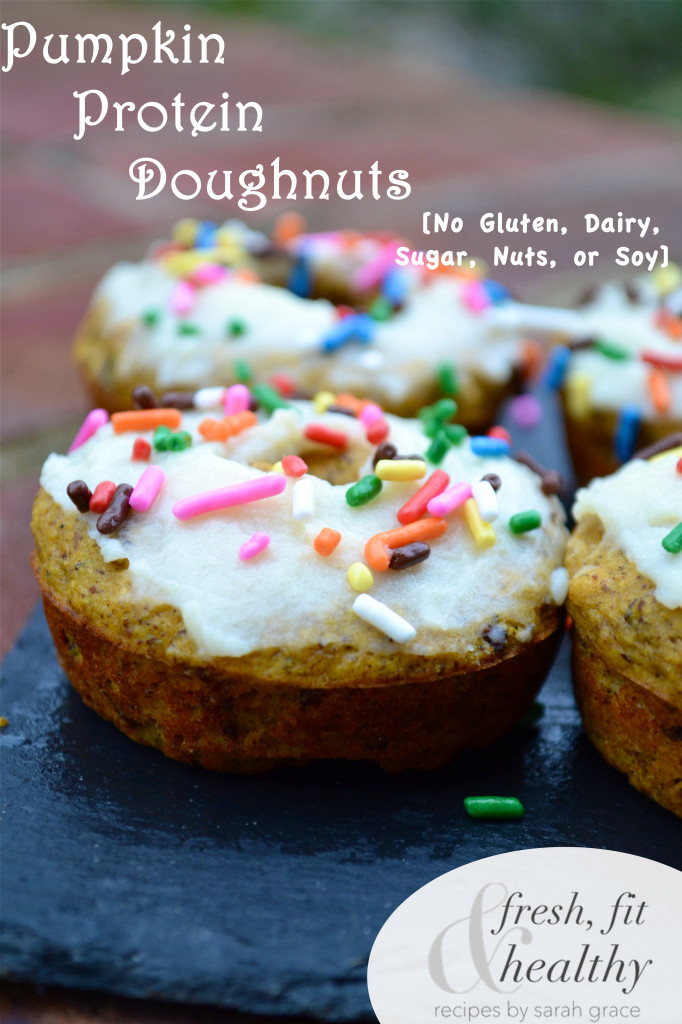 After buying my new mini doughnut and doughnut hole pans, I knew I wanted to get some use out of them.
And when she mentioned she was a lover of pumpkin, I knew I was most definitely making that the main flavor, as that is my favorite as well 🙂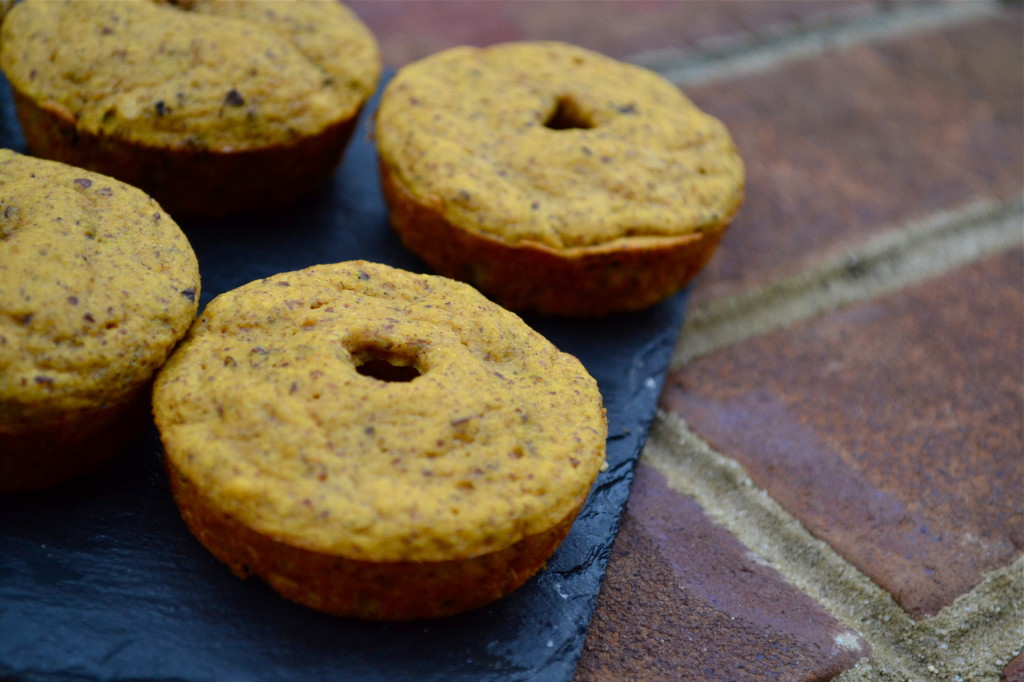 Next was trying to find a base. The first time around I just used coconut flour since I couldn't use any others, but that was a fail as it didn't hold together. So next time I used a mix of coconut flour, flaxseed, and Sunwarrior protein powder (second time around I attempted to see if my About Time Whey powder worked too..and it did!
How delicious do these look?!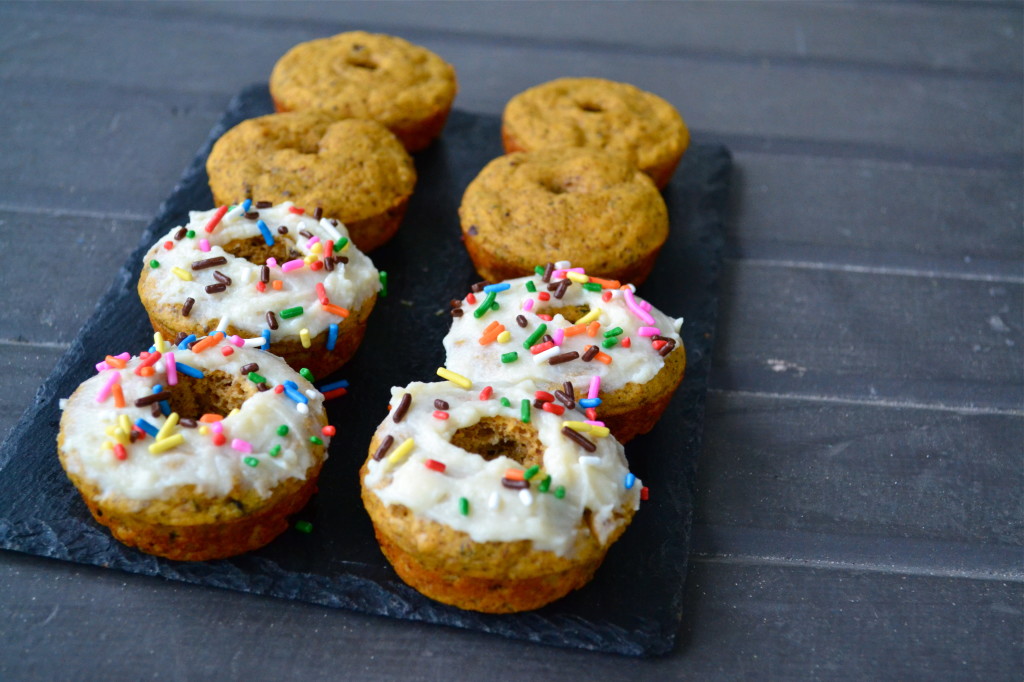 A delicious pumpkin taste, mixed with vanilla and cinnamon flavors, all in a completely wheat, gluten, egg, soy, nut, dairy free doughnuts! And doughnut holes!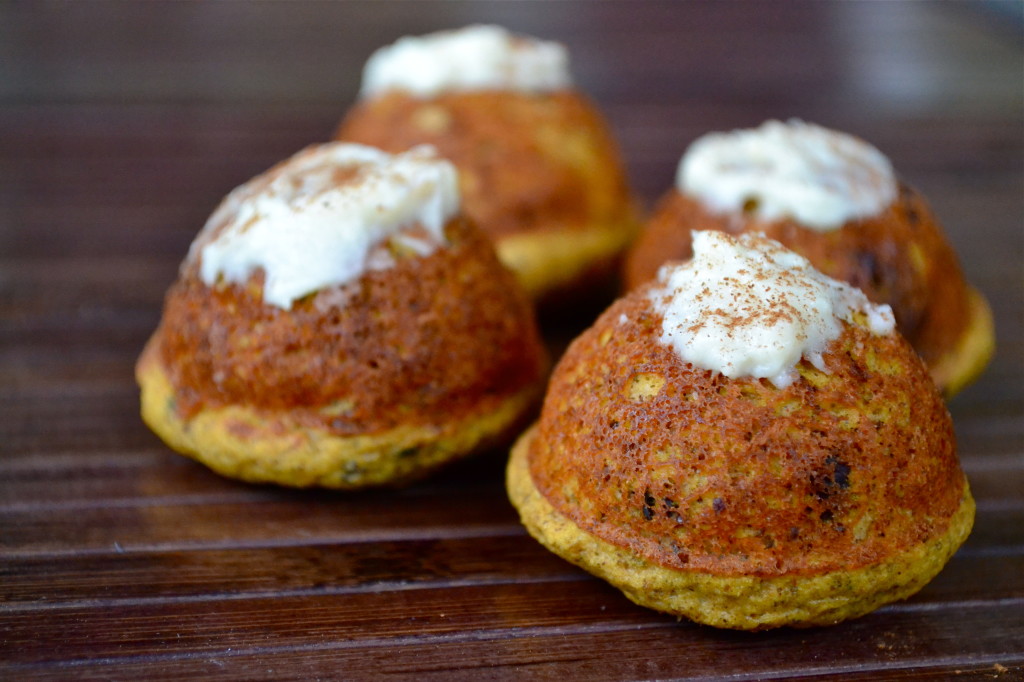 And then I had to go a step further and add a little protein icing. I went with the mindset that the simplest is the best. So my icing here is simply just protein powder, water, stevia to sweeten, and cinnamon or sprinkles on top! (Sorry Gigi, I know sprinkles isn't on the "can eat list"! Aesthetics though 🙂  )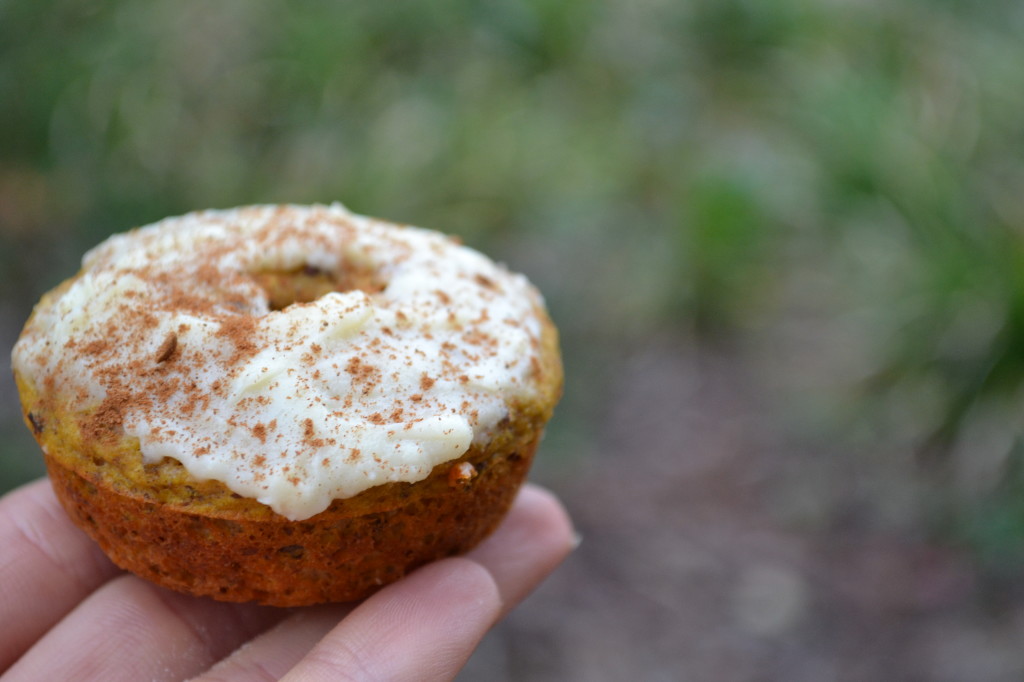 Nom nom nom.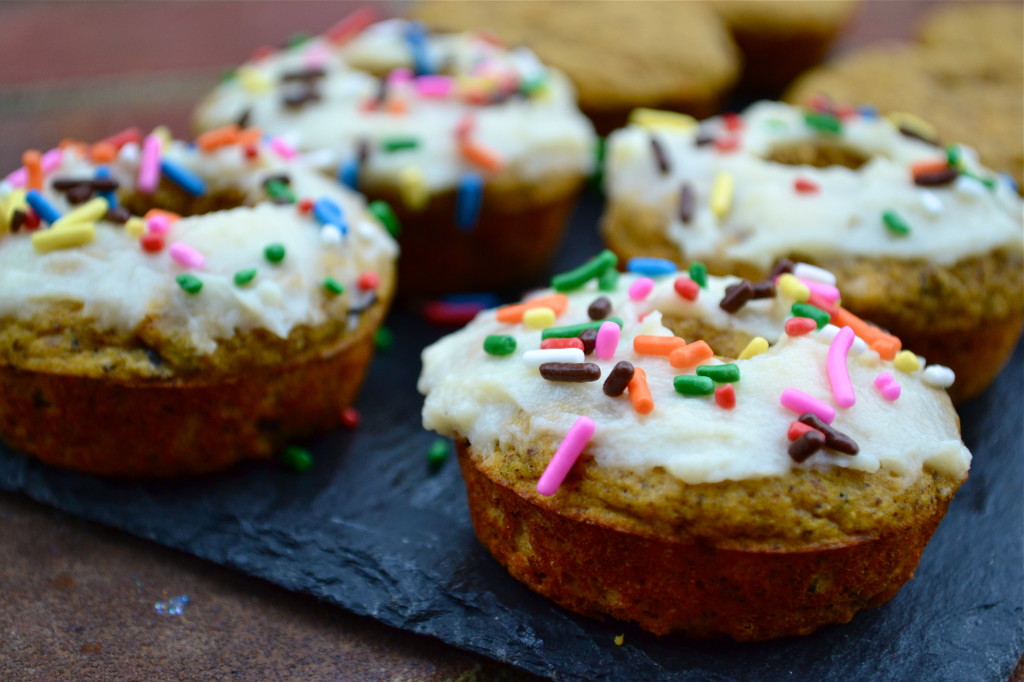 But the REAL QUESTION is…Will Gigi like them?!?!
Only time will tell! She will be making these in the near future, and posting on her blog over at Gigi Eats Celebrities if she likes them!
SHE HAS NOW MADE THEM! CLICK HERE TO SEE HOW SHE LIKED THEM 🙂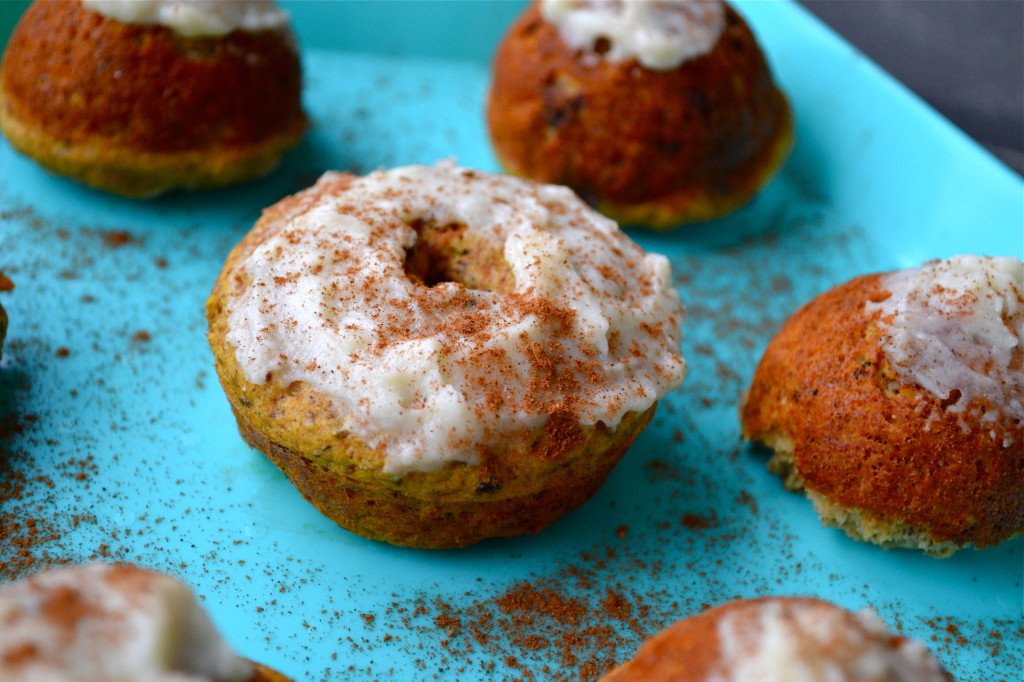 Until then, do you like them?! I love to hear feedback!!
xoxo,
Sarah Grace
Rating 5.0 from 3 reviews
Prep time:
Cook time:
Total time: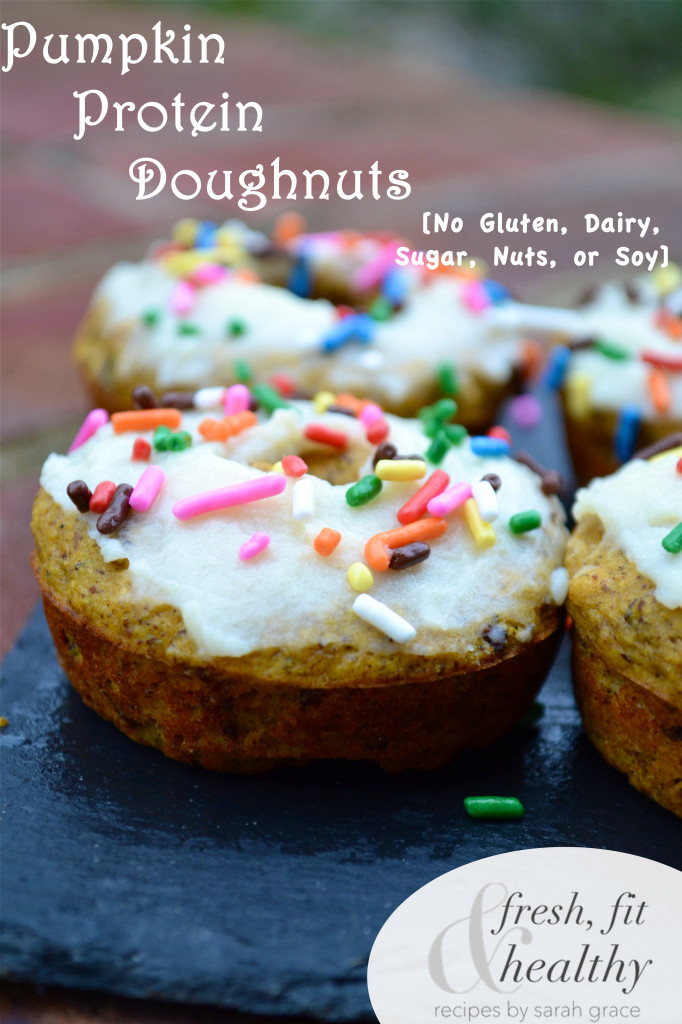 Ingredients
½ cup Protein Powder of choice (I used both Sunwarrior and AboutTime Whey in the second batch, and both worked if you don't mind it containing dairy!)
¼ cup Coconut Flour
¼ cup Ground Flaxseed + ½ cup Warm Water
½ cup Pumpkin Puree
1 teaspoon Psyllium Husk
¼ cup Coconut Oil
¼ cup Unsweetened Coconut Milk
1 teaspoon Vanilla
1 tablespoon Cinnamon
½ teaspoon Sea Salt
8 packets Stevia
1.5 teaspoons Baking Powder
½ teaspoon Baking Soda
Optional: ½ cup Cacao Nibs
Instructions
Preheat oven to 350 Fahrenheit.
Mix warm water and ground flaxseed together and set aside.
Place all other dry ingredients in bowl.
Mix wet ingredients + flaxseed mixture in separate bowl.
Combine wet and dry ingredients.
Spray doughnut pans with nonstick spray.
Spoon batter into mini doughnut pans
Bake in oven for 8-10 minutes, or until done
Makes 12-15 mini doughnuts
Notes
Not dairy free? You can use whey protein too in these! Want to try all natural About Time Whey protein?? Go to
TryAboutTime
and order using my promo code: "FFF1" for 25% off!