When the Recipe Redux theme this month was showing how we like to using liquors in our recipes..I knew right away the alcohol I was using. My favorite that was also used in my  and my ..Coconut Rum <3 🙂
Rum balls use to be a favorite of mine when growing up. Even though I didn't necessarily like the alcohol rum itself in the least bit, for some reason I LOVED any baked goods with it like that pineapple rum upside down cake or those little chocolate filled rum balls.
Too bad those weren't healthy whatsoever. Which is why I came up with a healthy alternative, that still has the lovely rum taste.
Raw, gluten free, dairy free, and oh so delicious, this one is surely a winner.
So very simple and quick to make, and if you're anything like me, you'll be popping them in your mouth just as quickly!
I don't know about you, but I surely have those chocolate cravings every single day..guess what I've been turning to?
Yep, you got it! These babies <3
They looked so tempting even my pups wanted some during the photoshoot..sorry Gracie, love ya but had to say no!
Questions for YOU
Are you a fan of liquor in desserts?
What is your favorite, unique way to enjoy liquor? (my friend use to mix Bailey's in her pudding..sounds delicious to me!)
Until next time,
xo Sarah Grace
Rating 4.5 from 2 reviews
Prep time:
Total time: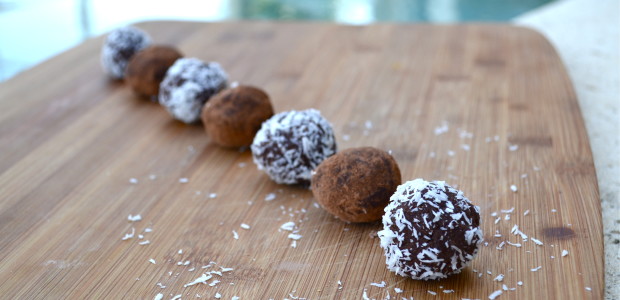 Ingredients
¼ cup Coconut Flour
½ cup Coconut Rum
7 Dates
1 tablespoon Unsweetened Cocoa
1 tablespoon Honey
1 teaspoon Vanilla Extract
Dash of Himalayan Sea Salt
Optional: Unsweetened shredded coconut or cocoa powder for outside covering
Instructions
Place dates in coconut rum and allow to soak for at least 3 hours
When done soaking, add dates, rum and all other ingredients to food processor, blend until smooth
Refrigerate mixture for at least 30 minutes, then remove and shape into small balls.
Roll in coconut or cocoa powder if desired.
Refrigerate until serving