Looking for a healthy quiche recipe to add to your family's next breakfast table? This red, white, and blue healthy quiche by Blue Apron is for you!
Are you too busy to make meals from scratch? Are you needing just a little more inspiration for your family's dinner table? Well, Blue Apron is a company that sends customized meal packages, filled with all the fresh ingredients and the recipe steps you need to make a couple of their delicious recipes! And you can try them FOR FREE TODAY by clicking here!
They create and send you original weekly recipes that are created by a full culinary team. The recipes and ingredients they send are always FRESH. I mean, fresher than the supermarket! And they always send you the exact amount of the food that you need, so there is NO wasted food. You get to choose what type of meals you'd like, such as preferences of chicken, vegetarian, beef, seafood, and pork. And they deliver straight to your door!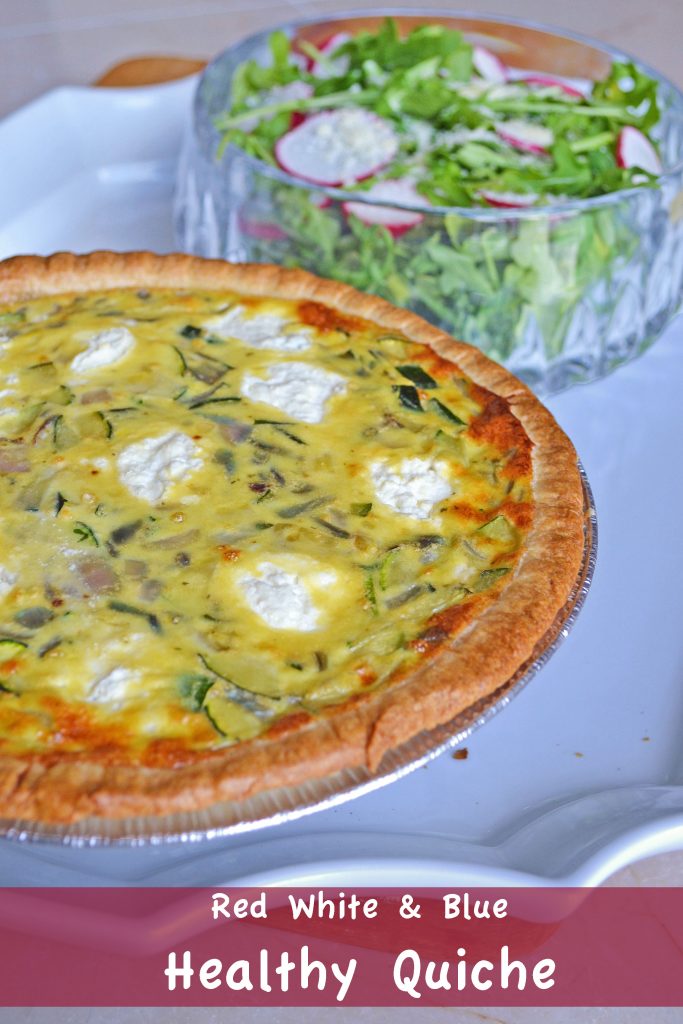 Well as you may guess, I got the chance to receive one of their awesome packages, filled with all the fresh ingredients for TWO recipes that serve 4 people each, and the recipe cards that direct you step by step on how to make it.
I set up my account, picked the options I wanted (poultry vs pork, and vegetarian vs beef), and then got to choose 2 out of the 4 weekly meals they had available.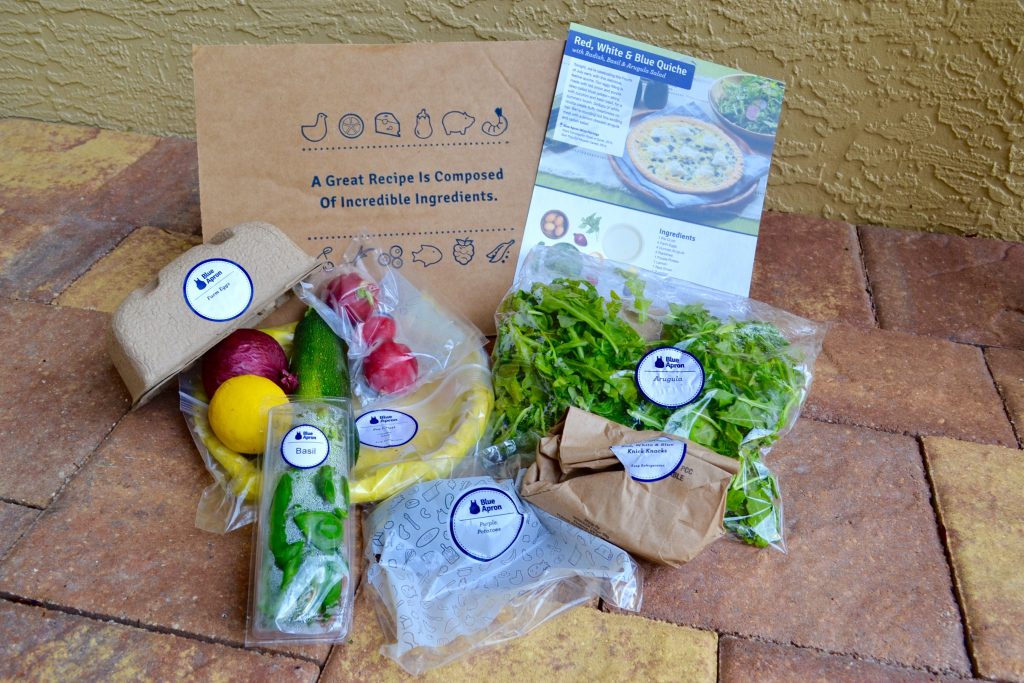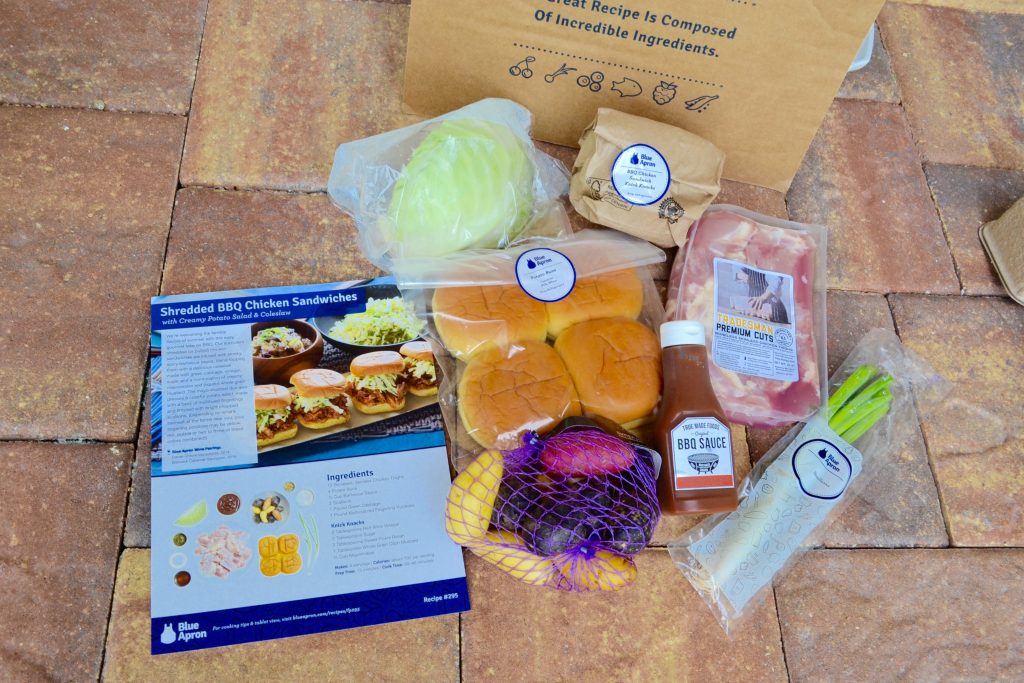 I was so excited to see the two meals I got sent by Blue Apron to create were BBQ Chicken Sandwiches with Coleslaw and Fingerling Potatoes, and then this Red, White and Blue Healthy Quiche with a Radish, Basil & Arugula Salad (which is the one I'm sharing with you all today!)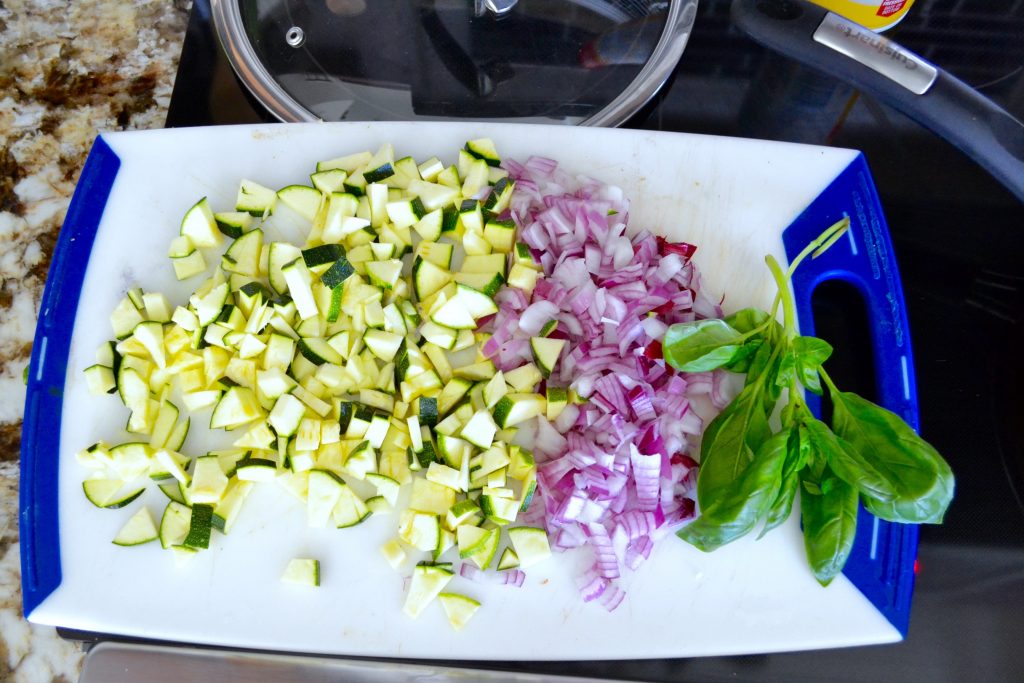 Even though I love creating my own recipes, it was SO nice to come home from a long day and not have to think about anything. I had the recipe right in front of me, the steps to make it (which only took 15 minutes top!), and all the ingredients perfectly portioned out.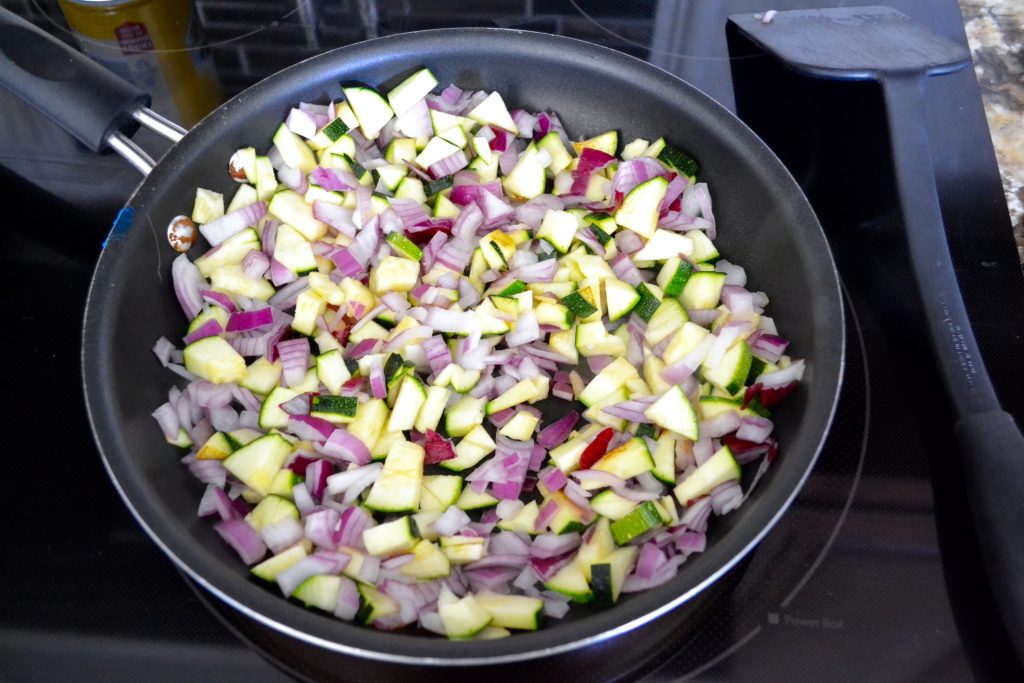 I got to cutting the fresh zucchini, red onion, and potatoes up. Sautéed them and added in the fresh basil. Beat the farm-fresh eggs and added in the parmesan cheese first. Then the veggies and potatoes.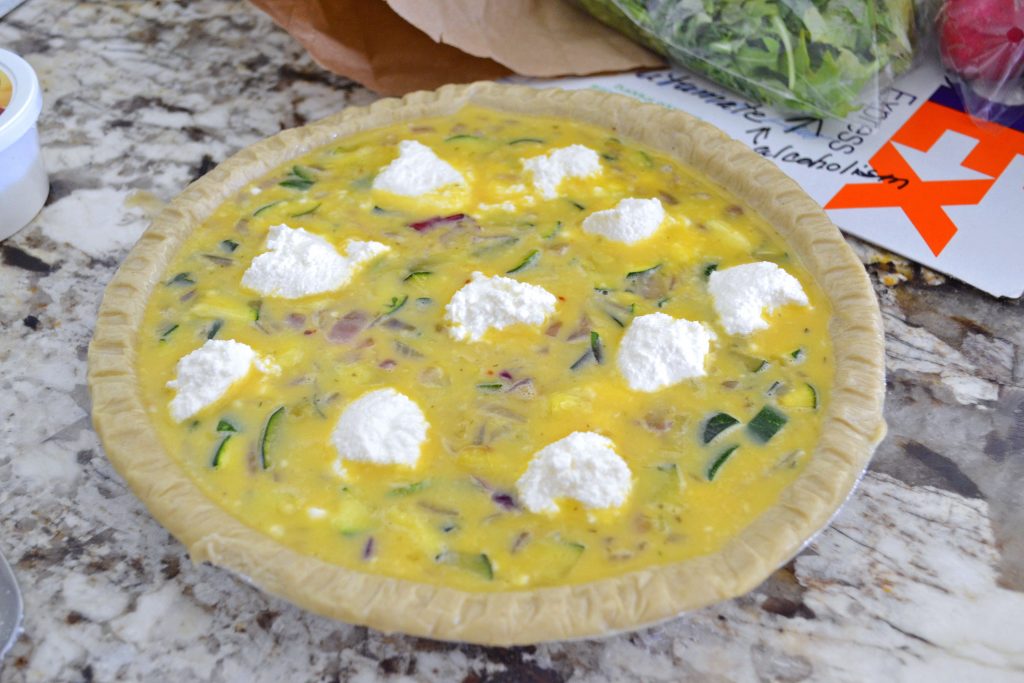 Poured the mixture into the prepared pie crust. Top it all off with spoonfuls of part-skim ricotta cheese, and baked it for 25 minutes.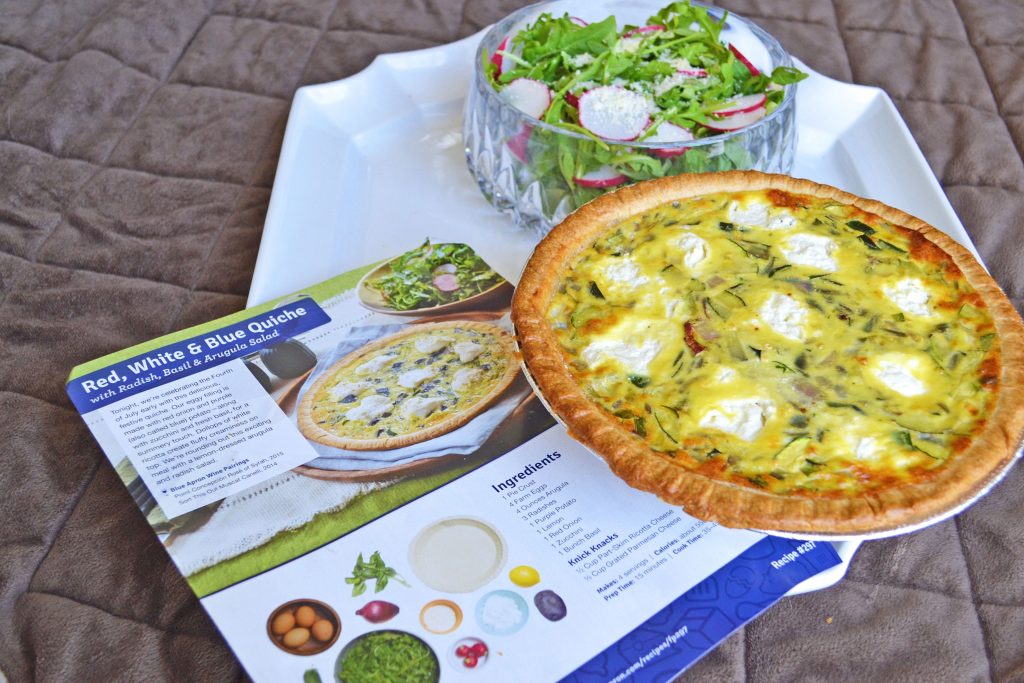 While it was baking, I threw onhealthy evista together the arugula and sliced radishes into a bowl. Combined the juice from the fresh lemon with some olive oil for a delicious dressing. And added the rest of the cheese to the top of the salad.
And voila! I had a delicious Red, White, and Blue Healthy Quiche with a delicious Arugula Salad with Lemon Vinaigrette dressing.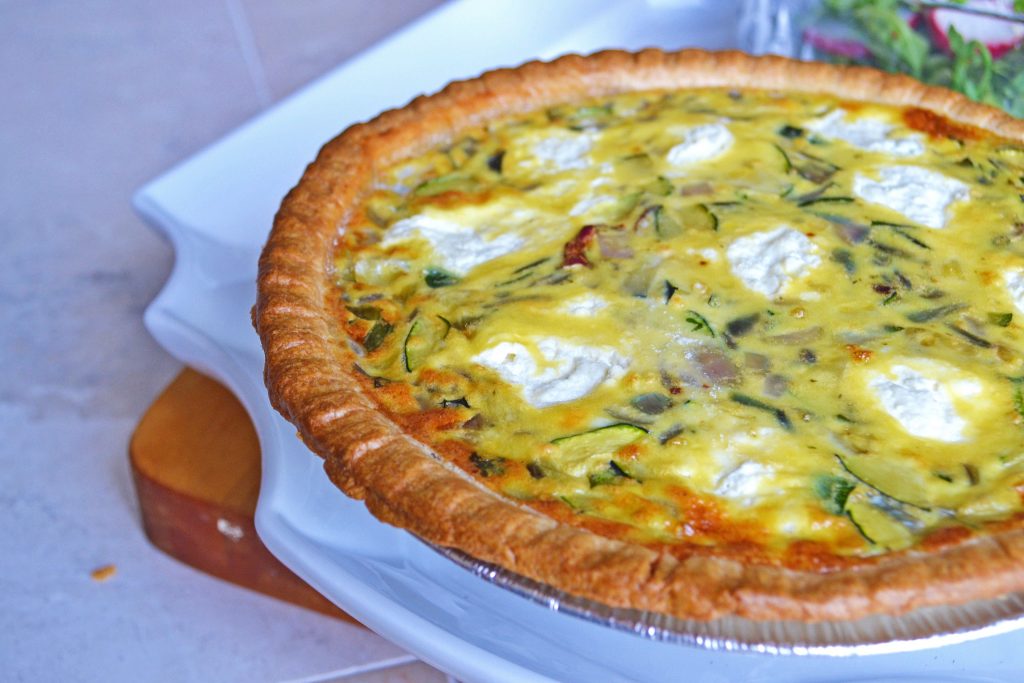 I have to say, I never thought I would appreciate a meal service like Blue Apron as much as people talked it up, because of liking to cook my own recipes. But wow, this was SO convenient AND delicious. Because I'm home with my mom as I continue my internship rotation right now, she got to come home to this delicious meal as well. And she thought it tasted incredibly fresh and delicious.
So happy I got the chance to try out Blue Apron, and I'll definitely be using this company in the future! Can't wait for my BBQ Shredded Chicken Sandwiches tomorrow night 🙂 I love how they also send meals according to season and holidays, like this red, white and blue quiche for the week of 4th of July!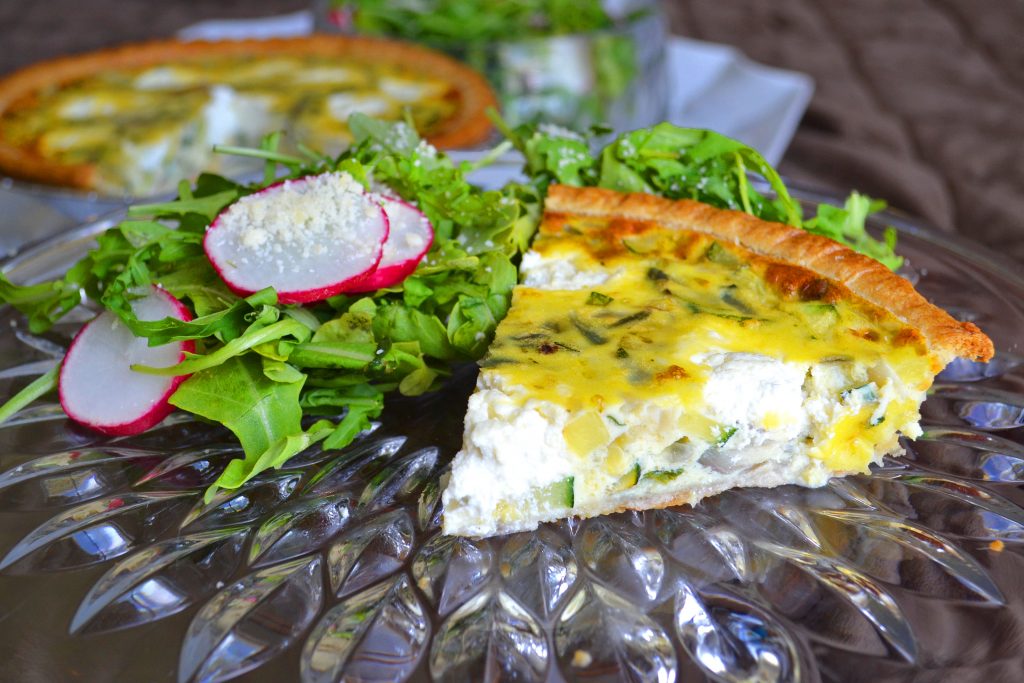 Questions for YOU
Will you be making this Red, White, and Blue healthy quiche recipe for 4th of July?
Have you tried out any meal service like this before?
Want to try it out FOR FREE? Click here!
Prep time:
Cook time:
Total time: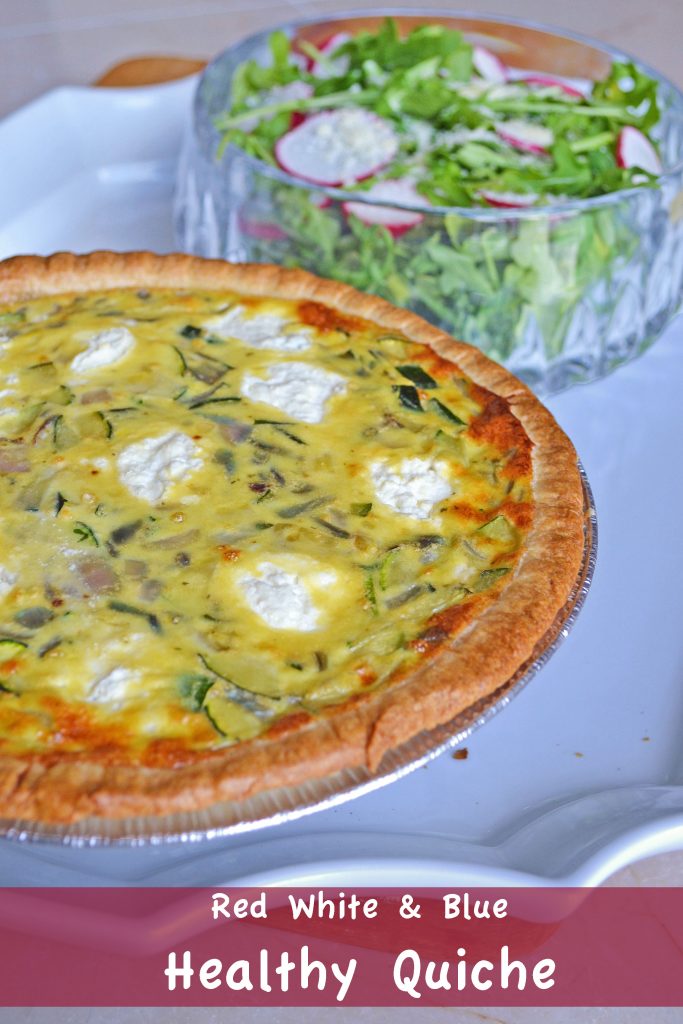 Ingredients
1 Prepared Pie Crust
4 Eggs
½ cup Part Skin Ricotta Cheese
¼ cup Parmesan Cheese, separated in half
1 Zucchini
1 Red Onion
4 Baby Purple Potatoes
½ cup Chopped Fresh Basil, separated in half
Salt & Pepper to taste
For Salad: Arugula, Radishes, ½ of Parmesan Cheese and Basil, dressing of choice (I made my own with juice of 1 Lemon, 2 tbsp Olive Oil, 2 tbsp Vinegar, Salt and Pepper to taste)
Instructions
Preheat oven to 425 degrees F
Dice all veggies and potatoes.
Saute onion and potato in pan on stove until soft, add in zucchini and cook until all are soft. Add in basil and take off heat.
Beat eggs in bowl and then add 2 tbsp water
Add in ½ of parmesan cheese and then all the veggies (onion and zucchini), potatoes and seasonings of choice.
Pour into prepared pie crust and add 8-10 spoonfuls of ricotta cheese on top, spaced out.
Bake in oven for 24-26 minutes.