Looking for a simple marinade for tuna or to make it that same, seared, crispy and encrusted way the restaurants do? This encrusted seared tuna recipe will give you both of those things!
One thing I took for granted when I lived at home: having seared tuna and grilled salmon multiple times a week for dinner.
Now that I'm off on my own, I realize JUST how expensive it is… which is why I rarely buy it and why I live off of chicken.
So after sharing my deliciously SWEET recipe Tuesday of my diy Vanilla Bean Latte, I decided I would share a savory recipe today to balance it out this week as I'm gone working as a camp counselor at a Diabetes Camp! First rotation of my dietetic internship under way! Keep up with me on snapchat (sarah_grace11) and instagram, @freshfitnhealthy through the summer of interning!
But there is just something I love about the seared tuna you get as restaurants that is encrusted in sesame seeds. It's just so yummy. Agreed?
Well if you do, you'll be ecstatic about this recipe. Because why I was home for a week a little bit ago, I made this seared sesame and chia seed encrusted tuna for my mom and I.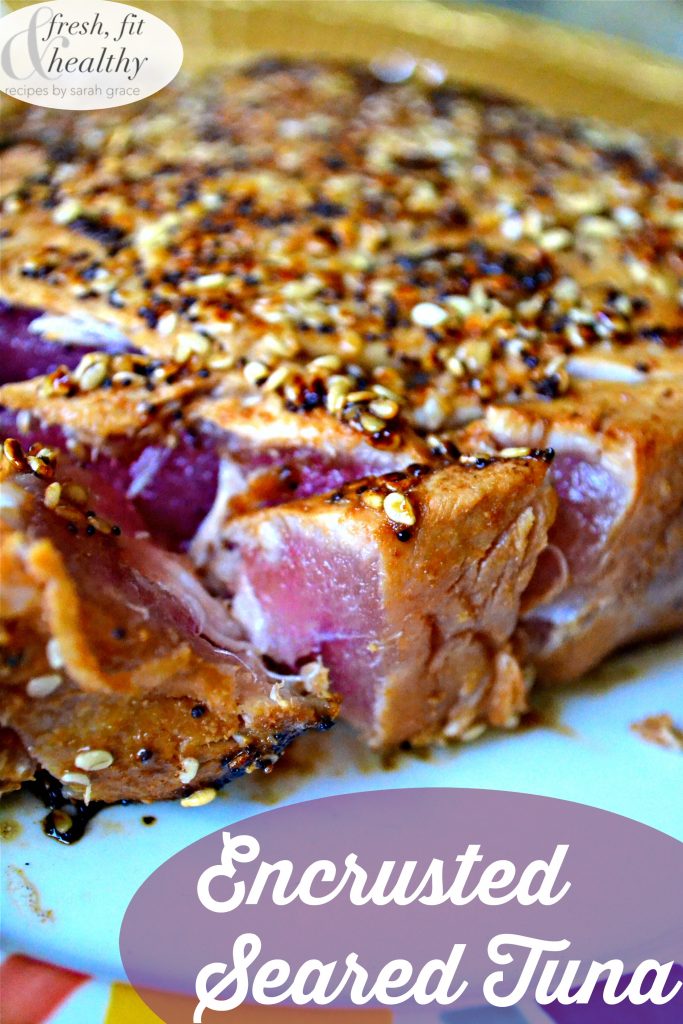 Mmm mmm mmm.
Every time I come home, I make it a point to make a delicious dinner recipe, as it's hard to do when I'm up in masters program and have limited time and ingredients. Remember a few months back when I shared this creamy dijon encrusted salmon recipe? yep, well here is another good one to keep in mind for dinner!
Now I'm off again, as I've been traveling like crazy this last month! To southwest Florida, then to my sister's in Tampa, then to Kansas City, then to Atlanta, then to Tallahassee for 2 days only to go back to southwest Florida to shadow the Twin's dietitian and make this video on intuitive eating with another dietitian. Then to a beach with a few friend's for Memorial Day Weekend. Only to drive back up to Tallahassee for a few days before getting flown to Bloomingdale, Illinois for a fun NOWFoods Immersion Event! Now I'm in Tampa again, completing my first dietetic internship rotation as a camp counselor for Type 1 Diabetic children at a sports camp!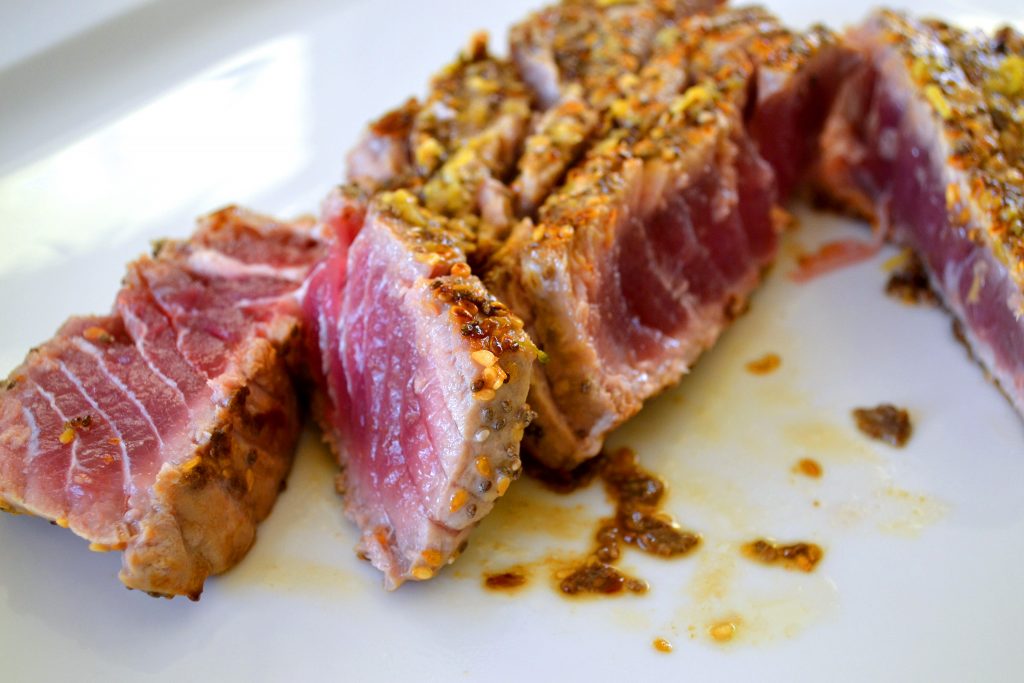 Whew. what a whirlwind it's been. But I'm so excited for this rotation as I heard it's the most exhausting but rewarding week of your life. (so let's hope as you're reading this, that everything is going well and I haven't messed up too badly yet!)
But as I go from city to city and rotation to rotation, I will keep you all updated! Also, for more day to day of everything, follow me on snapchat, Sarah_Grace11 and instagram, @freshfitnhealthy!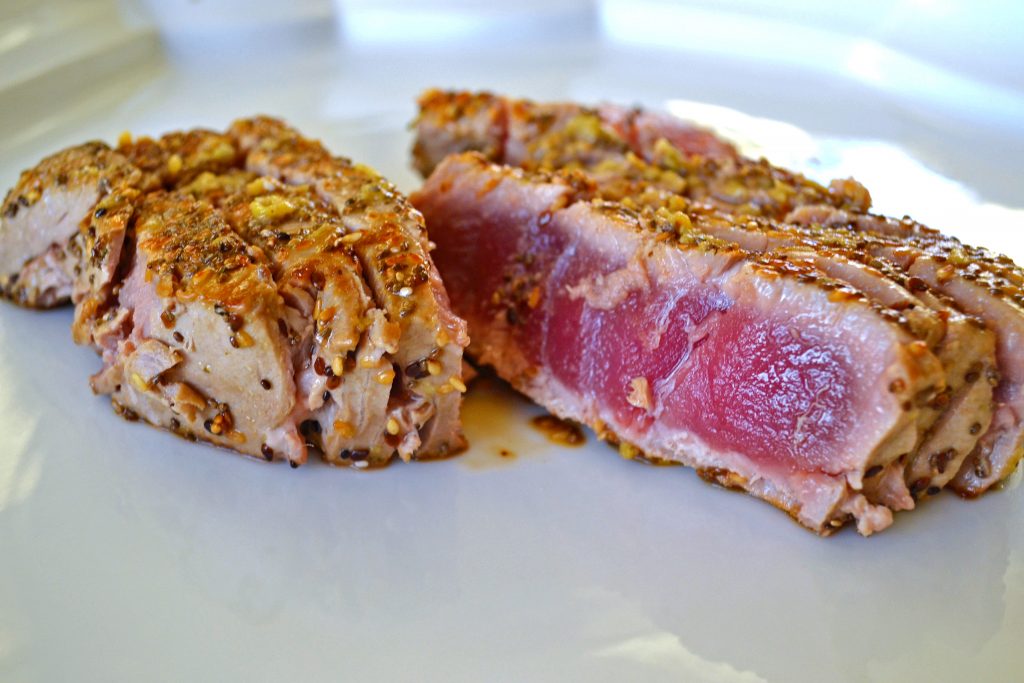 What are the benefits of Seared Tuna?
It's high in Omega-3 Fatty Acids which:
Reduces risk of Heart Disease
Wards off depression and cognitive decline
Reduces Inflammation
Until next time, eat some of this yummy seared encrusted tuna for me!
xo, Sarah Grace
Questions for YOU
what's your favorite seafood to have? favorite fish?
have you tried NOW Foods products? which do you like??
what type of recipes do you want to see most of here this summer?!
Prep time:
Cook time:
Total time: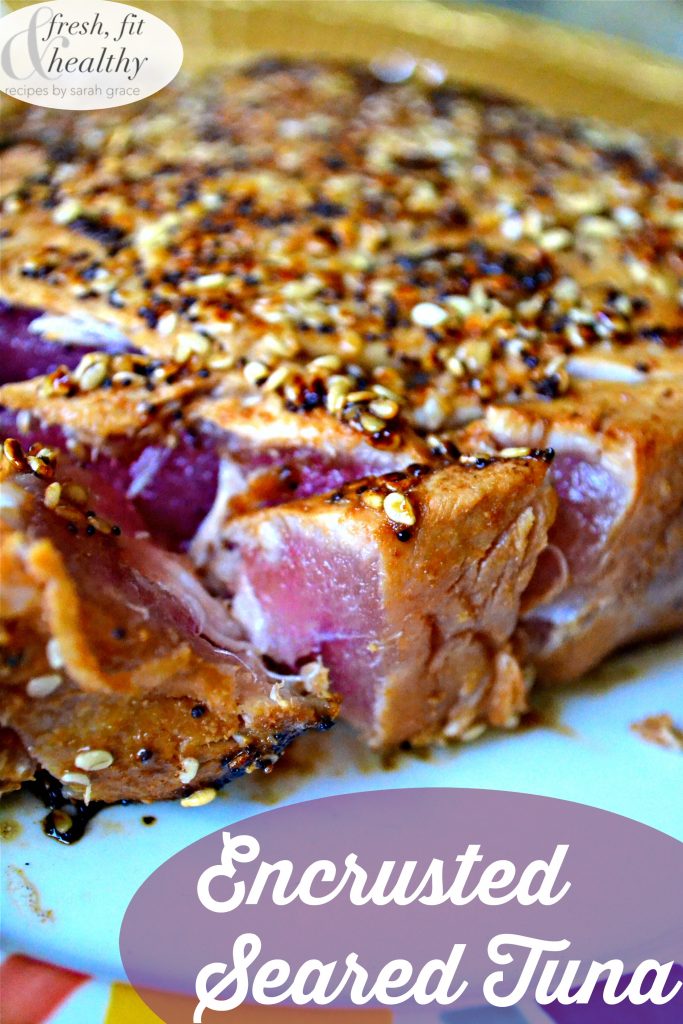 Ingredients
1 lb Tuna Steaks
¼ cup Olive Oil or Sesame Oil
¼ cup Soy Sauce or Liquid Aminos
¼ cup White Rice Vinegar
1 tbsp grated Fresh Ginger Root
2 tbsp each: Sesame Seeds and Chia Seeds
Sea Salt to taste
Instructions
Combine oil, vinegar, soy sauce, and ginger in container. Place tuna in container and shake until coated fully.
Allow to soak for at least 30 minutes.
Heat pan on stove on medium high with a little oil in it and wait until it is hot.
Coat tuna in seeds and sprinkle with sea salt.
Add tuna to pan when it is really hot (you should hear a searing noise)
Cook for about 4-5 minutes uncovered, flip tuna, and then cover pan.
Cook until other side is browned and your tuna is cooked inside to your liking. (I like mine pretty raw so I only cook for about 4-5 minutes and my tuna was very thick)
Slice & Enjoy!