July 4th is justtttt around the corner. I already shared a wonderful, full sized "cake" with my World's Healthiest Cake recipe the other day, but I was thinking you may be in the mood for something like this too.
I know I was.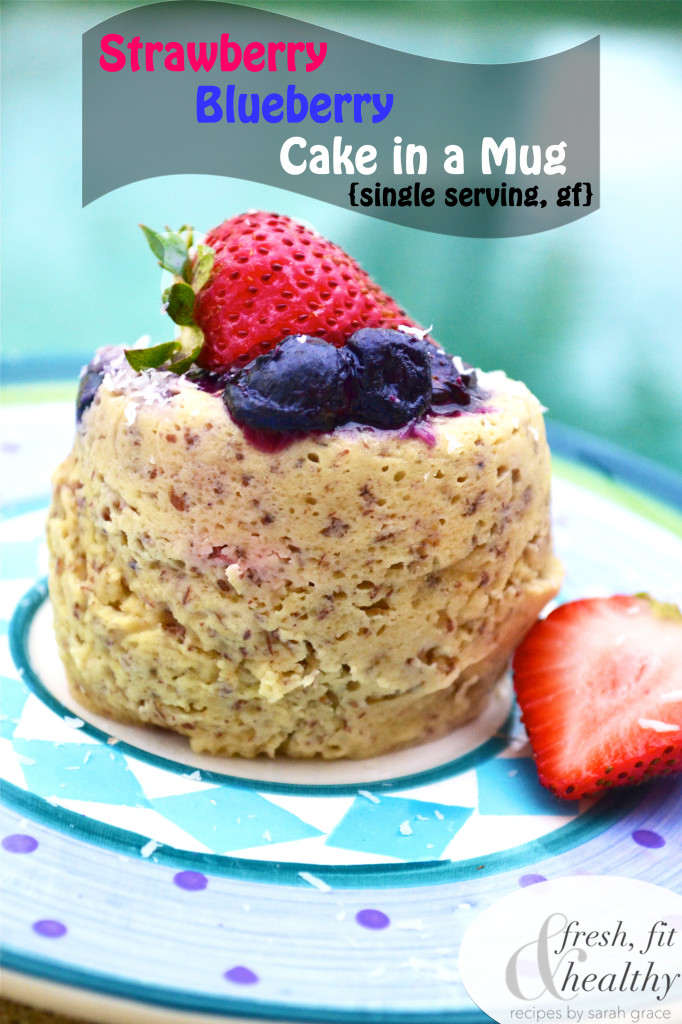 No, this recipe wasn't a planned one. But right before the sun set, I was having a sugar craving attack, and decided to whip me up a quick 1 minute mugcake to take the pains away. Let's just say it was SO good, I quickly remade another one to take photos of.
Usually I go for something chocolate, like my Chocolate Peanut Butter Mugcake or my Mocha Coconut Mugcake, or even something having to do with my favorite (pumpkin!), like my Gingerbread Mugcake..Fruity desserts (aside from simple chocolate dipped fruit) just aren't my thing, anyone close to me could tell you that…*except of course I did make that instagram award winning Pina Colada Mugcake 🙂 *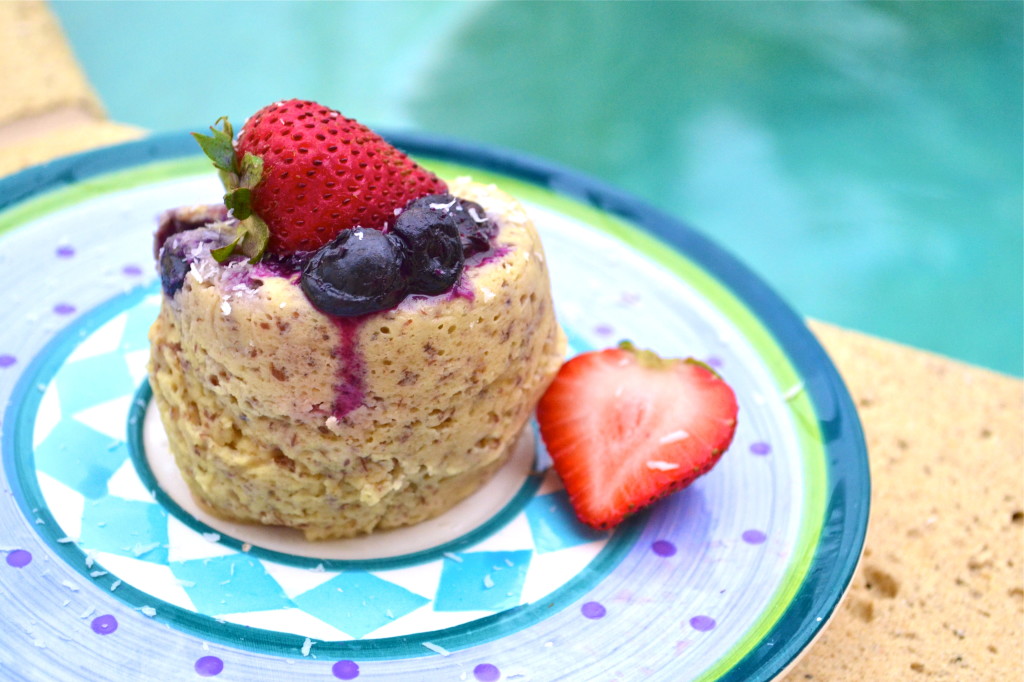 But with tons of both fresh and frozen berries, and having been on a serious fruit craze lately (I mean goodness, I know fruit is good for you, but I have about 2 apples a day and who knows how many strawberries, blueberries, and frozen banana slices!)
So, with that on my mind, I went fruity for once in my dessert. And boy oh boy I am glad I did.
And after making my second, even though wanting to eat it myself, I gave it to my mom, who gobbled it up just as quickly as I did with the first!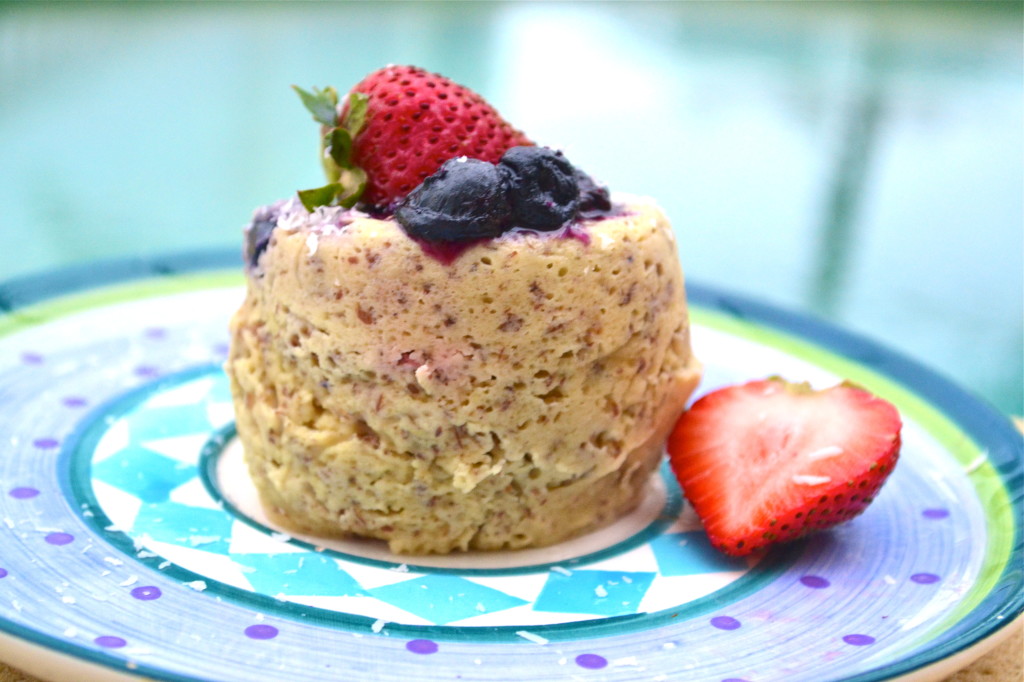 Nomnomnom
Perfect red white and blue colors for 4th of July? I think so!  But let's be honest, I'll be making this frequently way past July 4th as well..it's just THAT GOOD.
Sprinkle some coconut on top. Perfection.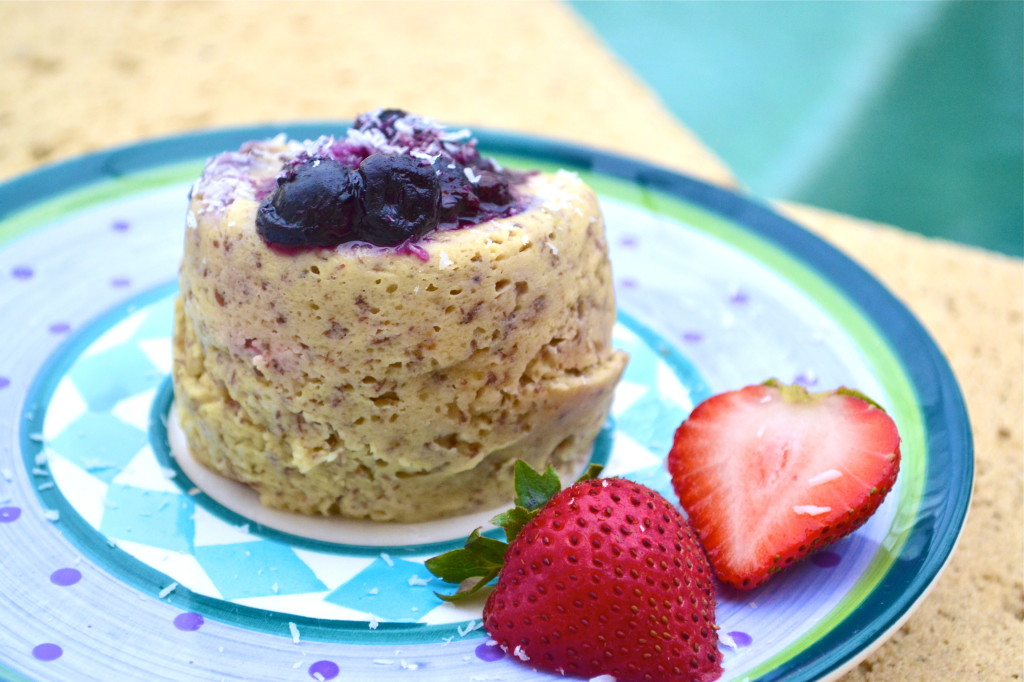 Breakfast, dessert, snack time..this single serving cake in the mug is healthy, delicious, and fits any time of the day!
Questions for YOU
Have you ever tried a mug cake? If so, what kind?
What would be your dream flavor of mug cake?
Are you a fan of single serving desserts like this or recipes more catered to groups/families?

Strawberry Blueberry Cake in a Mug {single serving, gf}
Ingredients
1 tablespoon Coconut Flour
1 tablespoon Ground Flaxseed
2 teaspoons Almond Butter (or nut butter of choice) I used P28Foods brand
2 teaspoons Honey
1 Egg
2 tablespoons Nonfat Plain Greek Yogurt (probably could sub with applesauce for DF)
½ teaspoon Vanilla Extract
Dash of Sea Salt
About 8 Blueberries + more for topping
2 large Strawberries, one sliced and cooked within, one for topping
Instructions
Combine all ingredients in small bowl except for fruit.
Spray mug with nonstick spray
Gently stir in the 8 blueberries and 1 chopped strawberry
Pour mixture into mug and cook in microwave for 1 minute and 15-30 seconds, or until done
Microwave about 10 more blueberries with 1 teaspoon water, for about 30 seconds. Mush with spoon and spoon on top of cake (either still in mug or inverted onto a plate)