A high fiber, superfood chia pudding recipe that is the perfect treat full of nutrition and flavor!
Another day, another chia pudding recipe. Superfood Chia Pudding to be exact.
Sorry if you aren't the biggest fan of it, because I know I've posted so many. But it is just so simple, quick, and delicious..I can't help but to make every variety I can think of! Like my Mint Chocolate Chip flavor, or my flavor, or my using About Time Zzz Casein, or even my! And now, this delicious Superfood Chia Pudding one.
This months Recipe Redux Theme: "Get Your Dehydrator On"
"Whether it's extra garden bounty or a sale at the supermarket – dehydrating food is a budget-friendly way to stock up for later. You can use a food dehydrator, a low slow oven, or natural sunshine to preserve natural healthfulness. Show us how you like to dehydrate, or a healthy recipe for how you enjoy using dehydrated fruits, veggies or other bounty."
Well, as a senior dietetics student at the University of Florida, and it being my first month back in classes, you can imagines the little time I had. And the limited resources. I do want to dehydrate fruit by the oven or even the good ole sunshine at some point in the future.. but for this month's theme I had to stick with these little yet delicious store-bought dehydrated fruit..GOLGI BERRIES! (oh and the dehydrated coconut counts too!)
But pudding..that is healthy? When it's texture is created by chia seeds and not a ton of high fat dairy and other ingredients..YES. I welcome this Superfood Chia Pudding into your life!
Recently I've been trying to incorporate more super foods into my diet, specifically the maca powder, as the taste of it I just can't seem to warm up to..except for when disguised by chocolate like in my 🙂
But I found yet another way to get in not only that maca powder, but also so many other super foods and beneficial foods! Like pumpkin (yes, my favorite food is a superfood!), chia seeds, coconut, golgi berries, cocoa beans, and cinnamon. All have incredible nutritional benefits (I've listed most below this recipe at the end for you all!)
I made this delightful Superfood Chia Pudding for my friend and I one afternoon, and we gobbled it up in seconds. And I made more to chill overnight for the next day, just that good.
People tend to think getting in "healthy" food has to be something to put on the "to do list" just to get in, because it just can't be enjoyable (I have to admit until high school I was one of those..except I didn't even put it on my to do list haha, I just avoided healthy food altogether). But I beg to differ now. Which is one of the biggest reasons I created this blog, to help others see that eating healthy can indeed be absolutely delicious!
Like this? Yes please. PACKED with foods loaded with minerals and nutrients. No processed sugars, or fats, or artificial flavors…
Nature's candy is what I like to call it.
Questions for YOU
What is your favorite superfood?
Have you ever tried maca powder? If so how do you use it?
What about golgi berries?
How do you like to use chia seeds?
Until next time,
xo Sarah Grace

Rating 5.0 from 1 reviews
Prep time:
Total time: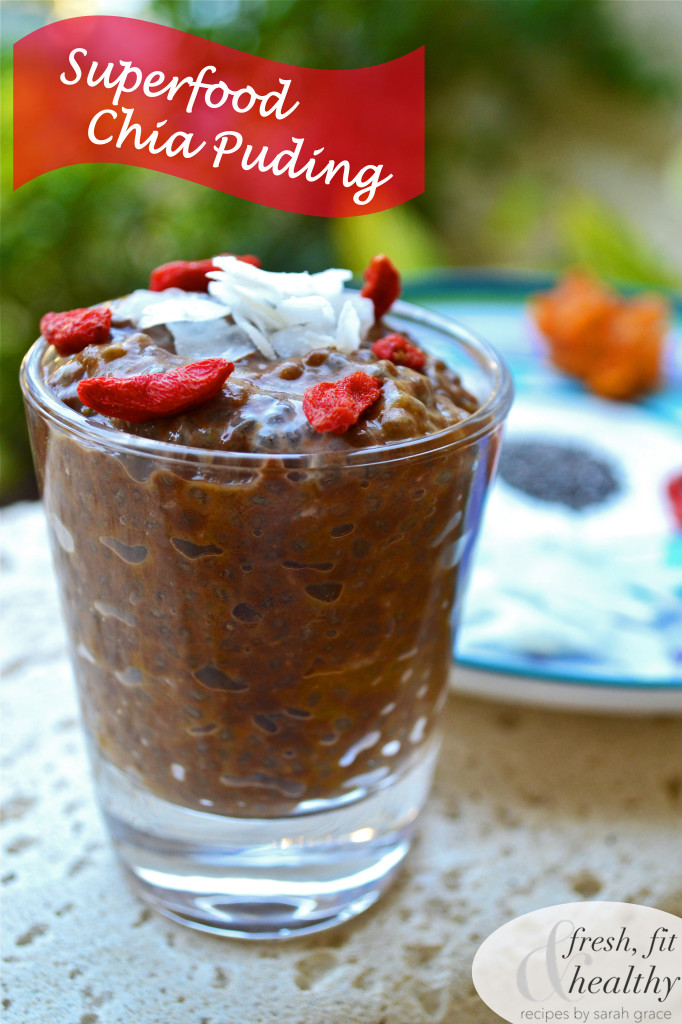 Ingredients
1 cup Coconut Milk (or Unsweetened Almond Milk for non-paleo)
3 tablespoons Chia Seeds
¼ cup Pumpkin Puree
2 tablespoons Golgi Berries
1 tablespoon Unsweetened Shredded Coconut
2 teaspoons Cacao Powder
1 teaspoon Maca Powder
½ teaspoon Cinnamon
¼ teaspoon Sea Salt
Honey to sweeten as desired (I added 2 tablespoons)
Instructions
Combine all ingredients in bowl EXCEPT coconut and golgi berries, and stir to evenly combine. Allow to sit in fridge for at least 3 hours
When thickened, scoop into individual cups, and sprinkle with coconut and golgi berries
Notes
Can easily be doubled or tripled for a larger crowd!
Golgi Berry Benefits
Excellent source of antioxidants because of their oxygen radical absorbance cpacity (ORAC) value. An ORAC value indicates a food's antioxidant power on a relative scale
Used in traditional Chinese medicine for years–as natural remedies for diabetes, hypertension, malaria or even fever
They contain tiny seeds (which contain fibre) that add a nice texture to your meals.
Loaded with beta-carotene (a pigment found in plants and fruits) which helps promote healthy skin
Known to help boost the immune system and protect the eyes.
An excellent source of vitamin C and can reduce tough cold symptoms.
Are low in calories, fat-free and are packed with fibre — which also helps you manage weight and go the bathroom on a regular basis.