Happy Mother's Day Weekend to all of you amazing mother's out there, I konw I surely appreciate everything my mom has done for me over the years. And to their family members..here is a recipe to make for them 🙂
With being up at college and having a meal plan, I typically post more snack and dessert recipes as that is what I like to have around my house in between meals 🙂 But with summer now here, no meal plan means some savory, meal recipes again.
If you saw my last recipe post of the , then you'll be familiar with Dare Foods' Breton Gluten Free Crackers. Well, I used them again for this recipe! I am a huge salmon fan, so the first night home (of the one week I'll be home before summer school starts), I made a delicious salmon recipe for my mom and I to enjoy.
Sweet and spicy is a flavor combination I have come to love. Sriracha anyone? Yes it has become a favorite condiment of mine.
And who is a fan of honey mustard?? Unfortunately the stuff you buy in stores is loaded with sugar, so I made my own, high protein honey mustard using greek yogurt and dijon mustard!
Coated with a crispy outer layer comprised of crushed Breton Gluten Free Original with Flax crackers and walnuts? Mmmm.
These Breton crackers I have found to be so versatile. Even though I have now made this recipe and those incredible turkey meatballs with them, I have also just used them to enjoy some turkey and cheese as a snack, or simply dipped it in hummus when I get those midday snack attacks. Gluten free? No one would even know, as they aren't tasteless like most gluten free products.
My mom was in love with this. Typically we just grill our salmon with olive oil and seasonings, but she was so excited about enjoying it in a new way. And after trying it, she was even more excited to gobble it all down.
The sweet flavor of honey, walnuts, and cinnamon. The spicy flavor of sriracha and cayenne pepper. The crunchy texture of Breton Gluten Free Crackers. And of course the delicious flavor of salmon that melts in your mouth. What could be better?
This is the perfect dinner for any night. Whether with family, friends, or just yourself! Simple, healthy and quick, yet delicious!
Rating 4.0 from 2 reviews
Prep time:
Cook time:
Total time: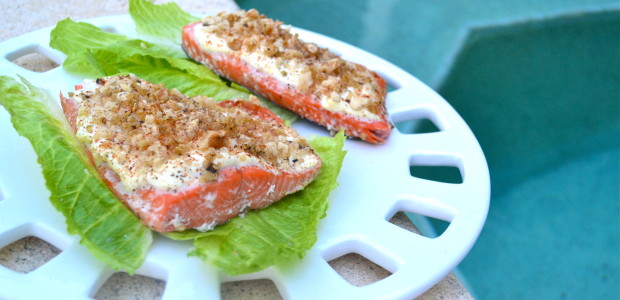 Ingredients
2 Individual-sized Salmon Fillets
¼ cup Plain Greek Yogurt
1.5 tablespoons Dijon Mustard
1 tablespoon Sriracha Sauce
2 teaspoons Raw Honey
7 Breton Gluten Free Original with Flax crackers, crushed
3 tablespoons Walnuts, crushed
1 teaspoon Coconut Oil
Sprinkle of: Cinnamon, Cayenne Pepper, Sea Salt
Instructions
Preheat oven to 350 degrees Fahrenheit
Mix together yogurt-honey, and coat salmon fillets with mixture heavily
Combine crushed crackers, walnuts, and coconut oil, and sprinkle on top of yogurt mixture
Sprinkle fillets with cinnamon, cayenne pepper, and cinnamon
Bake in oven for 20 minutes, or until cooked through
Enjoy warm!
"By posting this recipe I am entering a recipe contest sponsored by Dare Foods Incorporated and am eligible to win prizes associated with the contest. I was not compensated for my time."