What holiday are we celebrating today for day FOUR of #FreshFitNFestive 6 Days of Holidays?! If you have no idea what I'm talking about because you're just coming to my blog for the first time this week, check back here 🙂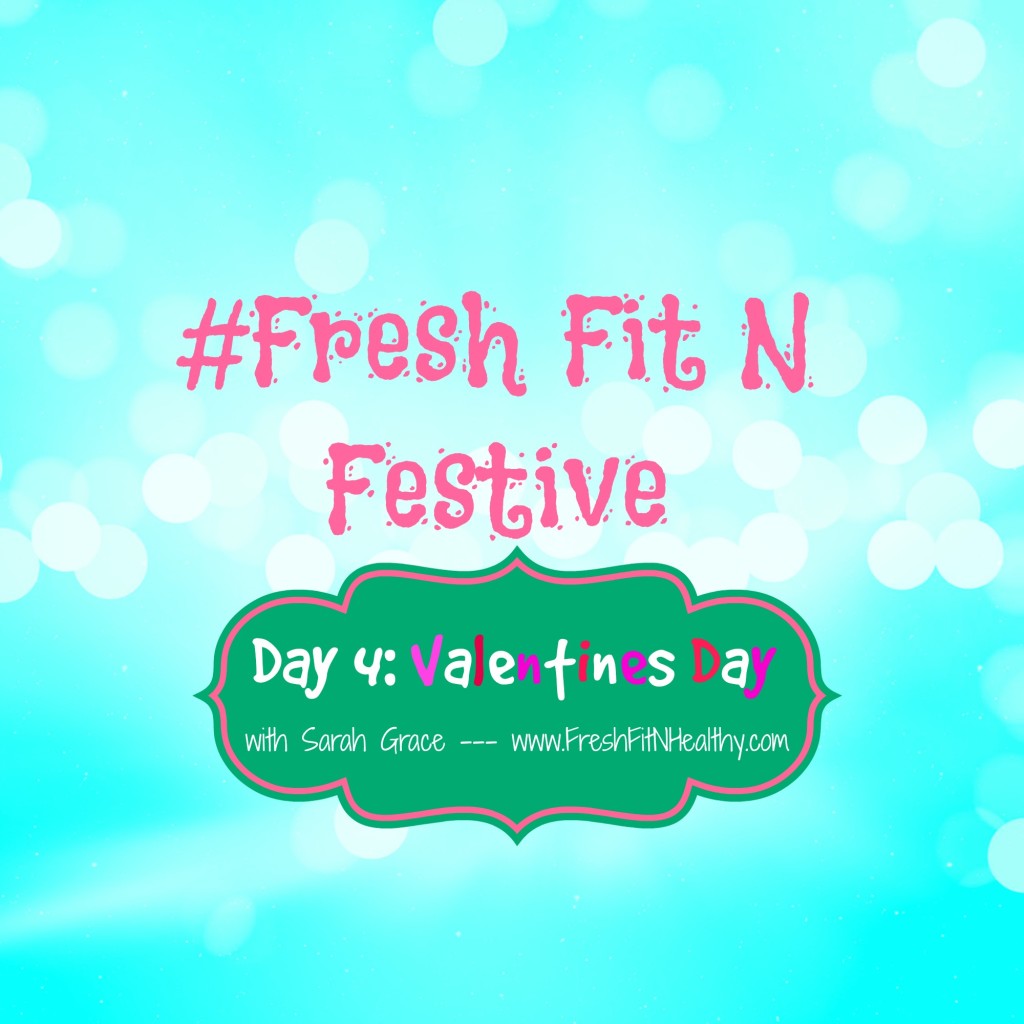 Give me any kind of cake or cookie or such and I can pass it up right away. Ice cream on the other hand, wellll, thats something I can rarely pass up. The reason I've made healthy substitutes like my Gingerbread Frozen Yogurt and my Pumpkin Frozen Yogurt. Mmm. Oh, and plain chocolate. Just good ole' plain chocolate. Hold all the other "add ins" to chocolate candies these day, I just want my dark chocolate.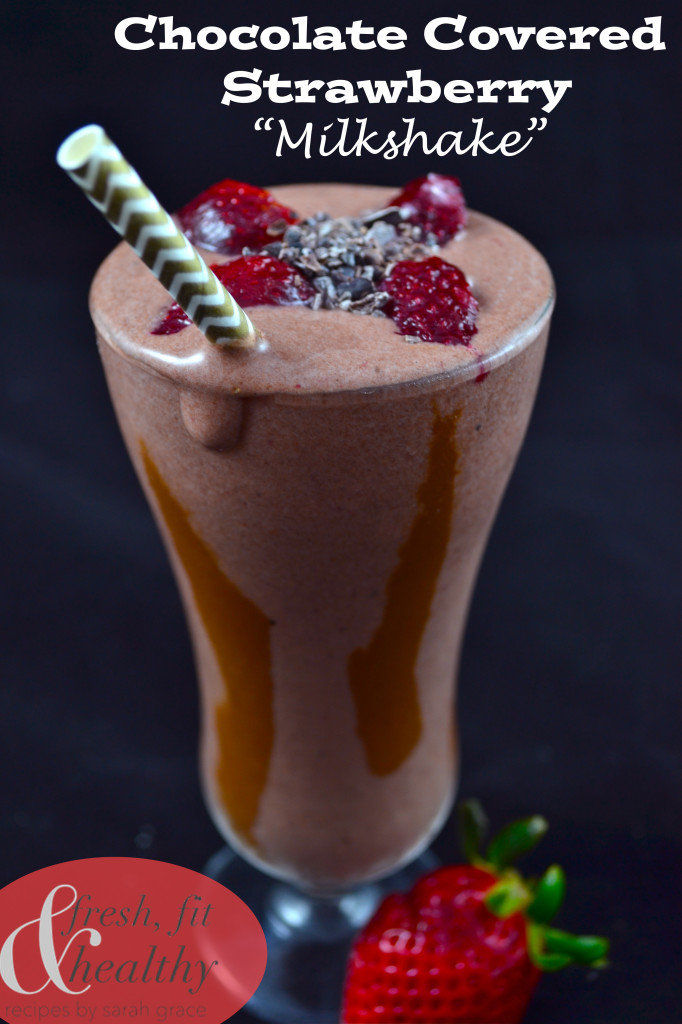 What a perfect way to celebrate Valentine's Day in August then a big glass of chocolate and strawberries in a healthy milkshake form?! #nothing
I was really craving something sweet the other night, and reached for our tub of ice cream. And then I saw my cute chocolate covered strawberries I had made the other night. That's what I wanted. I thought, no ice cream tonight, I'm going to make something even more delicious, and something that is actually healthy!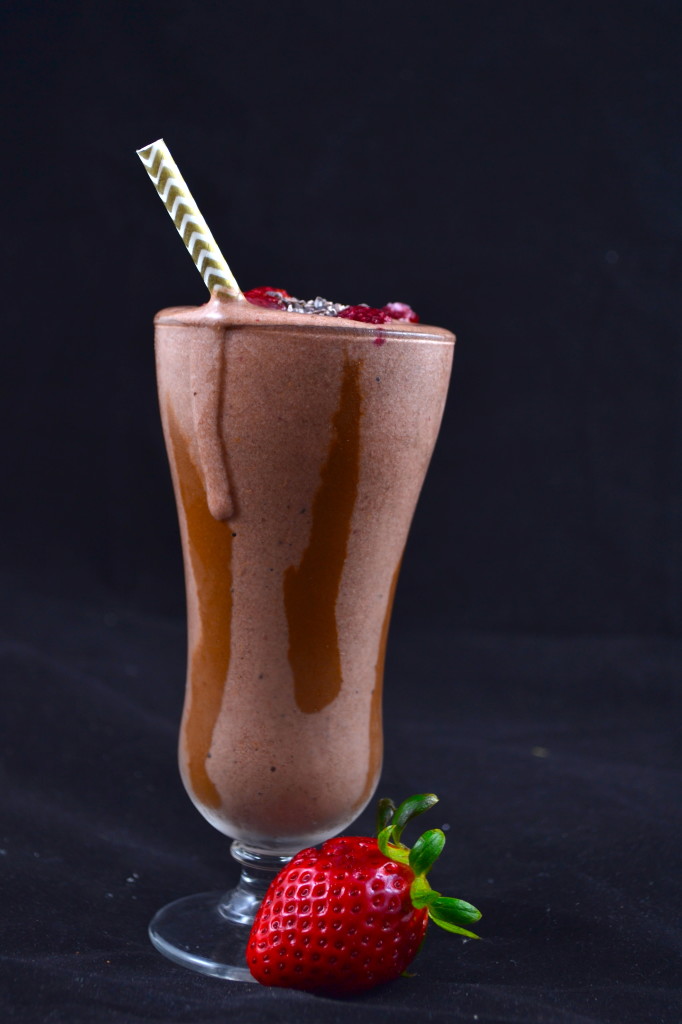 Ice cream, milkshakes, I love them all. Too bad they aren't healthy for ya. But then good thing I love creating healthier versions of the not so healthy sinful desserts. You can see how mine measured up to Steak n Shake's Chocolate Covered Milkshake below. Over 100g sugar?! Over 25g fat?! No thanks! You'll be incredibly happy I made this version.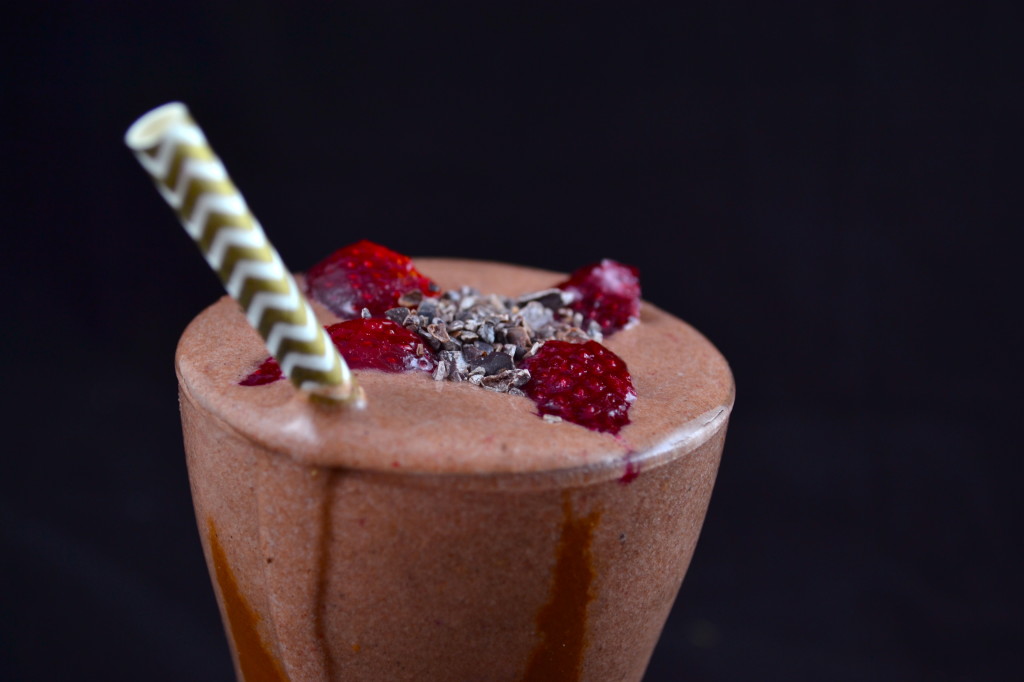 This "milkshake" is packed with protein, fruit, and [good for you] dark cacao (look below for all the great benefits of it!). I was against protein powders for so long with all the artificial ingredients, but then I found About Time, and now finally have an all natural line to get that extra protein in! (see details below as to how you can save 25% on this powder!). Actually, this is so healthy, you could have it as a breakfast shake or post workout shake! Oh the wonders of healthy food.
I know I'll be making this on more than one occassion…more like a few nights a week<3 And after workouts. And for breakfast. What? I love chocolate [and eating healthy]!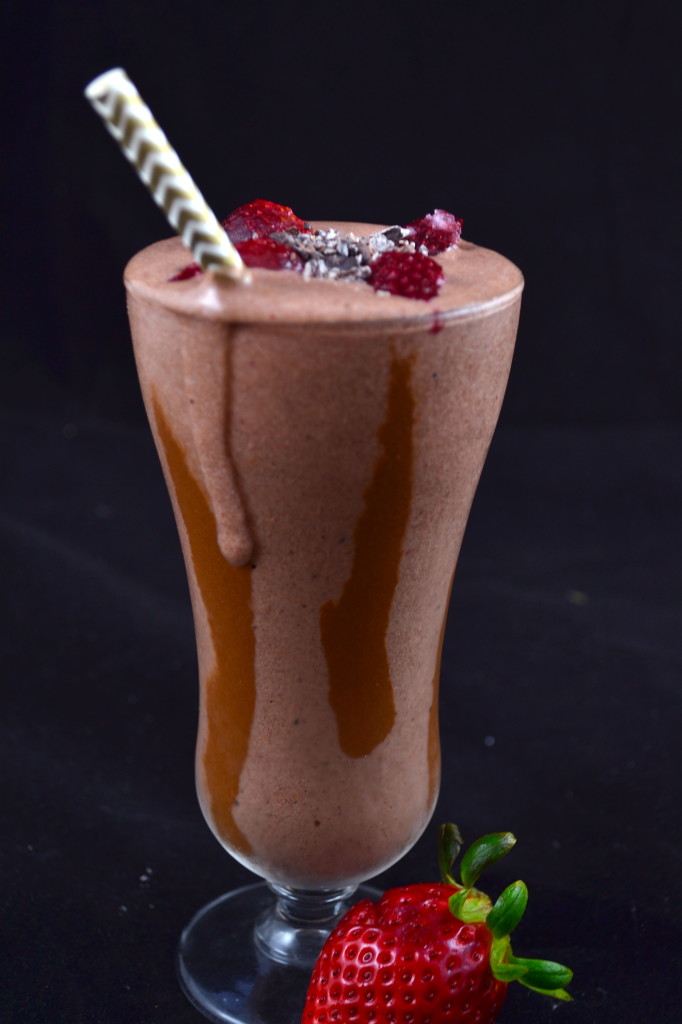 Question for YOU:
What is your favorite sinful dessert that you would like me to recreate? What is your favorite flavor that you would like me to incorporate into a recipe that you can enjoy without guilt? I'd love to hear!
Until next time,
xoxo, Sarah Grace
If you missed the past 3 days of #FreshFitNFestive, check back by clicking on the photos!
Rating 4.8 from 4 reviews
Prep time:
Total time: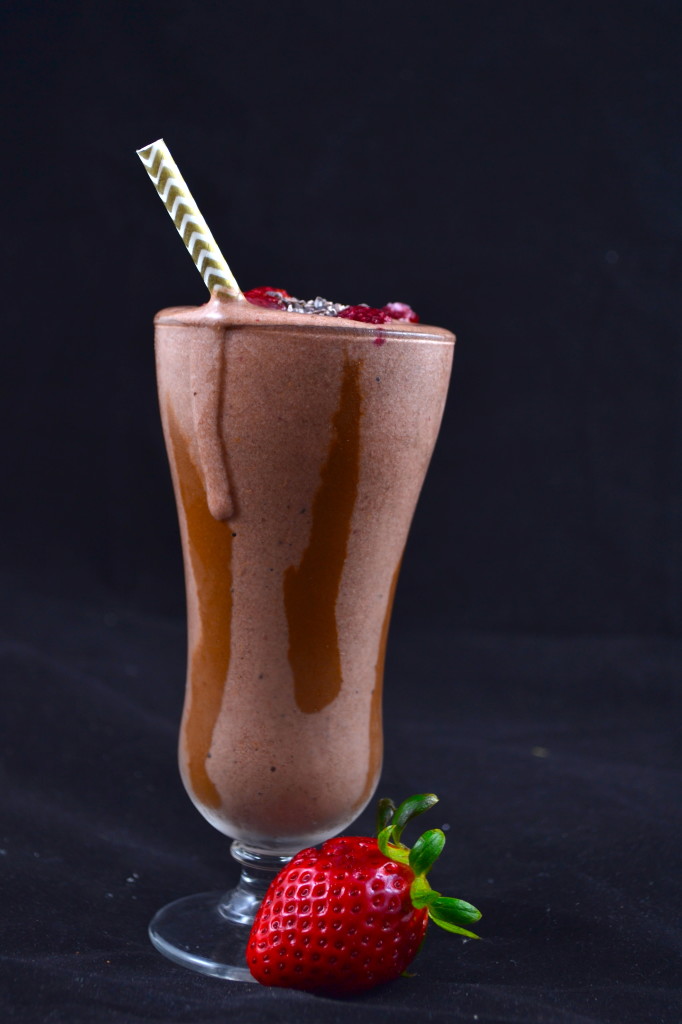 Ingredients
1 cup Nondairy Milk (use canned coconut for very creamy "milkshake" texture, almond/rice/soy for lower calorie)
½ very ripe, large Frozen Banana
5 large Frozen Strawberries
1 scoop About Time Chocolate Whey (or their vegan chocolate powder for DF option) *Use my code:"FFF1" on here to purchase About Time Whey for 25% off!
1 tablespoon Cacao Powder, can use normal cocoa
Sweetener to taste: I used 1 packet Raw Stevia + 1 teaspoon Raw Honey
Instructions
Place all ingredients into a blender and blend until smooth.
Drizzle a mix of cacao powder, water, and stevia on inside of glass if desired
Pour milkshake into glass
Top with Cacao Nibs, Strawberries, or topping of choice!
My Milkshake (using Almond Milk) VS. Steak n Shakes [regular sized] Chocolate Strawberry Milkshake
Calories: Mine=250  SnS=740
Fat: Mine: 5.5g   SnS=27g
Sugar: Mine=19g  SnS=106g
Protein: Mine=21g   SnS=17g
**Despite mine being less than half of the calories, ONE FIFTH of the fat and sugar, it still has more protein! Take that Steak n Shake 🙂 ***
Even with canned coconut milk, mine still only has 400 calories, about HALF of theirs!
____________________
Cacao Nibs/Powder Benefits
1) One of the best sources of magnesium with 272 mg per 100g. It's important for muscle and nerve functioning.
2) Fiber packed: one ounce has 9 grams!
3) Full of iron: needed for red blood cell production
4) Antioxidant-filled: even more so than dark chocolate, especially when eating in its raw state. Antioxidants absorb free radicals that can cause damage in your body
5) Puts you in a good mood: just like dark chocolate, it releases certain neurotransmitters that trigger emotions—including good ones like euphoria
6) Contains Phenylethylamine (PEA): Something our bodies also produce naturally, PEA causes our pulse to quick which increases alertness and focus
7) Contains Anandamide: the "bliss molecule" which is a lipid that has the same molecular shape as the active ingredient in marijuana, THC
8) Contains Theobromine:a stimulant that dilates the blood vessels just like caffeine, which is why cacao or chocolate can affect us just like caffeine does (and not safe for dogs!).
Canned Coconut Milk Benefits
1) The fat may increase metabolism and aid in weight loss compared to other sources of fat
2) Contains lauric acid antimicrobial lipids and caprice acid which have antibacterial, antifungal and antiviral properties
3) Medium chained saturated fat may improve heart health
4) Great source for dairy-free cream or whipped topping
5) Helps fortify and condition the skip and hair
Banana Benefits
1) Help overcome depression due to high tryptophan content
2) Sustains blood sugar during workouts
3) Protects against muscle cramps
4) Counteracts calcium loss
5) Improves your mood
6) Reduce swelling
7) High in potassium
8) Rich in pectin which aids in digestion
9) High in fiber
10) Natural Anti-acid
11) Only fruit that can be consumed raw without distress
Coffee Benefits:
1) It may lower risk of death according to studies performed
2) Lowers risk of cancer in the reproductive system
3) Lowers the risk of developing type 2 diabetes
4) Help protect your brain
5) Great for skin/decreases skin cancer due to caffeine
6) Reduces risk of oral cancer
7) Strengthens muscles: studies show caffeine has similar effect to DNA molecules in muscles muscles of exercise
Strawberry Benefits
1) Excellent source of Vitamin C: 1 cup has 100% of your needed daily intake
2) Aids in eye health: antioxidant properties in strawberries prevent cataracts and protects your eyes from sun's UV rays
3) Helps fight cancer: ellagic acid, a phytochemical, yields anti-cancer properties
4) Prevent wrinkles: Vitamin C is vital to the production of collagen, which improves skin's elasticity and resilience
5) Lowers bad cholesterol: Ellagic acid and flavonoids—or phytochemicals—can provide an antioxidant effect that can benefit heart health in various ways
6) Reduces inflammation: antioxidants and phytochemicals found in strawberries may also help to reduce inflammation of the joints
7) Lowers blood pressure: due to the high amount of potassium (134 g per serving)
8) High in fiber: protects from intestinal problems and also slows absorption of sugars in the blood.
9) Aids in weight loss: only 28 calories per serving, fat free, and low in sugar
10) Promotes prenatal health: High in folate, which is recommended for pregnant women or women trying to conceive.
Raw Honey Benefits
1) Alkaline-forming food that contains natural vitamins, enzymes, and powerful antioxidants
2)Anti-viral, anti-bacterial, and anti-fungal properties
3)Promotes body and digestive health
4)Strengthens immune system
5)Eliminates allergies
6)Excellent remedy for skin wounds and infections
7)Stabilizes blood pressure
8)Relieves pain
9)Calm nerves