Decided to pull this one from one of my very first posts and share it again, as I completely forgot about the recipe and remade it this morning again! Mmm mmm mmm. It's funny to look back at my older recipes, and the photo quality (thank you iphone 4), vs my more recent recipes after getting a Nikon camera! I'm going to have to redo some of those photos so they actually look as good as they taste 🙂
Buttt, another delicious, healthy shake. I love them. It's my favorite part about working out, knowing that I get to have something like this after! Or, sometimes as my dessert at night I fix one too, as it tastes just like a good ole' milkshake!
I experiment with all different kinds of flavors as I have one almost every day. Maybe a little shake obsessed? Well when it's high-protein, all around healthy, yet absolutely delicious, why not be?!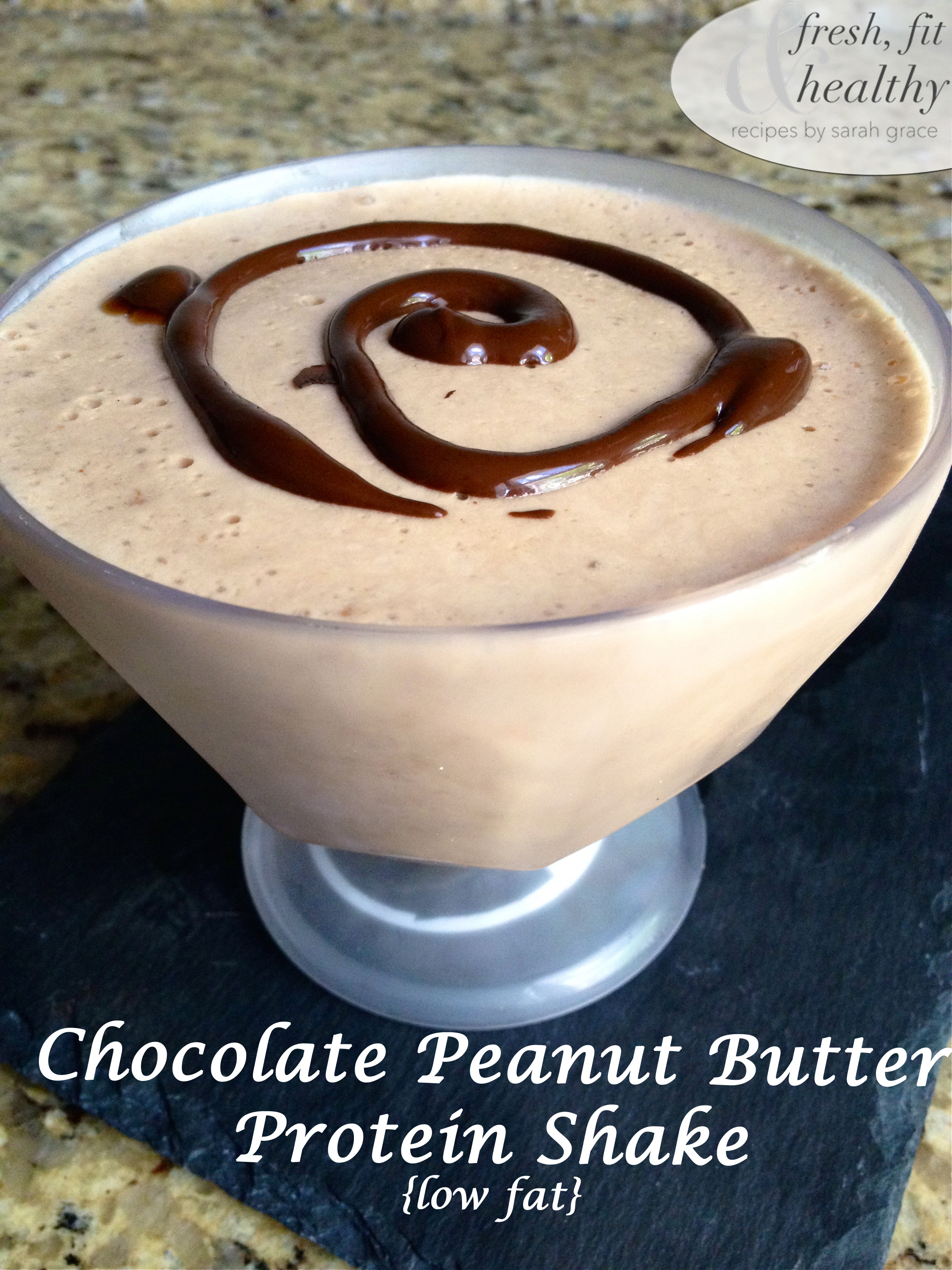 One thing that has helped me FINALLY start putting on muscle, and stop just being "skinny"? REFUELING.  I use to be super bad about not eating before working out in the morning, and then not being dedicated to refueling RIGHT after. But I've learned, and now I'm seeing progress because of it!
See I use to be a competitive runner, running over 50 miles a week, which definitely played into the whole skinniness factor. But now as I step away from that season of life, I've put cardio on the back burner (only doing it about once a week), and focusing on heavy weights, low reps! That along with refueling has worked wonders already, even though I want to gain some more muscle weight 🙂
ANYWAYS, call it a smoothie and have it for breakfast, call it a post-workout shake and have it after time at the gym, or call it a milkshake and have it for dessert! It's so versatile. You can add more carbs and calories if needed to refuel or wanting it to be a little richer as a dessert (oats, or more pb/banana is a great way to do this), or you can make it lighter to have as a quick breakfast on the go (like this recipe is)! Either way, you won't be sorry you made it:)
Today, I made this after a morning workout. Yes it was in the morning, but yes, I was craving something chocolate and sweet! So I made this 🙂
Chocolate. Peanut Butter. Touch of Coconut on top. What more could you ask for?! (Here is my first photo ever taken a year back when first creating this recipe, yet only having an iphone..aka, unexperienced blogger 😛 )
Questions for YOU
-What is your favorite post workout food/recipe?
-What is your all time most loved smoothie/shake flavor?
-What kind of smoothie/shake would you like to see created here on FFnH?! (See here for all my options already!)
Until next time,
xo Sarah Grace
Rating 3.5 from 2 reviews
Prep time:
Total time:
Ingredients
1 scoop Whey Protein Powder (I used TryAboutTime's Chocolate Peanut Butter! See note below)
1 cup Unsweetened Almond Milk
½ frozen Banana
2 tablespoons Peanut Flour
1 tablespoon Cocoa Powder
1 teaspoon Peanut Butter
1 teaspoon Vanilla Extract
1 packet Stevia
dash of Sea Salt
Ice as needed for texture
Instructions
Blend all ingredients together in blender.
You can add a sprinkle of guar gum to it if you want an extra thick shake like I sometimes do and eat it out of a bowl with a spoon
Top with whatever you desire, like a chocolate syrup drizzle (made from cocoa powder, honey, and water), peanut butter, bananas, or coconut!
Notes
I use Try About Time's protein as it is all natural, only sweetened with stevia, gluten free, and lactose free. To try samples or order a tub of any of their delicious flavors (many options!), go to
TryAboutTime.com
and use this 25% discount code when checking out: fff1 🙂