Who wants a delicious taste of fall in the form of a simple and delicious appetizer?!
With Libby's new vegetable pouches line, this incredibly tasty recipe was made in just 10 minutes!
Who doesn't want a recipe like that for the holiday season when having to prepare so many other things for your guests?
Libby's vegetable pouches make it possible to have fresh tasting vegetables on your table in less than one minute! They are microwaveable, easy to store, and environmentally friendly as well. That is my kind of product! Out of the sliced carrots, sweet corn, peas, mixed veggies, and sliced green beans, I decided to try out the sweet corn and make this delicious recipe with it!
The taste of Fall..cinnamon, sweet potatoes, corn, and just a touch of brown sugar..coupled with the delicious curry seasoning and flavor of coconut flour made these easy to make, simple fritters come out with such a complex and deep flavor!
Just blending the ingredients in a blender, form into patties, and cook on the stove like pancakes! It's easy as 1,2,3..
And by only using coconut flour in this recipe, they are completely gluten free as well! I bet your guests won't guess that these are healthy.
Will you be making these for your next dinner with family or friends?
Prep time:
Cook time:
Total time: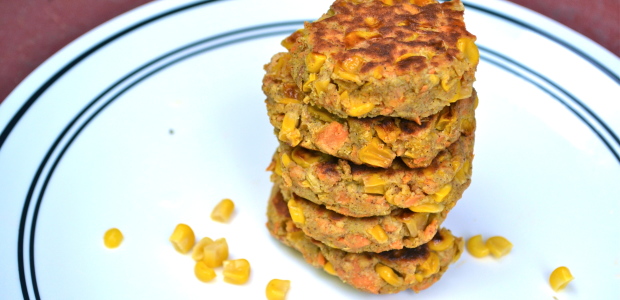 Ingredients
½ large Sweet Potato, cooked (about ½ cup mashed)
¾ cup Libby's Sweet Corn Vegetable Pouch
3 tablespoons Coconut Flour
1 Egg
½ teaspoon Cinnamon
½ teaspoon Curry Powder
⅛ teaspoon Sea Salt
1 teaspoon Baking Powder
Optional: Brown Sugar for dusting patties before cooking
Instructions
Heat skillet on stove on medium high heat with cooking spray
Combine cooked sweet potato, coconut flour, egg, cinnamon, curry, salt and baking powder in blender and blend until smooth. Add in corn and blend slightly but keep some of the corn in pieces (not totally smooth)
Form mixture into patties
Sprinkle both sides of patty with brown sugar if desired (adds a GREAT flavor)
Cook in skillet on stove as you would a pancake, flipping patties when browned on bottom (about 5 minutes each side)
Enjoy warm!
Notes
Make sure your skillet is nice and hot to ensure a crispy outside to your fritter!
 "I received free samples of Libby's new Vegetable Pouches mentioned in this post. By posting this recipe
I am entering a recipe contest sponsored by Libby's and am eligible to win prizes associated with the
contest. I was not compensated for my time."