Who LOVES coming home from a long day and eating a delicious, hot, healthy meal?!
I think the majority of us would love to have that every single day of the week..
But LETS BE HONEST, we rarely have the time for that.
Which is why FREEZER MEALS and CROCKPOT RECIPES are so convenient!
But most of the typical store bought meals are loaded with ingredients we wouldn't normal put into our bodies, along with tons of sodium or sugar..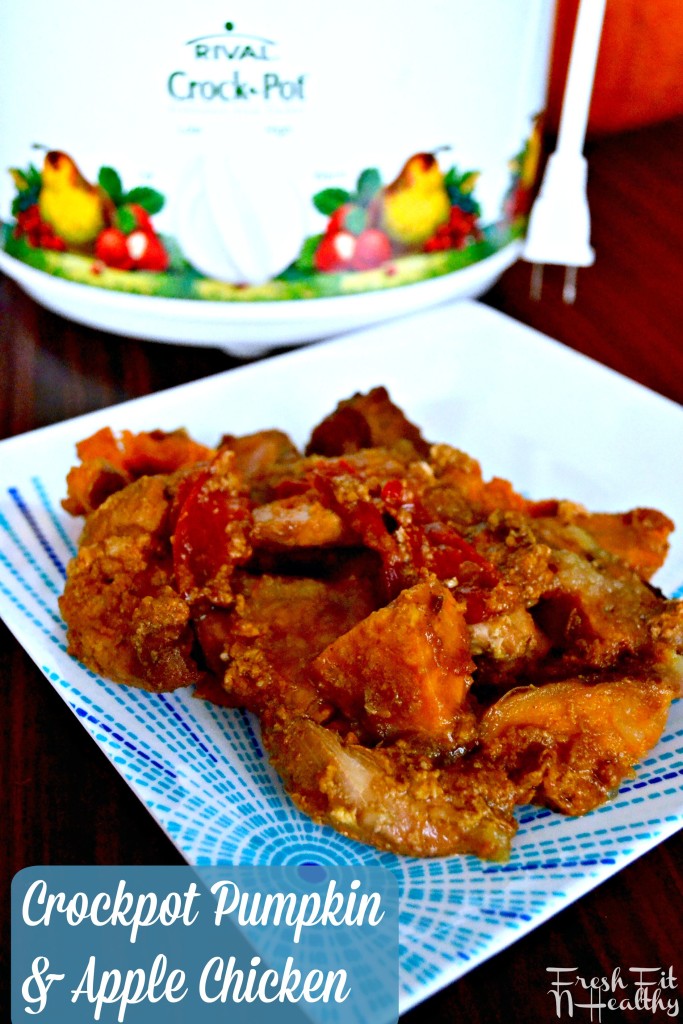 Which is why I wanted to share THIS recipe with you.
Plus, it's PUMPKIN. And you know I love pumpkin! (just wait for the post coming on the 23rd 😉 )
When I saw Recipe Redux's theme this month I knew what I wanted to make and share with you all..
"Share your tips and tricks for making one – or more freezer meals. It's the end of the gardening season for some of us; let's store away that produce in heat-and-eat-from-the-freezer-meals. Show how convenient healthy freezer breakfast, lunches or dinners can be!"
I simply place all the ingredients into a vacuumed sealed freezer bag and save it for when I know I have a crazy day coming up!
Then I simply dethaw it overnight by placing it in the fridge..
And then put it in the crockpot before leaving for the day on low..
Voila! You come home to a delicious, hot yet healthy meal!
Eating healthy doesn't have to be hard..or tasteless 🙂
Have a family to feed? This gave me a few servings for myself over the following days after making it, but you can easily double or triple the recipe!
Hope you enjoy!

Rating 4.7 from 3 reviews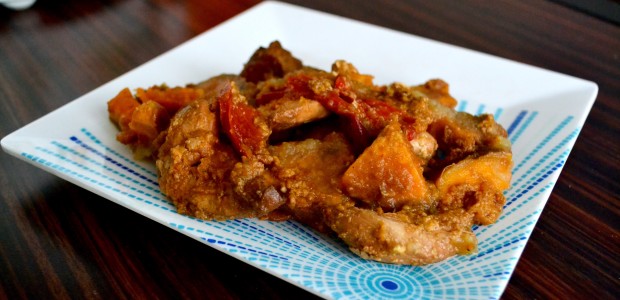 Ingredients
1 lb Chicken Breasts/Tenderloins
2 Sweet Potatoes, cubed
2 Red Bell Peppers, sliced
1 cup Pumpkin Butter (I used my homemade one HERE)
1 cup Apple Cider
¼ cup Apple Cider Vinegar
1 tbsp Cinnamon
¼ tsp Sea Salt
Instructions
Combine Pumpkin Butter through Sea Salt in small bowl.
Place into bottom of freezer bag (see note below if not freezing)
Next place slice bell peppers in bag on top of pumpkin mixture.
Then place both cubed sweet potatoes and chicken in bag. (important so that chicken goes on bottom of crockpot when emptying bag into crockpot)
Vacuum seal and place in freezer.
When ready, de-thaw overnight in fridge.
Place in crockpot the next day on low for 4-6 hours.
Enjoy!
Notes
If not freezing, simply place chicken breasts and sweet potatoes on bottom of crockpot, and then the bell peppers and pumpkin mixture. Cook on low for 4-6 hours.