Want to know the one dessert that is definitely my weakness? Ice cream.
Whether it be going to my favorite frozen yogurt place here in Gainesville or buying the tubs of it at the grocery store when its buy one get one free, I just love it. All of it. I'm not sure I could even "pick a favorite flavor" if you wanted me to.
One thing is for sure though, every night after soccer practice when I was younger, Dairy Queen would be a certain stop. The cookie dough blizzard was my absolute favorite.
Ice cream. Cookie dough. Creamy deliciousness coupled with those mini balls of decadent cookie dough? Count me in!
Until that is, I realized just how unhealthy it was. Well, wait, let me take that back. I always knew how unhealthy it was. It just wasn't until I started caring that I stopped getting those heavenly blizzards. I mean, over 1000 calories?! 40 grams of fat?! 112 grams of sugar?!
But I have good news. Wonderful news actually. Thanks to what I am about to share with you, I can now enjoy them again, guilt free!
Did you ll know that March is National Nutrition Month, a month designated to focus on making healthier food choices for better overall health and wellness?! This year the theme for Nutrition Month is "Enjoy the Taste of Eating Right," which is easy when you include products.
See, dairy is such an essential part of our diets. especially is delicious. Like I learned in my nutrition class a couple weeks ago, we are suppose to have three servings a day! Even though soy and almond milk is something I use a lot of, and even though it says 50% more calcium, it isn't the same natural calcium that is as easily absorbed as dairy. (learned that one in class too 😉 ) In addition to calcium benefits, dairy in any form – whether it's low-fat milk with cereal, a yogurt parfait, a smoothie, or egg and cheese sandwich – packs protein – which helps keep you full until your next meal. Just maybe not 3 servings worth in Dairy Queen Blizzards..
Good thing I created this [healthy] [low fat] [gluten free] Cookie Dough Blizzard for you all! (and for myself).
Now you can get in that essential dairy that is good for you, in a VERY tasty way! And there is a secret veggie hidden within.
Didn't see that coming huh?
Remember my healthy Cookie Dough Dip? Well it's backkk.
Mmm mmm mmm. Any reason to remake that recipe is a good one for me. Especially when it involves making a homemade Cookie Dough Blizzard!
Ahh, indulgence at it's best. Packed with good-for-you California dairy milk. Creamy texture made from fruit. Hidden veggie to create a delicious cookie dough. This recipe is surely the definition of Sinlessly delicious.
Why especially and where can you find it?? Real California Milk and dairy products are sold nationwide and can be identified with the Real California Milk or Real California Cheese seals on packaging. California is the number one dairy onhealthy effexor state in the U.S., producing more butter, milk and ice cream than any other state. California is number two in cheese and yogurt production. California dairy products featuring the Real California Milk and Cheese seals can be found nationally – some regions carry a wider selection than others. So next time you are out looking to buy some dairy, look for California Dairy!
Until next time,
xoxo, Sarah Grace
Homemade Cookie Dough Blizzard (with protein powder+oats+ 2T cookie dough) vs. DQ Cookie Dough Blizzard
DQ=1030 calories, 40g fat, 150g carbs, 0g fiber, 112g sugar, 17g protein
Mine= 355  calories, 7g fat, 48g carbs, 5g fiber, 24g sugar, and 30g protein!
***Even with almost 1/3 of the calories and 1/6 of the fat, my Cookie Dough Blizzard still has almost double the protein!***
Rating 5.0 from 6 reviews
Serving size: 1 recipe
Calories: 355
Fat: 7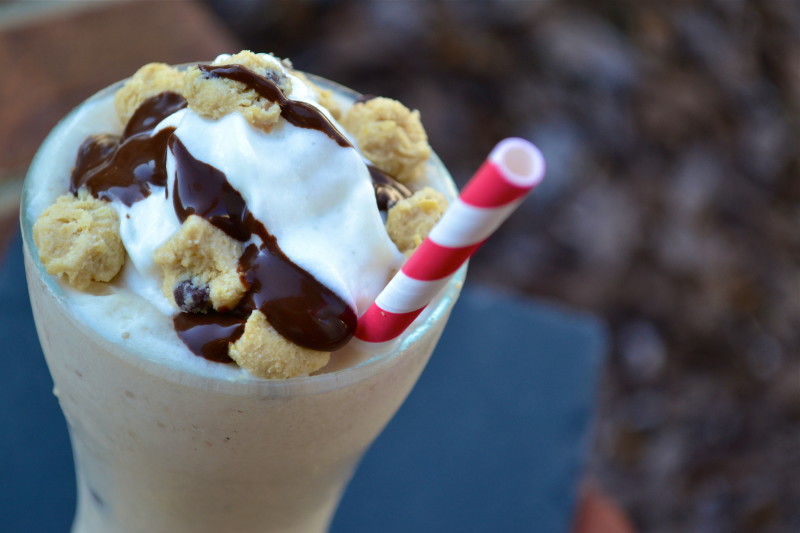 Ingredients
¾ cup California Dairy Milk, divided (the higher fat % will yield a creamier shake)
½ large Banana, frozen and very ripe
1 scoop Vanilla Protein Powder of choice
2 tablespoons Dry Instant/Rolled Oats
1 packet Stevia
1 teaspoon Vanilla Extract
2 tablespoons of my Healthy Cookie Dough (or other of choice)
**Both of these will add a more creamy texture, and cookie flavor!
Instructions
With ¼ cup of milk, pour into ice cube container and freeze
When banana and ½ of milk is frozen, pop "milk cubes", banana, and ½ cup liquid milk into blender, and blend until smooth
Add protein powder, oats, stevia, and vanilla extract, and blend again.
Using 2 tablespoons of my Healthy Cookie Dough (recipe below), separate into tiny balls and stir into "blizzard" with a spoon.
Top with additional desired toppings: my paleo whip cream, more cookie dough, or anything else!
Rating 5.0 from 6 reviews
Serves: 12
Serving size: 2T
Calories: 89
Fat: 3.4
In case you missed it, here is the recipe again for the actual cookie dough! You won't regret making a whole batch to have extra of 🙂
Ingredients
1 can Chickpeas, rinsed well and dried
4 tablespoons California Dairy Milk
2 tablespoons Raw Honey
1.5 tablespoons Coconut Flour (or 4 tablespoons Oat Flour)
3 packets raw Stevia
4 tablespoons Cashew Butter (or other nut butter, but this is the most neutral nut butter you will find. If you use peanut butter you will taste a slight peanut butter taste)
2 teaspoon Vanilla Extract
½ teaspoon Sea Salt
Optional: ½ teaspoon Butter Extract
½ cup Chocolate Chips
Instructions
After rinsing and drying beans, add to food processor
Add in milk and honey and blend until beans are smooth
Add in all other ingredients except chocolate chips and blend until smooth
Stir in chocolate chips and refrigerate for at least 1 hour
Enjoy!
"I received a gift card to offset the expense of my ingredients. By posting this recipe I am entering a
recipe contest sponsored by the California Milk Advisory Board and am eligible to win prizes associated
with the contest. I was not compensated for my time."