Did you have a love for Starbuck's Vanilla Bean Frappuccinos like I did as a kid? Well here is a diy, protein packed, low sugar and low fat alternative to the typical Vanilla Bean Frappuccino to keep you fit and healthy!
As a kid, I hated coffee. No, that's not a typo, I really did hate coffee. Actually, all the way up through sophomore year of high school, I chose hot tea in the morning over coffee. Crazy, huh? So anytime my coffee-loving family would stop at starbucks, I would say, "Can you make me something that doesn't taste like coffee?" Sure enough, they would always make me the Vanilla Bean Frappuccino.
Something about frappuccinos is just delicious. Maybe its because it resembles ice cream or a milkshake, and I love both of those things. But unfortunately, as I began my degree in nutrition and just my own journey in living a healthy life, I realized just how unhealthy these frappuccino drinks were. Actually, most coffee drinks, unless they are just black coffee with a little milk added, aren't the most nutritious choice to be drinking. Be aware of the calories and sugar in coffee drinks, and choose healthier options like this diy frappuccino!
Not to mention they are pricey. Whew those Starbucks drinks can add up and drain your bank account.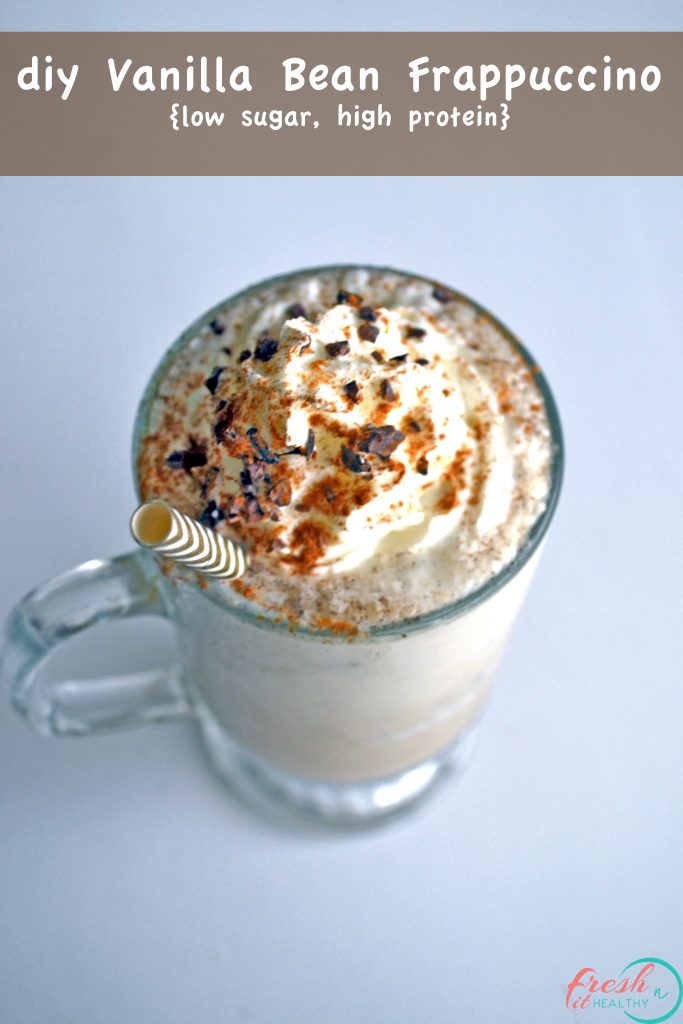 Which is why I decided to revisit my childhood love and remake a healthier, high protein, quick diy version of the Vanilla Bean Frappuccino. 
My friends over at Vital Proteins sent me their Collagen Whey, and I instantly wanted to try it out by adding it to this recipe! Now you may be wondering… collagen? why add collagen to your protein powder?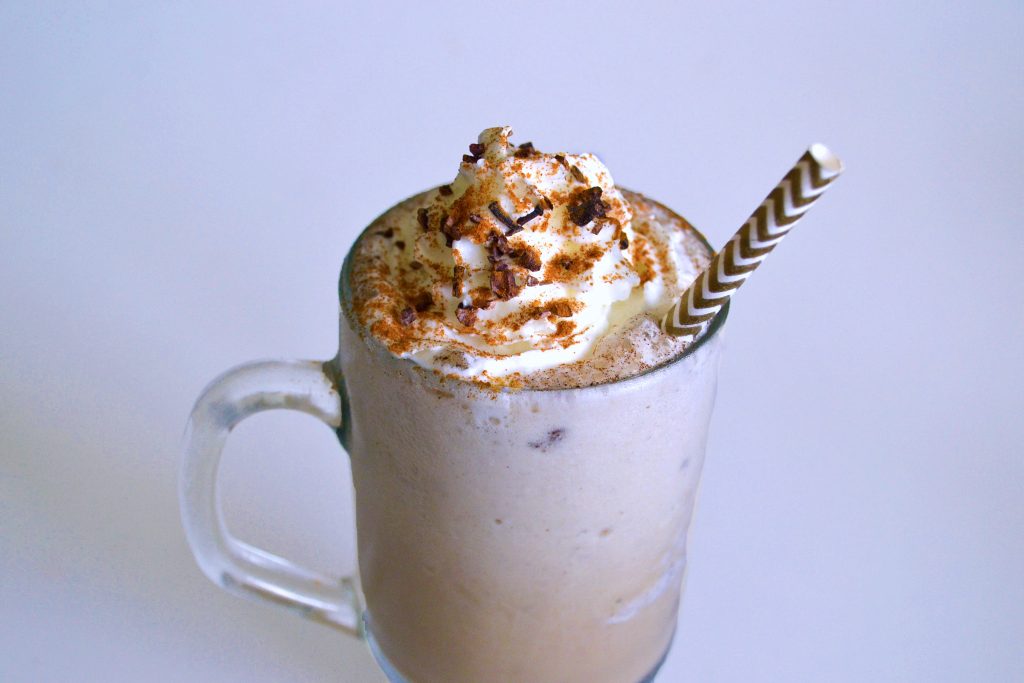 Well, collagen is the most abundant protein in the human body and is a major component of bones, joints, and connective tissue. This makes collagen an important building block that supports physical fitness and wellness. However, long-term continuous, strenuous exercise and the natural aging process lead to collagen degradation in the body. Here are a few ways supplementing with collagen can support athletic performance:
Promotes healthy inflammation response.  Long runs and heavy lifting can put tremendous strain on the body, which causes inflammation. Adding collagen to your water or smoothies can help you recover by speeding up the repair of connective tissues damaged in an intense workout.
Promotes joint health and reduces injury.  A study conducted on college athletes at Penn State University shows implications for the use of collagen to support joint health and possibly reduce the risk of joint deterioration in high-risk groups. Further, regular exercise can cause your muscles to grow faster than your connective tissues, which can lead to pain and injury. Collagen helps to keep these connective tissues supple and able to expand as your muscles do.
Reduces body fat. Collagen consumed before and after exercise helps to maintain and restore the protein content of muscle. Collagen peptides, which consist of 20% glycine and 8% arginine, may help the synthesis of creatine in the body. Creatine has been shown to help improve performance during short periods of exercise, thus helping athletes to increase their body mass and reduce body fat percentage.
In reading all about how beneficial collagen is to incorporate, I was sold, and hoped it tasted as good as the nutrition of it sounded! Not only does this grass-fed Whey have Collagen Peptides, but also probiotics, and natural hyaluronic acid without additional sugars, artificial sweeteners or maltodextrin.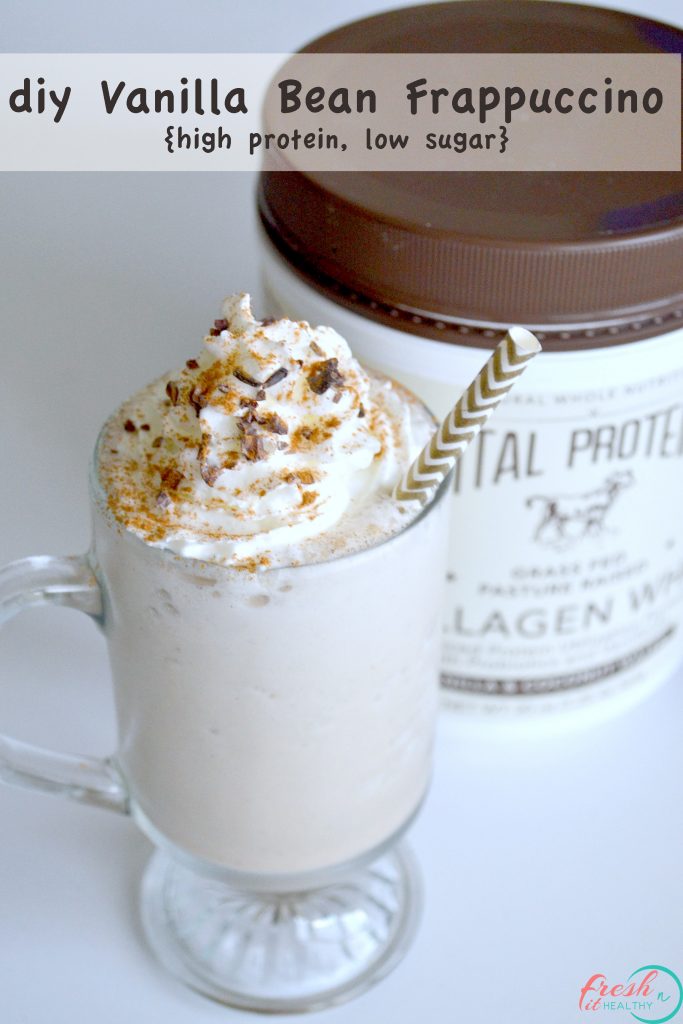 So adding Collagen Whey into this frappuccino or ANY smoothie, is a great way to increase protein synthesis, improve hydration, and support a healthy inflammation response due to regular exercise! All in all, it can support an active lifestyle by providing fuel for strong muscles and healthy joints – while also providing the timeless benefits for healthy hair, skin, nails, and even digestion.
So, now the question for you is, will you be making this DIY Vanilla Bean Frappuccino?
What is YOUR favorite Starbuck's drink?
Is hearing about the importance of Collagen new to you?
Like your drinks hot better? Try my Paleo diy Gingerbread Latte instead!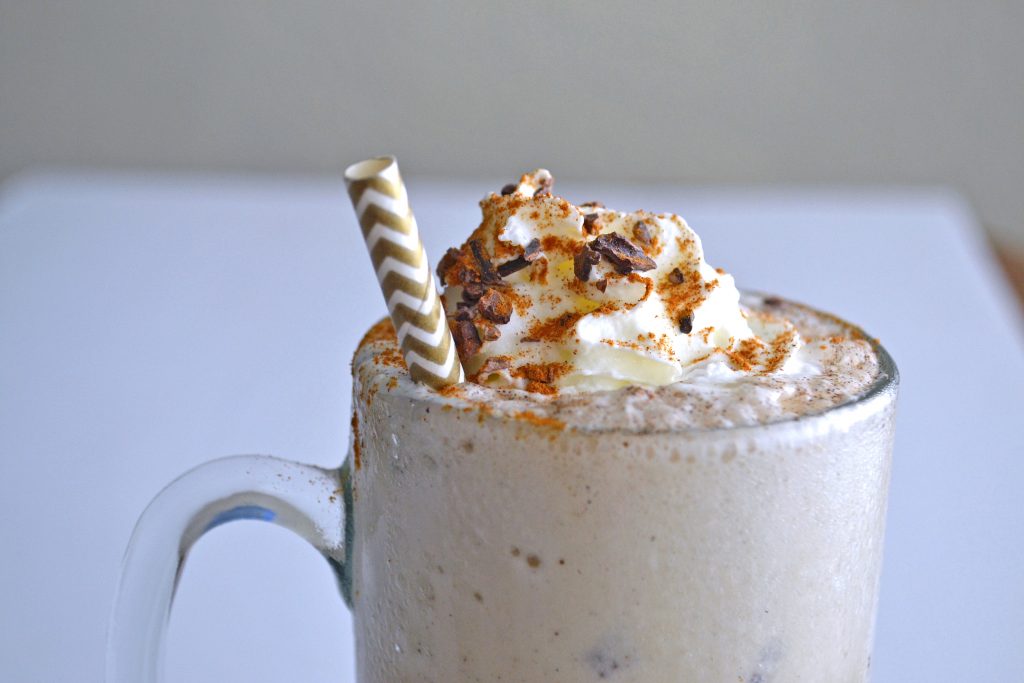 Until next time,
xo Sarah Grace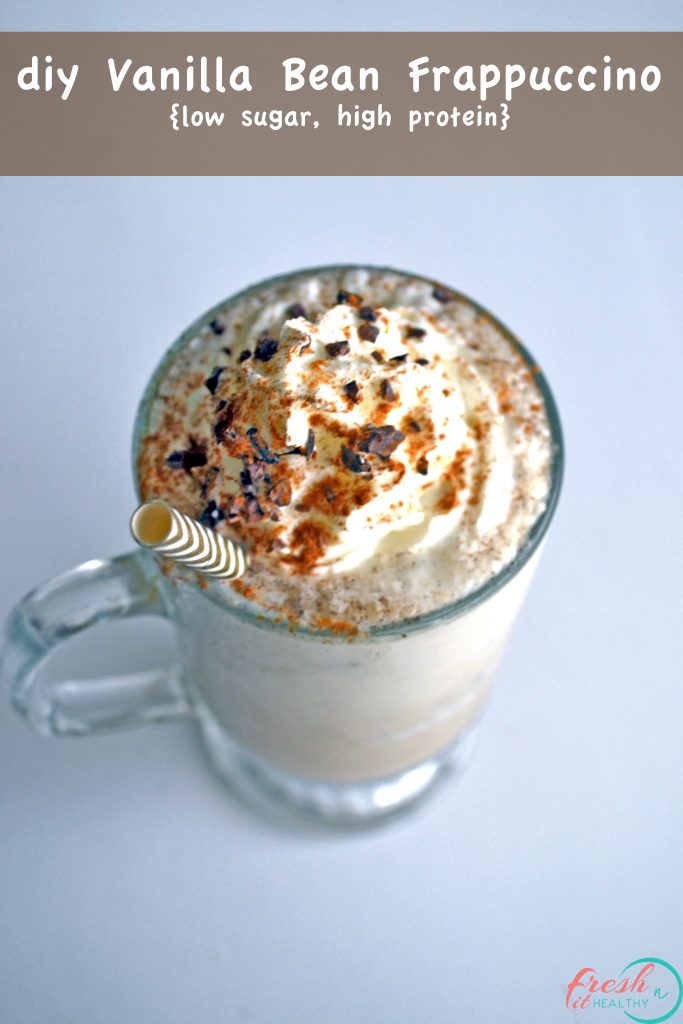 Ingredients
1 scoop Grass-fed Vanilla Collagen Whey Protein (or vanilla protein of choice)
1 cup Coconut Milk (canned)*
½ tsp Vanilla Bean Paste (can sub in 1 tsp vanilla extract)
1 handful Milk Ice Cubes**
Liquid Sweetener to taste (I used Vanilla flavored Stevia Drops, but honey or agave would work too)
Topping: Whipped Cream, Cinnamon, Cacao Nibs (or anything else you want to add)
Instructions
Blend all ingredients except for toppings in high speed blender until smooth and creamy.
Pour into glass.
Top with whipped cream, cacao nibs, and a dash of cinnamon
Notes
*If you use a lowfat/fat-free milk or an unsweetened nondairy milk like Almond Milk, your end product will not be as creamy or thick. Canned coconut milk suggest for best results. (if you are completely against using canned coconut milk, add in a tablespoon of coconut butter or cashew butter to add some healthy fats the increase the creaminess!)
**Freeze milk of choice in ice cube trays; using regular ice may result in an "icy" product versus a more creamy one
ps: miss my latest video uploaded this morning, Part THREE of my Intuitive Eating Series?? Head over by clicking here or clicking the photo below to watch!