Calling all foodies and fitness people for this fitness gifts guide post – kitchen, apparel, food and more for this 2017 holiday season!
With the holidays coming, sometimes it's HARD to know exactly what to get people you really care about. I struggle A LOT when it's someone who is really special to me, and want them to know I've put thought into it – but also want it to be something they ACTUALLY USE.
I asked some of my fellow fitness and foodie friends, along with gathering some of my favorites – and here is the fitness gifts guide I created!
As you read through this fitness gifts guide, I want to know what is a gift you are set on buying someone special this year – and also which one on this list you think you may look into!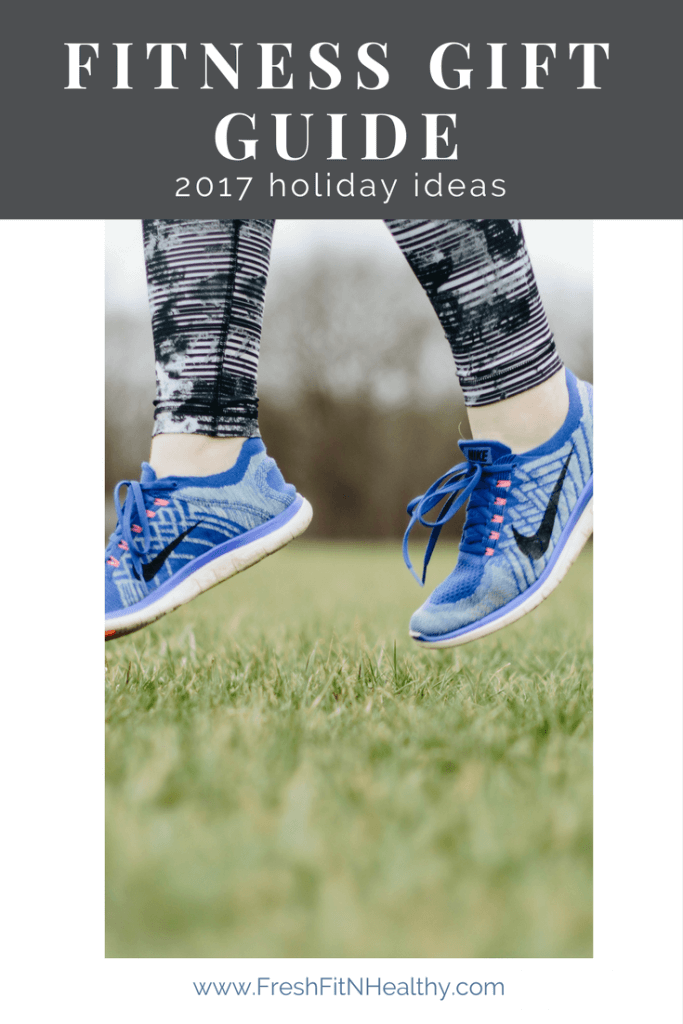 Fitness Gifts Guide for 2017
LuLulemon leggings
Or these speed up shorts if you're in a hot state like me – have them in about 5 colors!
My favorite leggings are the align ones. I have the cropped ones – but there are also the full length ones!
One of my new favorites as I begin my Half Marathon Training and get back into running shape! Handheld, and perfect replacement for going to get massages that cost a ton!
Soothe Sore Muscles & Ease Myofascial Pain
Treat Trigger Points & Everyday Aches & Pains
Warms Muscles Pre-Workout & Quicker Workout Recovery
Reduces Stress, Anxiety & Insomnia
Includes 1 White Plush Bonnet and 1 Blue Lotion Bonnet
They even gave me a code for YOU to use on your loved one (or yourself), for $100 off! Use code SPSARAH at checkout for $100 off. Offer is good from 11/22 – 12/30! So get it soon!!
Who can ever have too many Nikes?? I actually need more as I type this and think…it's been awhile! And with starting to run again – I need a pair for running and a pair for just hanging out it. Because who wears regular clothes and shoes anymore? I LIVE in fitness clothes hah!
These are my favorite for just wearing around and less intense workouts/activity!
Elastic Hair Ties
This is nothing new or something you haven't heard of… but can we just talk about how it's something we can NEVER have enough of? I don't know about you – but I lose my continuously. Kind of like socks. Which is another great gift even though not so "sexy" of a gift haha.
You can buy them on Amazon here, or I love this brand online here!
Yet ANOTHER thing I always think I have enough of with all of my apple purchases… yet tend to lose so often. Headphones is another great purchase!
I recently bought Beat Headphones with my last iPhone, but not sure they are my favorite! So I've stuck to these until I find a better solution!
Cute Gym Bag
You can get these almost anywhere! I have found some good ones at discount stores like TJ Maxx – or you can go to good ole' Amazon and look at some good ones like this Nike one I'm looking at getting, or this little less expensive one!
Fitness Journal
I LOVE journaling. Whether it be for keeping track of fitness, my devotionals/prayers, or just overall thoughts. It keeps me from going crazy!
I recently found these fun journals, and actually think I may create some of my own soon! But until then, Amazon has some great ones!
Want a big gift for them? Buy my 12 week coaching program for them to help them transform their mind, body and overall confidence! See more about that here 🙂
Foodie Friend Gifts!
My friend, GiGi Eats Celebrities, made us fries and crispy green beans in her air fryer when I visited her in LA…my life was forever changed and I'm a BIG FAN of these now. Like crispy things but don't want the fat of frying them? Look no further, get the air fryer.
I've had mine for over 5 years now, and it's never let me down! From all my smoothies I've made over here on the blog, to my homemade healthy, spoonable cookie dough dips, to homemade spicy hummus… oh and my blender greek yogurt banana muffins! This is one purchase I'll never regret. If you're looking for a good blender, this one is it!
Hellllo ready to eat meals after a long day. I don't know what I'd do without my crockpot. From this crockpot meal, to this crockpot oatmeal, to this crockpot apple pumpkin butter… When I get in the routine of using mine, it never gets put away! I'm surprised it isn't burnt out by now.
Milk Frother
So this isn't something I have (even though I've been meaning to get it!). But my friend Katie from Love Sweat Fitness made me a homemade latte when I was visiting her in Orange County – and it was delicious! Who knew how big of a difference it made when you used one of these handy tools versus just pouring almond/coconut milk in (like I tend to do)?!
Here's a electric, handheld less expensive one, and then here's a more sophisticated one (still pretty cheap hah)
Mini Waffle Maker
Literally bought this at TJ Maxx randomly one night when I walked in the store in a terrible mood… and it was the best $5 purchase of my life. Went home, made protein waffles, and my night was instantly better. Try it out yourself!
This company contacted me and said "we have a coffee mug/water cup that will never spill". I rolled my eyes. Oh yeah? Is that right?
But they contacted me RIGHT after I spilled a whole bottle of water on my laptop, and ruined it – and lost a lot of important things. Therefore I was instantly open to a new solution for never making said mistake again.
Welp, they held up to what they said. They shipped it to me, and I was amazed. I showed all the trainers one day at work in the gym I consult for. It was hilarious to see their reactions.
NowFoods Protein Powders or Essential Oils
I was SO happy to partner with NowFoods for 2017 – and will be again in 2018 because of truly believing in their products and loving their company as a whole. So they definitely were making it on this fitness gifts guide because I would buy their products for gifts, no matter the holiday!
You've seen my review of their protein powders here. But their essential oils are also something I've been tapping into and love.
Some other things on their site that are a staple? Probiotics, digestive enzymes, flavored liquid stevia, their single serving blender & their liquid vitamins.
So there's my list of 2017 fitness gifts guide for someone special! What is on YOUR list??
PS: did you see this VERY EXCITING MOMENT OVER ON MY INSTAGRAM?! So thankful for each and every one of you that have been on the journey with me!