Do you love deviled eggs and hummus? These protein and fiber packed, healthy deviled eggs are for you!
I received free samples of Sabra Hummus mentioned in this post. By posting this recipe I am entering a recipe contest sponsored by Sabra and am eligible to win prizes associated with the contest. I was not compensated for my time.
I love the thought of deviled eggs, because I feel they are just such a great, easy appetizer for parties and snack to keep around. But I'm just not the biggest fan of the mayo taste! And when wanting a healthy, nutrient dense snack, the yolk of the egg provides some good healthy fats and cholesterol; but adding more mayo on top of that gets a little pricey in the total fat category. On the same page as me? Then you'll love these healthy deviled eggs that got a mayo makeover from the typical recipe!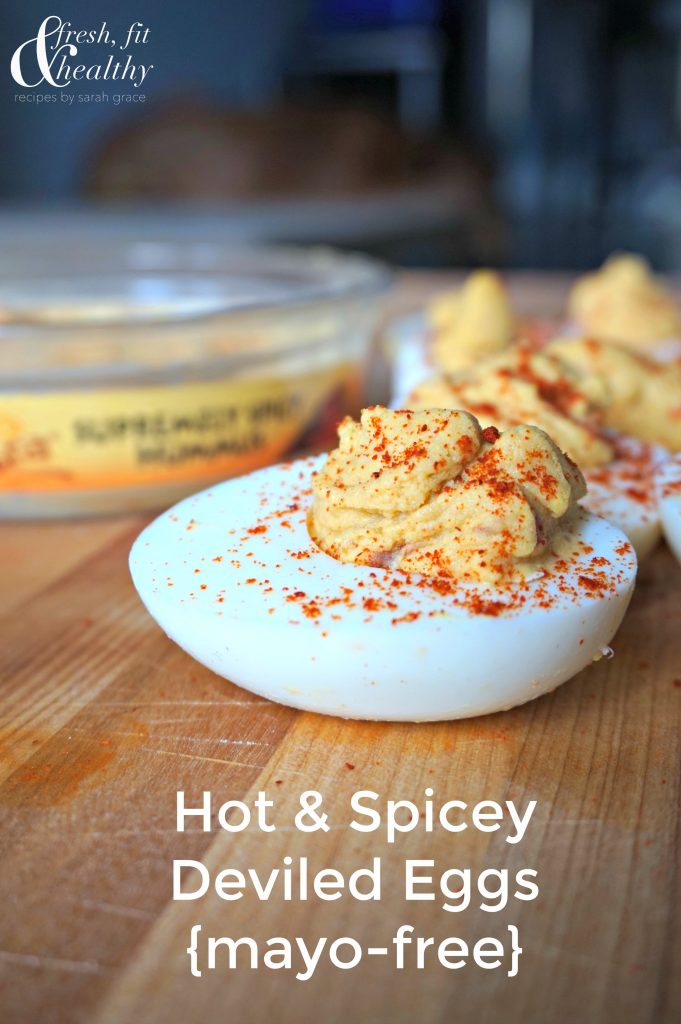 See, hummus is not only a good plant based protein, but it is SO versatile. Whether vegetarian or not, both hummus and eggs are a great addition to your diet! Which is the reason I love it. You can eat it simply as a dip on it's own, as a spread for a sandwich, or in place of mayo in recipes (which is a clue for this recipe here)!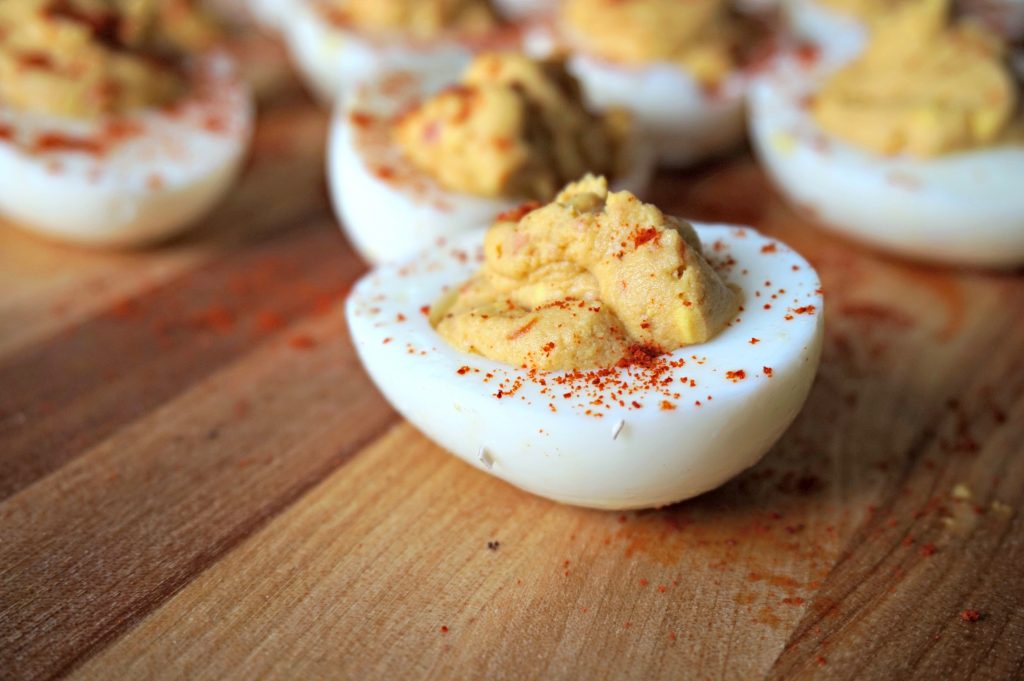 When Sabra inspired me to make a recipe in honor of National Hummus Day on May 13th, I realized I didn't want to just do something typical like a hummus encrusted chicken (which is also a great use for it!), or make it over into a new dip…I wanted to make healthy deviled eggs, mayo-free, vegetarian and gluten free!
Plus Sabra's Hot and Spicy flavored hummus is BOMB if you're a lover of all things spicey like I am, so using that flavor was a no brainer for me when experimenting. And boy did these healthy deviled eggs come out good!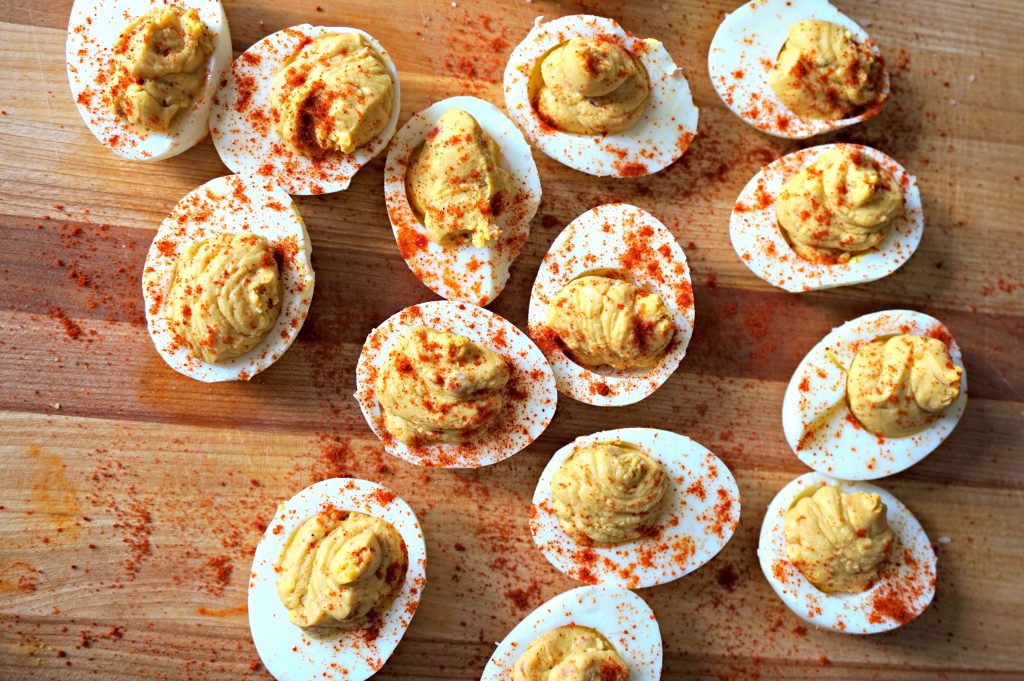 Why should I try this healthy deviled egg recipe?
As I mentioned earlier, hardboiled eggs are such a good snack. As a soon to be dietitian, I recommend them to all my clients for a midday snack or addition to their breakfast for some extra protein. I also recommend hummus with some veggies as a snack, because that too is packed with nutrients. With this recipe combining both Sabra hummus and hardboiled eggs, it is a WINNING recipe in any health-conscious mind. Packed with protein, fiber, and healthy fats.
Not into "healthy tasting" recipes? SAME. Which is why I make sure all my recipes not only are more nutritious and packed with healthy ingredients, but that they TASTE GOOD too.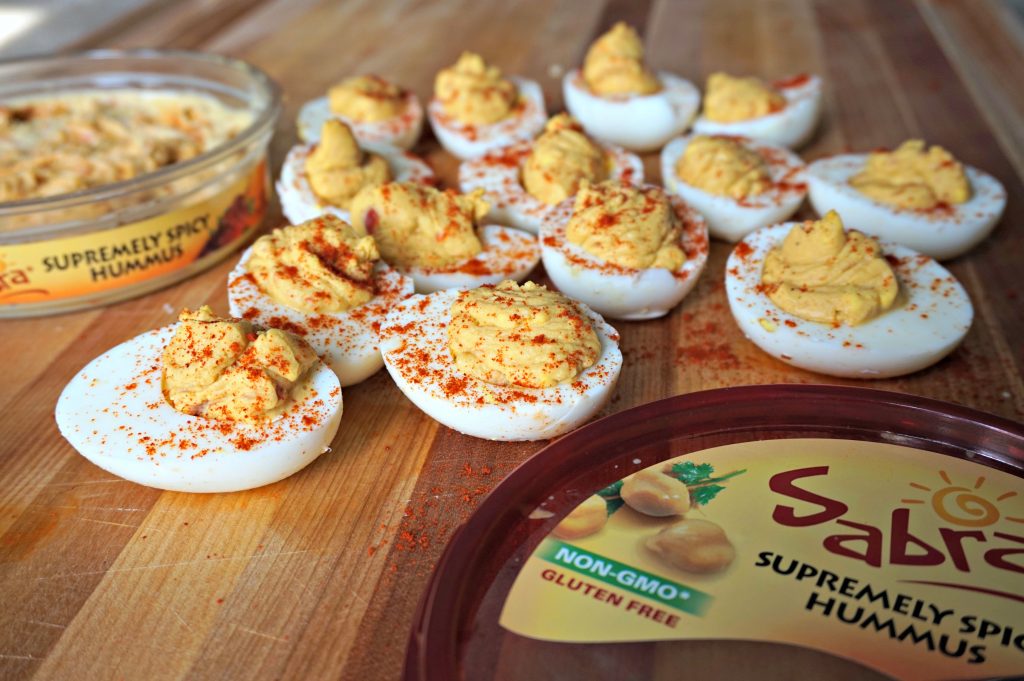 So tell me: What are you going to be mixin' up in your kitchen for National Hummus Day? These healthy deviled eggs would be a good one!
Until next time,
xo SG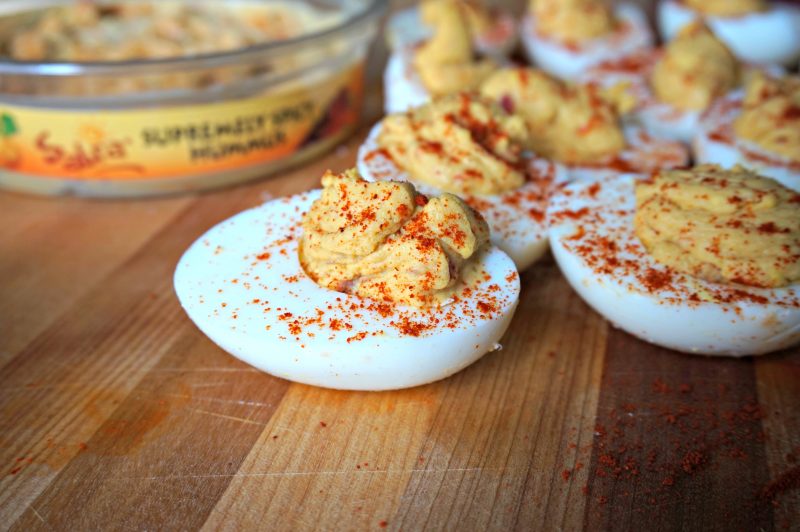 Ingredients
12 Eggs, hardboiled
1 cup Sabra Hot and Spicy Hummus (or flavor of choice)
2 tbsp Olive Oil (as needed to thin out mixture)
¼ tsp both Pepper & Sea Salt
Paprika sprinkled on top!
Instructions
Put eggs in a medium pot and cover with cold water. Bring to a boil over high heat. Cover, remove pot from heat, and let sit 14 minutes. Fill a large bowl with ice water. With a slotted spoon, transfer eggs to ice water bath.
Cool eggs at least 10 minutes, then use a slotted spoon to transfer eggs back to hot water (to loosen shells) for 10 to 20 seconds. Pat dry and peel.
Cut eggs in half lengthwise. Scoop out egg yolks and put them in a medium bowl. Add hummus, olive oil, pepper, and salt. Mash mixture together with a fork. Spoon filling into egg white halves, dividing evenly. Sprinkle with paprika.