(This is a sponsored conversation written by me on behalf of Tyson®. The opinions and text are all mine. Thank you for supporting the brands that keep Fresh Fit N Healthy going!)
Now that I'm no longer on my sororities meal plan, getting the luxury of having a hot meal made after a long day of classes..I wish I could say that every single day I made healthy, ornate meals for myself.
BUT LETS BE HONEST.
That doesn't happen.
Long, exhausting days end up in coming home starving and wanting dinner with no hassle or effort.
Am I the only one that experiences these nights??
I hope not, or this post may be quite pointless..'awkward silence'
but seriously, how many times do you hear people say they grabbed fast food on the way home because they were tired and just not wanting to make dinner??
Or that eating healthy takes too much work??
WELL, think again folks.
I want to share how I stay healthy when feeling lazy or being short on time!
With a simple trip to Walmart like this girl made here in Tallahassee (yes, on a budget means Walmart to the rescue), I quickly grabbed some Tyson® Grilled & Ready® Fully Cooked Frozen Oven Roasted Diced Chicken Breast and frozen mixed veggies, and QUICKLY had a yummy and healthy stir fry dinner..quickly! Dinner for 1 (or 2) please!
#winning #happiness #everydayeffortless
I would love to say I always bought raw, fresh chicken and spent an hour or so making a delicious chicken dish. But sometimes..WE DONT GOT TIME FOR THAT. Which is when those Tyson® Grilled & Ready® Fully Cooked Frozen Oven Roasted Diced Chicken Breast come in handy.
Whether you make this easy 5 minute stir fry, or you just grab a bag of spinach and top it with this chicken and throw a sweet potato in the microwave for 5 minutes..you've got yourself a healthy meal in under 10 minutes!
And sometimes, if you're like me and only cooking for one, or you're tight on time, or you're just simply tired..that's exactly what you need!
What do you think about refrigerated fully cooked chicken?!
Do you keep some fully cooked chicken on you for those LAZY nights?
What is your favorite quick dish to make?
I promise, it'll help prevent those unplanned fast food trips or pizza deliveries! 🙂
Rating 5.0 from 1 reviews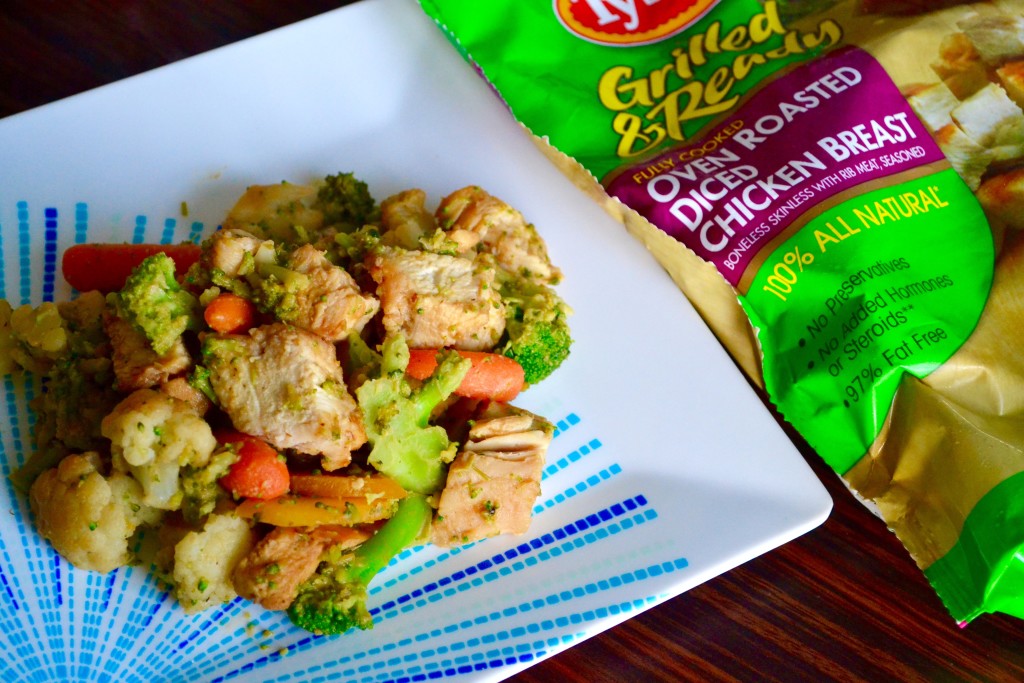 Ingredients
5oz serving of Tyson® Grilled & Ready® Fully Cooked Frozen Oven Roasted Diced Chicken Breast
2 heaping cups of Frozen Mixed Veggies
Optional: ½-1 cup Cooked Brown Rice to serve with stir fry (simply use the 1 minute rice containers/boxes!)
1 tbsp Oil
2 tbsp Soy Sauce
1 tbsp Water
2 tsp Minced Garlic (jarred version)
Optional: 1 tbsp Peanut Butter (VERY recommended! for a peanut flavor stirfry!)
dash of each seasoning: (garlic powder, onion powder, ginger)
Salt to taste
Instructions
Combine oil, soy sauce, water, garlic, peanut butter and seasonings in small dish and stir together.
Add to large skillet on stove on medium heat.
Place mixed veggies in pan and cover until dethawed, about 5 minutes. (meanwhile make 1 minute rice in microwave if desired)
When veggies are dethawed, add chicken to skillet, stir until all is combined, and cover for another 5 minutes until all is hot.
Serve on rice if desired. Add salt to taste.