It's hard to change your lifestyle and live healthy. But it's also hard if you change, to not become too obsessed with it all.
Here's my thoughts:
In summary..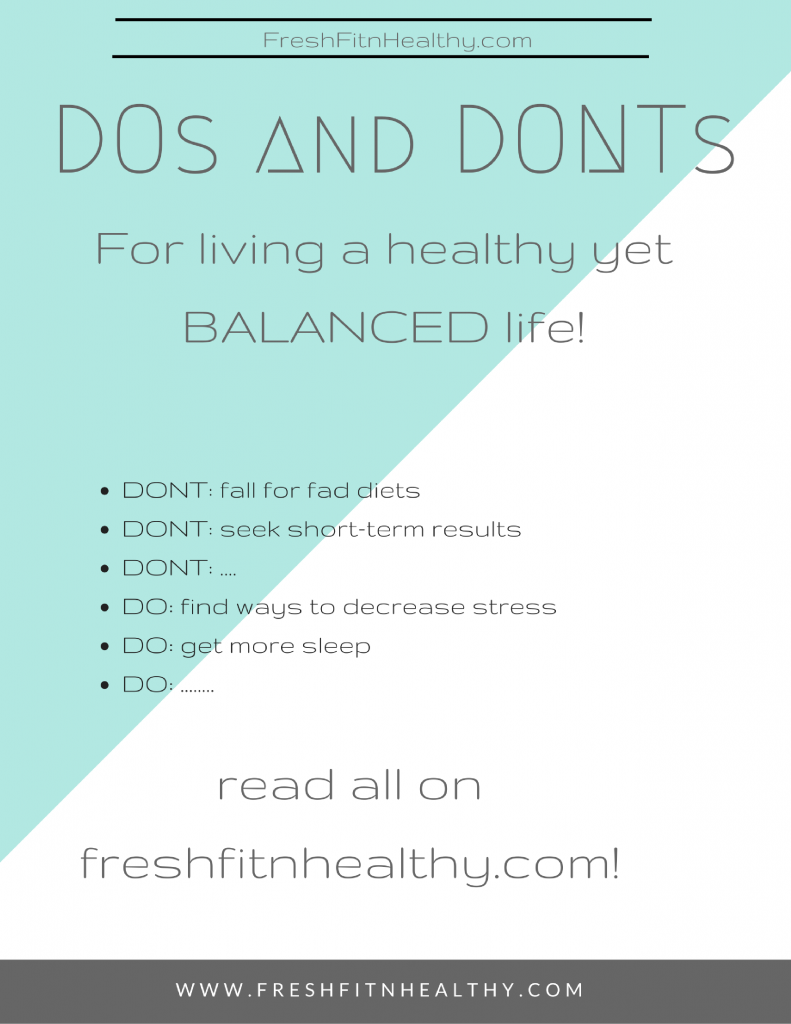 Here are my thoughts on how to live healthy, yet never become too obsessed!
DONT: FALL FOR DIET PROGRAMS OR TRY ANY VERY RESTRICTIVE DIET OUT THERE

Any restrictive diet or program WILL give you results. For a short time. And then fail you. Miserably. Making you feel like a failure. And guilty. Don't do it.

DONT: RULE OUT WHOLE FOOD GROUPS (unless having an allergy!)

This can lead to "fear foods" and beliefs that certain foods are "bad" and "good". Unless you have allergies to foods, all foods have a place in a healthy and BALANCED life. It's just enjoying them all in moderation!

DONT: GET FRUSTRATED WHEN CHANGES DONT COME OVERNIGHT

I can't reiterate this enough because this is the biggest reason most give up and never meet their health goals. I know in a perfect world, instant results would be GREAT. But it's not a perfect world, and instant results are never LONG-TERM results. Which is what we want, we want long-term results that make you feel good and look good, in the LONG run!

DO: MAKE SMALL CHANGES

Small changes go a LONG way. Instead of trying to cut things out cold, make gradual changes that are more sustainable. Examples? Work out 2 times a week now, try to make a goal of working out 3-4 times next week! Tend to drink 2 soda a day? Try to cut it back to one soda a day! Find yourself skipping breakfast every day, only to eat more later on? Try to make it a goal to eat breakfast at least 3x this coming week! Small goals. Even ones that may seem silly because they are SO DOABLE. That's what we want. "doable", small goals that lead to BIG, long-term results.

DO: FIND ACTIVITIES YOU LOVE AND GET YOU MOVING

Living an active life should NOT be boring or a chore. There is too much in this life that we already "have to do", working out should not be one of them. Don't like being cooped up in a gym? Try joining a sports league in your city, going on bike rides, finding a running onhealthy eriacta club, joining a crossfit box, or any other activity that gets you out and movin!

DO: BE AWARE OF PORTION SIZES

No food is "bad", but consuming anything in excess can be bad. It's all about moderation. I love my coffee, chocolate, ice cream, red wine, and pumpkin treats. I will never rule any of those out completely from my life. And guess what? I can still meet my health goals, live a balanced lifestyle, and look good while enjoying them! It's all about portion sizes, and enjoying your favorite foods in the right amounts. Moderation, not deprivation. Don't let that food police reside your mind!

DO: TRY TO ELIMINATE STRESS

DO: GET MORE SLEEP

DO: BELIEVE ITS NEVER TOO LATE TO CHANGE

It is NEVER too late to create the life you want. Whether living a healthier lifestyle to you means changing your diet, eliminating toxic people, decluttering your life, or becoming more active…it is NEVER too late to make changes that will lead you to the meaningful, joyful life you desire. Some more things in 2017 to begin doing and stop doing here!

DO: LOVE YOURSELF JUST HOW YOU ARE NOW

This is the most important tip of ALL. You will never love yourself when you are 10lbs lighter or 2 sizes smaller or are finally eating healthier…if you don't live yourself NOW. Loving yourself goes WAY past how you look. Think about why you love the people you do in your life. It's most likely NOT because of their physical appearance. Now look at yourself in that same light. We are way too hard on ourselves <3
Until next time, let me know what topic you want a post and video on next!