If you love your ice cream like I do, but want a healthier alternative for most days of the week, try out this mango high protein ice cream recipe!
Who loves ice cream like this girl?? That and chocolate, oh and pumpkin, are three things I adore. Even when it's cold out, I love my frozen treats…like my , mmm. But talking about frozen treats, Mango High Protein Ice Cream anyone? Meet the newest addition of SG's recipes.
You can have your ice cream, and eat it to.
(But I suggest eating it all. And before it melts.)
See, this ice cream loving girl loves her sweet treats EVERY night. That's why I love making healthy ice cream alternatives. Because even though it's nice to have the REAL stuff every once in awhile, it's nice to have something that tastes similar, yet packs in that nutrition, on a more daily basis. Great night cap if you ask me 🙂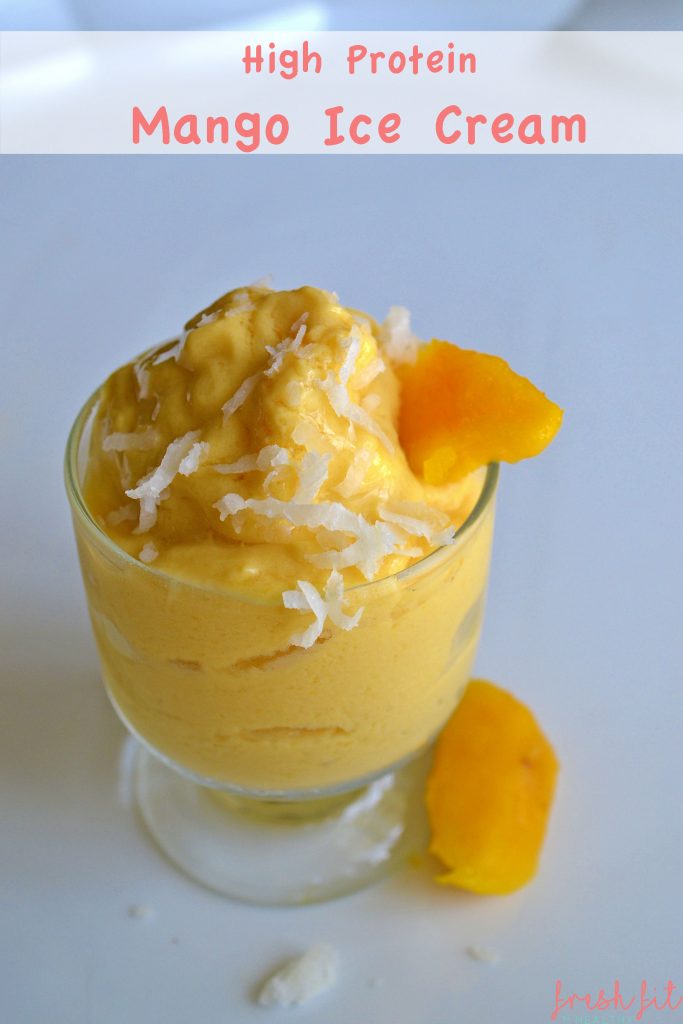 And this recipe certainly packs in the nutrition. See, adequate protein is more than a ticket to a fitter physique. It turns out that consuming protein is not only important for those men standing in the mirror at the gym flexing their muscles…but also important for women when it comes to appearance and long-term health! Which is why this protein ice cream packed with fresh mango flavor, is a great addition to any day!
Like I mentioned with my high protein red velvet overnight oats,Burt's Bees® allowed me to try out their plant-based protein powders, that are packed with benefits . They are not only more sustainable, but they are also less concentrated and refined than animal protein powders, therefore carrying more macro and micro nutrients from the plant source (e.g. fiber, carbohydrates, phytonutrients).Burt's Bees® protein+ provides a complete essential amino acid profile – offering the 9 essential amino acids that must be consumed through protein foods – and achieves high digestibility!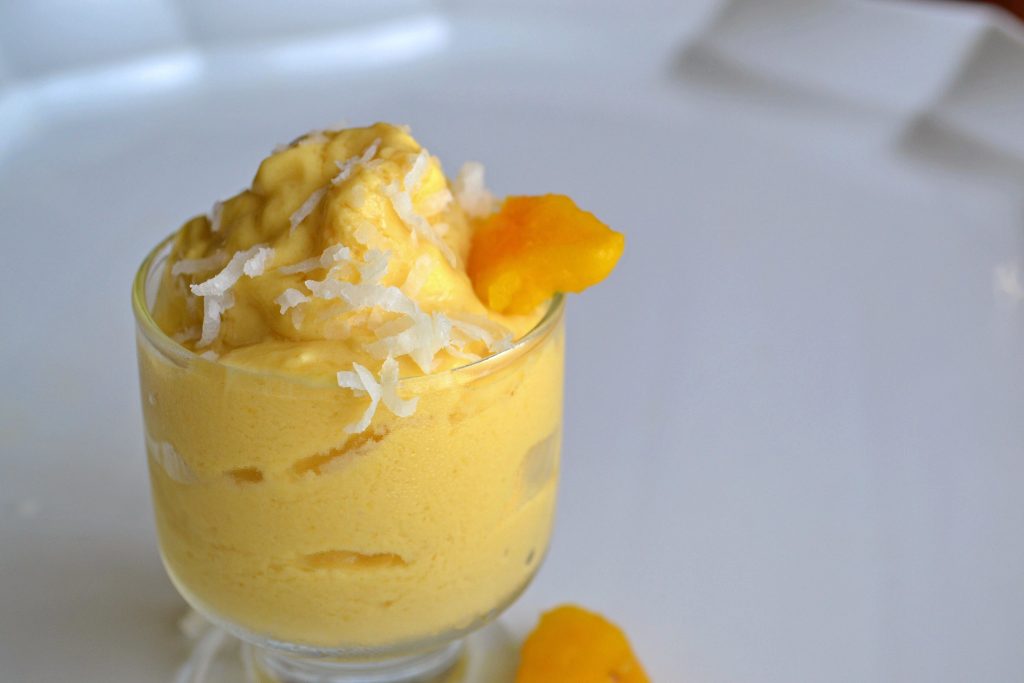 So, what better way to PACK this ice cream with nutrition, than to add some Burt's Bees®' protein powder? You all loved my double chocolate protein ice cream so much, I figured I needed to make another similar recipe, but fruity this time!
Don't like mango? Use ANY other frozen fruit! The sky is the limit!
I've used this exact recipe, substituting mango for strawberries, bananas, mixed berries, and pineapple! Banana was definitely a second favorite to this mango flavored one. Add in some peanut butter and chocolate chips (to the banana one, not this mango one, unless you like weird combos 😛 ). And you've basically got Ben and Jerry's Chunky Monkey ice cream in front of ya!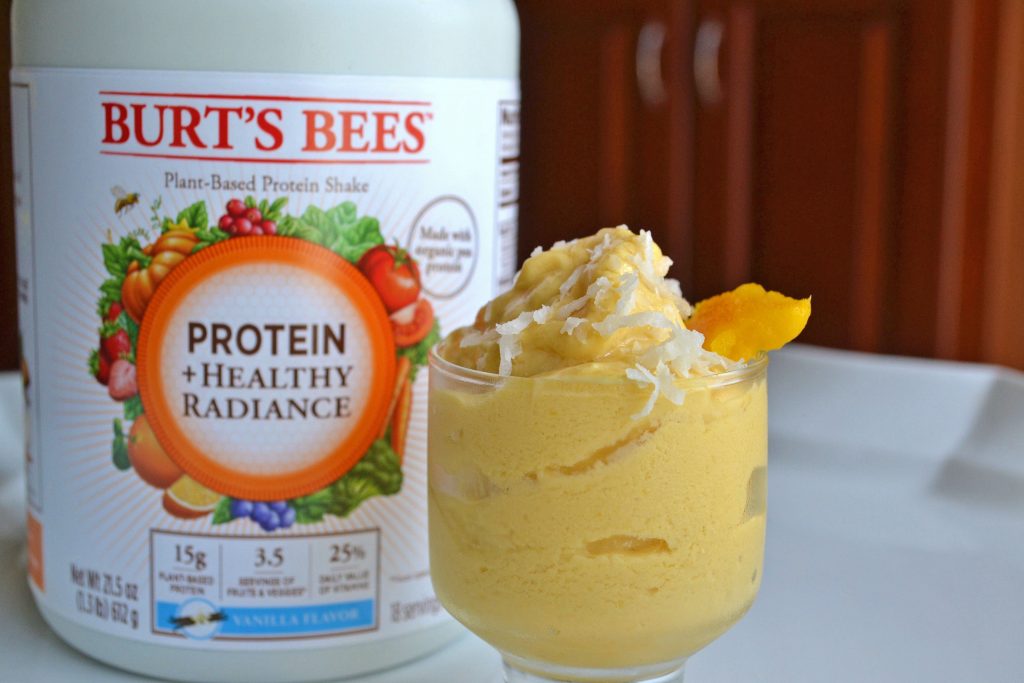 But now I want to hear from YOU
How do you add enough protein into your daily diet??
Do you like ice cream, or frozen yogurt better? I do love my froyo works of art with those endlesss topping possibilities!
What has your favorite dessert been this month?
Do you follow me ? I drop some big value bombs there on my story and also on !
xo,
Sarah Grace

Rating 5.0 from 1 reviews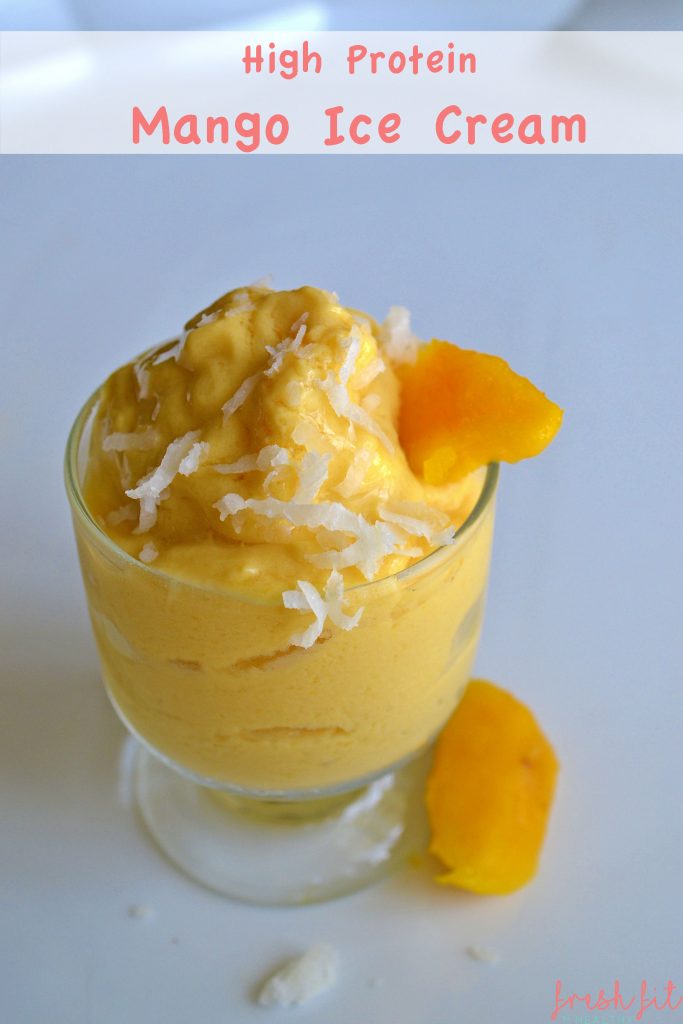 Ingredients
1 cup Frozen Mango, small cubes
1 scoop Burt's Bees Protein+ Healthy Radiance - Vanilla
1 cup Coconut Milk (canned yields creamiest, rich results, but you can use other milks, it just won't be as creamy)
2 tsp Vanilla Extract
Liquid Sweetener to Taste (use either liquid Stevia or Honey)
Instructions
Combine all ingredients in a blender and blend until smooth.
Either freeze until desired consistency in a shallow bowl (stirring every 30 minutes until ready), or use ice cream maker according to instructions.
Top with coconut or desired toppings.
Enjoy!
Thank you to Burt's Bees for partnering with me on this post and making everything I do on Fresh Fit n Healthy possible!
This is a sponsored conversation written by me on behalf of Burt's Bees. The opinions and text are all mine.