The inspiration of this recipe came from a new food venue in Gainesville called Zoe's Kitchen. I recently went for the first time, and ordered this delicious sounding salad that was topped with a quinoa and veggie mixture. And just like I expected, it was delicious.
I knew I had to create something that tasted just like this incredible salad for all my readers to enjoy as well.
My mom and I frequently sprinkle some quinoa on top of our salads for a little more "substance" when having it as a meal, but it definitely wasn't the same taste as the salad I had at Zoe's, so my experimentation continued.
After a few tries, I nailed it spot on. Not that I didn't gobble up the other attempts as well, but I also knew I hadn't perfected it yet so remade it until I did. And unlike the one at Zoe's, this had the same great taste without being drenched in an oil vinaigrette (even though delicious it was).
How does my recipe add up to the one from Zoe's Kitchen? See below the recipe for the labels side by side! Let's just say mine kicks the other recipe's butt in higher protein content and lower fat content!
And it was perfect for this month's recipe redux theme!
The perfect light, summer dinner. Yet substantial enough to keep that belly full with the quinoa and grilled chicken. And of course topping it all off before serving with healthy fat filled olives and low fat feta cheese wasn't an option to complete this Mediterranean dish.
Let's just say my mom and I enjoyed it so much, we made a huge batch of the quinoa mixture, and had salads topped with that and chicken for many meals after…sometimes just eating the quinoa mixture on top of lettuce leaves for a snack like below 🙂
I wasn't complaining..
Questions for YOU
Do you feel like plain salads fill you up as a meal? Or need something more substantial (like this salad!)
What is your favorite way to enjoy quinoa?
What would be your perfect dinner if it could be made healthy?

Prep time:
Cook time:
Total time: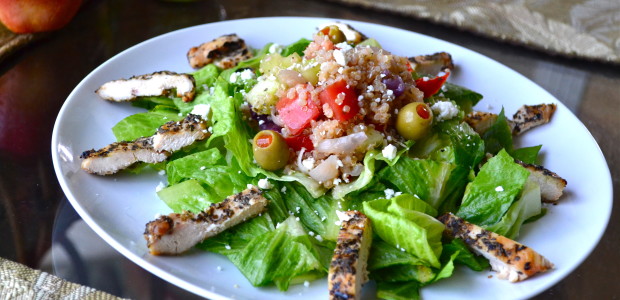 Ingredients
For Quinoa Mixture
1 cup Uncooked Quinoa
2 cups Water
1 Red Bell Pepper, thinly sliced
1 small Red Onion, thinly sliced
½ teaspoon Saffron
1 tablespoon Olive Oil
1 Cucumber, diced (about 2 cups)


Other:
Lettuce of choice to serve quinoa on (I used romaine)
½ cup Olives
Olive Oil and Lemon Juice to drizzle (about ½-3/4 a lemon)
1 teaspoon Sumac
Sea Salt and Pepper to taste
Optional Topping: ¼ cup Low Fat Feta Cheese, Grilled & Sliced Chicken Breast (I coated mine in olive oil and dried italian seasons + sea salt and cooked on grill)
Instructions
Begin by cooking quinoa by bring the water to a boil on the stove, adding quinoa and lowering heat to medium high, stirring every once in awhile until fluffy and water is gone, about 15 minutes; set aside to cool
While quinoa is cooling, heat 1tablespoon olive oil in pan and add sliced pepper, onion and saffron, cooking on medium heat until softened; set aside to cool.
When quinoa and sauteed veggies are cooled, add veggies and diced cucumbers to quinoa, and season with sea salt and pepper to taste.
On plates to serve, place some lettuce on each plate, then add one cup of quinoa mixture, and top with any other desired topping such as chicken, feta, and olives.
Sprinkle each salad with sumac and drizzle each prepared salad with olive oil and lemon juice; season to liking, and enjoy.
  FreshFitNHealthy's Quinoa Salad Zoe's Kitchen Quinoa Salad