When the flavors of pumpkin pie and banana bread come together, you get this delicious and moist, GF Pumpkin Banana Bread!
I had an epiphany one day as my friends and I were talking about how much we loved pumpkin bread and banana bread…
COMBINE THE TWO. Pumpkin Banana Bread. Yes. Sold. I'm making it.
It may have been one of my best baking decisions so far.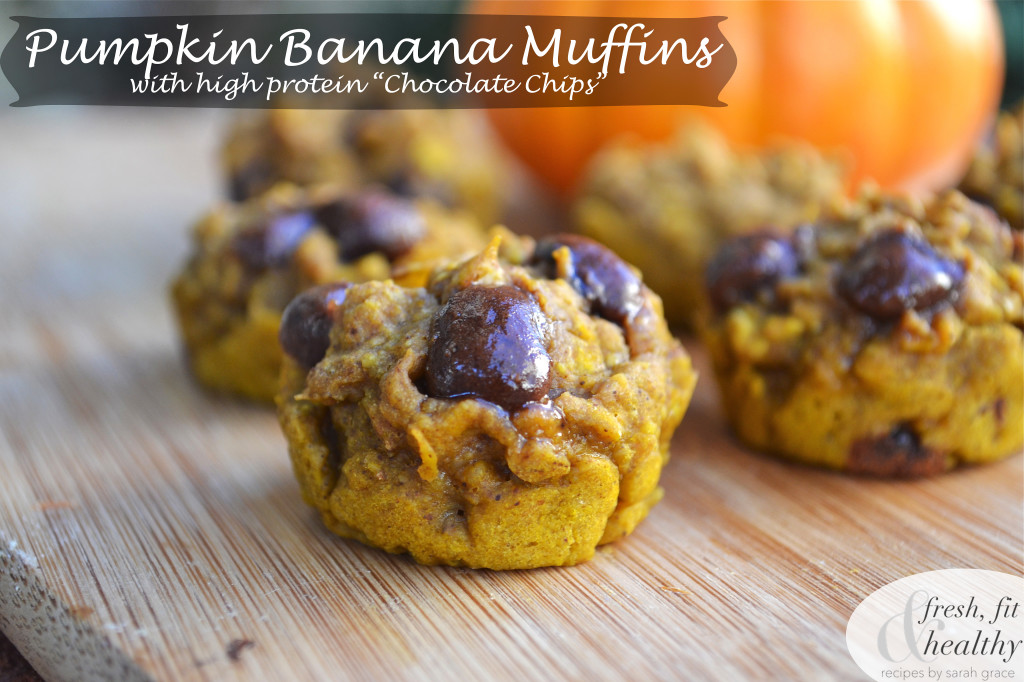 Of course, everything is better with chocolate. So I had to add some "chocolate chips" (more details to come) as well <3
I wasn't quite sure how it would turn out to be honest..but I was so happy I tried it out and created a recipe for those three delicious ingredients!
Before even taking it out of the oven, the aroma traveling throughout the entire house confirmed that it was going to be yummy.
And it was just that!  Bread, mini muffins..I made both forms of this tasty creation! My roommates were begging to try it before it had even cooled. Pumpkin..Banana..Melted Chocolate Bits..what could be better?!
But before adding the chocolate chips, I had a great idea! I had some leftover of the new Quest Nutrition protein bar, the double chocolate chunk flavor…so I cut them up in small pieces, and added those to half of the mini muffins instead of real chocolate chips! Talk about a delicious protein substitution 🙂
Let's just say the bread was gone within 24 hours, the the muffins were gone soon after 🙂
Rating 5.0 from 3 reviews
Prep time:
Cook time:
Total time:
The delicious combination of pumpkin and banana with protein packed chocolate bits into one loaf or muffin
Ingredients
1.5 cups GF Oat Flour (can use regular all purpose flour)
1 cup GF Rolled Oats (or another ½ cup flour)
2 very ripe large Bananas (or 1.5 cups mashed)
¾ cup Pumpkin
¼ cup Honey/Agave (I used Kevala's Raw Honey)
¼-1/2 cup Granulated Sugar of choice (add more for a sweeter muffin)
4 tablespoons Oil
1 Egg (or 3 tbsp Egg Whites)
1 tablespoon Cinnamon
1 teaspoon BetterBodyFood's Vanilla Extract
½ teaspoon Pumpkin Pie Spice (or cloves, ginger, and nutmeg)
½ teaspoon Sea Salt
1 teaspoon Baking Powder
½ teaspoon Baking Soda
½-1 cup Chocolate Chips or Quest's Double Chocolate Chunk or Brownie Bar broken into bits like I did!
Instructions
Preheat oven to 350 degrees F
Blend pumpkin and bananas together until smooth
Pour into bowl and add all other wet ingredients
In separate smaller bowl, combine the dry ingredients
Pour dry into wet ingredients, and stir until thoroughly combined
Pour into small bread loaf pan and mini muffin trays (or make just 1 medium bread loaf)
Bake bread in oven first for about 25-30 minutes, or until a toothpick comes out clean
Bake mini muffins for about 10 minutes.
Banana Benefits
1) Help overcome depression due to high tryptophan content
2) Sustains blood sugar during workouts
3) Protects against muscle cramps
4) Counteracts calcium loss
5) Improves your mood
6) Reduce swelling
7) High in potassium
8) Rich in pectin which aids in digestion
9) High in fiber
10) Natural Anti-acid
11) Only fruit that can be consumed raw without distress
Cocoa Benefits
1)Decreases blood pressure
2)Improves cholesterol levels
3)Prevents heart disease
4)Rich in flavonoids, an antioxidant
Pumpkin Benefits:
1) High in Vitamin aid which aids in eyesight
2) High in fiber to keep you satisfied
3) Rich in Beta Carotene with plays a role in cancer prevention and benefit your skin
4) More potassium than a banana (great post workout food!)
5) Rich in Vitamin C to keep you fit and healthy
Raw Honey Benefits
1) Alkaline-forming food that contains natural vitamins, enzymes, and powerful antioxidants
2)Anti-viral, anti-bacterial, and anti-fungal properties
3)Promotes body and digestive health
4)Strengthens immune system
5)Eliminates allergies
6)Excellent remedy for skin wounds and infections
7)Stabilizes blood pressure
8)Relieves pain
9)Calm nerves