Did I tell you that my best ideas come to me at night as I lay in bed?
Well this was one of them.
I almost couldn't fall asleep because I was so excited to try it out and see if it worked.
And guess what? It didn't..
JUST KIDDING. Else this post wouldn't be a real thing. But it is. And my recipe idea came out AAAAMAZING.
If you couldn't tell I'm excited about it. Because now that I made it with one flavor of quest bar..I know it can work with MANY.
Cookie Butter. That is high in protein, low in carbs, and high in fiber.
SAY WHAT?!
Watch this recipe video on my process of how to make it!
Yes, this is how all of these recipes on my site come about..I do not know that they are going to work. They come from a random idea, and BOOM, I try it out, play with measurements, and hope for the best!
Hope you enjoy this as much as I did!
 Disclaimer: If you are human, you will like this.
Oh and, don't forget to subscribe to my channel, pretty please 🙂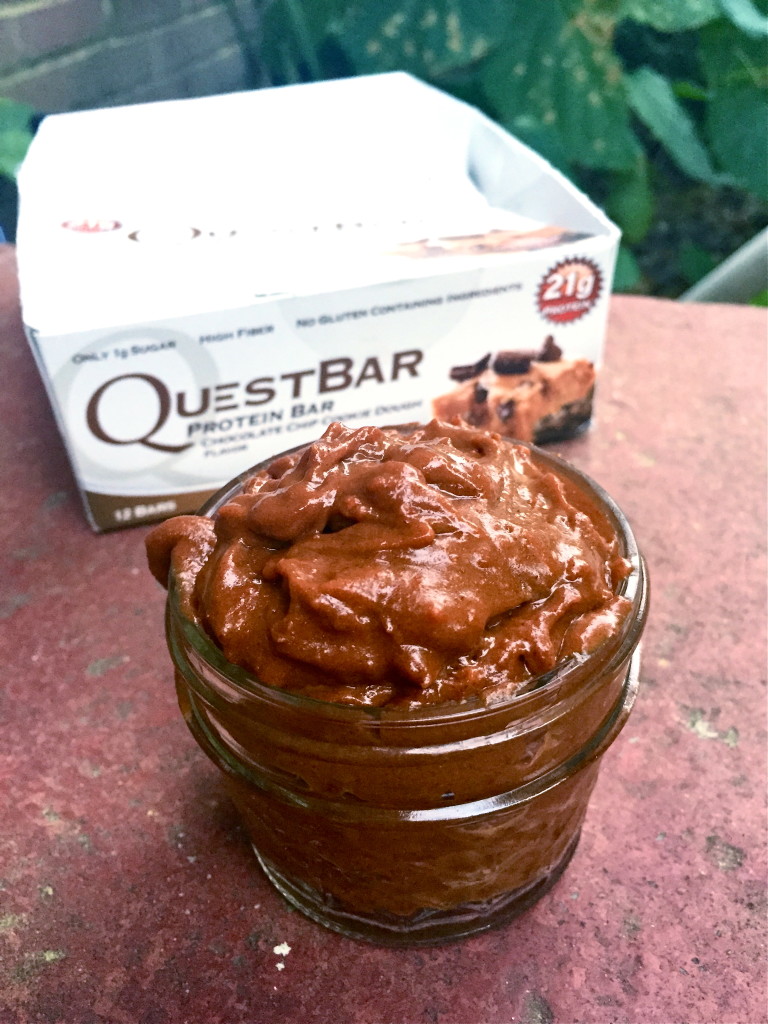 Ingredients
3 Quest Nutrition Bars (I used Cookie Dough) (probably about 2.5 bars after eating some as I made the cookies haha)
¼ cup Almond Milk + 2 tablespoons
2 tablespoons Nut Butter (I used Almond Coconut from Essentially Coconut)
1 teaspoon Vanilla Extract
5 drops Liquid Stevia
¼ teaspoon Butter Extract (optional but delicious)
Instructions
If quest bars are hard, microwave for about 5 seconds (unwrapped)
Flatten out the bars and break into cookie like shapes.
Bake in oven for 7 minutes. Allow to cool.
Break into small bits, and bake again for another 5 minutes to get them extra crispy. Cool.
Place cookie bits into food processor, and process until finely ground
Add in all the rest of your ingredients, and blend.
Store refrigerated in a jar (if you don't eat it all first!)