A healthy Almond Brittle recipe that is not only lower in sugar, but can be made in under ten minutes!
Well this month's theme was to make a healthier alternative of a recipe on page 54 or 154 of a cook book I use..
Well to be honest, I rarely ever use cook books anymore. I either am cooking/baking to experiment my own recipe, or I'm making something NOT healthy whatsoever from a recipe on pinterest I saw for family or friends. Anyone the same? So I turned to one of my cooking magazines I receive every month back at home, Cooking Light!
I found this delicious looking almond brittle recipe on page 154, and knew what I had to do.
I wanted to not only make a healthier alternative that still had the same great flavor and crunch, but also one that was FAST to make.
Because crazy intricate recipes around the holidays…NO ONE GOT TIME FOR THAT.
And over here on Fresh Fit N Healthy, I like to keep ingredients minimal and cooking time QUICK. Knowing how busy I typically am as a full time graduate student, I can only imagine how busy you all are out there in the real world!
My first attempt was anything but pretty…or successful. You may have seen on my snap story if you're following me (Sarah_Grace11)
But I jumped for joy on the second attempt when it came out PERFECT. Which was a relief since I had been SO busy with my best friend's wedding festivities as you may have seen on my instagram () that I had 24 hours to get this recipe RIGHT.
And using zero calorie sugar for most of it?! I never thought I'd be able to achieve something this good after seeing EVERY recipe on the internet use real sugar.
fa la la la la… a new delicious recipe is here!
Hope you enjoy this recipe and make some for all those  parties you're attending as well!
Questions for YOU
Are you an almond brittle or peanut brittle person…or a NO brittle person?
What is your favorite, quick dessert to make?
What is your favorite thing to make in the microwave?
What will you be doing this Christmas?!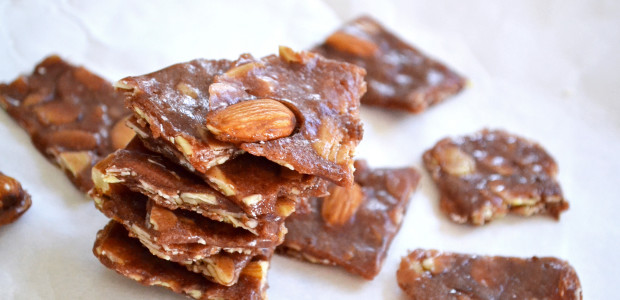 Ingredients
½ cup Coconut Sugar
¼ cup Corn Syrup or Coconut Nectar
½ cup Almonds (I used a mixed of slivered and whole)
1 tsp Ghee (or butter)
1 tsp Vanilla
½ tsp Cinnamon
¼ tsp Sea Salt
¼ tsp Baking Soda
Instructions
Microwave sugar and syrup/nectar for 3 minutes. (it should be clearish) IF YOU HAVE MORE TIME: best results will come from cooking this all over the stove, bringing to a boil and lowering to low/medium heat..and waiting until temperature reaches 295 degrees to remove and pour!
Stir in almonds and ghee and microwave for about 2 more minutes. (it should look peanut butter colored, be VERY careful not to burn here)
Stir in vanilla, cinnamon and baking soda and microwave for a quick 20 seconds.***
Immediately pour onto baking sheet lined with parchment paper, spread quickly, and allow to sit for 30 minutes.
Break into pieces and serve!
Notes
For brittle, you have to make sure you get it to RIGHT about 300 degrees F, which is why microwaving can be tricky. If you're unsure if it is ready, use a candy thermometer until it is 295 degrees. Be careful as it is easy to burn!